For most grizzled swim fans and swimmers hearing "sprint sets" and "Gregg Troy" in the same sentence sounds like an odd pairing.
But the long-time University of Florida coach (who just recently retired to focus on coaching the pro Florida Gators group) coached a full roster of athletes with the Gators, including a sprinter who lit the world on fire at World Championships in 2017. He also won the 50 and 100-yard freestyles every year he swam at NCAAs.
(Yes, I'm talking about Caeleb Dressel.)
Last year Troy was kind enough to send me his favorite distance set. This time around we get into some of his preferred swim workouts that are designed for sprinters (100m swimmers, freestyle or otherwise).
Let's go: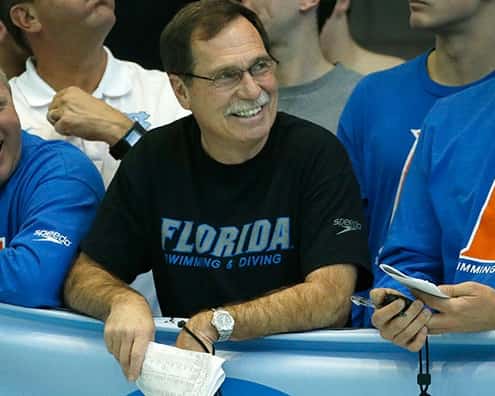 Sprinter's Deluxe
It's no secret that Troy's program is heavy on volume. 70,000m weeks aren't uncommon, even for swimmers who classify themselves as sprinters.
This set is done at an all-out pace and is meant to help you stockpile a serious number of reps at max speed. You get a fair amount of rest between efforts, but all the diving and getting out of the water will make this set even harder than it already is.
In an interview with SwimSwam magazine in 2017, Troy noted that Caeleb Dressel was able to perform reps in :8—to a foot touch. Nasty.
60×25 from a dive to the feet @1:00
Walk back for the next rep. According to Troy, elite level college swimmers should be able to do it yards in 9 seconds (men) or 10.5 seconds (women) in a yards pool.
Note the "to the feet"—this means you do a flip turn at the end of each effort. No hand touch. This simulates racing and gives you a better idea of how close you are to actual race pace.
This isn't a lot of meters, but it is an hour of sustained sprinting.

Hypoxic strength work
Your legs suck up a ton of energy when you are sprinting. This is natural—they are huge muscles. Sprinters in particular need a massive set of wheels underneath them to maintain body position and velocity in the water.
This set will give your legs a working over, force you to better economize your breathing, and despite the amount of yardage for a "sprint work" it is simply a lot of fun. Training with fins and paddles always is.
20×100 with fins and paddles @2:00 (LCM), 1:45 (SCY)
ODDS: 25 kick all out + 50 swim breathing every 5 + 25 kick all out
EVENS: 25 sprint + 50 kick + 25 swim no breath
I've been doing variations of this main set over the past few weeks (I especially like the "odds"—your legs are getting a serious workout and it's hard not to feel like a slug on that final 25 of kick. It does a great job of simulating that same dead-weight feeling we experience at the end of the 100 in competition.)
The 100 Goal Time Kick Set
This set is a favorite of swim coaches. I've seen it pop up over and over again when coaches are asked for their favorite sets for improving the kick of their athletes.
?? x [75 kick fast (Target is kicking your 100 swim goal time) + 200-500m swim smooth to recover between rounds]
The concept of the set is really simple:
Take your 100m goal time (so if you wanted to swim a :51 100 freestyle this summer your goal time would be :51)
Grab a kickboard and try to kick 75m in the same amount of time as your goal.
Swim it out to recover between rounds and keep chasing that goal time!
---
More Stuff Like This:
This is What Katie Ledecky's Main Sets Look Like. The greatest female distance swimmer of all time didn't get that way without some amazing training. Here are a some of the workouts she performed in the year leading up to the 2013 World Championships, where she dominated the 400, 800 and 1500m freestyles.
Olympic Coach Gregg Troy's Favorite Distance Workout. He has coached over 75 different swimmers to the Olympics, including Caeleb Dressel, Ryan Lochte and much more. Troy, head coach at the University of Florida, shares with us with his all-time favorite distance workout.