Former Olympian Martin Zubero stops by with a focused high intensity kick set that you can use to help condition your legs to dominate your 100 events.
Martin Zubero has been racking up the accolades both in the water and on deck over the course of his life in the pool.
As a swimmer he was the world record holder in the 200m backstroke for nearly a decade, Olympic gold medalist in the event at 1992 Barcelona Olympics, and world champion in both the 100m and 200m distances.
As a coach he was named ASCA Coach of the Year for Florida in 2001, a coach for the Malaysian World Championship team, and spent almost a decade with the Bolles School in Jacksonville, Florida.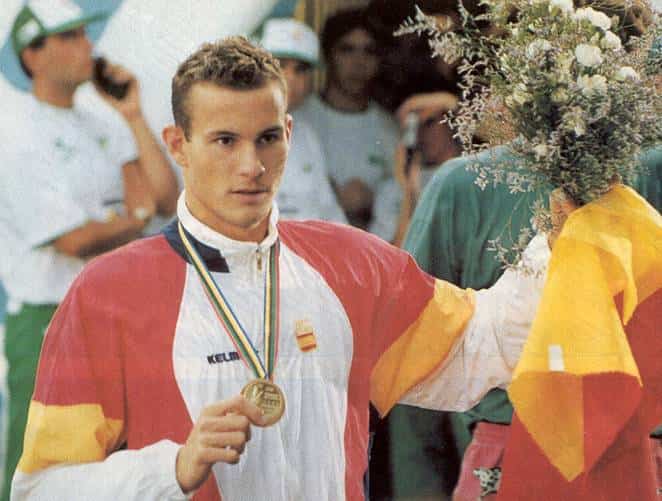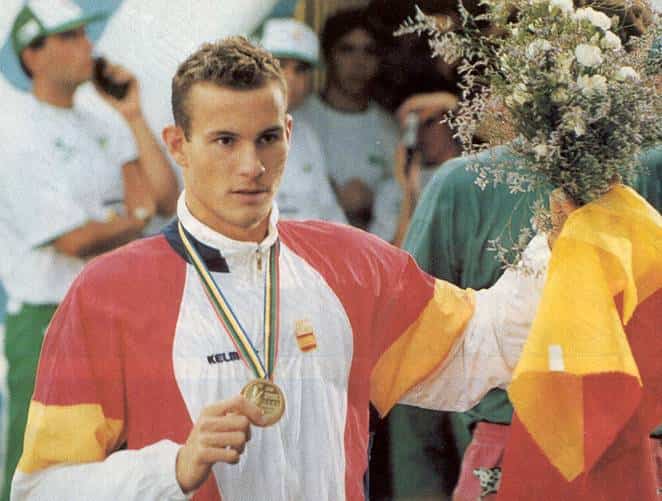 Since 2014 he has been the head coach at Episcopal AmberJax Swimming, based out of Jacksonville.
Here is one of Zubero's favorite sets for improving a swimmer's kick, and ultimately, their swimming.
Take it away Coach:
75 Goal Kicks: A Set to Get in Shape for Your 100 Events
Every coach has their sets that they go back to several times throughout the season. Most of the time it is usually a test set or quality set.
Usually the kick set that I like to do several times throughout the season are 75 goal kicks. A 75 goal kick is where you have to kick your 100 swim goal time for that particular kick.
For example, If Joe wants to go 56 in the 100 breast, he should be aiming for 56's on every repeat 75 breaststroke goal kick.
I like to make them do the same stroke on every goal kick so they can see how consistent their times are throughout the set. The set is challenging but I have seen many swimmers that are very strong kickers go way under 40 seconds (mostly streamline on their back) but have seen swimmers with a board go 45+.
There are several different ways that I have done them.
I have done them with kickboard and swimmer's snorkel which is great since they have to keep their faces down and also it restricts the air somewhat. Also the swimmers cannot talk during the set and it helps them concentrate on max speed on the 75's. Usually I will do that early on in the season and let them take the snorkels off as we get closer to the championship phase of the season. I will go 8-10 75 goal kicks early on in the year and bring it down to 2 by the end of the season.
They also have the option of going streamline kick on their back and that gives them the opportunity to push the underwaters and breakouts.
I have divided it up by sprint, middle, and distance swimmers where everyone will do a goal kick on the same interval, but sprinters will do a 200 in between each one, middle distance a 300 and distance a 400 in between each one.
The Set:
8 x 75 goal kick @ 7:00 (sprint 200 swim Distance Per Stroke after each, mid distance 300 DPS, distance 400 DPS)
You can substitute any emphasis you want in between each goal kick whether its drill best stroke, weak stroke, IM but I like the active recovery in between each one as opposed to just sitting on the wall waiting for the next one.
Thank you to Coach Martin Zubero for sharing his expertise and this kick set. You can stay up to date with Martin and his swimmers at Episcopal Amberjax at their website and on Twitter.
See More Stuff Like This:
How to Develop an Unstoppable Freestyle Kick. Fast kickers are fast swimmers, as simple as that. Here is what you need to know about building a legendary kick.
How to Develop an Awesome Underwater Dolphin Kick. One of our most popular articles ever, featuring tips and input from biomechanists, Olympic gold medalists, and even a space scientist.