Your breakouts form a critical foundation of your race whether you are a sprint or distance swimmer. Here is a speed and power set designed to supercharge your breakouts.
You don't even have to be a short course fast-twitch specialist to know how much of a difference your turns and breakouts can make. Whether you are swimming the mile or the 50, your breakout, and the speed you carry out of it determines your baseline velocity for the rest of the lap.
Think about just how critical that is: at the moment that you push off of the wall or launch yourself off the blocks it's the fastest you will ever be going while you are swimming.
Your objective, then, is to maintain as much of that speed over the course of the length.
Below is a set I tried out recently that was designed with one purpose and one purpose only—to develop the kind of thunderous breakouts that will have you laying waste to the competition off the walls.
It includes one of my favorite kick drills, vertical kicking, it incorporates DragSox, and some really, really high-speed swimming.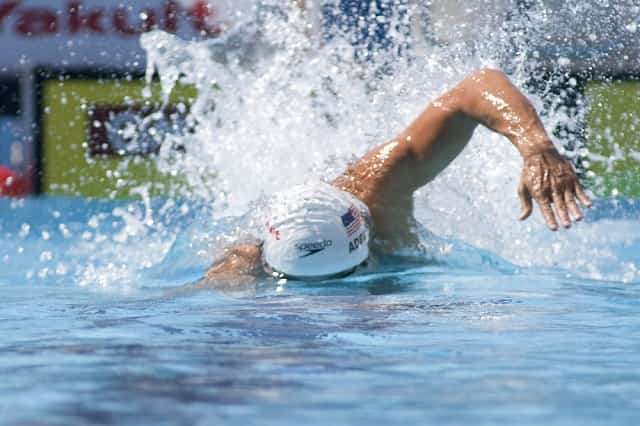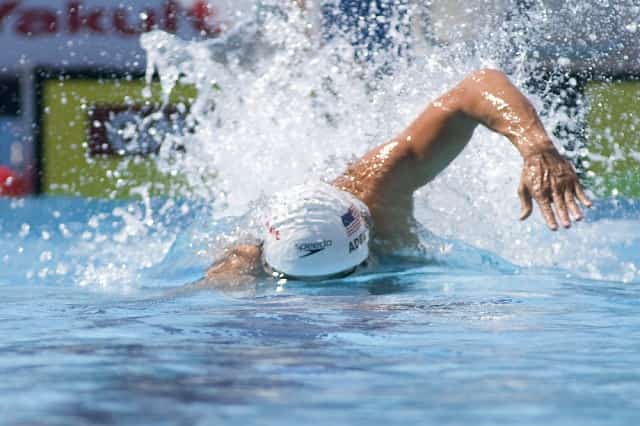 Training Notes
Before you launch yourself into improving your breakouts, here are some things to remember while you are performing this set.
Tight streamlines are mandatory. Keep your chin tucked and hands flat while locked into your streamline. Tight streamlines mean less resistance, and less resistance means more speed.
Keep your core braced. One of the reasons I love vertical kicking is that you can really focus on keeping your core nice and tight. Extend that core tightness to your breakouts. Not only will a braced core help you kick stronger, you will also maintain better body position.
Explode out of the breakout. That first stroke is key. Keep your head tucked and streamlined for the first couple strokes, and explode to the surface.
Keep a kick count for the vertical kick work. Count your kicks over the course of the first minute and then stick to it for the remainder of the 5 minutes.
You'll feel like you are being shot out of a cannon. If you've checked out some of the other swim workouts on this site you know I'm a fan of DragSox. They are great as a resistance tool for power and endurance work, but they also have the curious effect of improving your foot's feel for the water. Which means on that first breakout you will feel amazing screaming through the water.
It is short, but mega high quality. The full workout was 2,000m, including warm-up and warm-down. But over a quarter of that is done at 100%, full-blast effort. The whole thing took 1:15 to complete.
The Breakouts Set
Warm Up:
300 swim mix + 300 free kick quiet (no bubbles)
Pre-Set:
6×25 swim best stroke build 1-3 to 90% effort, all with fast breakouts.
Main Set (Go Time!):
4 rounds through–
1. 5 minutes of vertical kicking while wearing DragSox, doing :30 seconds dolphin kick, :30 seconds freestyle kick.
Extra :30 seconds rest
2. 10 x 25 swim @:40
100% absolute all-out sprint to the 15m mark.
Pick a number of dolphin kicks and stick to it for each 25 (I did 6 off of the deep end walls, 4 off of the shallow end walls).
The key is blistering speed. If you are getting too gassed take extra rest. It's all about having race-quality breakouts.
No breathing to the 15m mark.
Swim easy to the wall.
3. 10 deep water bobs + :30 sec rest and start over.
Warm-Down:
250 swim free/back by 25 [Perfect technique: super slow swimming.]
Total meters: 1,750m
Race pace meters: 600m
Time required: 1:15
Up Next:
The Other Auburn Sprint Set. Not for the feint of heart, this speed endurance set is 100×25 of full blast sprinting. Took me well over two hours to complete the set alone, and I only ended up doing 90.
How to Improve Your Early Vertical Forearm. Legendary sprint coach Coley Stickels stops by with a drill for freestylers to help them pimp out their early vertical forearm (includes video).