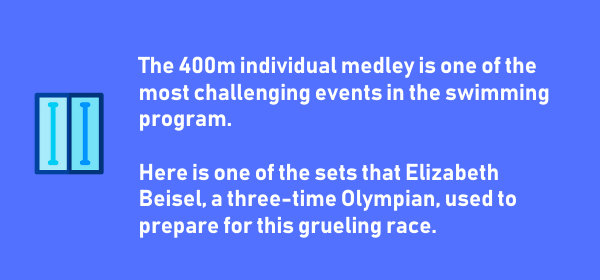 Three-time Olympian, NCAA champion, and Olympic silver medalist Elizabeth Beisel was no stranger to hard work in the pool.
The following set, designed to help prepare her for the 400m individual medley, was done when she was 15-years old, training for the 2008 US Olympic Trials. At that meet she would qualify for her first Olympic team, placing second.
Over the next decade she would become a face of USA Swimming, going to two more Olympic Games (winning a silver in 2012 in the 400 IM), and winning SEC Swimmer of the Year honors in 2012.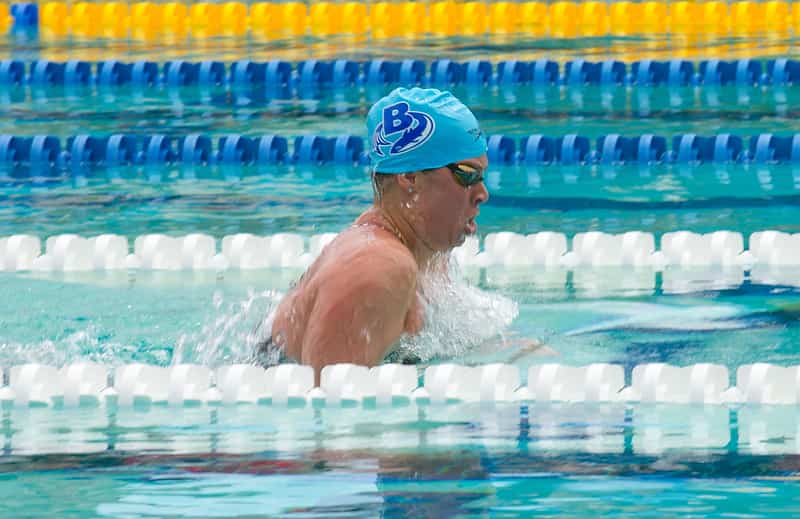 Training for the 400 Individual Medley
This 400 IM set, done during a training camp in January of 2008, covers 7,000 meters and was performed long course.
"We will do many variations of this set with Elizabeth," said her age group coach, Chuck Batchelor of Bluefish Swim Club. "The free IMs tend to be accurate indicators of what time Elizabeth is going to swim in the next swim meet."
*** Free IM = Replace butterfly with fast freestyle.
"The first free leg [is to] be swum as fast as possible," says Batchelor.
And…here…we….go:
4×400 free IM fast @ 6:30
6×50 fly @ :45
3×400 free IM fast @ 6:30
6×100 fly/back @ 1:30
2×400 free IM fast @ 6:30
6×150 fly/back/breast @ 2:15
1×400 free IM fast @ 6:30
6×200 IM fast @ 3:00
Elizabeth Beisel's Training Background
This set is almost eye-watering in yardage. Obviously not for the feint of heart or willpower.
But Beisel and Batchelor had never shied away from doing yardage.
At the time she did these workouts, she averaged around 70,000 yards per week spread out over seven days a week.
Beisel started school at 7:00 am and had a 45-minute commute to get to the pool, which ruled out doing early morning workouts for doubles.
Instead, she performed 3-4 hours of swimming on Saturdays and another three hours in the pool on Sundays.
Like many swimmers that come from smaller programs, long course training was infrequent. Most of her swim practices were done out of a 25-yard high school pool, with a weekend of long course training happening around once a month.
Despite the heavy dose of yardage, there was an emphasis on racing.
"We ask Elizabeth to race some part of every practice."
Plenty of the yards were done at a high intensity—it wasn't simply a matter of doing a ton of garbage yardage.
"One of the keys to Elizabeth's success and our program is the amount of high-intensity racing done on a regular basis," says Batchelor.
More Stuff Like This:
Ryan Lochte: "One of the Hardest Sets I've Ever Done." For a period of time Ryan Lochte was one of the best swimmers on the planet. His training was pretty legendary too.
***Props to Michael J. Stott who originally covered this workout for Swimming World Magazine in February 2009.