I will never forget the first time I watched Matt Biondi swim.
I was 8-years old, sitting cross legged on the floor in front of my parents old Zenith tube television, keeping one eye on the television and the other on the VCR's "record" light (sssh don't tell NBC sports I was taping it).
NBC Sports did a bit on Biondi showing him training at Cal, and swimming with dolphins, and how his nickname was the "California Condor" because of his massive wing span. Move aside Michael Jordan. This guy was obviously the most incredible person in the history of the universe to an 8-year old.
He had his own nickname. And swam with dolphins. Awesome.
Michael Phelps is roundly considered the greatest swimmer ever, if not the greatest Olympian ever. He will remain so for the foreseeable future. Inevitably comparisons always lead to Spitz, but whether because Biondi didn't have the epic moustache, or the medal count, he doesn't get the same attention as other American swim greats.
Here are five neat-o factoids you may not have known about the California Condor–
He came close to Spitz' mark of 7 gold medals in one games long before Phelps.
His first Olympics was in 1984, where as an 18 year old he qualified for the 4x100m freestyle relay. The Americans would win gold in world record time at the Los Angeles Games. This was just a tease for what was to come 4 years later.
In the lead-up to Seoul Biondi was hyped up as the one to tie Spitz' elusive 7 gold medals in one games.
Because of two swims in particular – detailed below – he didn't quite manage the feat, instead taking home 5 gold medals (4 of those in WR time), a silver and a bronze.
Biondi took home another two relay gold medals four years later in Barcelona, and also a silver medal in the 50m free, giving him a total of 11 Olympic medals.
His nemesis was The Albatross.
West Germany's Michael Gross, at 6 foot 7 inches and an almost 7 foot wing span, was billed as Biondi's chief foe in Seoul. He'd won both the 100m butterfly and 200m freestyle (rather easily as well) in Los Angeles in 1984.
Making this rivalry even more intense, was that in '84 even though Gross swam the fastest relay leg in the history of the event, the US managed to pull off the upset, getting them the nickname, "The Grossbusters."
(Biondi wasn't a member of that relay. I just needed to include that tidbit because of the Ghostbusters reference.)
Gross and his West German compatriots were billed as the major barrier between US and gold in the relays, and also Biondi's featured competition in the 100 fly and the 200 freestyle.
He taught a generation of swimmers to finish on a full stroke.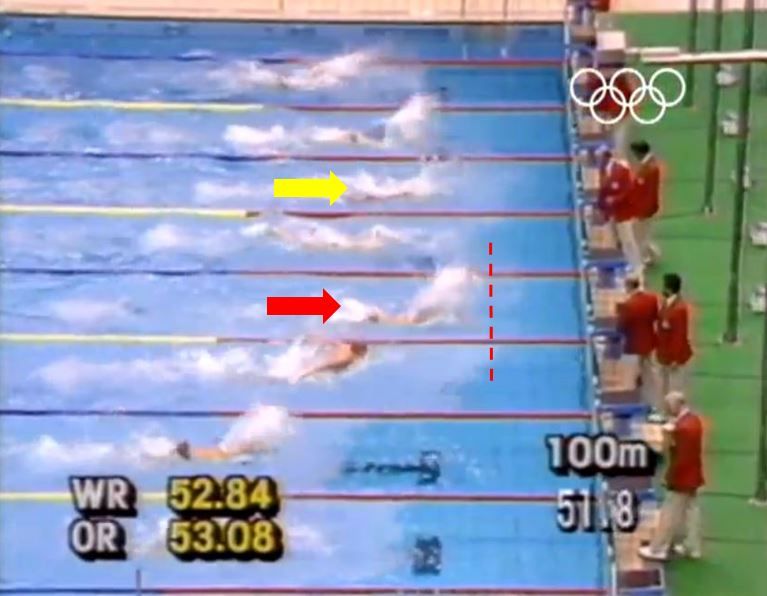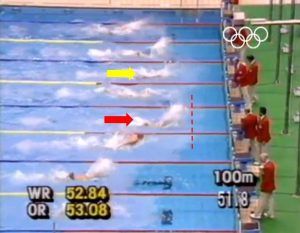 Biondi was heavily favoured to win the 100m butterfly in Seoul.
As he approached the finish he had a comfortable lead on the field, about a quarter of a body length, including Surinam's Anthony Nesty, and Michael Gross.
Closing in on gold, Biondi found himself in a bit of a quandry. He hadn't timed his last stroke correctly, so he was forced to glide in or finish on half a stroke. He glided in from the hash mark noted below in the picture, which even for the 6'7" Biondi is a long distance to cover. Two lanes above you can Nesty (yellow arrow), who closed hard and fast, and on a full stroke.
He also taught a generation of swimmers how to draft.
Also in Seoul, Biondi was the favorite for the men's 200m freestyle.
Biondi took it out like a boss, almost a second under World Record pace at the 100. Duncan Armstrong of Australia, swimming in the lane below him, glued to Biondi's lane line and hitched a ride.
Turning at the 150m mark Armstrong was just off Biondi's shoulder, and with the conserved energy of surfing off Biondi's massive wake, Armstrong reeled in Biondi and powered past him to win Olympic gold in a world-record of 1:47.25.
(I'm pretty sure Duncan Armstrong also flipped off the crowd while perched on the lane line celebrating his win afterwards. One of the first times seeing the bird, I didn't know what it meant till much later.)
This was the first time that I had seen a swimmer get drafted like that, and it was even more noticeable because of the massive wave that crested behind Biondi as he swam, which was impressive in itself.
He is now a math teacher
I think this is my favorite part about Biondi. He isn't hawking his celebrity around at swim meets or announcing, nor is he using his past swimming accomplishments for endorsement or fame.
He teaches math and lives a quite life with his wife and three kids in California, avoiding the spotlight that swimming offers every time the Olympics coming around.
The purity of this lends itself well to the nostalgia attached to the '88 Olympics for me.
Sure — Michael Phelps may have won more medals, and Spitz had the acting career and the undisputed heavyweight champion moustache, but Biondi will always be my favorite.
UPDATE: Biondi teamed up with his masters club, the Conejo Valley Multisport Masters (CVMM) to launch the inaugural Matt Biondi Masters Classic. The first edition was held this year, and will be held in subsequent years each spring in Simi Valley, California.