Safety first! Here's a breakdown of the best life jackets and PFD's for kids and toddlers.
The life jacket looks like a supremely simple thing, especially when you consider that it only has one major function: to keep its occupant floating in the water.
Whether adult or child, it's all about keeping ya floating like a cork in the water.
Despite being so simple in purpose, there are a ton of different side jobs and considerations that they perform.


For example, the life jacket you would take with you kayaking or paddle boarding is likely different from the one you would use for boating on open water.
Getting kids out on the water to experience the joys of being on the lake, the ocean, or the river is something they will never forget. With the joy of the experience, however, comes the over-riding concern for their safety.
According to the CDC [1], drowning is one of the leading causes of accidental death in the United States, with around ten people per day drowning, including over 330 in boating-related incidents.
More shocking is perhaps that five times that number of people will require emergency care. The nonfatal drowning incidents can cause serious injury, from learning disabilities to permanent loss of motor control.
Safety doesn't take a holiday. Got it.
Here's the dealio on picking out the best life jacket for your kid so that you can both have a great time while also being safe on and in the water.
How to pick out the best life jacket for your child
There are some quick things to look out for when you are choosing the best life vest for toddlers and children.
Swim vest vs. Lifejacket
There is a big difference between a swim vest and a life jacket. A swim vest is essentially a flotation tool that provides a minimum amount of buoyancy to help a child learn to navigate in the water.
Swim vests are for backyard pools and your local aquatic center, and will have warnings on the inside collar stating that they are not a personal flotation device.
Life jackets are thicker, more buoyant, have bright, easily visible colors, and a colar to keep your head up in the event that you lose consciousness.
Life jackets are certified and rated by the Coast Guard.
(Flotation devices–floaties–for toddlers and kids, including water wings, cruisers and the like aren't certified either.)
As always, check with your local boating organizations to make sure that you and your children are in compliance with local laws.
Understanding the USCG ratings
Life jackets and PFD's are rated and certified by the United States Coast Guard.
They are rated into three different categories (as well as couple others that we don't need to cover).
Type I: These are the biggest and bulkiest of life jackets and are designed for wear on open and rough water. Type I life jackets have a minimum buoyancy of 22 pounds for adults (11 for kids), and while they give you the most amount of buoyancy, they are also bulky. Type I life jackets aren't presently available to the public.
Type II: These are the "old school" life jackets you are most likely thinking of when you think of a life jacket. When out on the boat, whether it's going out fishing for the day or sailing, type II life jackets provide the most buoyancy for the general public.
Type III: Most life-jackets and PFD's for kids are in this category. They provide solid buoyancy but are ideal for protected water near shore and activities, including kayaking, water-skiing, fishing, and while riding on the back of a jet-ski. Type III personal flotation devices come in inherently buoyant and inflatable versions. The inflatable kind are not designed for kids under the age of 16 to wear.
Okay, with all that super fun information behind us, let's get into the best life jackets and PFD's for kids.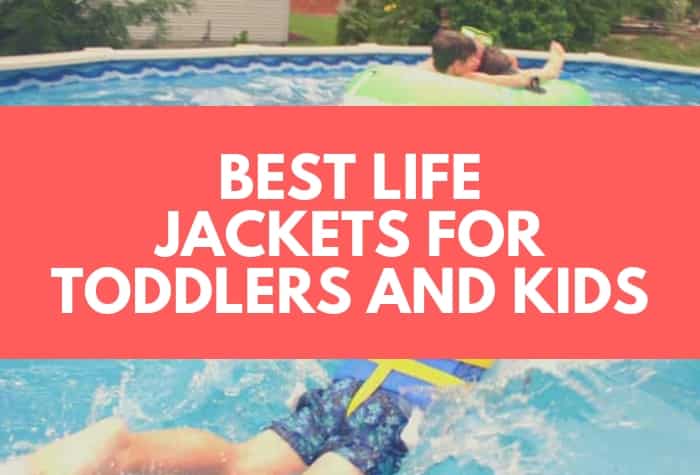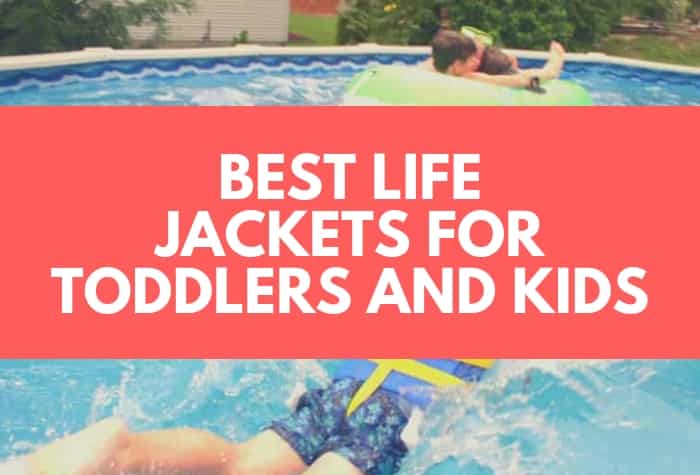 Full Throttle Water Buddies Child Life Vest
The Full Throttle Kids Life Vest is one of the best reviewed PFD's for kids, and with good reason. It's got two straps across the front of the life jacket, another leg strap that helps to prevent it from riding up on your child, and it comes in five different playful color combinations that kids will get a kick out of.
The Full Throttle life jacket suits kids between 30 and 50 pounds and comes in a variety of patterns from Lady bug to Astronaut, which makes it an easy sell when it comes to putting it on the child.
USCG Type III PFD
Fits children between 30-50 lbs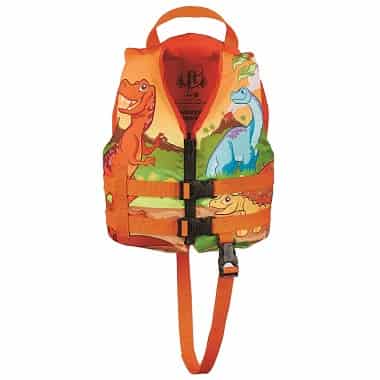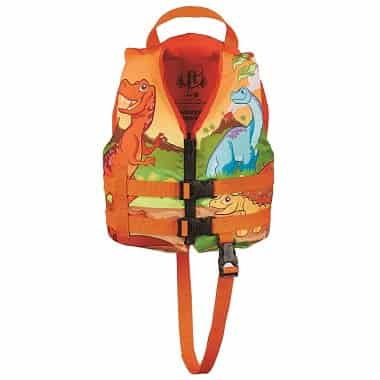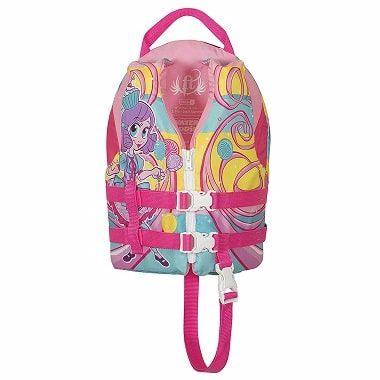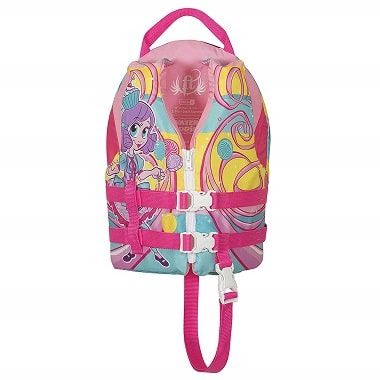 Speedo Infant Life Jacket
Speedo makes a metric ton of gear for swimmers, from swimming aids for toddlers to racing goggles for Olympic-level swimmers. They also make swim vests for kids, and of course, life jackets!
The Speedo Infant Personal Life Jacket is a full support PFD that features two straps across the mid-section and two more along the bottom to keep the life jacket secure. The exterior of the PFD is made with durable nylon, while the jersey is a softer polyester that won't chafe.
Designed for kids up to 30lbs, and is a one size fits all.
USCG type III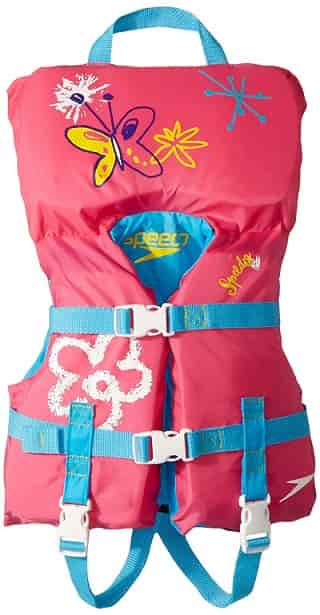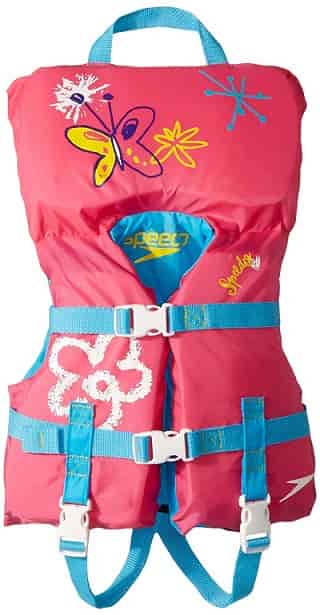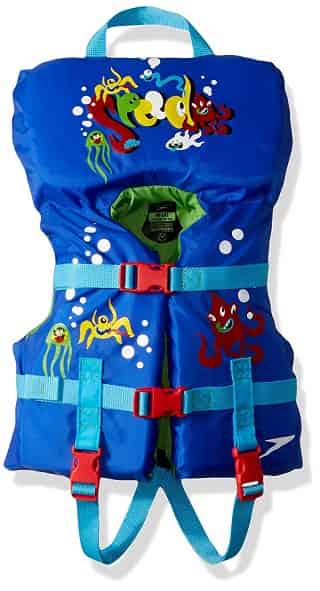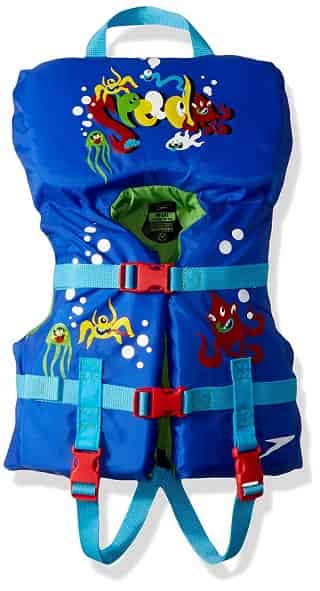 ---
O'Neill Reactor Child Life Jacket
For the super active kid, whether it's swimming, wake boarding, water-skiing, tubing, etc etc, the O'Neill Reactor kids life jacket fives a degree of flexibility and mobility that you won't find in other PFD's.
The jacket has a thick zipper on the front, two adjustable buckles along the mid-riff, and big arm holes that will allow the child plenty of room and flexibility to more their arms and shoulders.
The exterior the life jacket is made of nylon, it is designed for children between 30-50lbs, and the rest it is made of neoprene (the same thing that wet-suits are made of, for those of you keeping score at home). It's got two straps across the front and a leg strap to keep the it on no matter how active they are getting.
For the child who is water experienced and is looking for something to safely engage in water-based activities, the O'Neill Reactor is your best bet.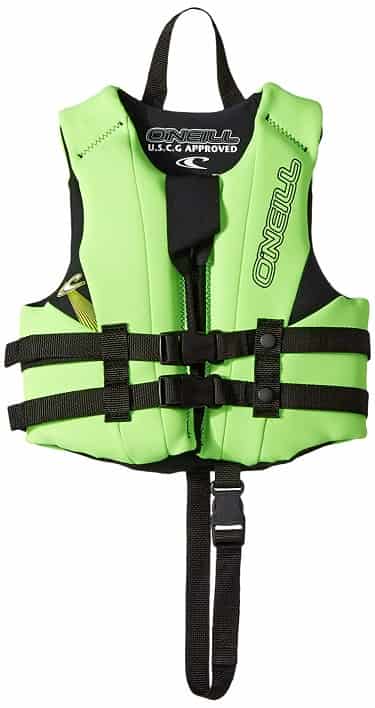 ---
Stearns Heads Up Life Jacket (Best USCG type II life jacket for kids)
For young children who will be going out on open water, whether it's kayaking or boating, the Stearns Heads-Up Life Jacket is a great choice. The life jacket is rated as a type II personal flotation device, which means that the child will float with their head up and clear out of the water.
Features include two straps across the mid-section, another through the legs, and a grab handle so that your child can be easily fished out of the water. The life jacket comes in a bright, bright green that will make them visible in the water, and is available in three different sizes (infant, child, and youth).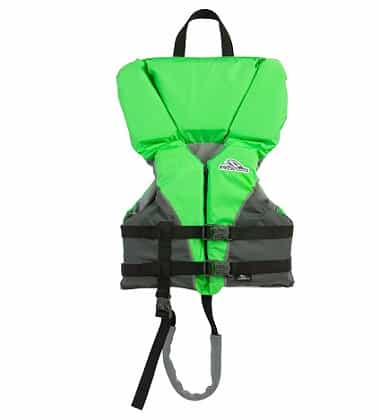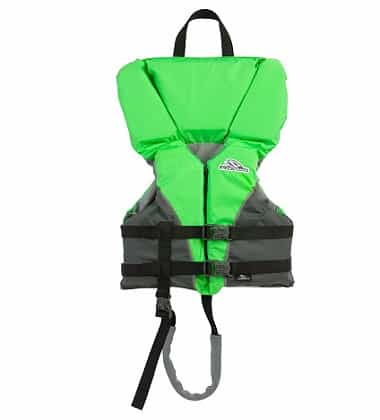 ---
More Stuff Like This
6 Best Waterproof Cast Covers for Swimming. Frustrated with being dry-docked with a broken arm or leg? Here's a breakdown of the best waterproof cast covers for swimming and showering.
6 Best Rash Guards and Swim Shirt for Kids. Rash guards a great way to provide protection during those long summer days. Here's a round-up of the best rash guards and swim shirts for kids.
7 Best Waterproof Diapers for Swimming. Take your newborn to the pool with confidence with waterproof diapers that are designed to not leak and keep your young one comfortable.