Want to keep your feet warm while swimming in cold open water? Here's your guide to the best neoprene swim socks.
Swim socks are simple in design and function: to cover up your feet and toes and keep them nice and warm while out on the open water.
Whether it is for competition or training out in cold water, neoprene swim socks keep your feet warm, and avoid the cross-toe sensation that happens when they lock up and get cold.
On race day, wearing swim socks will help you when running through the transition area. They can also help you maintain traction through loose, gravelly surfaces, and of course, climbing or navigating slippery, cold, and wet rocky shores.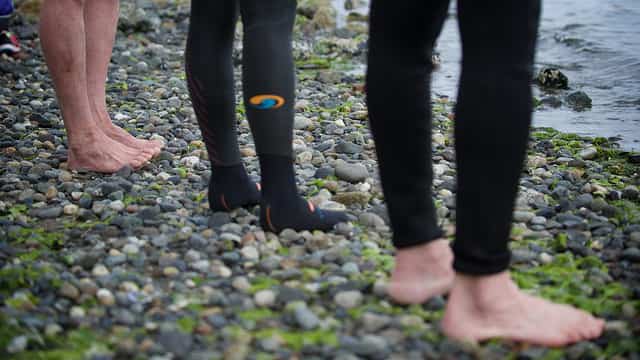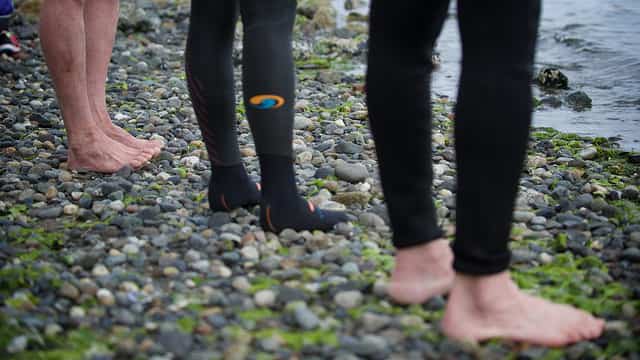 When picking out the best pair of swim socks for you, things to consider include:
Can you roll your wetsuit over the socks to minimize water entry into the socks? Although I've yet to try a pair of swim socks that kept my feet perfectly dry, keeping water absorption to a minimum is a must. Last thing you want to do is be running onto shore with two huge water balloons strapped to your feet.
Are they flexible enough to swim in? Like other types of waterproof foot apparel, whether it's water shoes or pool sandals, surf booties tend to have a more structured bottom, making it difficult to kick in. A hard sole will cause unnecessary drag on your swimming, so look for swim socks that are flexible in the sole. Even if you don't fancy yourself a strong kicker you want to be able to kick smoothly and properly if necessary.
How much insulation are you looking for? Generally, the thicker the neoprene, the more insulation provided. This comes into play when you consider how cold the water is going to be where you are swimming. Listed in our selection of best swim socks below includes specs on thickness and insulation.
Here's a breakdown of our favorite neoprene swim socks.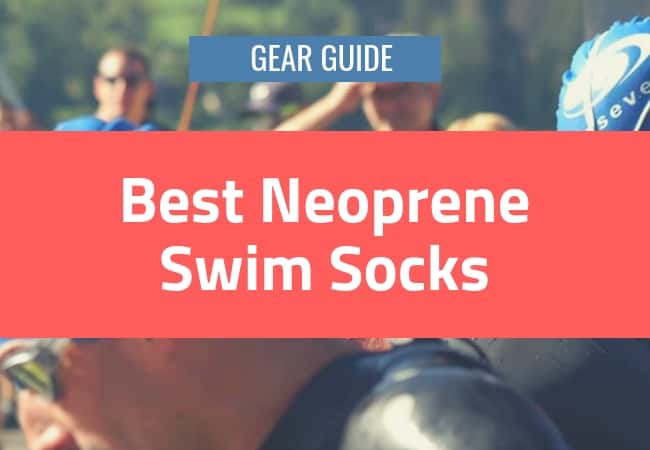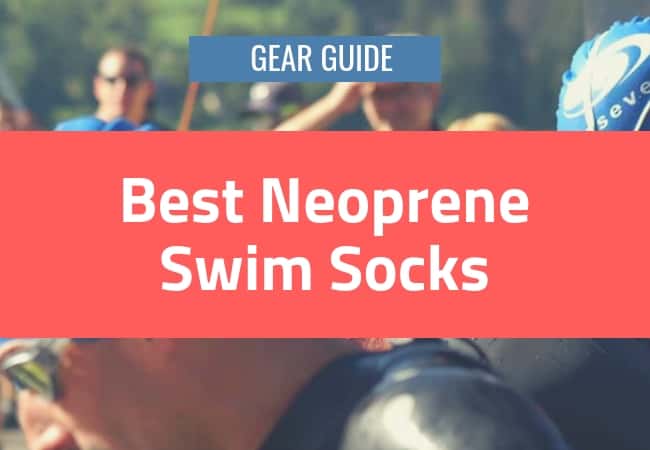 Blueseventy Thermal Swim Socks
Blueseventy—pardon the pun—knocks off our socks when it comes to producing gear for cold water swimming. Their neoprene swim cap and open water swim gloves rank as our faves, and they also produce excellent wet-suits for triathletes.
It would make sense that to complete the head-to-toe neoprene swim experience that blueseventy also makes warm, thermal swim socks for bracing the cold water.
The socks are made of 2mm-thick Yamamoto neoprene and lined with zirconium for added insulation. The bottom of the swim socks has rubber gripping for walking along slippery and wet rocks.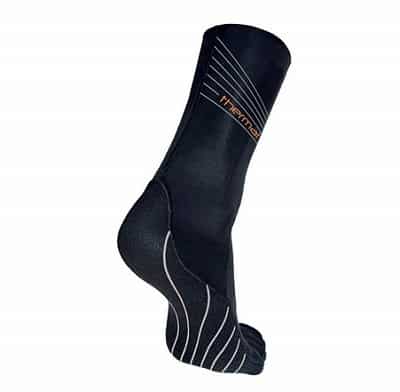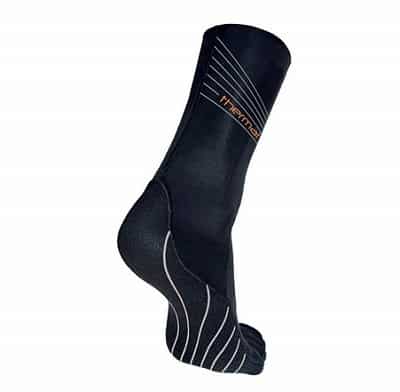 ---
TYR Neoprene Swim Socks
TYR is one of our favorite brands when it comes to making swim gear. From their goggles to lap training suits, TYR produces some killer kit for swimmers and aquatic athletes.
They have a hand in the open water/triathlon scene as well and produce a neoprene swim sock that is thinner and lighter than the blueseventy model.
At just 1.5mm, the TYR swim socks are thin and might look a little funny with the seams being on the outside, giving them the appearance of being inside out. This design feature is actually quite smart, as it means the skin on your feet and ankles aren't chafing against loose material inside the socks.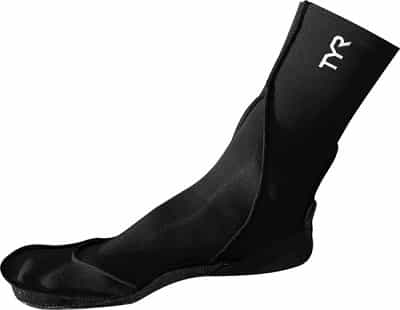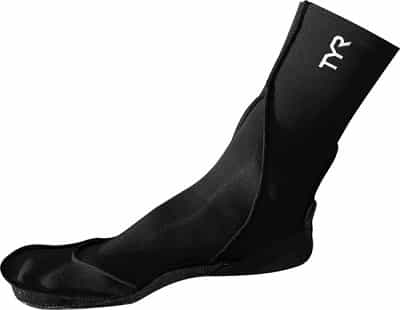 ---
Synergy Swim Socks
The Synergy Swim Socks are nice and thick, their neoprene swim booties 2.5mm in thickness to keep your toes and feet toasty. The seams are heat taped and chemically bonded to minimize friction on the skin while retaining durability.
The bottom of the swim socks are lined with silicone strips for added grip when clambering along wet and slimy shorelines (tip: keep sandals by the shore to minimize the amount of rock-to-sock contact you put the neoprene through), and the length of the swim socks are such that you can easily tuck them into the bottom of your wet-suit.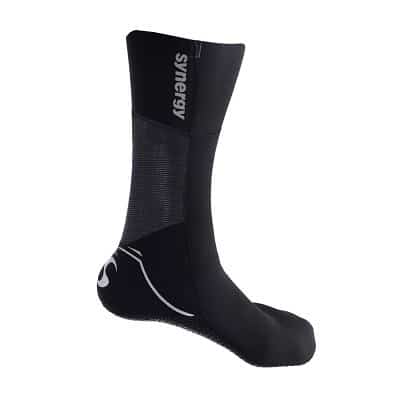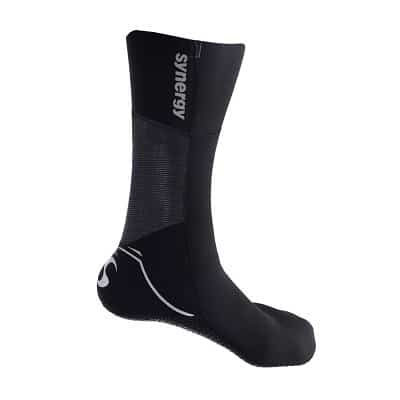 ---
Zone3 Neoprene Swim Socks
The Zone3 Swim Socks look more like a pair of boots the first time you glance at them, but make no mistakes, these bad boys are as light and agile as it gets. They are seamed and stitched on the exterior of the socks, similar to the TYR socks, making them look like they are inside out.
The stand-out feature of the Zone3 socks are a Velcro fastener at the top (the red stripe in the picture below). Before rolling your wet-suit over the socks, simply tighten the top of the socks as tight as you think necessary and off you go.
The Zone3 swim socks are sized unisex, and can fir from a woman's size 5 to a men's 13.5.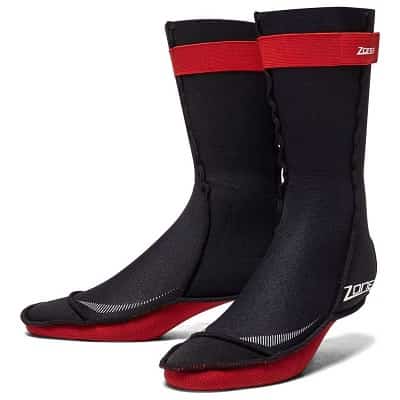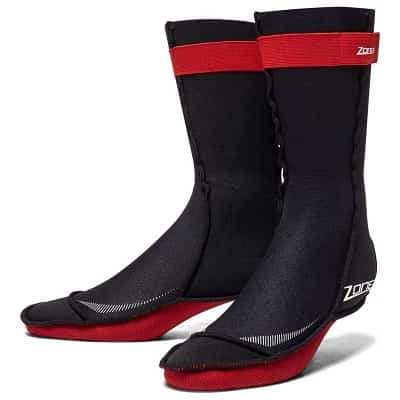 ---
More Open Water Swim Gear Guides
7 Best Open Water Swim Buoys. Get out into open water with safety in mind with our favorite swim buoys that will keep you visible and safe.
5 Best Swimskins for Triathletes. Here's a breakdown of how the swimskin can help you race faster, and our favorite swimskins for rocking out on race day.
5 Best Wetsuits for Cold Water Swimming. Extend your swims by staying warm and comfy with this look at the best wetsuits for swimming in cold water.