Looking for a swim buoy for open-water swimming with confidence? Here is a look at the best open-water swimming buoys so that you can swim safely out on the water.
There are a lot of reasons to love open-water swimming. No sharing a lane, fresh air, and being one with nature and all that.
But the awesomness of being out on the open water, whether it's your local lake or in the ocean, needs to be balanced with safety.
That's where an open water swimming buoy steps in.
Inflatable, extremely bright, and capable of storing your gear, swim buoys keep you visible on the water, give you something to hang onto when resting (or cramping up!), and act as storage for things like keys, shoes, and water.
There are some excellent options on the market for open water swimmers, and in this guide, we will highlight the best swim buoys, the pros and cons of each, and more.
By the end, you will be able to choose the perfect swim buoy for you so that you can hit the water with confidence.
Let's dive right in.
---
Best Swim Buoys for Open Water Swimming
New Wave Swim Buoy
⭐ Best overall open-water swimming buoy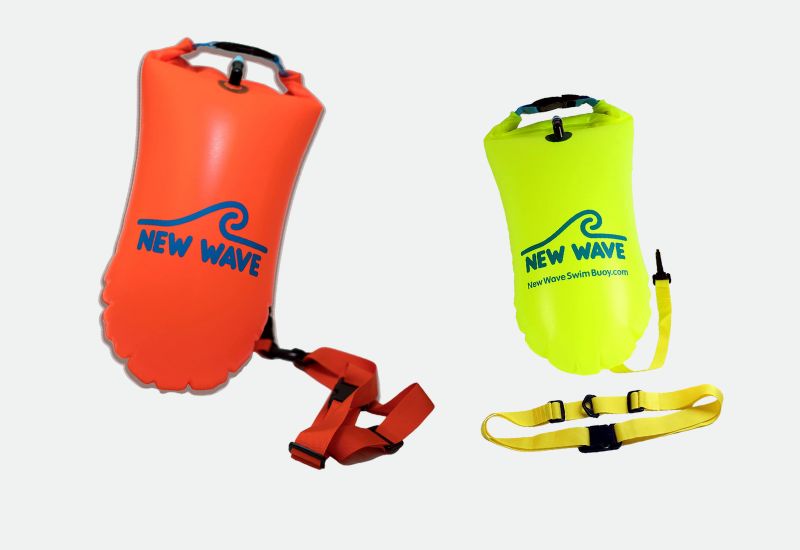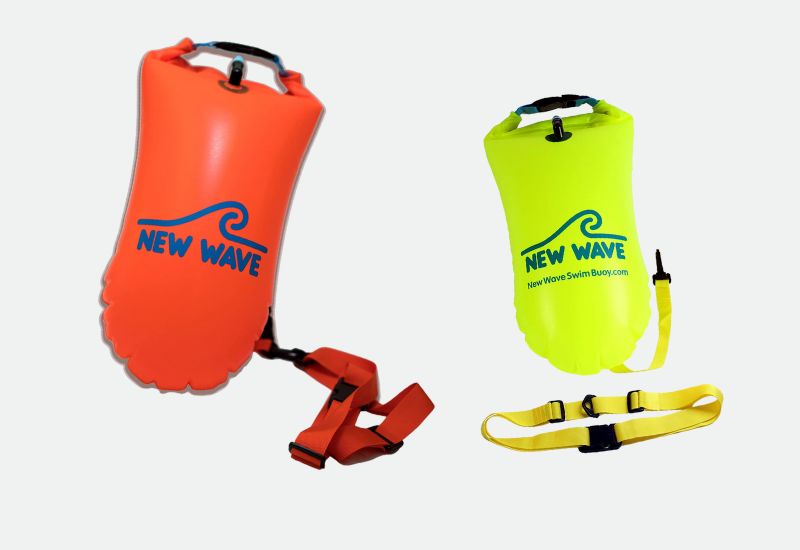 The New Wave Swim Buoy gets my top recommendation for the best overall open water swim buoy thanks to the very lightweight design (less than 10 ounces), multiple size and color options, and easy to adjust belt and tether.
It also has a separate compartment in the bag to store smaller, important stuff like your keys and smartphone (these pockets aren't 100% waterproof, so I'd highly recommend Ziplocking things that you really don't want to get wet).
Available in 15L or 20L sizes in either high visibility neon green, orange, pink or yellow.
The medium buoy has a volume of 15L and is recommended for swimmers under 190 pounds. The 20L model is recommended for us bigger swimmers at 190+ pounds.
| | |
| --- | --- |
| ✅ PROS | ❌ CONS |
| Most color and size options of any swim buoy brand | A touch on the small side for volume |
| Extra compartment for storing smaller items | |
| Bright, high vis colors | |
| Easy to adjust belt | |
---
Xterra Swim Buoy
⭐ Best for maximum visibility on the water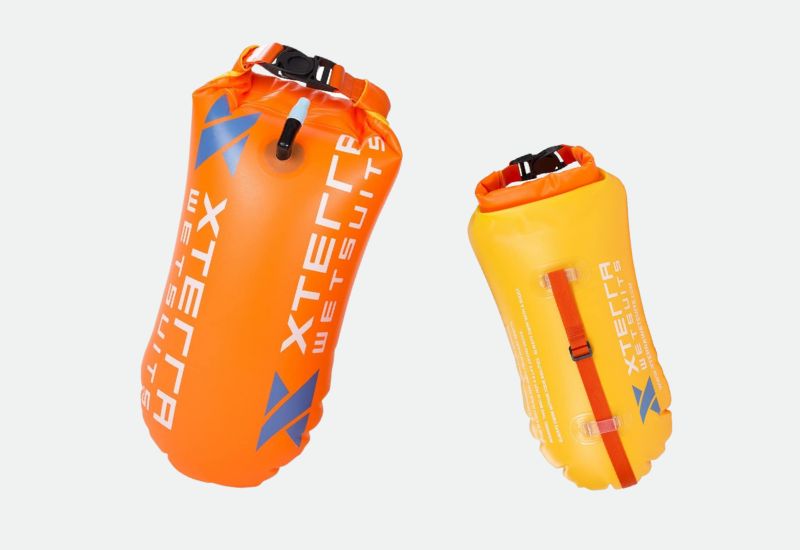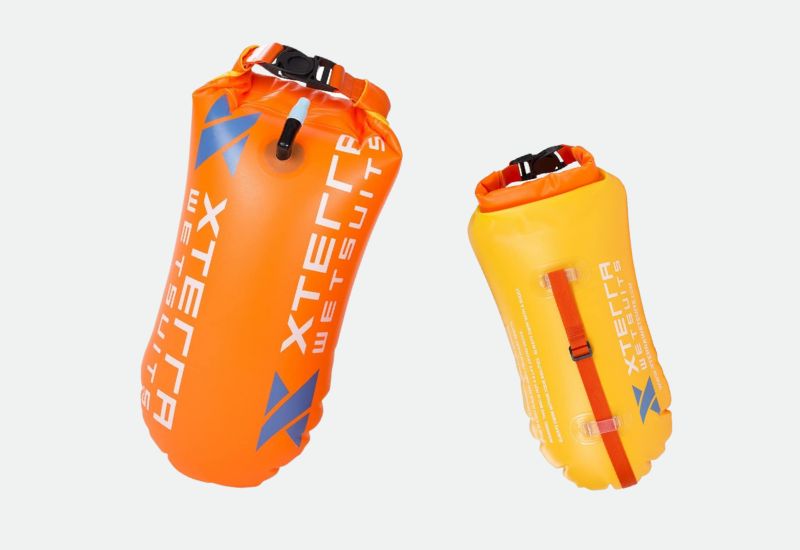 Xterra is one of my favorite makers of open water and tri gear, and their swim buoy brings something new to the table, a two-toned (orange and yellow) float that creates extra contrast on the water.
The result is that the Xterra Swim Safety Buoy is easier to see across open water compared to monotone buoys.
It has a storage pocket inside for stashing valuables like your keys, spare goggles, and more (I'd still recommend putting water-averse valuables like key FOBs in a Ziploc bag before dropping it in the swim buoy).
The main downside is that it is fairly small at 15L.
I found that putting anything more than medium-sized towel inside caused it to sink a little, making the Xterra Swim Buoy best suited for shorter swims where you aren't packing too much gear and want maximum visibility on the water.
| | |
| --- | --- |
| ✅ PROS |  ❌ CONS |
| Budget-friendly pricing | Limited size and color options |
| Two-toned high vis colors for max visibility | |
| Extra compartment for starage | |
---
Swim Secure 50L Swim Buoy and Dry Bag
⭐ Best extra-large swim buoy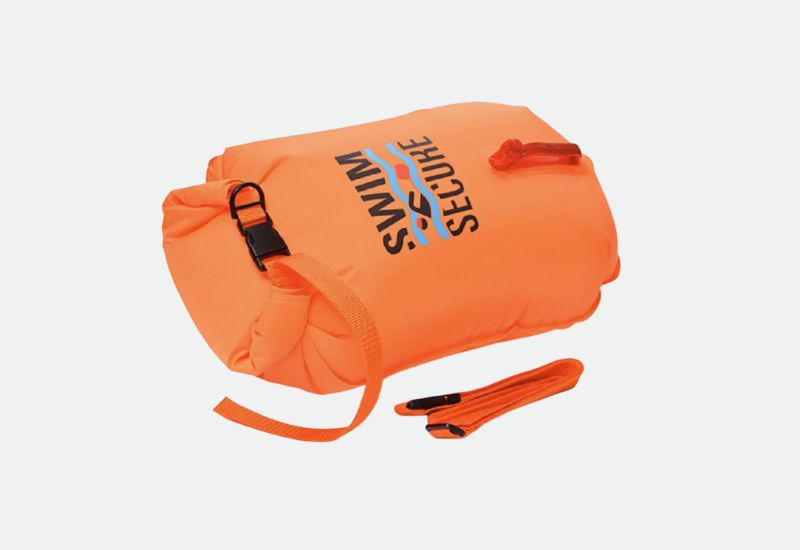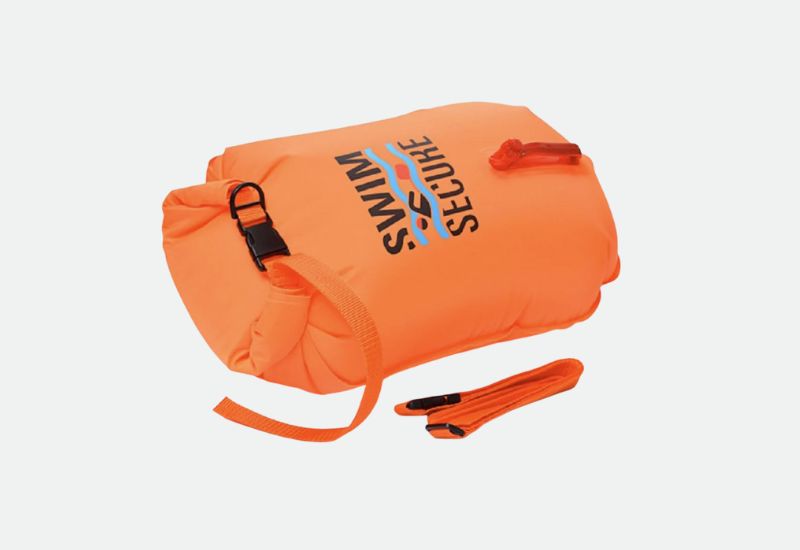 Looking for a swim buoy for carrying an XL amount of gear on the water?
The Swim Secure 50L has you covered with a whopping 50L of storage. That's enough room for shoes, a towel, and maybe even a picnic.
The key thing I love about this swim buoy is that it has an internal dry bag that is separated from the external chambers which provide the floatation.
Typically, whenever I start loading a swim buoy with stuff, it begins to drag. The "moat" of floatation around the dry bag on the Swim Secure Swim Buoy helps to negate a lot of this.
Inflating the buoy is easy, it creates next to zero drag in the water, and the belt can extend up to 42", accommodating a wide range of body types.
---
Zone3 Swim Buoy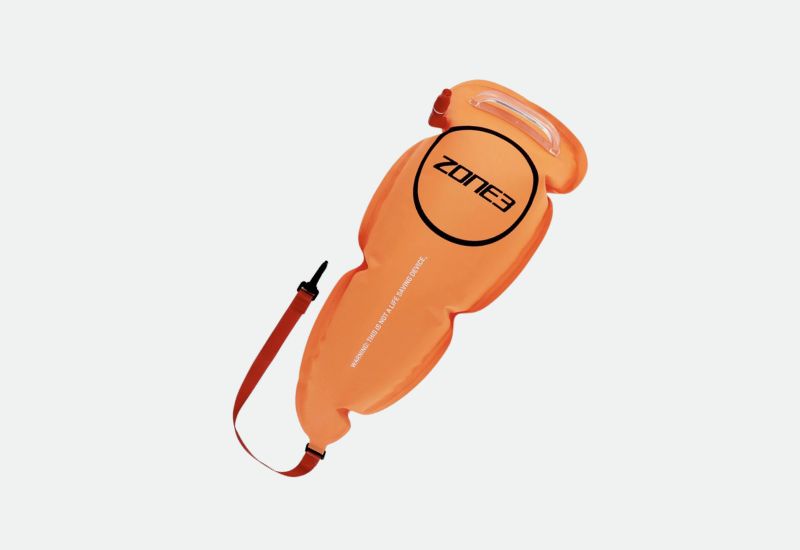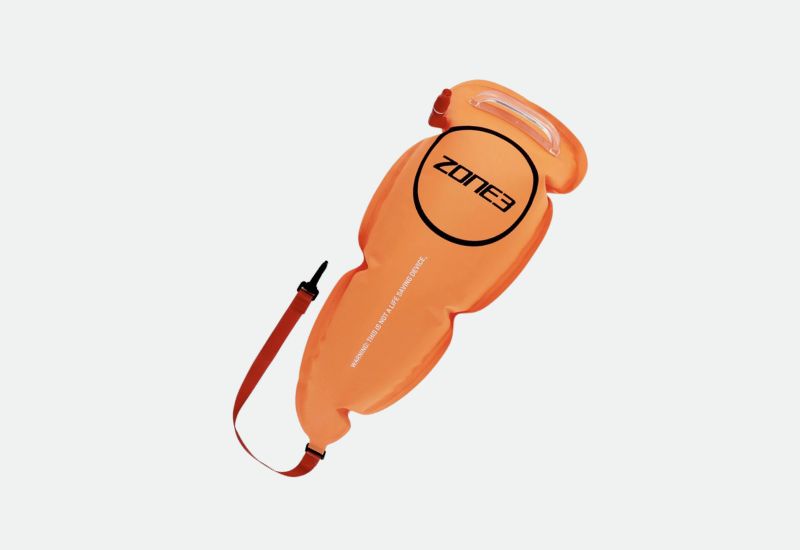 Zone 3 is one of the big dawgs in the triathlon/multisport space, making some of the highest-rated kit for athletes and swimmers.
The Zone3 Swim Buoy is a nylon float with a large dry bag inside. It's one of the largest swim buoys on the market at 28L—more than enough room to haul a ton of stuff when swimming.
The swim buoy comes with an adjustable belt and a leash that is long enough that I wasn't cranking it with my long guerrilla arms when swimming.
Zone 3 sells these swim buoys in two super high vis colors, either your "standard" pylon orange or bright pink.
The main criticism I have for the bag is that it is quite heavy—due partly to the size, obviously, as well as the handles which add some poundage.
Compared to other lightweight swim buoys, the Zone3 does drag a little more.
---
The Benefits of Open Water Swim Buoys
Swim buoys (also known as tow floats) are an essential piece of open water swimming gear, as well as reviews of the best open water swim buoys.
Swim buoys help make you visible to others in open water.
Swim buoys are bright to the point of almost being obnoxious, but it's with great reason—to help other people on the lake or in the ocean be able to see you.
In the ocean, this is particularly helpful if you are swimming through choppy water as you can duck in and out of visibility, and in your local lakes, which are often frequented by power boaters. The triathlon and swimming wetsuits we wear into the water are almost always completely black, so we need to find other ways to make ourselves more visible.
Although you may wear a bright, fluorescent cap (either over your neoprene cap or rocking a regular latex or silicone swim cap), an open water swim buoy is considerably more visible in the water.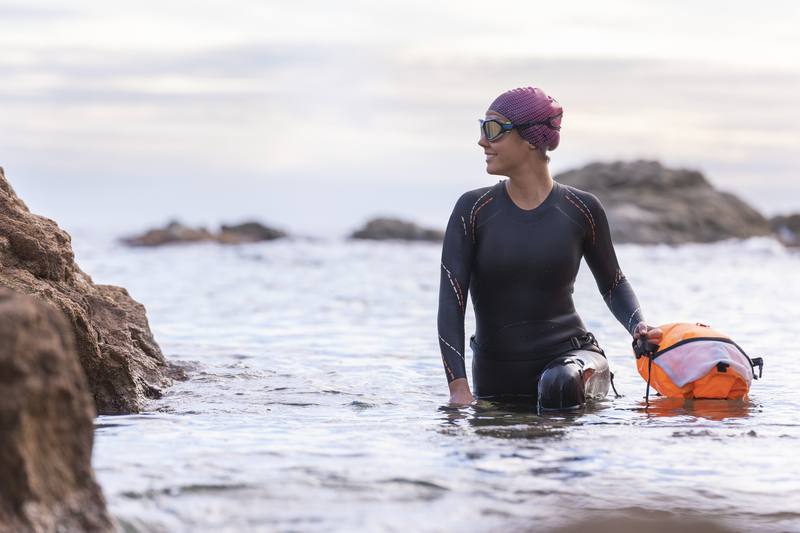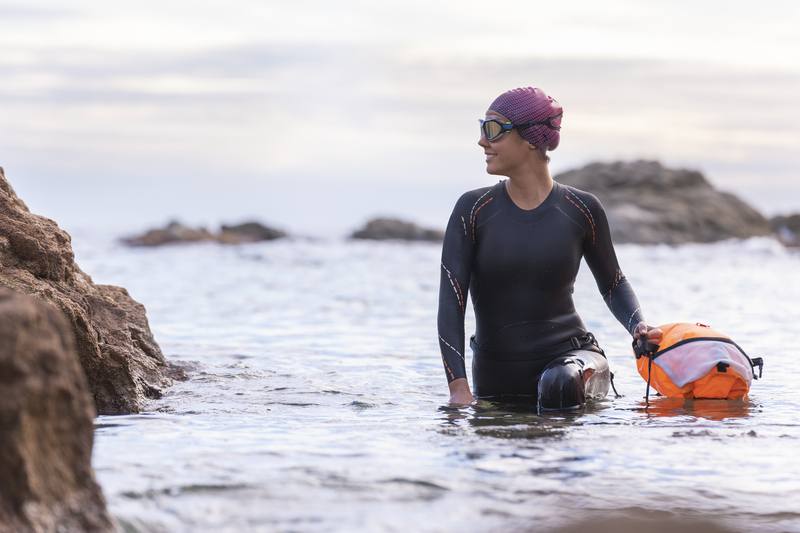 Safety first (and a shot of confidence for newbies)
This is the big one, obviously. No matter how good of a swimmer you fancy yourself there is the chance that things can go south on you out in the open water.
Whether you cramp up, simply get tired and want to take a break, or *knock on wood* something serious should happen, the swim buoy is something you can latch onto in case of emergency.
Related: Looking to keep warm during your open water swims? Here's a look at the best wetsuits for cold-water swimming.
For newbie open water swimmers who don't have the confidence of more experienced swimmers, the peace of mind of having the swim buoy can be a big help.
Open-water swim buoys are also handy for storage.
On longer swims, particularly in salt water, you are getting dehydrated. Swim buoys typically contain little water-proof compartments where you can store a couple water bottles, gel packs, or whatever else you need to keep yourself fueled during those long swims (the drag is minimal when you load the buoy, in case you were wondering).
If you are doing travel swimming or going point to point you can stuff valuables like keys in the dry bag. Depending on the size of buoy you end up using, you can store things as small as your smartphone up to shoes and clothing.
More accurate tracking when using a GPS device
One of the tools swimmers have at their disposal is a GPS-enabled tracker, typically found in their choice of swim watch.
But when we are swimming, and the watch is going in and out of the water, the satellite connection gets repeatedly disrupted. This can generate inaccurate results and also cause excessive drain on your device.
To get supreme accuracy with your open water swims, drop your smartwatch (or even your smartphone) into the swim buoy. It will keep a constant connection with GPS satellites, giving you a more accurate read on the path and speed of your swim.
The Bottom Line
Swim buoys are a critical piece of equipment for hitting the open water for a swim.
They keep you visible to boats, kayakers, and other swimmers. People can see you from shore. They allow you to stock some gear (keys, phone, etc) when swimming on your own. And they act as a bit of floatation in the event you need to pause and rest mid-swim.
To recap the best swim buoys for open water swimming:
? Our runaway favorites are the New Wave Swim Buoys thanks to the large choice of colors and sizes and nearly drag-free design.
The Swim Secure 50L Swim Buoy is a great choice for open-water swimmers hauling a lot of clothing and gear.
And the Xterra Swim Buoy and its two-toned contrasting colors make it a great option for swimmers who want maximum visibility out on the water.
Choose the right swim buoy or tow float for you and swim confidently the next time you go open-water swimming.
---
More Stuff Like This
6 Best Bags for Triathlon. Dominate the transition as well as your training with our hand-picked selection of the best triathlon bags for all your gear.
5 Best Waterproof Sunscreens for Swimming. Protect your skin and elongate your open water swims with our favorite waterproof sunscreens and sunblocks made for conquering the elements.
5 Best Swimskins for Triathletes. Here's a breakdown of how the swimskin can help you race faster, and our favorite swimskins for rocking out on race day.