The right pool thermometer helps keep your pool running properly and comfortably. Here's a breakdown of the best ones on the market for backyard pools and hot tubs.
One of the best parts about jumping into your backyard pool on a hot summer day is cooling off.
But like all good things, there can be too much of a good thing—you don't want to hop into water that is arctic in temperature.
A pool thermometer, a simple and waterproof measure of how your water temp is doing, gives you a heads up on exactly what your pool is up to.
In this brief guide, we are going to look at how important your pool thermometer is to the function of your swimming pool or hot tub and also look at the best ones on the market.
Let's dive right in. (Safely, of course ?)
---
Best overall pool thermometer: InkBird Wireless Pool Thermometer. Packed with tons of features, a receiver, and super affordable at less than $30, it's our easy winner for the best pool thermometer. Click here for up-to-date pricing on Amazon.
---
Why you need a pool thermometer
The pool thermometer is an underappreciated asset in your pool maintenance. It often produces the first warnings that something is going wrong with your pool.
There are a few reasons that it's important for you to stay on top of the temperature in your pool with a thermometer.
Regulate pool temperature. The obvious one is that you want to keep your pool and hot tub water at a comfortable level. There are other tools in your arsenal for keeping the water cool or warm, including your solar pool cover, pool pump, and pool heater, but ultimately the thermometer is what's going to guide what you do with your pool equipment to regulate the temp.
Troubleshooting water levels. Some pool thermometers can be set up to notify you when there is a drop in pool water, giving you a quick heads up on leaks, drainage, or other water circulation issues in your pool or hot tub.
Saves money on energy costs. Having a pool thermometer is a great reminder to keep your water temp at levels commensurate with the seasons. Having awareness of the temperature is often enough to dial it down when the occasion calls for it, saving you some cashola on energy costs. (Combine this with an excellent pool timer and you will save a lot of money on running your pool.)
---
Inkbird Wireless Pool Thermometer
⭐ Best-in-class for pool thermometers
The Inkbird Wireless Pool Thermometer combines a floating thermometer with a receiver that you can install up to 300 feet away from your pool or hot tub.
The upside on this is pretty obvious—you can check the pool temp long before you step foot into the water. No need to walk out to the pool to see if it's ready for some world-class cannonballs and leisure.
Readings can be configured in both Celsius and Fahrenheit, the thermometer is rated IPX7 waterproof, and it can be used in both indoor and outdoor swimming pools and hot tubs. Another big bonus is that the unit can also be set up to provide custom alerts when the water level drops. Handy!
Despite the dual set-up and smart features, this unit is very affordable, with Amazon retailing for less than $30 (check Amazon for current pricing and availability), making it a sleek-looking thermometer for your pool.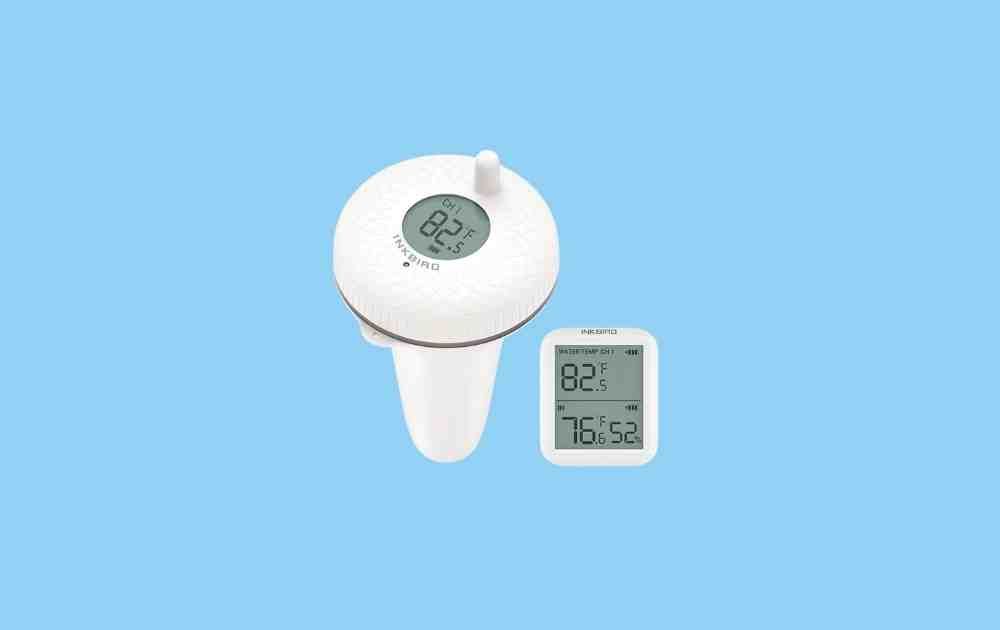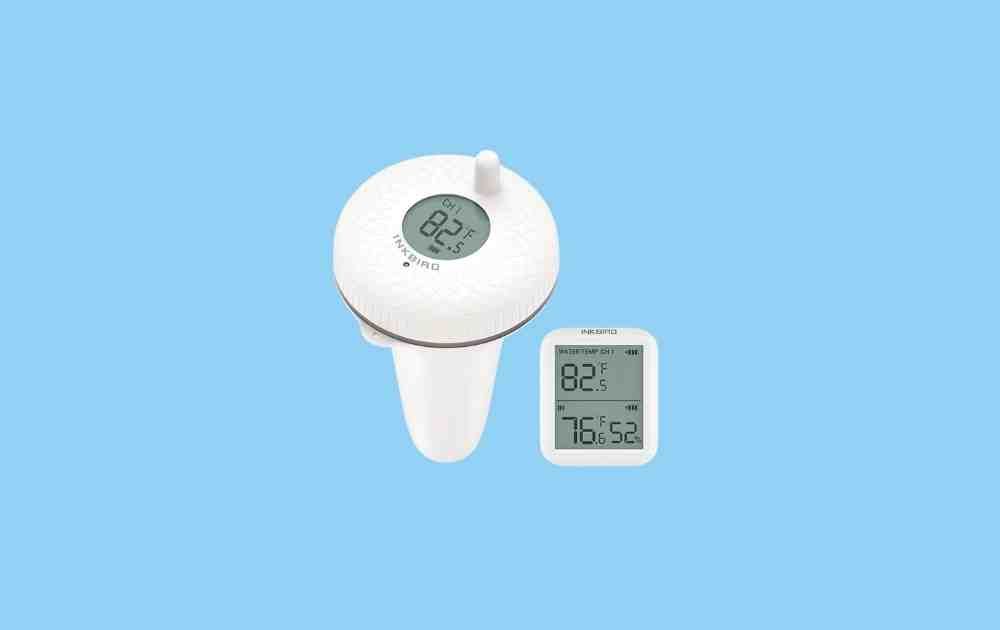 Kingsource Analog Pool Thermometer
⭐ Best no-frills analog pool thermometer
Okay, okay—you don't need the LCD display, a receiver, or a fancy crab, you just want a basic analog pool thermometer that tells you the temp. Fair enough.
Kingsource makes an excellent version of the analog pool thermometer that is also dirt cheap (around $10 on Amazon—check here for current availability and pricing). The temperature is easy to read, the thermometer has a little string at the top to lash it to a pool ladder and gives you an accurate measurement after being submerged for just one or two minutes.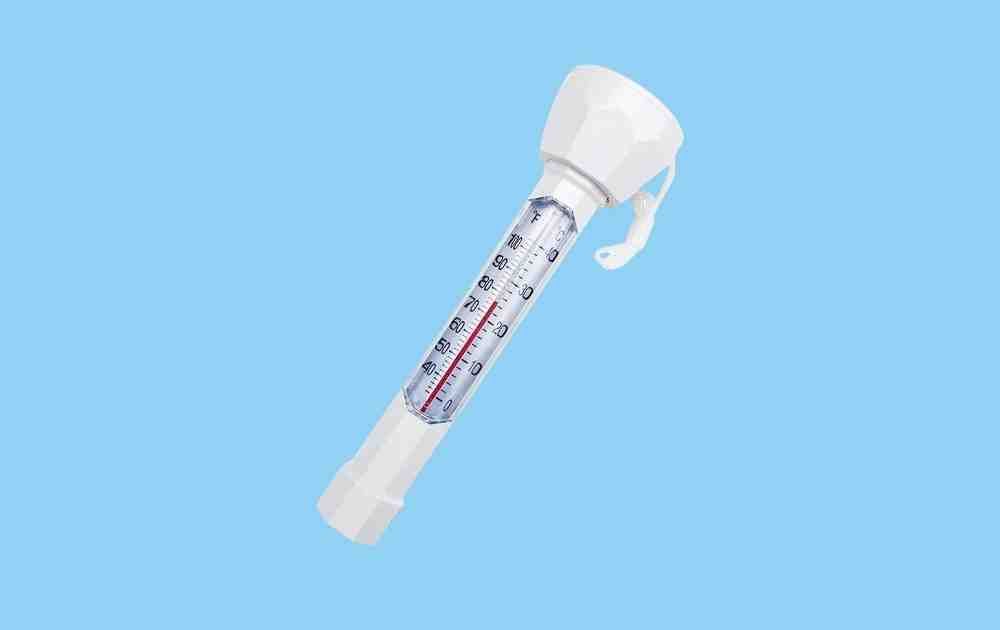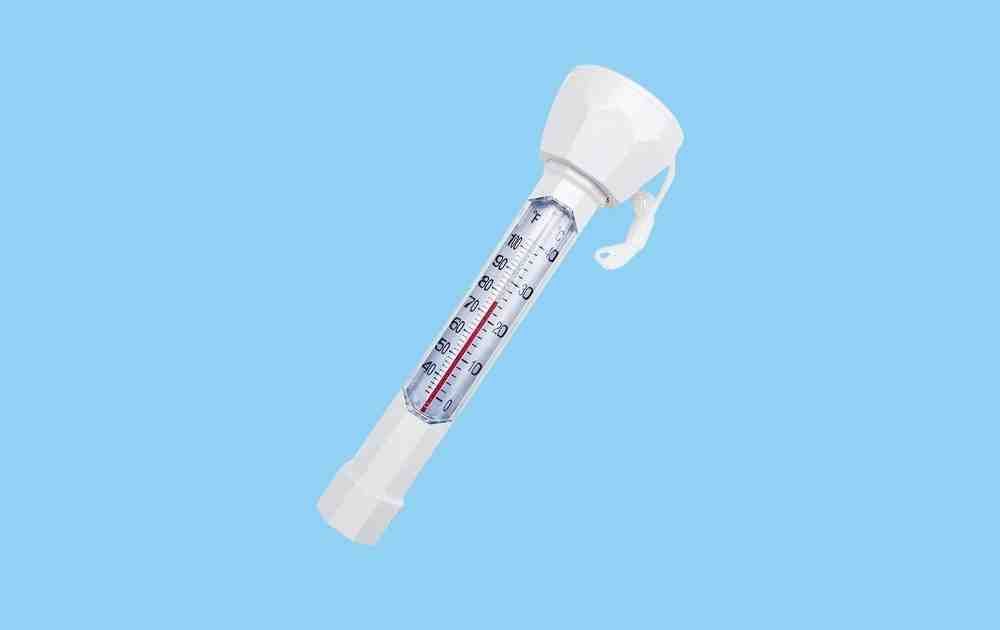 BBrand Pool Thermometer
Another one of the "smart" pool tools, the BBrand Pool Thermometer has a lot of bells and whistles. Digital LCD displays on the floating thermometer and on a wall-mounted receiver. A mini solar panel on the thermometer to keep it charged and measuring data.
On the surface (ha—swimming pun!), this thermometer looks like it should be kicking all of the butts.
But about 25% of users noted that significant durability issues, from the display fogging up, instructions that were difficult to follow, and broken signal between the receiver and the thermometer (click here to read all of the reviews on Amazon).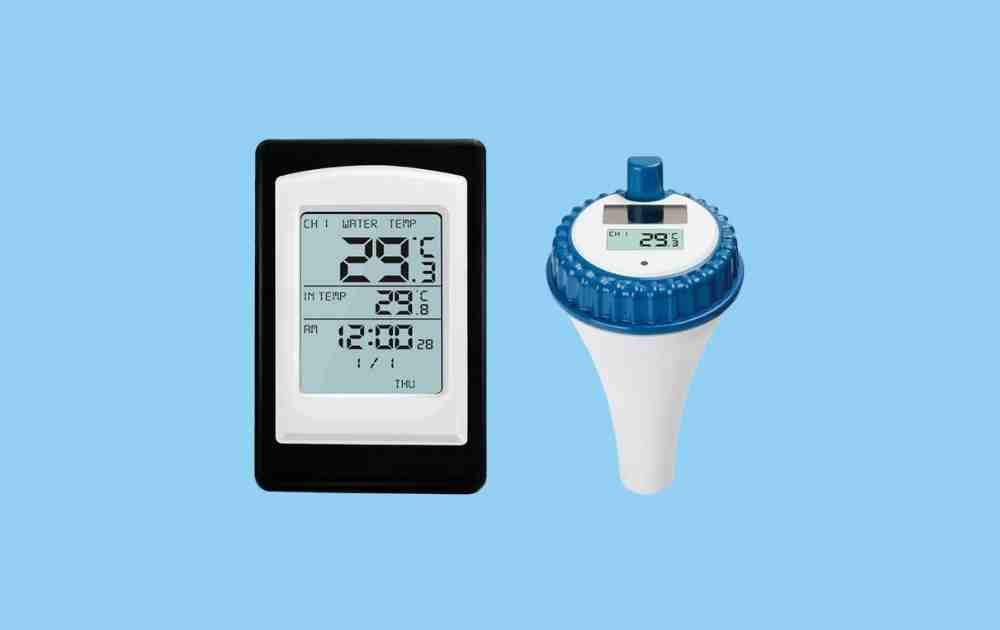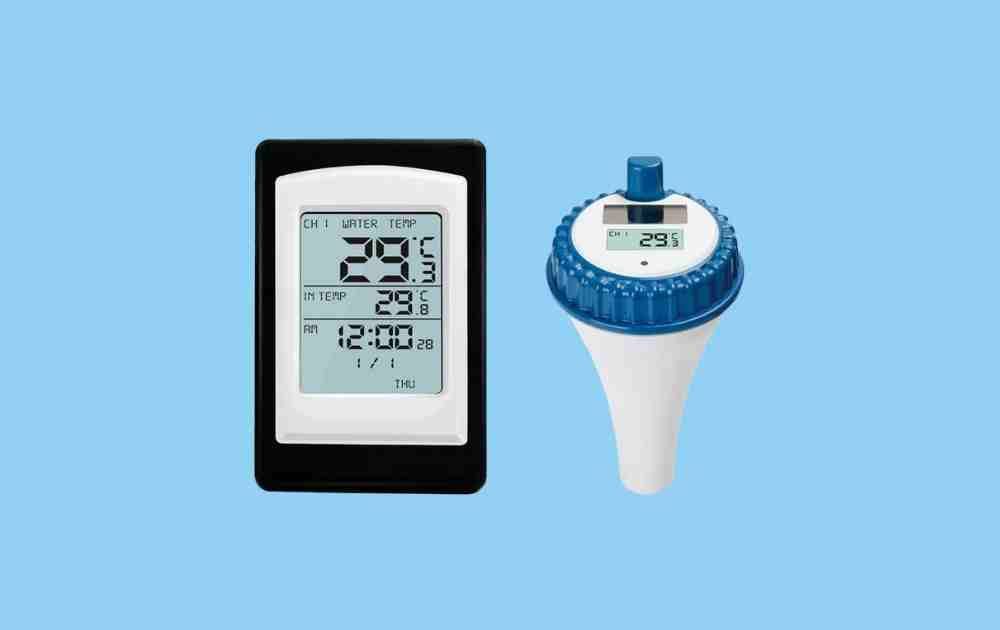 XY-WQ Floating Crab Thermometer for Pools
Want to spice up your pool or hot tub with something that is a little more playful? The XY-WQ is a "classic" mercury thermometer with a floating crab at the top, making it easy to quickly find and check when you hop into the water.
Made for all manner of pools and hot tubs, the readings go as low as 20 Fahrenheit (brr, no thanks) all the way up to a balmy 120 Fahrenheit. The crab's playful design is fun, but also makes the thermometer easy to spot in the pool or hot tub.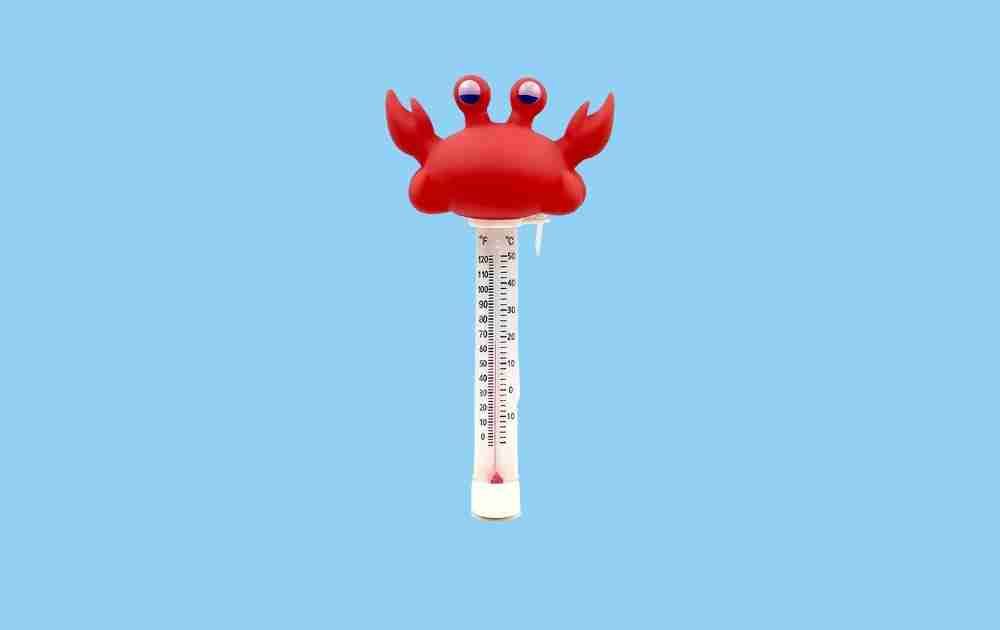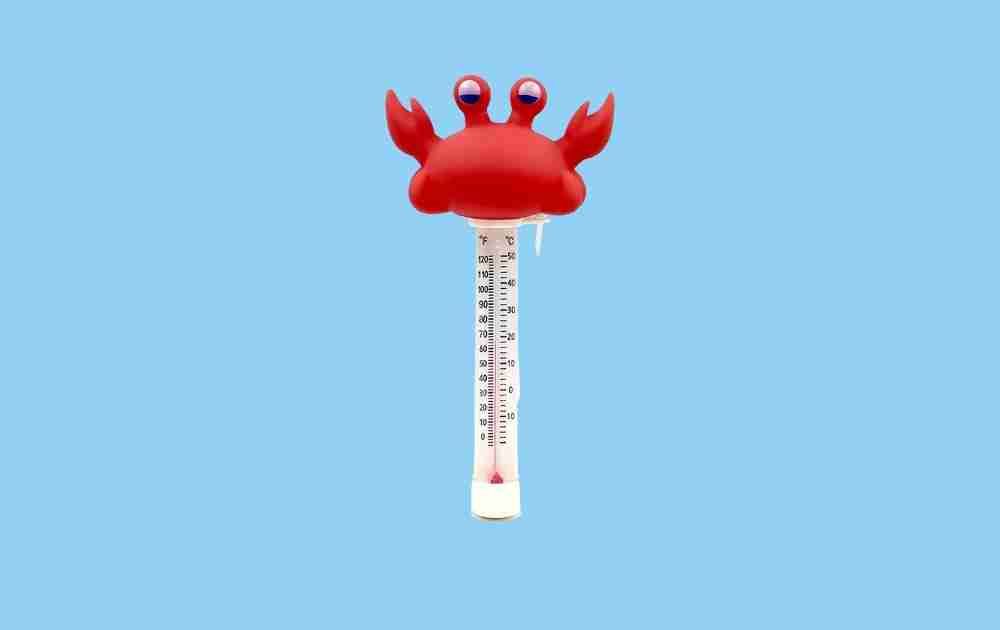 ANTOBLE Floating Pool Dispenser and Thermometer
Keeping your pool or hot tub clean can quickly feel like a full-time job. Shocking, treating, vacuuming, skimming—the "ings" don't seem to every end.
The ANTOBLE Floating Pool Dispenser and Thermometer takes a couple of jobs and combines them in one handy little tool. Part floating chlorine dispenser and part thermometer, it's designed to dish out 1" or 3" chlorine or bromine tabs while also giving you an analog thermometer to track pool temp.
I like the large width of the unit (over 6") and love the price point—at just $15 it's cheaper than many dispensers and thermometers when sold separately.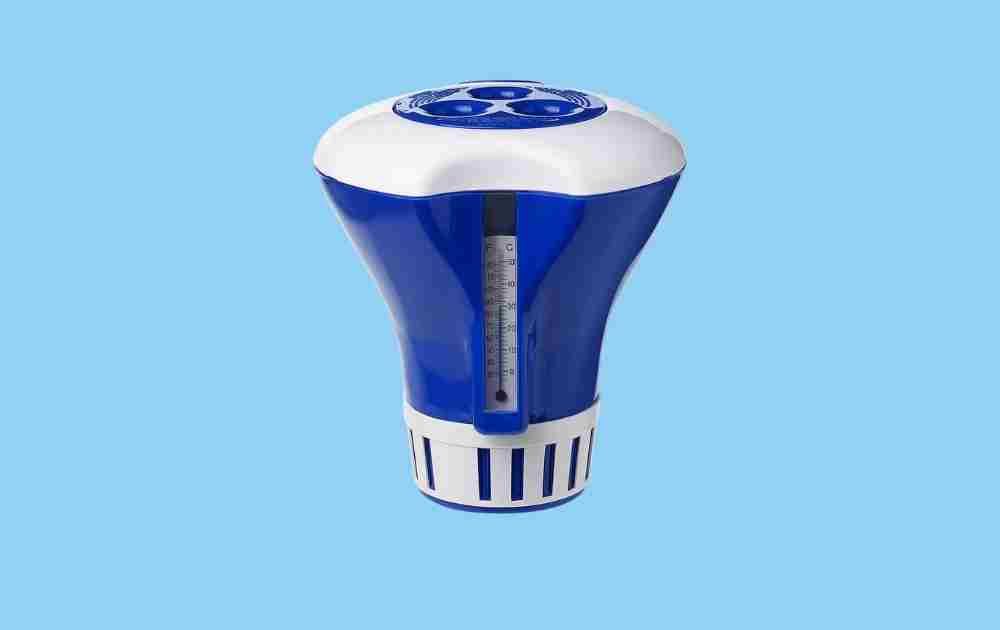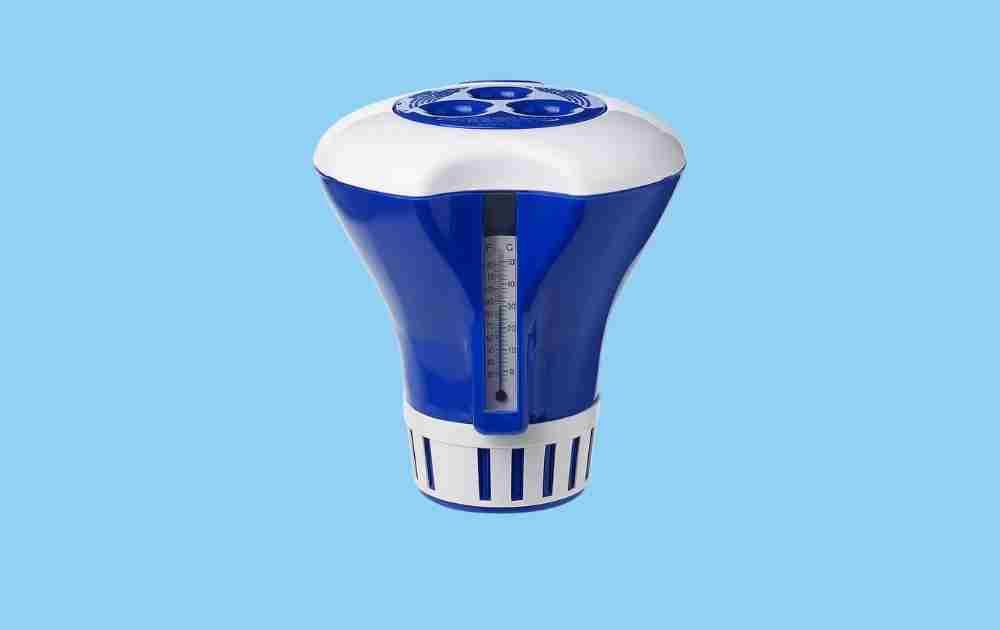 ---
Choosing the Right Pool Thermometer
Keeping your pool the right temperature is more about just comfort. It is an indicator that equipment is malfunctioning (your pool heater, for example) and can even be a safety concern.
Very cold pool water can be a shock to some, and overly warm water can be unsafe for a variety of reasons. That's why having the right pool thermometer for you and your pool is so critical.
But for such a simple tool, there is a lot of different bells and whistles with the top ones on the market.
Here are the key decision-makers for choosing the best pool thermometer for you.
✔️ Analog vs Digital display
One of the key differences with thermometers is choosing between an analog or digital display.
Analog is the route you want to go if you are cool with ballparking the temperature and don't want to spend a lot of money.
Digital pool thermometers, as you can guess, are much more specific and offer additional features like sending the pool temp to an app on your phone.
✔️ Floating, Hanging or handheld.
Floating thermometers bob around the surface of the water like a buoy. Because they aren't completely submerged, and the surface of the water tends to be slightly cooler, the temp readings can be a little off.
Hanging thermometers are installed below the surface (tied up to a pool ladder, for instance) and as a result, provide a more accurate assessment of the water temperature.
Handheld pool thermometers combine the best of both worlds—accessibility and accuracy. Point an infrared laser at the surface off the pool and it punches out an accurate reading of the water temperature.
✔️ Thermometer power.
As awesome as it would be, pool thermometers don't power themselves on good times and the smell of chlorine.
Digital pool thermometers will require a power source, whether that's using the sun's rays to power the unit or batteries. And of course, analog thermometers do away with this altogether.
✔️ Display readability.
Back to the issue of being able to properly assess the pool temperature, and that's with the type of display that your pool thermometer has.
Pools get steamy and foggy, so you want a thermometer that is easy to read and doesn't require you sliding it under a microscope to read.
The fanciest of pool thermometers is kinda useless if you can't easily and accurately check the temp of the water.
How warm should my swimming pool be?
Water temperature is often a contentious issue at my local swimming pools.
Swimmers who go for an invigorating workout prefer the water a little more on the chilly side, while older people and kids, who are mostly playing and relaxing in the water, lean towards a slightly warmer water temperature.
The Mayo Clinic1 recommends that your swim pool is in the 83-88 F range (or 28 to 31 C), while the Department of Energy suggests that residential pools be heated between 78 and 82 F3.
Ultimately, when it comes to swimming pools, you will have to land on a water temperature that is comfortable for you and your swim guests while also balancing the energy costs that come with heating a pool.
For hot tubs, which are supposed to be hot (duh, right?), the Center for Disease Control suggests that the water be no warmer than 104 degrees Fahrenheit2.
---
More Pool Maintenance Guides
Best to Solar Swimming Pool Covers. Your solar cover is your best friend when it comes to regulating pool temperature. Here's a breakdown of the best ones on the market for in-ground and above ground swimming pools.
6 Best Above Ground Pool Filters. Keep your above ground pool sparkling and clean with this breakdown of the best above ground pool filters.
The Best Variable Speed Pumps for Swim Pools. Frustrated with big electricity bills from your backyard pool? Replace your standard pool pump with one of our favorite cost-saving variable speed pool pumps.