Looking to get a new training jammer for your time at practice? Here's a breakdown of our favorite jammers, for lap swimming and training.
Jammers are comfortable and a more modest option compared to regular "Speedos"—aka swim briefs.
The look of the suit is similar to bicycle shorts, the fit is designed to be snug on your thighs and groin, and they provide the same amount of coverage as your average pair of swimming trunks, making them a popular option when it comes to training and lap swimming suits for men.
In this guide to the best swim jammers for swimming, we will cover all of our favorite suits for conquering the water.
Let's dive right in.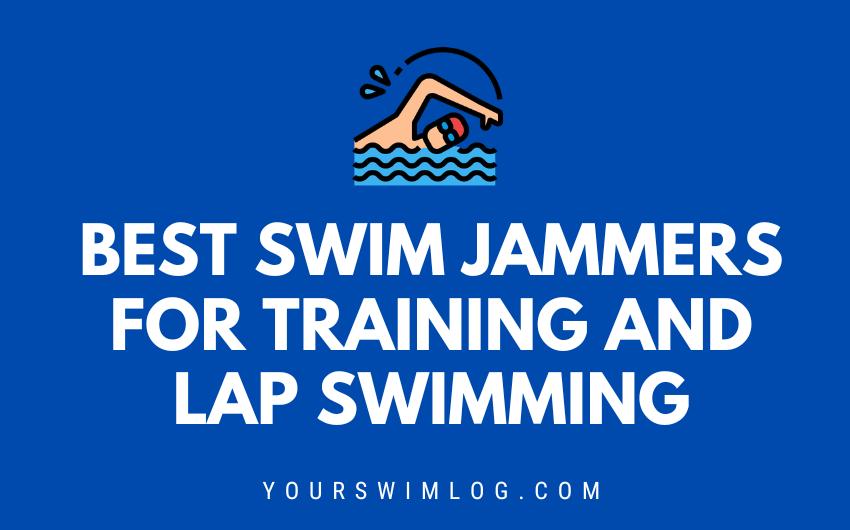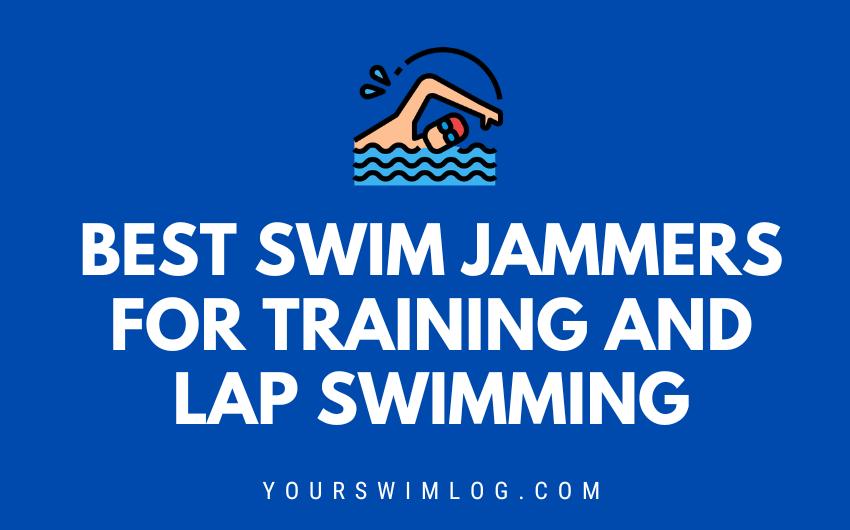 Speedo Endurance+ Solid Training Swimming Jammer
⭐ Most durable men's swimming jammer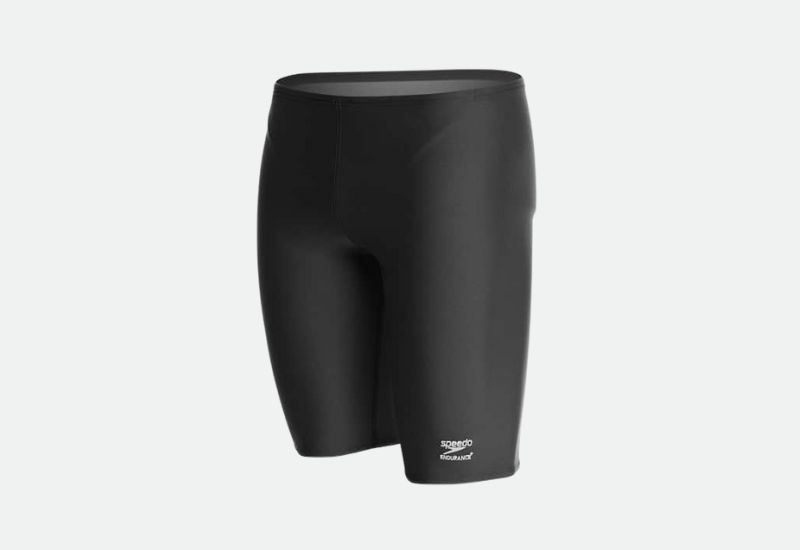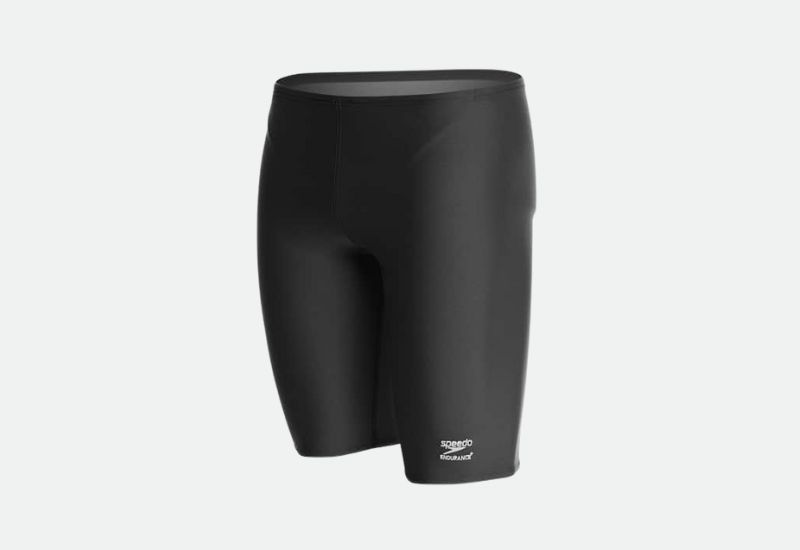 Speedo is the most well-known swim manufacturer on the planet, and for good reason—they've consistently put out great swim products tested and worn by some of the fastest swimmers on the planet.
When it comes to basics, the Speedo Endurance+ Jammer has got you covered.
The suit is made of 100% polyester, making it the most durable when faced off against the harsh pool chemicals in the water. Even after months of repeated wear, it will not lose shape, color, or pile. A four-way stretch keeps you comfortable and the suit dries relatively quickly for a polyester-based fabric.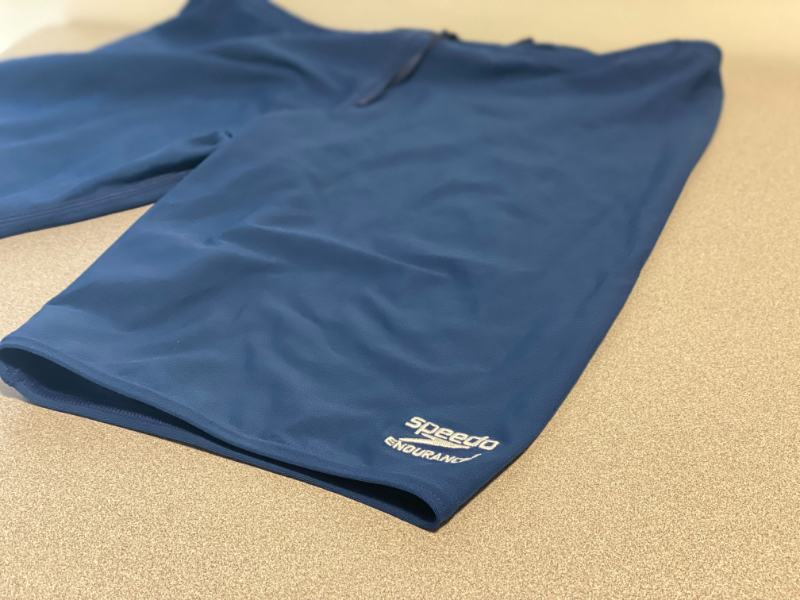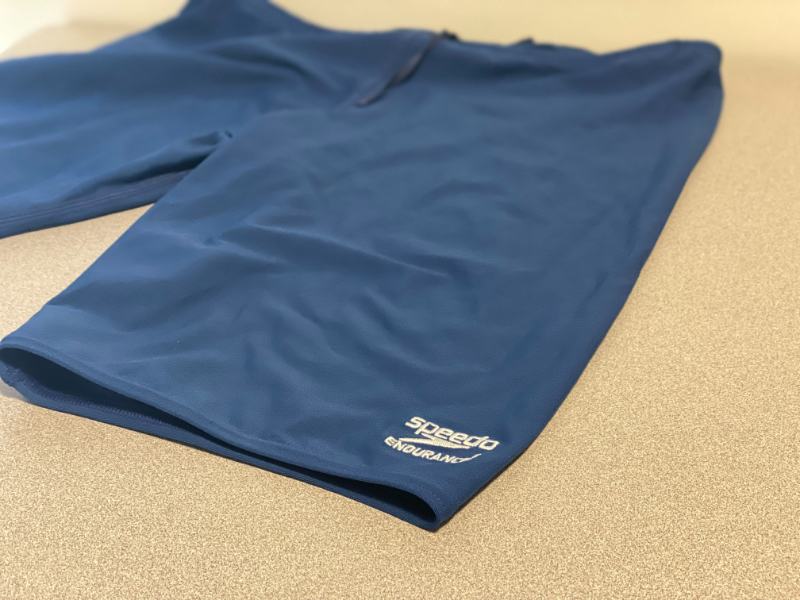 The Speedo Endurance+ has got our top pick for best training jammer as it is super long-lasting, stays true to form thousands of hours of swimming later, and is available in a variety of colors and cuts (handy if you want to shift to a square-cut or brief at some point).
For you bigger fellas out there (including myself), you will be happy to know that the suit comes in up to 38" waist.
---
Sporti Catalyst Men's Swimming Jammer
⭐ Best swim jammer for bigger guys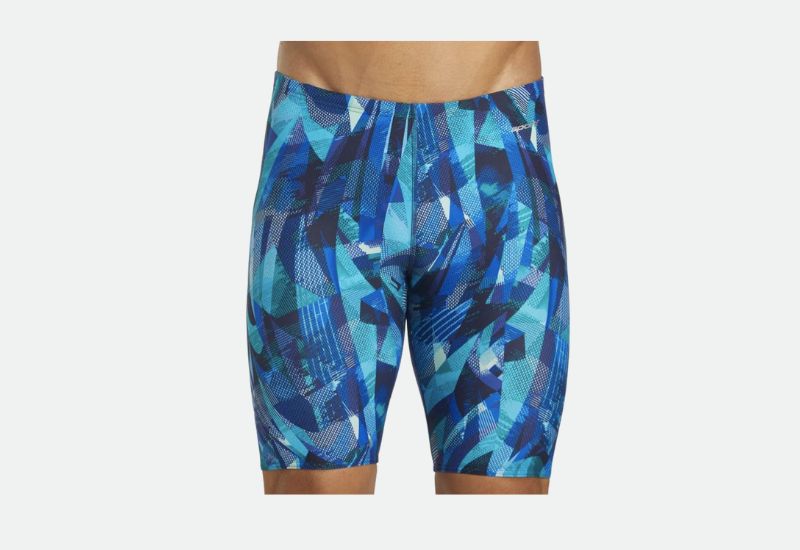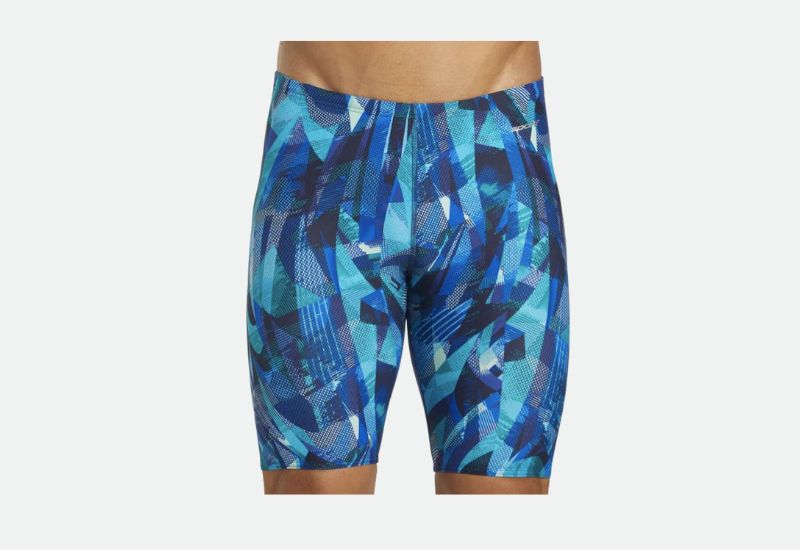 Polyester is the primary fabric used with training swimsuits for lap swimming, and with good reason—it is durable as heck!
But all of that durability comes at a cost, and the price is reduced flex or stretch in the fabric, which can make it difficult to get a good fit for a lot of swimmers, especially us big fellas.
The reality is that bodies come in all shapes and sizes, which means that with swimsuits that have a lot of coverage, you will want a suit that also has some give and take in order to accommodate your uniquely shaped torso and thighs.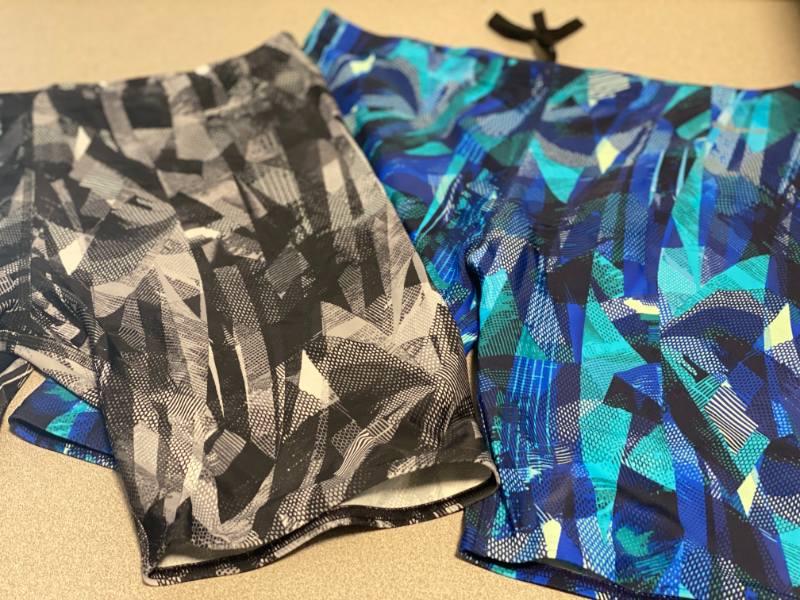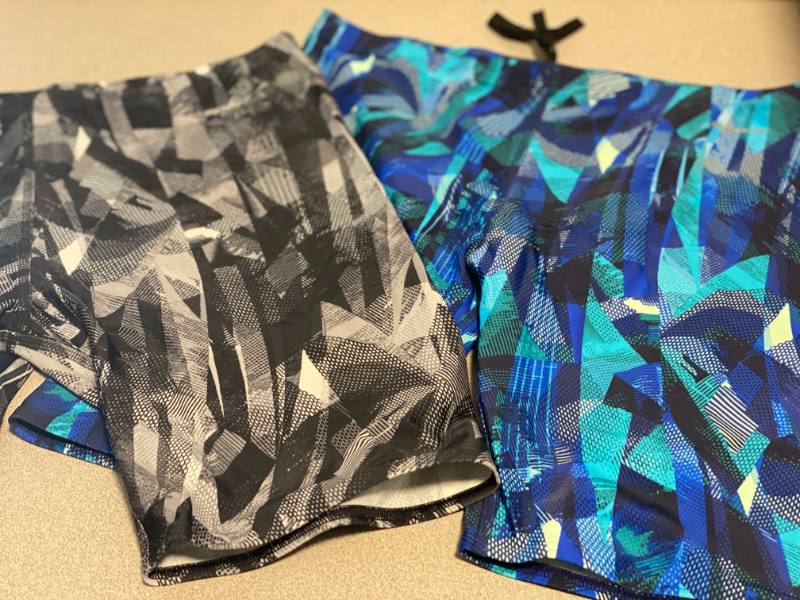 This is one reason that the Sporti Catalyst Swim Jammer has been my go-to recently—it's got a fabric blend of 80% nylon and 20% LycraXtra Life that perfectly balances durability with a comfortable fit that doesn't feel like your legs are getting choked out.
This gives swimmers, and especially us bigger dudes (I'm 6'5 and around 275lb), a swimsuit that can fit our unique bodies.
The Sporti Catalyst Men's Swimming Jammer comes in a ton of vibrant and bright colors (perfect as they won't get last in the dark pit that is the bottom of your swim bag), is available in size 26 all the way up to 40, and are priced super competitively at around $25.
---
Speedo PowerFlex Swim Jammer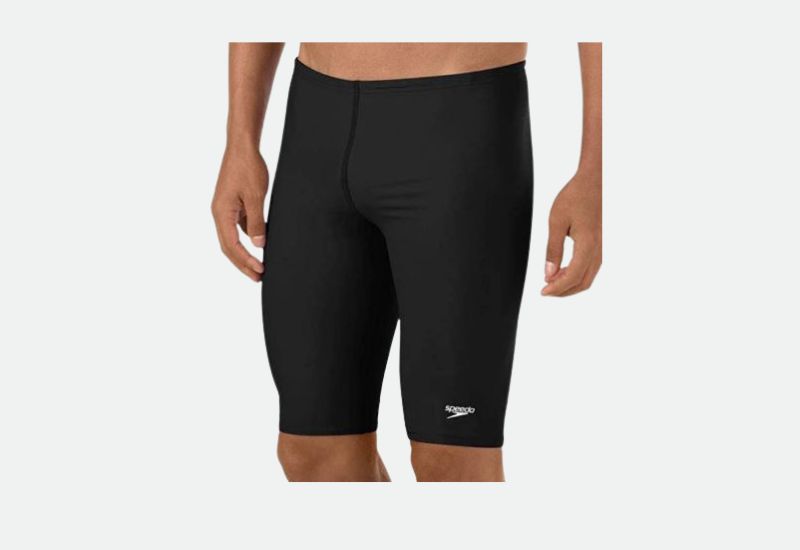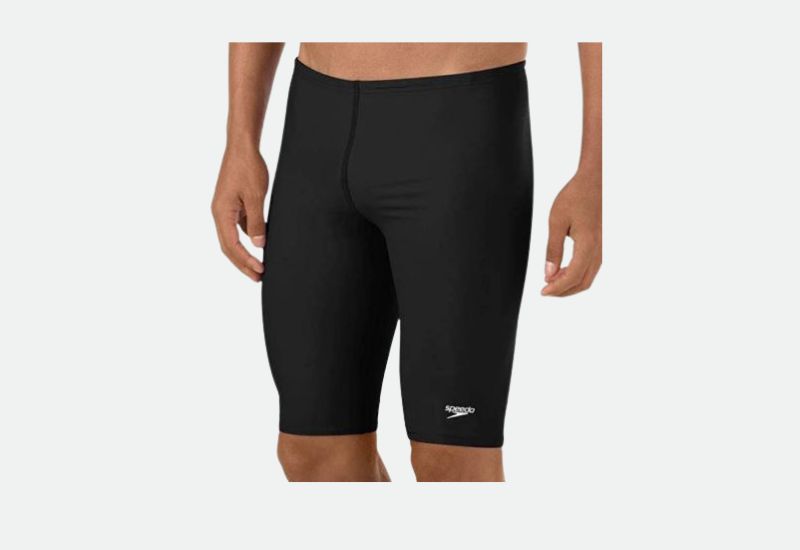 Yup, another Speedo jammer for ya!
Unlike the Endurance+, which is designed specifically for lasting as long as a 400m individual medley feels, the Speedo Powerflex Jammer has more Lycra in the suit, making it a little stretching (hence the name "PowerFlex") and a little construction, making it marginally lighter and more hydrodynamic.
The Powerflex is very similar to the fabric blend of the Sporti Catalyst, but with solid block colors and a more expensive price tag.
The increased Lycra does mean that the life of the suit will be less than more polyester-heavy suits, but if you are looking for something that provides the maximum range of motion, a suit that is lighter, and something that is a little faster than polyester training jammers, than the Speedo PowerFlex Jammer is your pick.
---
TYR Durafast Endurance Swim Training Jammer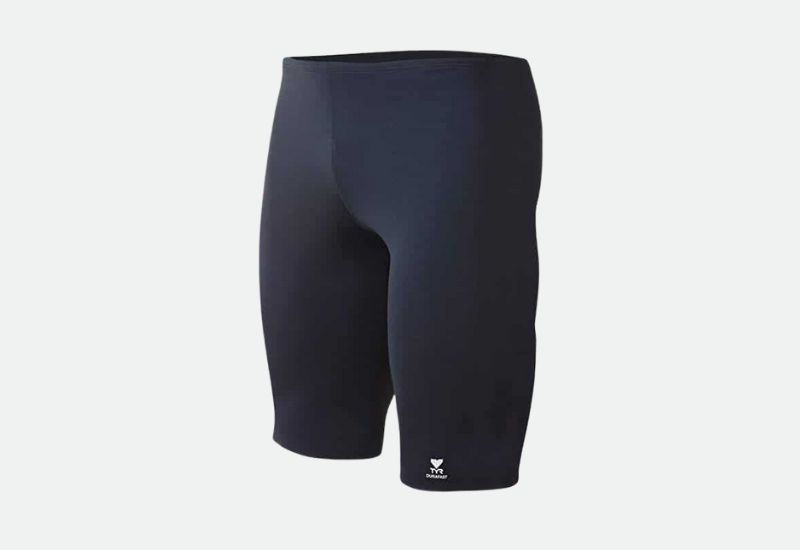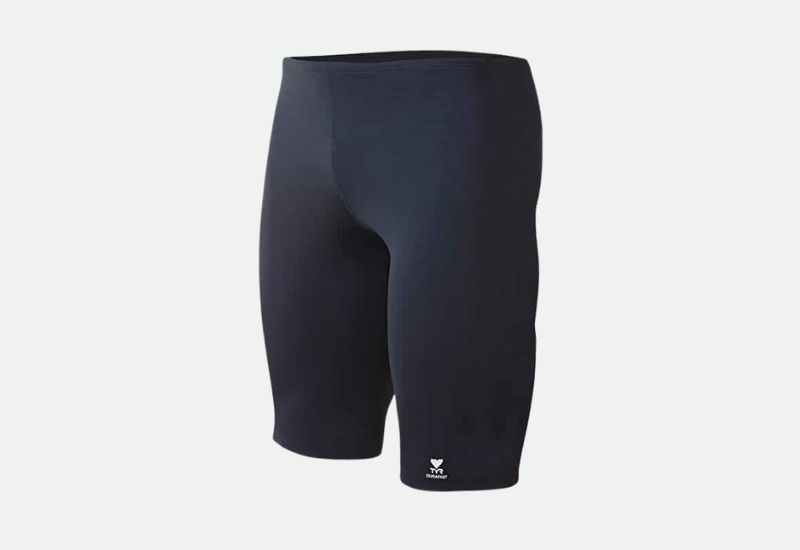 TYR is another heavy-hitter in the swimming gear market, with top-tier athletes including Katie Ledecky, Ryan Lochte, and Cody Miller on their roster of sponsored athletes.
The Durafast is the training alternative to their popular racing jammer, the TYR Venzo, which I also reviewed recently. Unlike the Venzo, however, and its hefty price tag and wildly hydrodynamic fabric that lasts only a few dozen races, the TYR Durafast Training Jammer is designed for longevity.
Made of 94% polyester, and 6% lycra, it has enough to stretch to make moving your hips internally (as you do in breaststroke) easier. It has drawstrings (key for going ultra-fast), is available in three different solid colors, and will last you the season.
---
TYR Miramar Jammer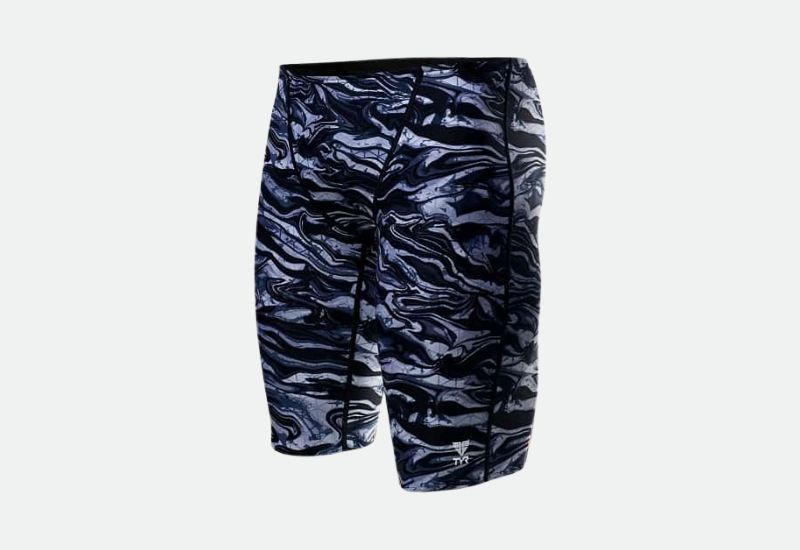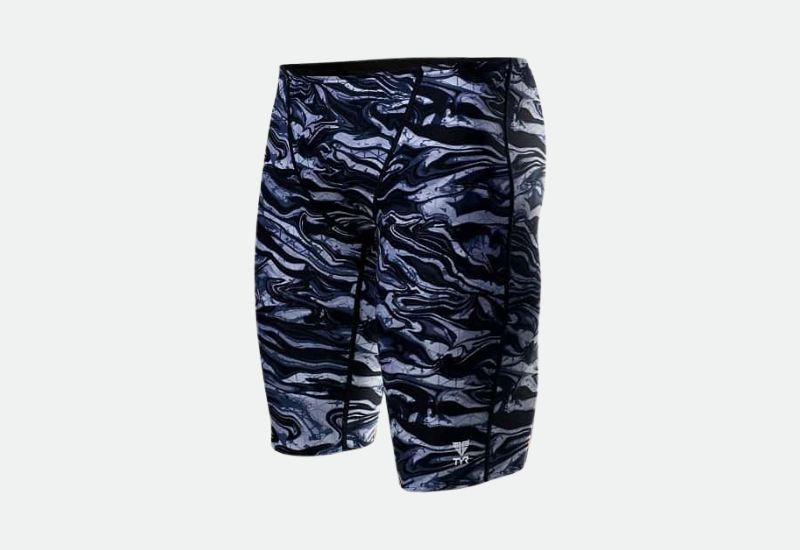 Another jammer from TYR is on our list, simply because this suit is tough. Made with TYR's most durable and long-lasting fabric, a proprietary material they call Durafast Elite, the Miramar Jammer sits comfortably on the waist and provides plenty of range of motion for your swimming.
The suit comes in a variety of color combinations that are sure to make you stand out, and the poly fiber and circular knit construction is a solid 1-2 punch of stretchiness and durability.
This jammer is rated "chlorine proof" (let's not kid ourselves, the suit will fade eventually, especially if you aren't rinsing the suit after training) and provides UPF 50+ sun protection.
---
Arena Mens Spider MaxLife Panel Jammer Swimsuit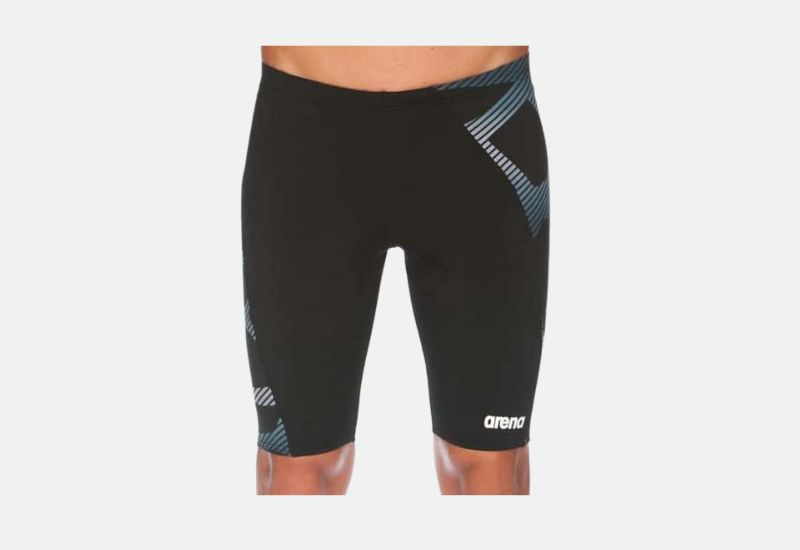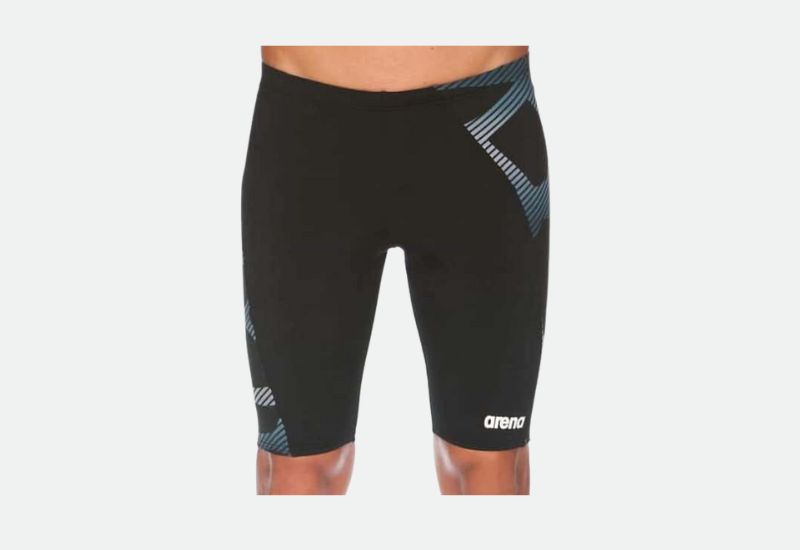 If you are looking for a no-frills practice jammer that is made of 100% polyester, the Arena Spider MaxLife Jammer is your ticket.
The suit has all the standard stuff you would expect from a lap training jammer: Adjustable drawstrings to keep your suit comfortable and secure, a long-lasting fabric designed to withstand pool chemicals, and plenty of colors and solid colors to choose from.
---
Nike Men's and Boys HydraStrong Swim Jammer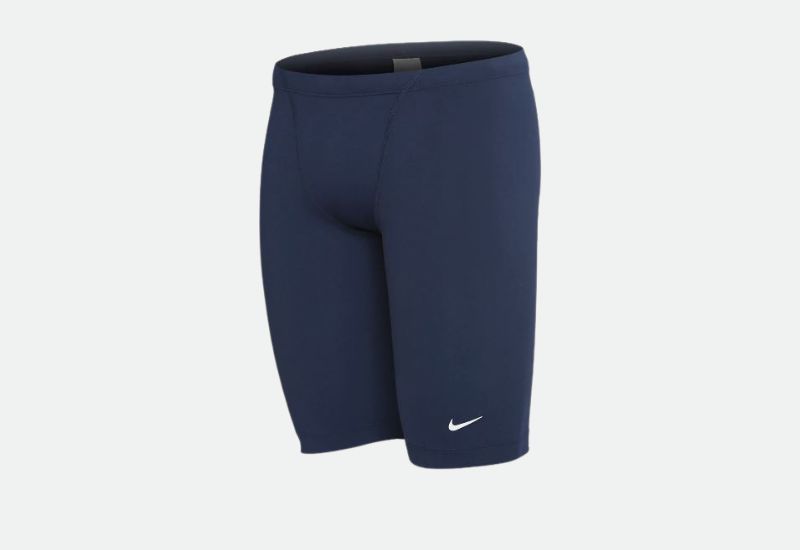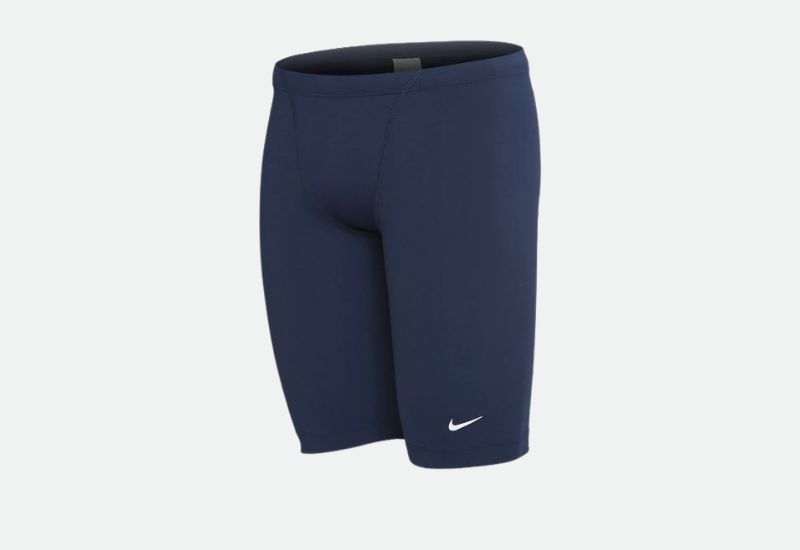 Although Nike isn't the swimwear brand that comes to mind when talking about swimming gear, they do make some pretty solid training equipment.
The Nike Men's swim jammer, with its flat seams, front lining, and a wide variety of sizes, is another swim jammer I've used over the years. It's made with "HydraStrong" which is just fancy-pants lingo for polyester, which means that the jammer will last a LONG time.
That said, I found that there is very little flex in this fabric, so make sure that you size the suit properly to secure a comfortable fit for hitting the pool.
Nike offers the jammer in three different solid colors, and in a huge variety of sizes for boys and men, from 24 to 40″.
---
How to Choose the Perfect Swim Jammers for You
There are some key things to look for when picking out the best swim jammer:
✅ Fabric
Most training jammers, unlike the Lycra-based racing jammers, are made of long-lasting polyester.
The trade-off is that they do cause a little more drag, but they are far cheaper and will last much longer.
Training swim jammers with a little bit of lycra in them will give the suit some stretch, but they will degrade faster than suits made of 100% polyester.
✅ UV protection
Many swimsuits are UV-resistant. This means they will stand up to the sun and not fade prematurely.
Particularly helpful for swimmers who have the luxury of training outdoors.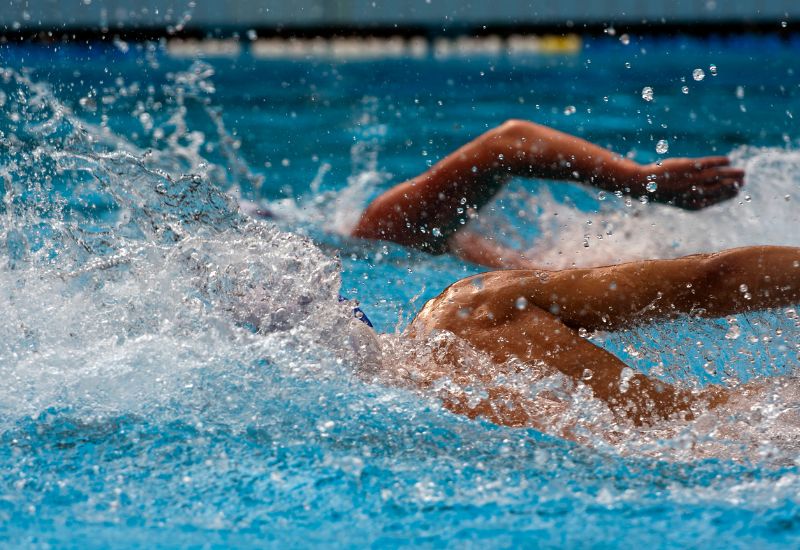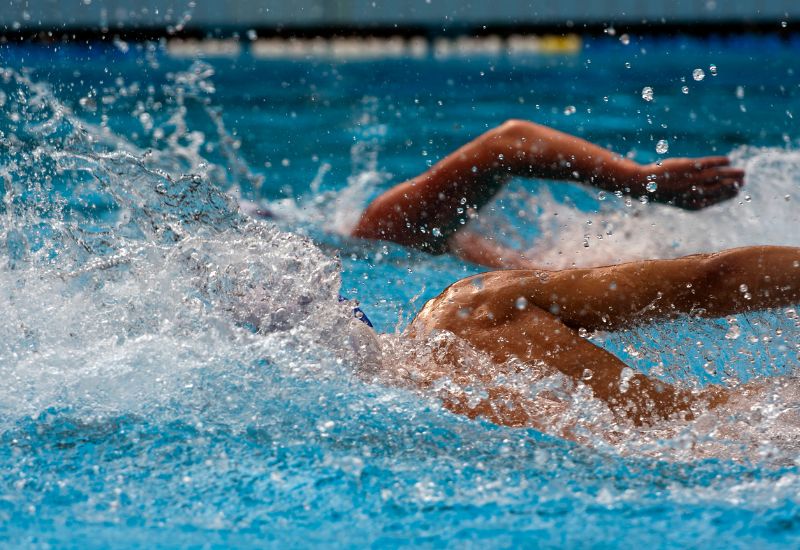 ✅ Drawstrings
If you are a competitive or experienced lap swimmer, you are going to be diving into the water, pushing off at full-force, and swimming at higher speeds with fins and paddles on.
Drawstrings are a necessity to keep your suit snug around your waist, especially as the suit begins to naturally loosen and stretch out with repeated use.
✅ Color
If you are swimming in open water, and the water temperature doesn't necessitate wearing a wet-suit or swimskin, consider brighter colors in your suit to keep yourself visible and safe while paddling away.
Men's Swim Jammers – FAQs
What are swim jammers?
Swimming jammers are a type of men's swimwear that is designed for lap swimming.
They fit snugly to the skin, reducing drag (especially compared to other swimsuits like board shorts) while also providing coverage.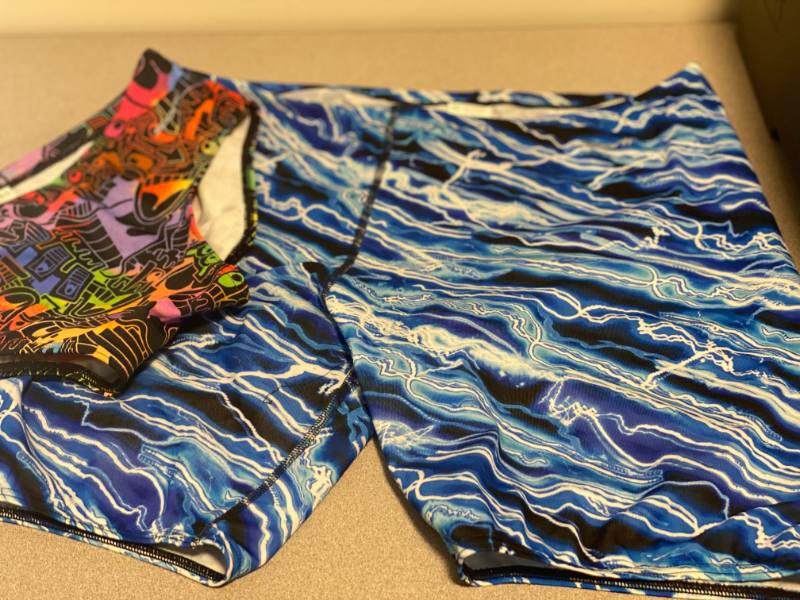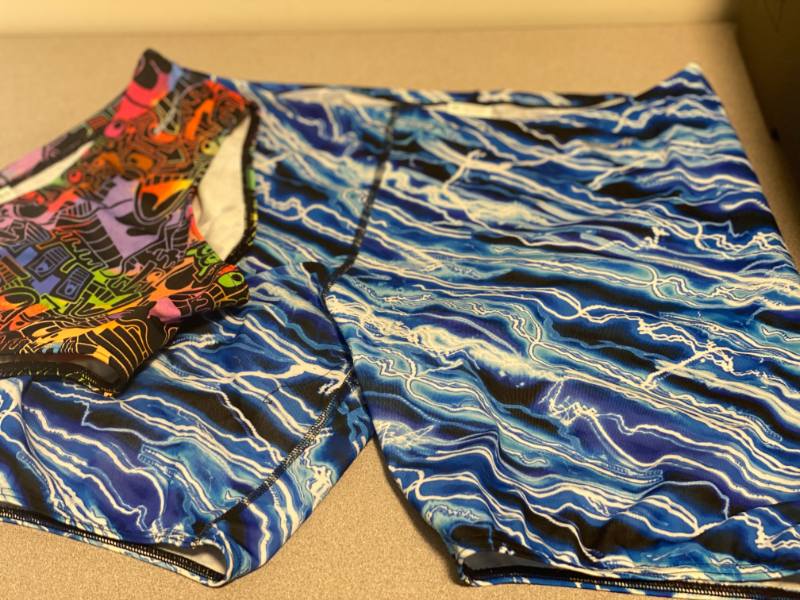 Training swim jammers are also an excellent option for men whose thighs rub when they swim, as the increased coverage eliminates the painful chafing that can happen when flutter kicking.
How do I care for my swim jammers?
Swimsuits, and any kind of swim gear, whether we are talking swim goggles or swim caps, can get a lot more use with some simple care.
Rinse your swimming jammer after you get out of the water to wash off chlorine, which can degrade the material in the suit.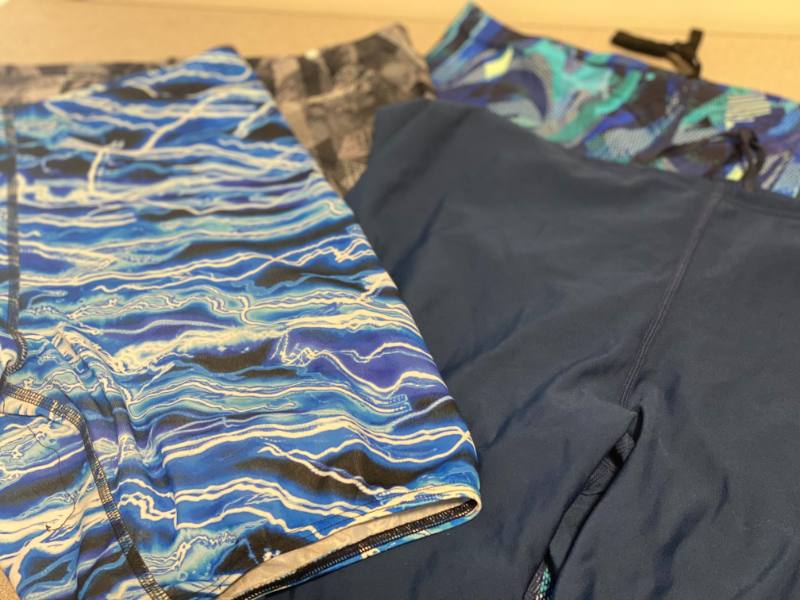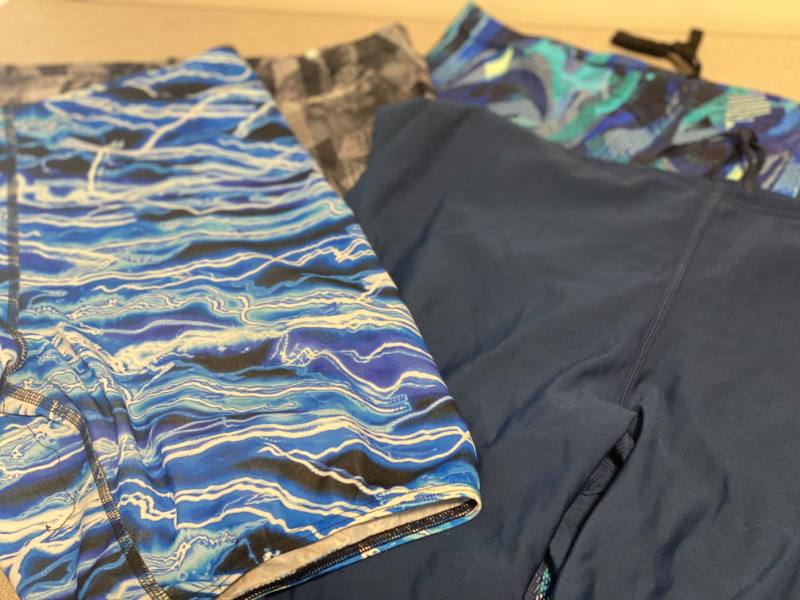 Additionally, avoid leaving your swimming jammers out in the sun to reduce UV exposure and degradation, and air dry it properly so that it doesn't get moldy and stinky.
Are jammers better for swimming?
There are a lot of benefits to swimming with jammers, specifically that they provide excellent coverage without slowing you down in the water, reduce chafing between the thighs from freestyle kicking, and the competitive jammers are more hydrophobic compared to skin.
(This article only covered swimming jammers that are primarily designed for swimming laps and training. If you are looking for racing jammers, check out this list of the best tech suits for men.)
The Bottom Line
Choosing the perfect swim jammers are about more than just looking good while you strut across the pool deck.
The right swimming jammer swimsuit allows you to swim with full range of motion, stay comfortable in the water (i.e. keep *things* where they are supposed to be and eliminate chafing), and keep hitting the pool without worrying about the suit going see-through from chlorine exposure.
Take into account the colors, fabric, and durability of the swim jammers on this list, and pick out the best swimming jammer for you and your swimming.
To recap:
? The Speedo Endurance + Solid Swimming Jammer is the ultimate jammer for durability. Made with 100% polyester, it will work almost as hard as you do in the water.
? The Sporti Catalyst Swim Jammer is an excellent choice for "hard to fit" swimmers and bigger fellas thanks to the blend of polyester and LycraXtra Life.
Choose the right jammer for your swimming, suit up, and take your swim workouts to new heights!
---
More Stuff Like This
8 Best Men's Swim Trunks. Hit the pool and beach in style with our collection of the best swim trunks for every activity, body type, and budget.