Lap counters are a great way to stay focused and motivated during your swim workouts. Here's a look at the best lap counters for swimming.
If you like crushing laps on the regular then it's happened to you.
You'll be swimming along, your stroke feeling long, smooth, and powerful when that moment of doubt hits you…
Is this wall coming up 450m?
Or was the last wall 450m?
Or is it the wall after this wall?
Oops.
It's happened to me more times than I care to remember, err, forget (I once lost count swimming a 200 in a long course pool. Seriously.) and it's annoying as balls.
Particularly if you are halfway through a long swim and you aren't able to figure out where you are by breaking down the time elapsed off the pace clock.
Fortunately, there are some extremely simple tools that you can use to make sure that you don't lose count.
Here are some of the best lap counters for swimming so that you not only stop losing count, but also get some informative feedback on your workout including pace, splits, stroke count, and so on.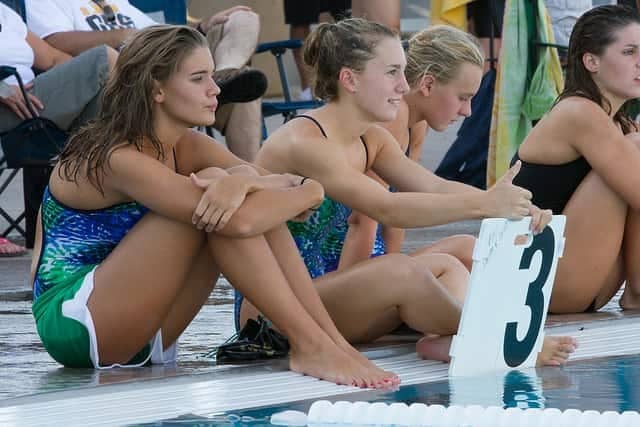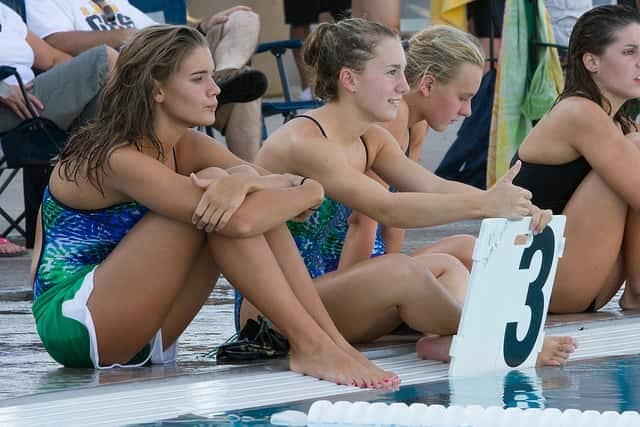 The Best Lap Counters for Swimmers
SportCount 200 Swim Lap Counter & Timer
⭐ Best overall lap counter for swimmers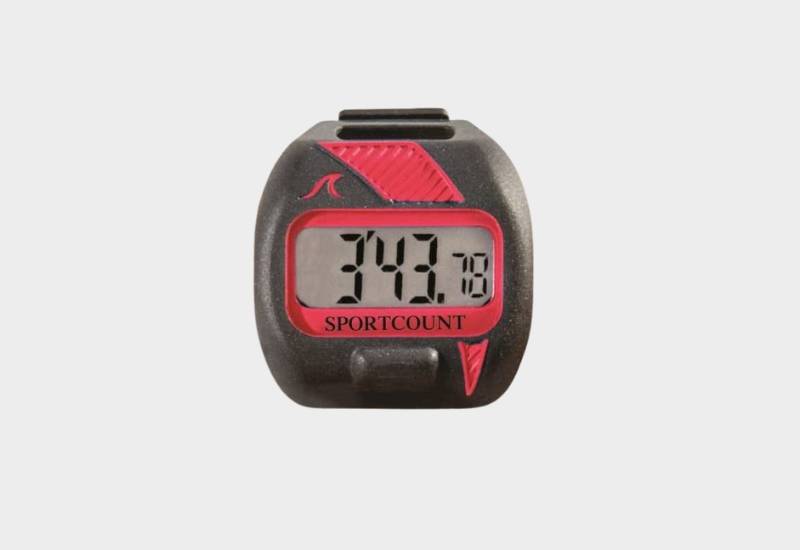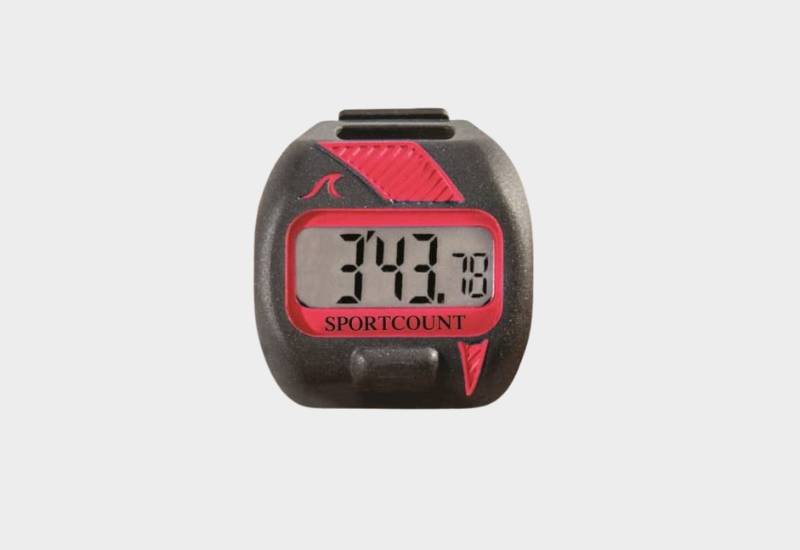 The SportCount 200 Lap Counter & Timer takes the same lap-counting skillz of other SportCount devices–the next device is a strictly lap-counter for swimmers–and adds a line-up of timing features.
While this lap counter won't give you the same readout that a fitness smartwatch provides, the info it spits out is impressive given its low price point ($50).
Besides showing how many laps you did, you can time the duration of your overall swim, fastest split, slowest split (booo), the average pace you held over the course of your swim, and it has enough on-board memory to hold onto up to 200 splits or lap times.
You can pause the timer during use (click the button twice to do so), it's highly accurate time-wise (to the hundredth of a second), and is water-resistant up to 50m.
In terms of battery life, it's not uncommon for swimmers to use them for years before having to replace the small nickel battery.
The main downside of this lap counter is that it only goes up 200 laps. If you are planning on doing more than 5,000 meters or yards short course, or 10,000m long course, this device will circle back to zero after you hit 200.
If you are looking for a simple way to track the duration of your swim practices and getting bare-bone information on what you are doing in the water, and having a counter to make sure you aren't losing count, than the SportCount 200 is pretty hard to beat.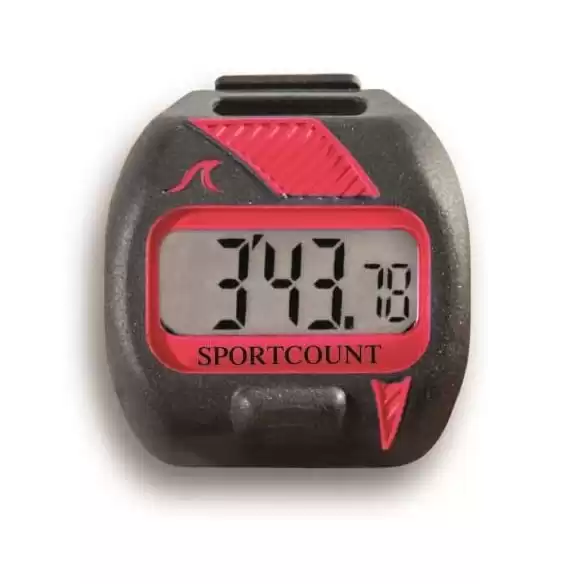 ---
SportCount Swim Lap Counter
⭐ Best no-frills lap counter for swimming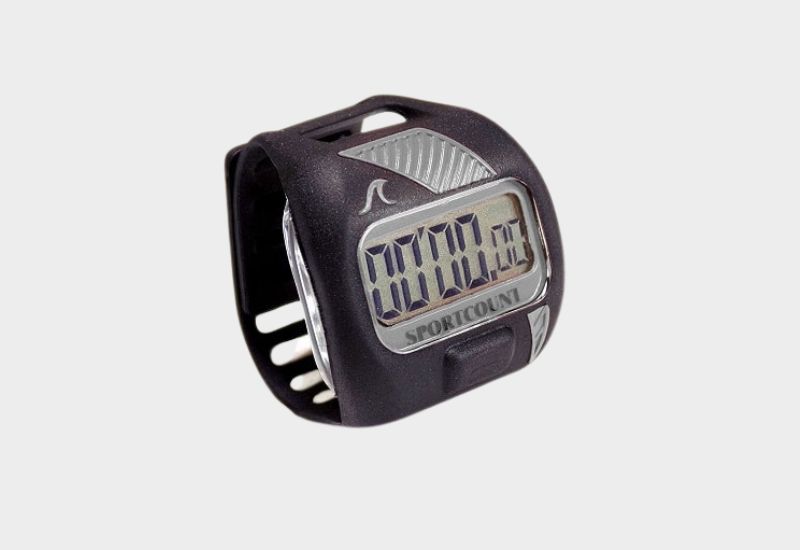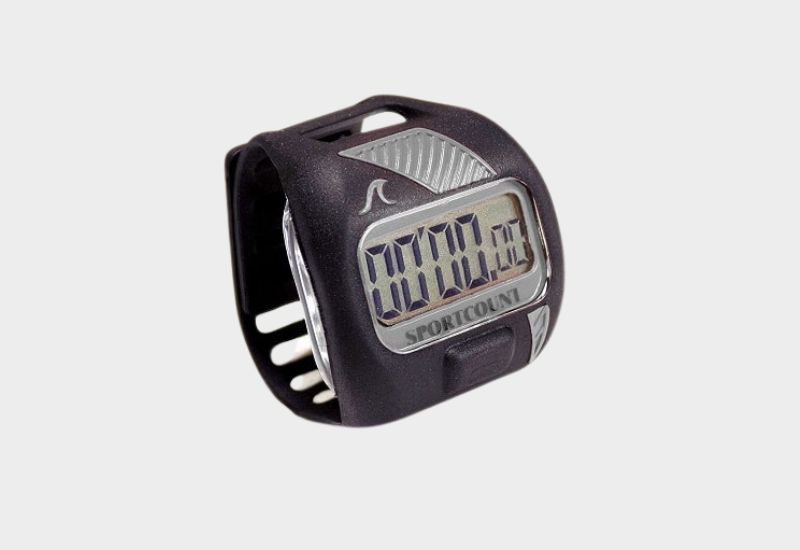 The SportCount LapCounter is a bare-bones lap counter for swimming with an easy-to-see LCD display.
While it looks like it will slip off your finger, this isn't the case. It has an adjustable strap so that you can adjust it your fingers.
I have skinny ET-phone-home fingers and thought it might be loose and slide off. A quick adjustment on the finger strap and it was snug as a bug.
The SportCount Lap Counter is straight-up for counting laps; just give it a little flick with your thumb each time you come into the wall or at the end of your rep and away you go.
The device is waterproofed (seems like a reasonable feature) up to a whopping 50m of depth, hilariously light, and it's hydrodynamic enough that you won't notice it causing any additional drag on your hand while you are swimming.
How many laps can you count up to? The sky is the limit. (Well, not really. It taps out at 9,999 laps.)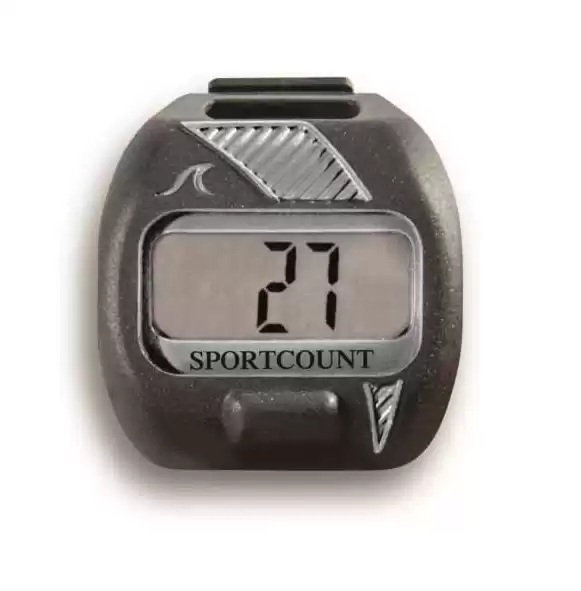 ---
Apple Watch
⭐ Best swim watch for counting laps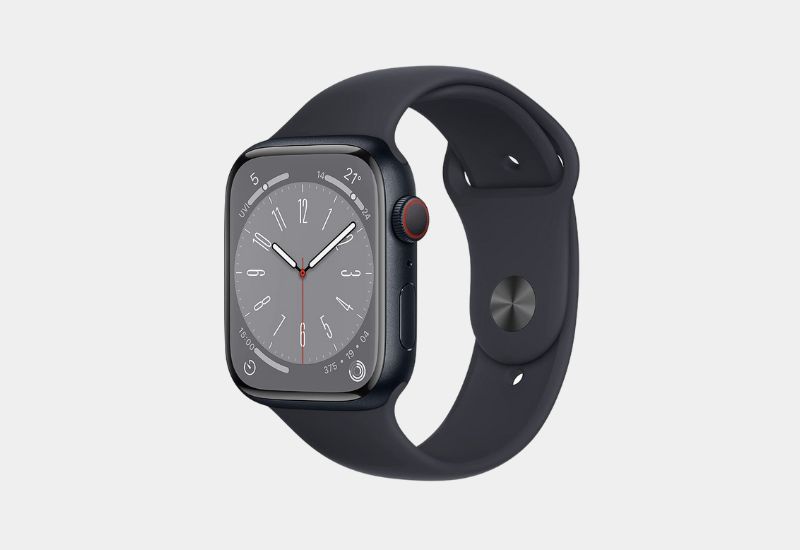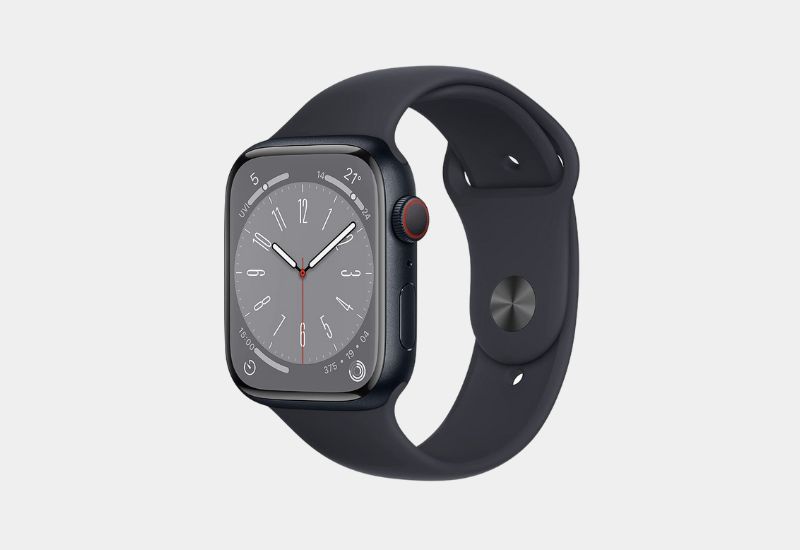 Okay, so far we have looked only at finger-mounted lap counters.
Let's kick things up in a big way and take a peek at the best swim watch for counting your laps in the water.
I've tried all manner of tracking and lap counting devices over the years, including the Garmin Swim 2.0, Garmin Fenix, Speedo MisFit, and a few Kickstarter products that were absolute duds.
The one wearable that has been by far the most accurate in terms of lap counting has been the Apple Watch.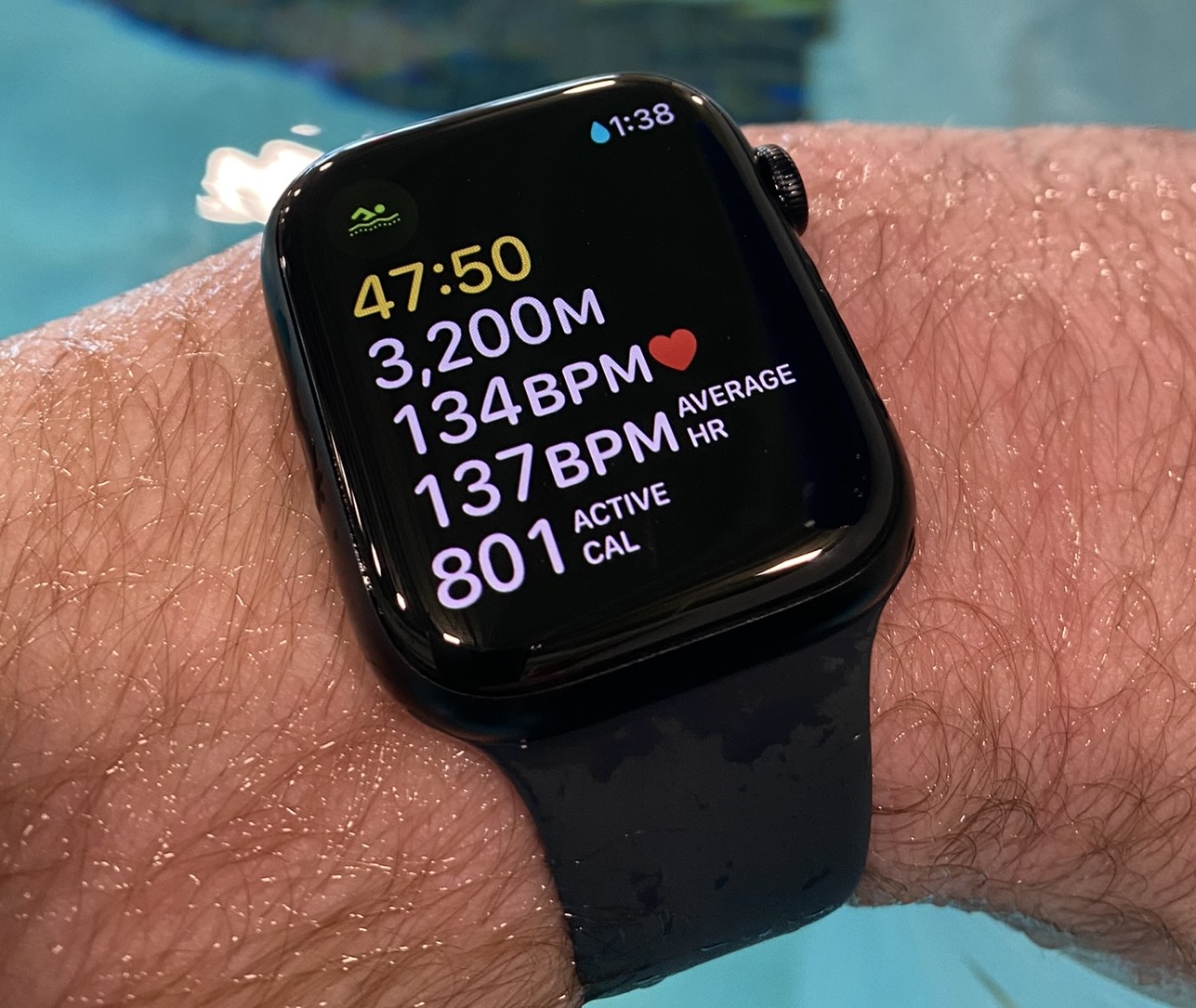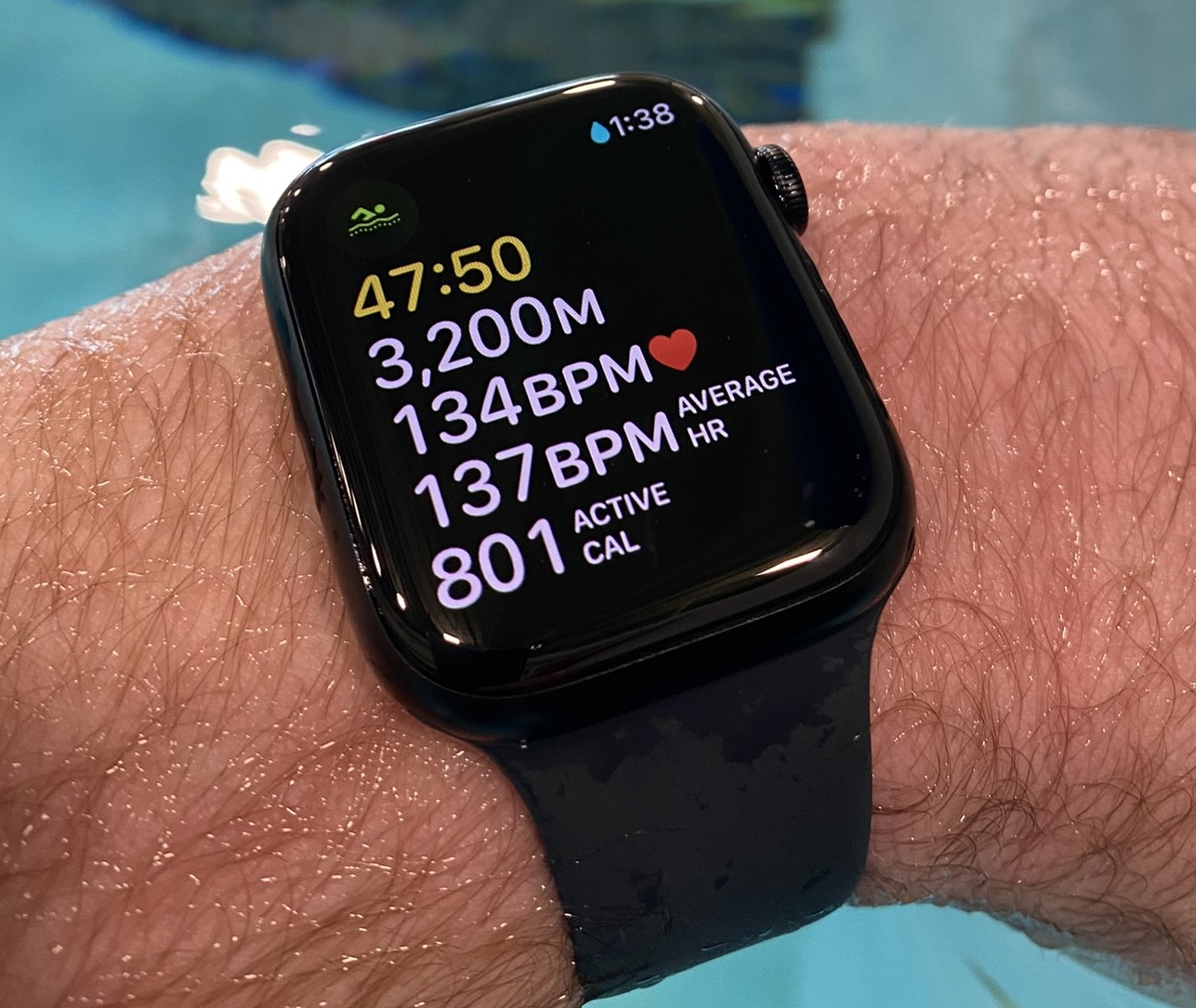 And it's not even close.
I previously wrote up a detailed review on how much I love the Apple Watch for swimming, but here are the key highlights:
Unbelievably accurate. Over weeks and weeks of training it will only miss 1-2 lengths. And I'm talking 25k weeks of training. In the photo above, I tried "tricking" it by doing multiple strokes and drills. No matter, it counted every meter. That kind of accuracy with a swim app is absurd.
It tracks kicking automatically. Unlike other waterproof fitness trackers, the Apple Watch knows when you are doing kick. Out of all the devices I've used over the years, the Apple Watch is easily the best at tracking kicking.
Measures pools of any length. Whether you are swimming in a 22-yard pool or a 62m pool, you can easily set the length of the pool in the moments before you start your swim, ensuring an accurate yardage total.
The downside, of course, is that the Apple Watch is not cheap. The battery life is short (expect to charge it daily). And for swimmers who want strictly a lap counter and none of the heart rate monitoring, splits, stroke counts, and all the rest, it will certainly be overkill.
That said…
If counting laps in the pool is a priority, the Apple Watch is the ultimate choice for swimmers who want to track and count every last lap in the water without having to do it manually, no matter if they are doing single-arm butterfly, kicking on a kickboard, or swimming in an 18m pool.
---
Swim Lap Counter — FAQs
What are the benefits of using a swimming lap counter?
⭐ Stay on top of progression in the water. By having an accurate count of your laps in the pool, you are better positioned to track and monitor progress and improvement in the water. Set goals for swimming a set number of laps, achieve it, and then continue challenging yourself to swim even more laps.
⭐ Helps you stay focused. Swimmers are prone to daydreaming when swimming. It's normal—we all do it. By using a lap counter for swimming, we stay focused on our goals rather than getting lost in daydreams or distracted by external factors.
⭐ Prevents boredom. Having goals in the water gives swimmers the mental stimulation that prevents lap swimming boredom. Swim lap counters help in this regard by giving you an objective goal to work towards, preventing boredom and giving you a mental challenge.
⭐ Ensures completion of the swim workout. There are always going to be days where we aren't feeling it or maybe we feel like we have done our goal number of laps. A lap counter for swimming ensures that we complete the workout as planned without skipping yardage or getting out early.
The Bottom Line
You likely don't need me to sell you on the benefits of lap swimming. Those broad shoulders. Nuclear caloric burn. And the mental perks of being able to unplug from the real world for a few laps.
While you can always count laps manually with your brain, there are some excellent swim lap counters to proof your math and counting and ensure that you are staying on top of your workouts in the pool.
To recap:
The SC Sportcount 200 Lap Counter is the best choice for swimmers who want both a manual lap counter and time keeper. It's priced to win at just over $40, as well.
The SportCount LapCounter is a no-frills, strictly lap counter device that has an adjustable strap to fit to any finger. It can count up to 9,999 laps and is waterproofed to a depth of 50m.
Swimmers who want the most accurate lap counting possible will want the best swim watch for counting laps, the Apple Watch. It's without peer in terms of accuracy and provides a ton of helpful training information (heart rate, pace, stroke count, etc).
Choose the best lap swim counter for you, get more focused in the water, and take your swim workouts to the next level!
---
More Stuff Like This:
Swim Gear Guide: FINIS Tempo Trainer Pro. It's one of the simplest and effective tools for swimmers looking to master their stroke rate, stroke distance, and more. Here's the dealio on this popular device.
7 Best Swim Watches for Dominating the Water. For those who like to play and train in the water, here is a collection of the best waterproof watches and smartwatches for swimming.
The Best Underwater and Waterproof MP3 Players for Swimming. Ready to level up your swim workouts with music? Here's a breakdown of the most popular underwater and waterproof iPod/mp3 players on the market today.