Looking for a tech suit that will unleash serious speed on race day? Here is a detailed look at the best tech suits for sprinters to dominate the competition.
Tech suits are made for fast swimming.
Once all of your hard work is completed at practice, we suit up and unleash a whooping on our personal best times.
There are generally two different forms of tech suits. Some offer more flexibility and range of motion while other tech suits are "stiffer," smaller, and have more compression.
While the difference is perhaps negligible, to a lot of swimmers, for the swimmer who wants to get the most of their training and preparation, choosing the right tech suit comes down to matching the suit that lines up with your goals.
When it comes to finding the right tech suit for sprinting like a boss on race day, there are some key things you want from your racing suit:
Lots and lots of compression. The paneling and design of tech suits increase circulation and the flow of nutrient-rich blood to your muscles, which are churning up metabolic waste at a high rate when sprinting. Compression has been shown to slow this process so that you can swim fastest, longer.
Stiffer. Sprinters sacrifice a little bit of range of motion in order to get more compression and a tighter body line in the water, reducing drag which can compound exponentially in shorter, faster events.
Added hip and leg muscle support. Sprinters rely on their underwaters and kick to power through their races. Racing suits made for the fast-twitch swimmer have tons of support in the lower body.
Now that we've taken a look at why some tech suits are better suited for short races, let's take a look at the best tech suits on the market for sprinters and sprint events.
Let's dive right in.
Speedo Fastskin Pure Valor
Speedo has long been the dominant name when it comes to competitive swimwear, so much so that suits for lap swimmers are colloquially known as "Speedos."
Speedo has also dominated the elite racing swimsuit category, with a majority of medalists and finalists at the Olympics wearing their Fastskin suits. And according to Speedo [1], 62% of the world records from 2019-2021 were done while wearing a FastSkin.
The most recent lineup of Fastskin suits is the Pure Valor and the Pure Instinct, with the Pure Valor being the speed and power suit designed for sprinters and shorter events in the pool. (Perhaps unsurprisingly, the Pure Valor also ranks as one of the best women's tech suits.)
Key features include compressive lining for additional muscle support, updated leg and waistband stitching to eliminate water seeping into the suit, bonded seams for reduced drag in the water, and lots of compression to keep your body locked and loaded for when you need to unleash maximum speed.
Priced in the range of $275-499 (check SwimOutlet for current pricing and deals), the Pure Valor is a fast, compressive suit that is designed to deliver on race day.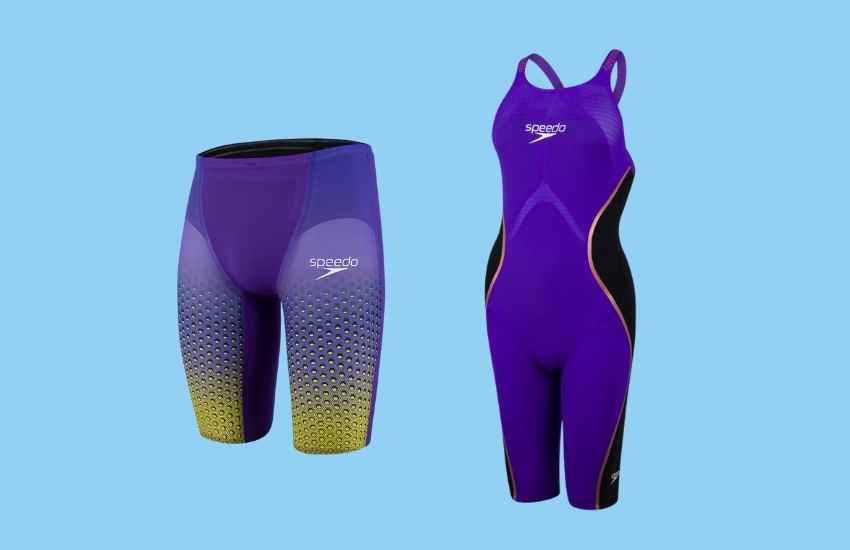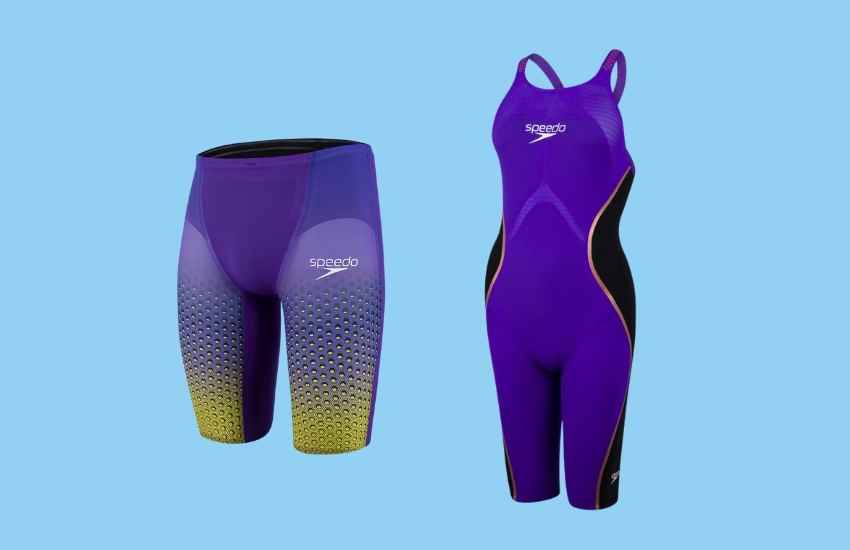 ---
Mizuno Sonic-GX V ST Tech Suit
Mizuno tech suits are some of the fastest on the planet, and while the company isn't usually the first name that pops up when it comes to quick racing suits, Mizuno has a place at the top when it comes to tech suits for sprinters.
The Sonic-GX V ST is their sprint-focused tech suit. Now in its fifth edition, the Sonic-GX V ST is engineered for blinding speed in the water. With a proprietary hip lift system, the suit helps you swim straighter and elevates your body position in the water.
The compression of the suit targets key muscle groups to promote extra blood flow to target muscles while the Sonic Light Ribtex UW fabric helps to repel water and streamline your body as much as possible in the water.
The taping system in the suit helps to ensure that you get maximal power from both your down and up kick for explosive underwaters and a fast kick.
The result?
Fast, fast swimming.
The Mizuno Sonic-GX ST is available in three different color combinations and is sized with traditional letter sizes (X-Small, Small, Medium, etc) and retails for around $380 (check SwimOutlet for current pricing and sizes).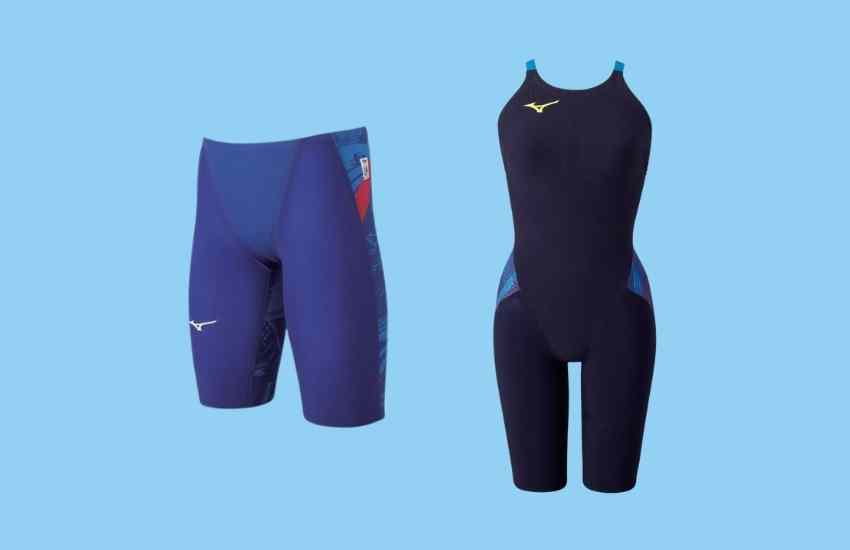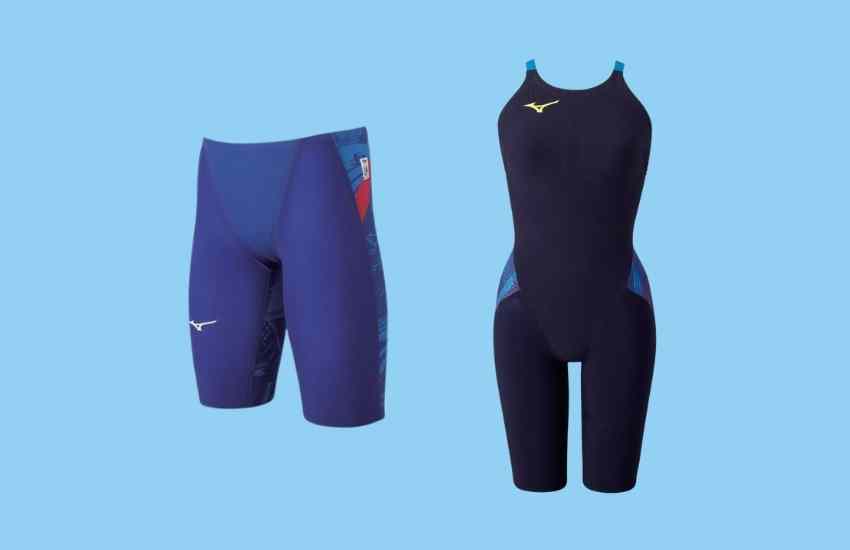 ---
Arena Powerskin Carbon Core FX
There's perhaps no greater feeling in the water when you really hit your bodyline. It's here where you are most efficient and flying through the water.
The Arena Carbon Core FX is designed precisely to help you achieve this feeling, helping you move like greased lightning through the water.
For starters, the suit is built with a carbon grid that stretches out in both horizontal and vertical directions to give you a truly custom and compressive fit. Two taped lines along the backside of the suit help keep your hips and legs nice and high in the water. And an updated lining system from previous Carbon tech suits cuts down on water leaking into your suit while swimming.
SwimOutlet retails these for between $360-535, making it one of the more expensive racing suits on the market.
While the price is a bit of a tickle, Arena does make excellent racing suits, including the Powerskin ST 2.0 which is one of my favorite budget tech suits.
If you like Arena's tech suits, and you like swimming really, really fast in your sprint events, the Carbon Core FX is your go-to racing suit.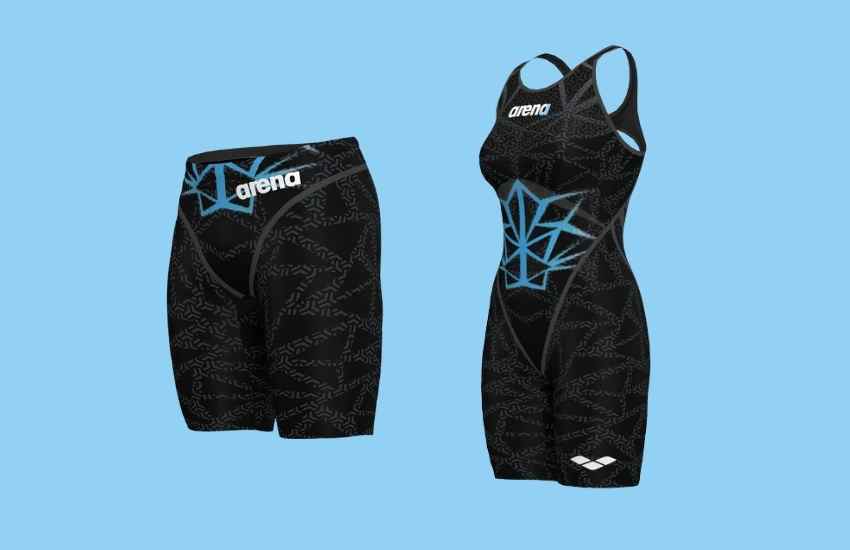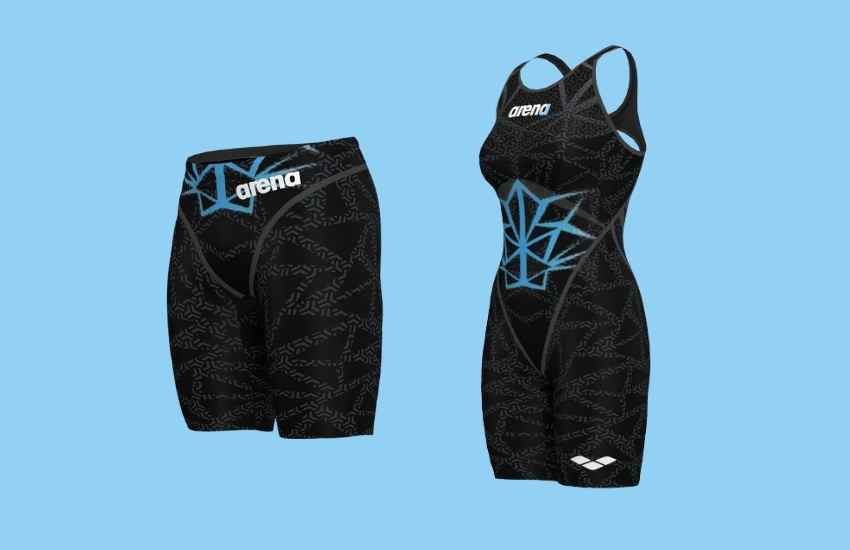 ---
FINIS Rival 2.0
Next up we got the Finis Rival 2.0, FINIS' most elite racing suit (FINIS' other racing suit, the Fuse is a great budget tech suit if that's more your speed).
One of the main complaints of tech suits is their distinct lack of durability. While the Rival 2.0 probably won't last you all season, it is one of the more durable tech suits for sprinters.
The reason for this is the way the seams are aligned in the frame of the suit, reducing some of the wear and tear that is endemic with these kind of suits (you will still want to rinse your suit out with cold water after use to lessen the degenerative effects of exposure to chlorine and other pool chemicals).
Additionally, the Rival 2.0 is ideal for sprinters as it features extra compression on the hips and quads for added power and speed when you need it most. The suit is also 44% elastane, which is that water-repelling fabric that keeps water from soaking up in your suit and creating more resistance.
Available in four different colors, the FINIS Rival 2.0 is priced in the upper tier of racing suits, with jammers costing $400 and kneeskins (in both open and closed back) running in the $450 range.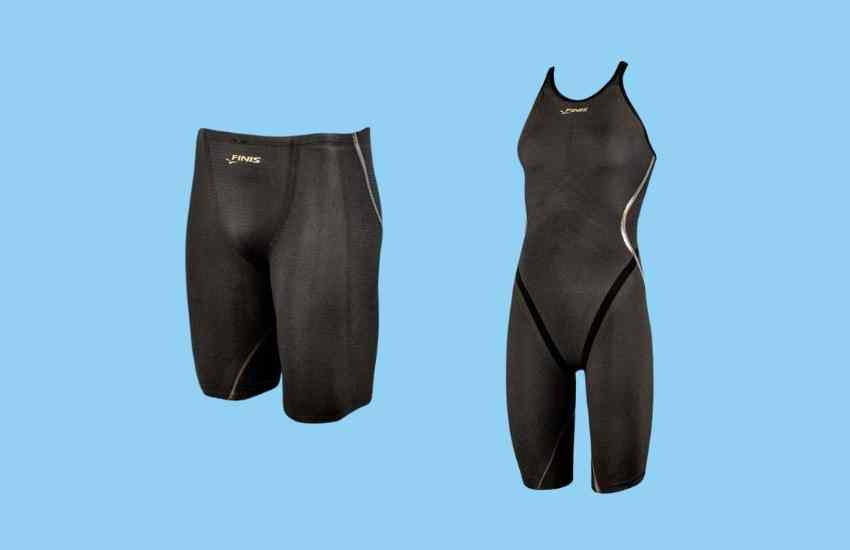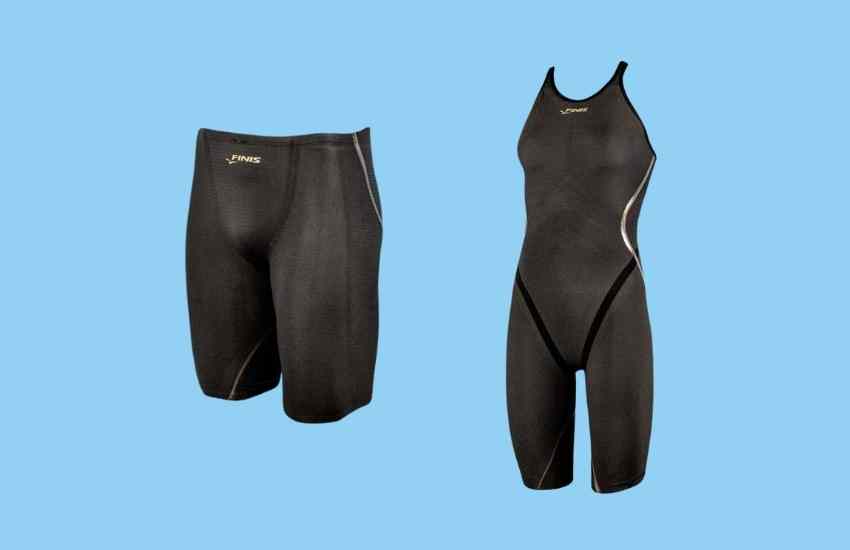 ---
TYR Venzo Genesis Tech Suit
Although I rated this tech suit as the best one for breaststrokers, it's also one of the best racing suits for sprinters on the market.
Used by countless high-performance swimmers, from Lily King, Simone Manuel, Ryan Lochte, and Jack Conger, these suits are engineered to unlock speed and chlorinated rage in the pool.
So how does the TYR Genesis Venzo helps sprinters rock out on race day?
With a fabric that was built at a microscopic level to have less drag than its predecessor, the Avictor. An Endo compression cage that packs an athlete into the suit, streamlining the body and improving hip position. And with "Surface Lift Technology," a compression and paneling system that keeps your hips at the surface of the water.
Constructed of 30% spandex and 70% nylon, this FINA-approved suit comes in a line of splashy and vibrant patterns (the Venzo comes in a flat black if the Darth Vader look is more your style) and even a limited-edition Team USA print.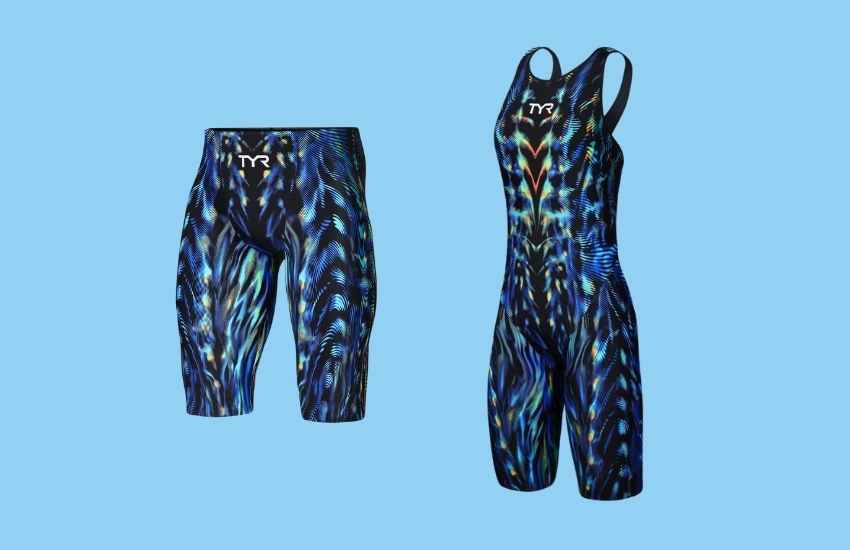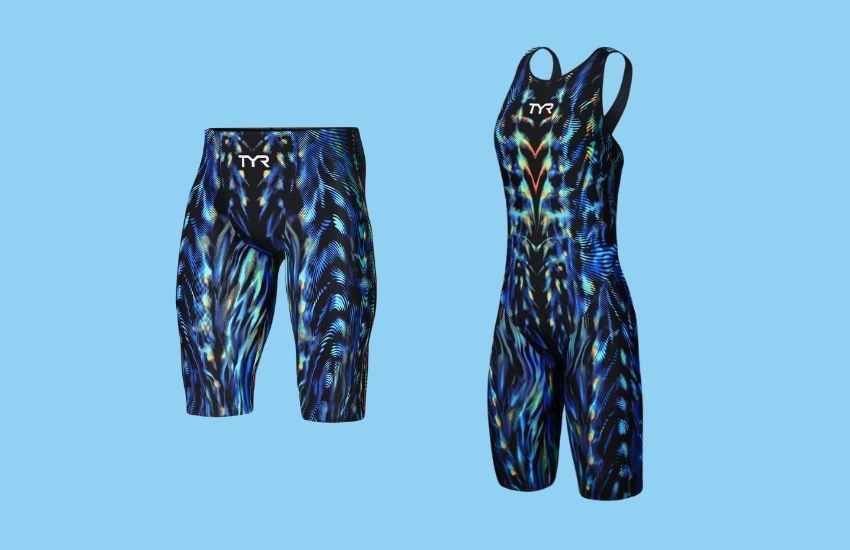 ---
More Tech Suit Resources
9 Best Tech Suits for Crushing Your Best Times on Race Day. Competitive swimmers are always looking for the best tech suit to swim faster and more efficiently. Here is a detailed look at the top tech suits on the market that will help you demolish your PBs and the competition!
6 Best Tech Suits for Breaststrokers. Whether you are a breaststroker, or an IM specialist looking for a tech suit that provides compression and lots of mobility, here is a breakdown of the best tech suits for breaststrokers.
5 Best Budget Tech Suits for Racing Fast. Looking for the benefits of a tech suit without the hefty price tag? Here's a look at the best high-performance racing suits for $200 or less.
10 Tips for Making Your Tech Suit Last. The tech suit is one of the most expensive investments you will ever make during your time as a competitive swimmer. Here are some tips for making those expensive and best time-smashing suits last.