Here's a breakdown of the best two-piece swimsuits for women for swimming and training.
For swimmers lucky enough to train outdoors, a two-piece training swimsuit is essential. A two-piece suit maximizes skin exposure so that you can get more sunshine while also providing the same coverage and comfort of one-piece swimsuits.
But swimming laps outdoors isn't as simple as throwing on your favorite bikini. You need a swimsuit that provides the same advantages as traditional one-piece training suits and takes it outdoors.
Fortunately, in recent years most of the major swim apparel companies have put out two-piece suits that can be used in the lap pool.
Key features that differentiate two-piece training swimsuits from bikinis:
Drawstrings on the bottoms. One of the joys of swimming is going fast. Whether it is when you are diving in, pushing off, or doing sprints with swim training fins on, you will want drawstrings to keep your bottom secure.
Hydrodynamic tops. Standard bikini tops often "catch" water. They are designed to show a little more chest and provide support, not necessarily be hydrodynamic. Two-piece tops are designed to let the water flow by.
Two-piece swimsuits provide more coverage. This added coverage is to ensure that privacy is maintained while being active in the water.
While there aren't as many two-piece training suits as there are one-piece swimsuits or bikinis, there are plenty of options, with a variety of cuts, backs, colors, and fabrics.
Here is our hand-picked selection of the best two-piece training swimsuits.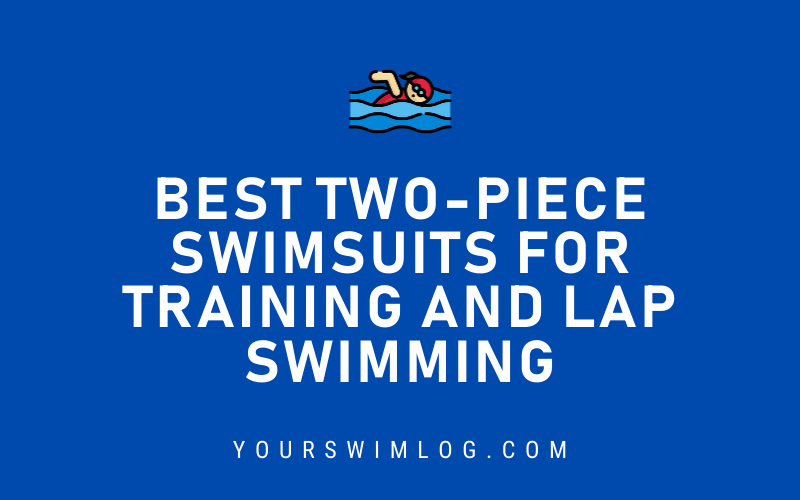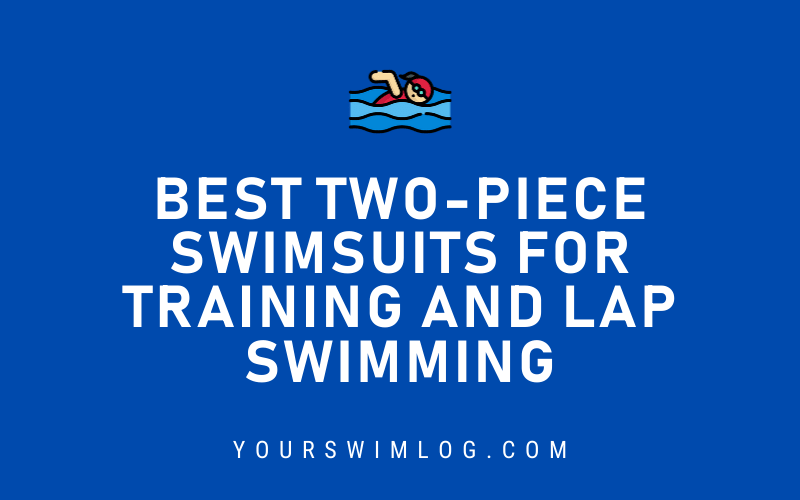 Speedo Endurance Bikini Top
Speedo is one of the most popular swim gear manufacturers on the planet. The Speedo Endurance+ One-Piece ranked at the top our list of the best training swimsuits for women, and their Endurance Bikini Top carries on from where the one-piece sister left off.
The top is made front-to-back with liner for privacy, is made of Speedo's most durable and long-lasting anti-pilling fabric, ensuring that the suit will stand up to the sun and the chlorine in the pool.
Available in over a dozen color patterns, the Speedo Endurance Bikini Top is one of our favorites for training in a two-piece.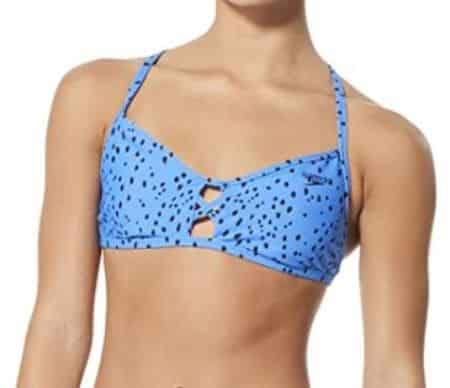 Speedo Endurance Lite Solid Bottom
The Speedo Endurance Lite Solid Bottom is the other half of the top we just covered. It comes with drawstrings so that the bottom remains secure no matter how fast you dive in or push off.
Made with Speedo's Endurance Lite fabric, the bottom is chlorine-resistant and made with 53% polyester and 47% PBT.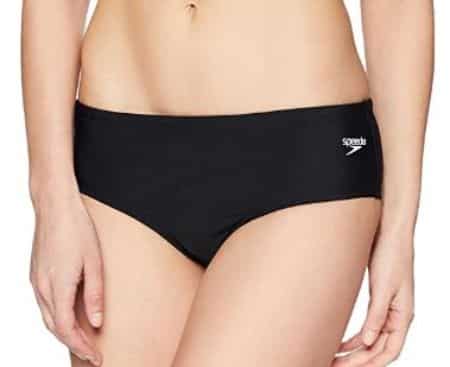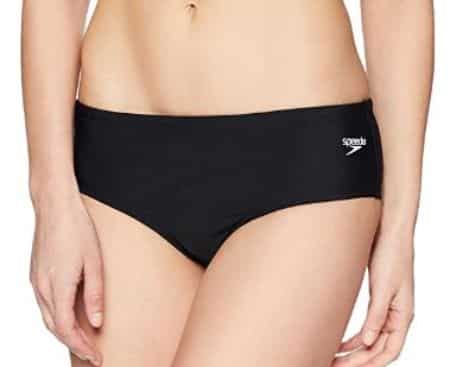 Nike Women's Core Solids Sport Two-Piece Swimsuit
Made of a polyester and spandex mix, and with the Nike swoosh on the middle of the top, this low-rise bottom and the racerback top is a chlorine-resistant two-piece designed for the pool.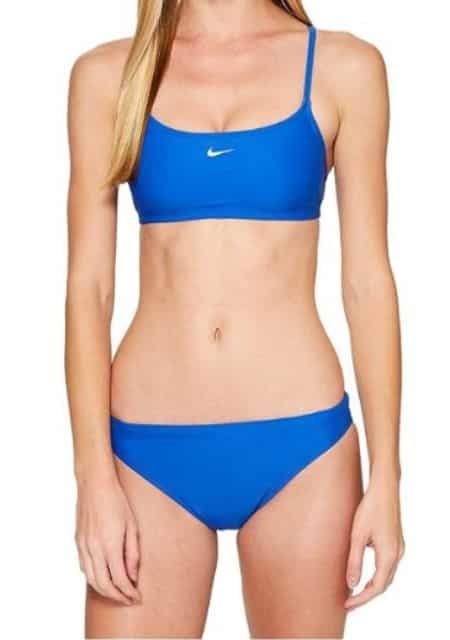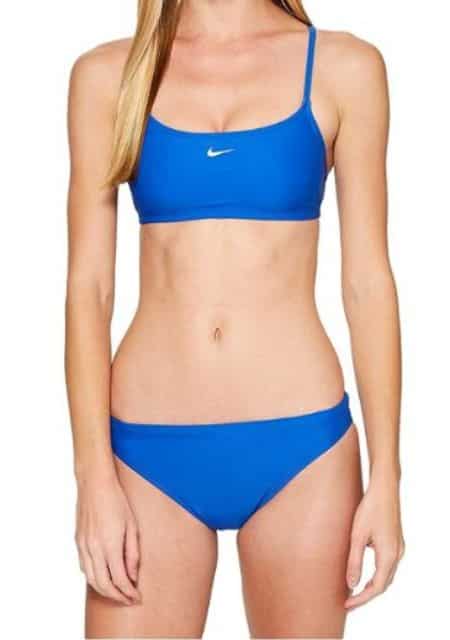 TYR Sport Women's Solid Durafast Diamondback Two-Piece
TYR is one of the most popular swim brands on the planet, with superstars Katie Ledecky and Ryan Lochte using their gear. Their two-piece, the TYR Durafast Diamondback, is one of those rare training two-piece suits that keeps everything in place.
Made with 53% polyester and 47% polyester PBT, this suit will last under repeated exposure to harsh pool chemicals and sunshine.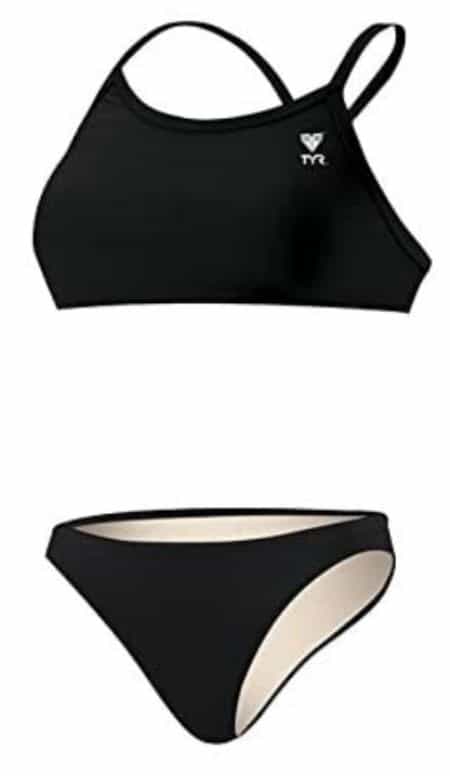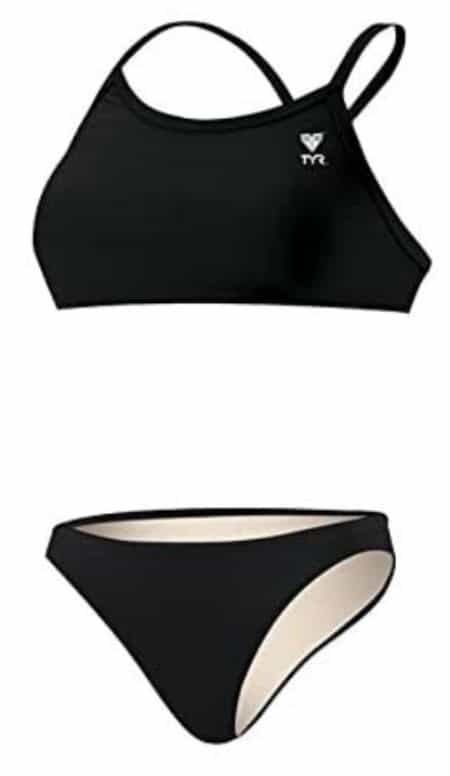 Arena Racer Two Piece Swimsuit
Available in five different color combinations, the Arena Racer Two-Piece is made of Arena's high-performance MaxLife fabric, designed specifically for durability.
The font of the suits is lined to provide privacy for the swimmer, and the chlorine and sun-resistant fabric will give you a fade and sag-free look for over 300 wears. Note that the top and bottom have to be purchased separately and do not come as a set.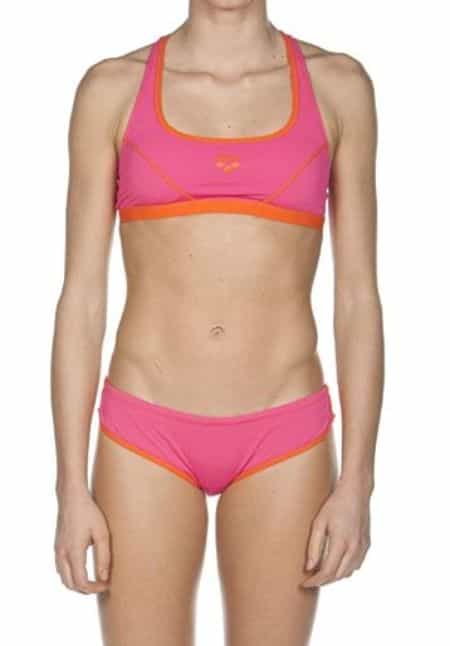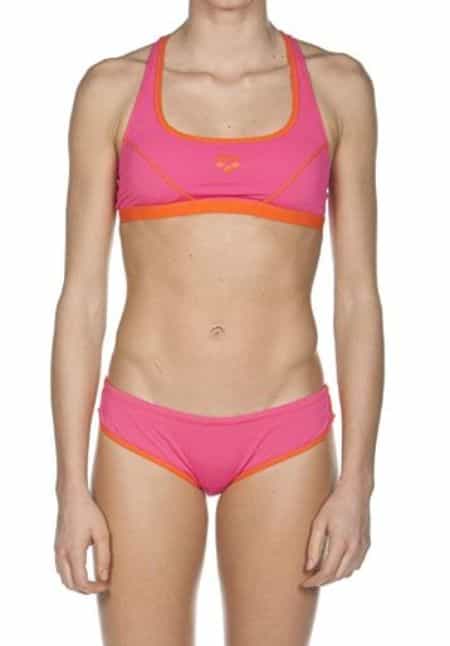 JOLYN Fixed-Back Leon2 Top
Made of highly durable polyester, the JOLYN Fixed Back Leon2 is a top that is ideal for swimming laps at the pool.
With colors that don't fade in the face of chlorine, spaghetti straps that provide an exceptional range of motion, and fully lined for maximum privacy, this swimsuit is trusted by competitive and lap swimmers alike.
Jolyn is one of the upstarts in the swimwear industry, making lots of our favorite swimsuits (including some of the best swimsuits for lifeguards, who can appreciate a tankini that is ready for action).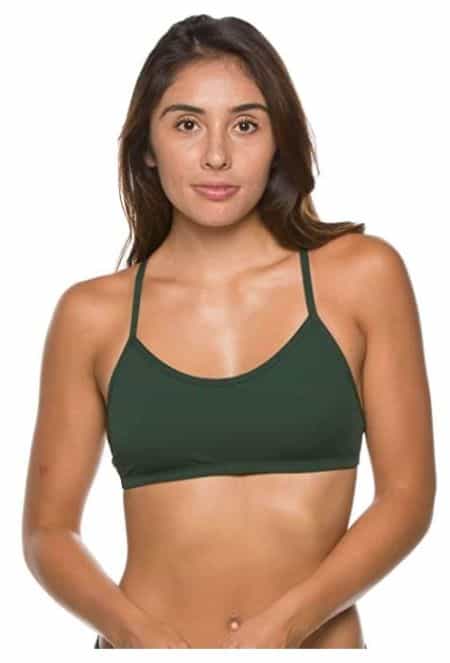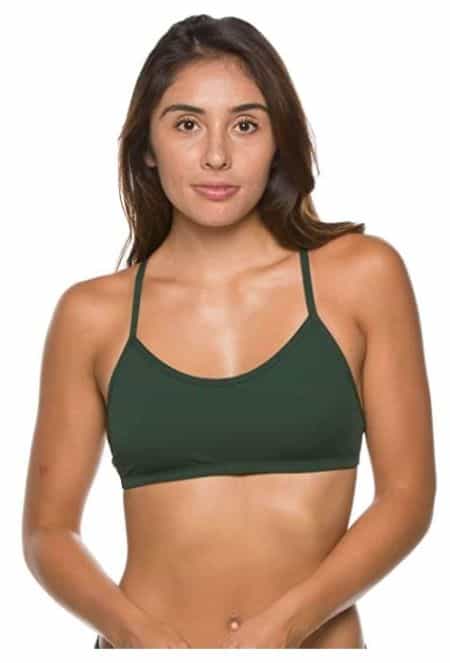 Arena Official USA National Team MaxLife Two-Piece Swimsuit
Want to level up your swim apparel to look like the pros? This two-piece suit, made by the official gear supplier to USA Swimming, is the same one given to the national team. Made with 100% polyester, this suit looks great and lasts long.
The suit is made specifically for swimmers who train seriously in the water, with the MaxLife fabric being highly resistant to chlorine. The tie-back style allows the swimmer to adjust the top of a secure and comfortable fit.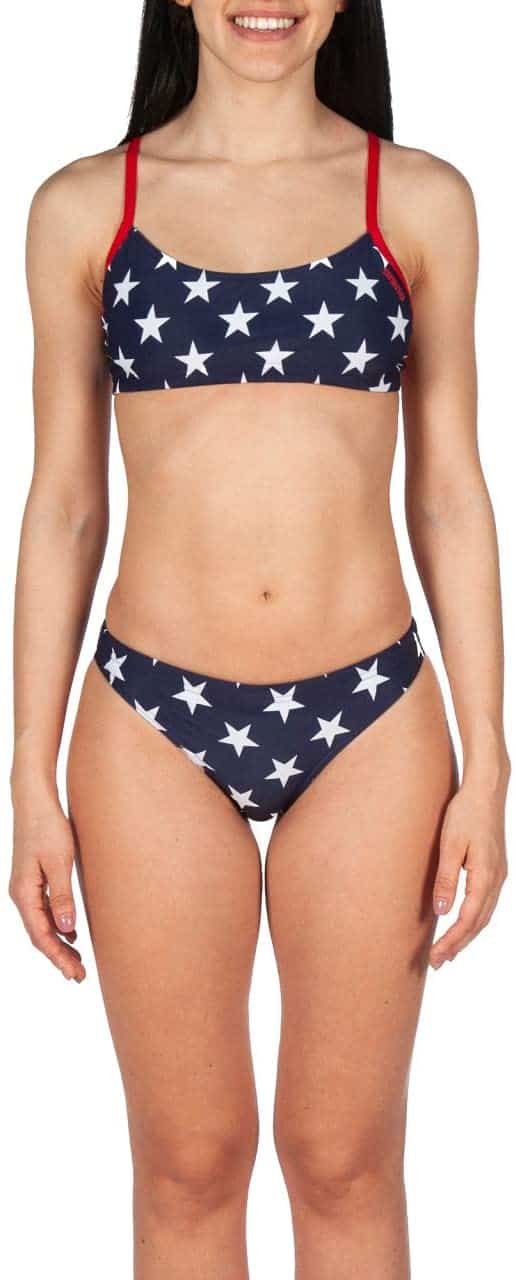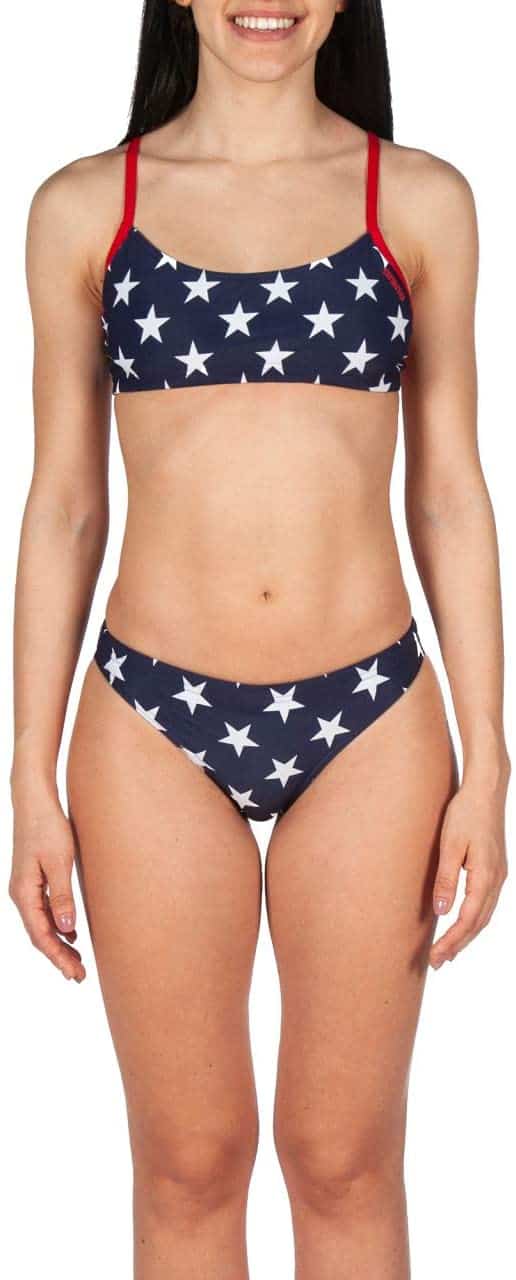 Adidas Women's Amphi All Me Top
With a dazzling color pattern, mesh back for maximum breathability, and light support with removable cups, the Adidas Amphi top is a colorful and comfortable way to take it to the water.
Although Adidas is one of the lesser talked-about makers of swimming equipment, this top delivers on durability, comfort, and boldness.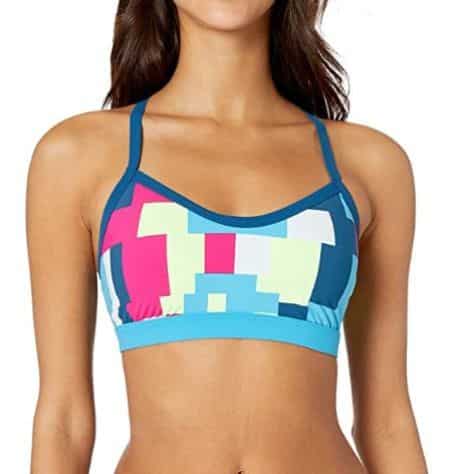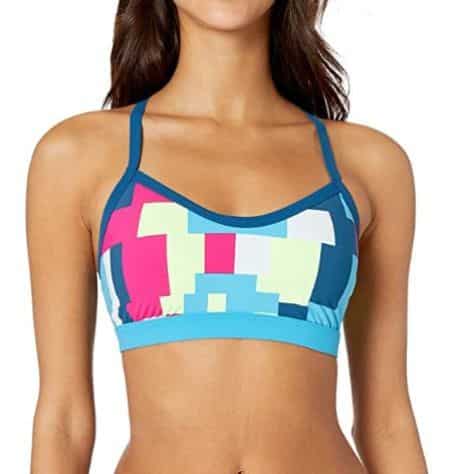 More Stuff Like This
6 Best Water Aerobics Swimsuits. Level up your water aerobics with our list of the best swimsuits and swimwear for aqua aerobics.
7 Best Rash Guards and Swim Shirts for Women. Protect yourself from the sun and water with our collection of our favorite rash guards and swim shirts for women.
12 Best Cheap Swimsuits for Women. Check out our weekly round-up of the best deals on swimsuits for women.