Ready to level up your swim workouts with music? Here's a breakdown of the most popular underwater and waterproof Spotify/iPod/mp3 players on the market today.
One of the most enduring and frustrating aspects of being a competitive swimmer is the inability to reliably listen to music while swimming.
As an age-group swimmer, my in-practice music experiences were limited to when the synchro team was training at the same time, blaring the same song over and over again from their underwater speakers (Enya's "Sail Away" was a popular choice).
I knew that with a decent underwater music player that my swim workouts would be approximately 15% less agonizing.
With the right selection of songs I could maintain my stroke tempo and cadence in the water as well, making it not only less boring but also possibly more effective for my overall swimming.
Fortunately, there is a heap of different underwater music players available, and I have had the chance to give a few different ones a rip.
Whether you are looking for a waterproof iPod for swimming, a water-resistant MP3 player, or the latest batch of devices that play Spotify and other streaming services, here are the best waterproof music players out there.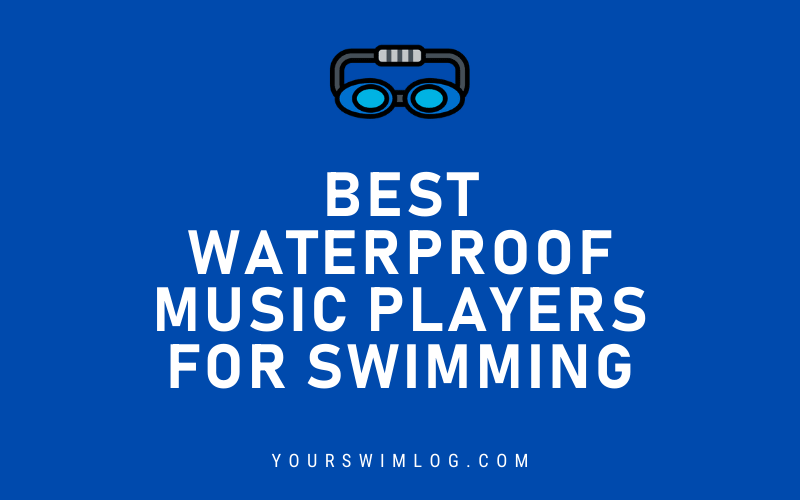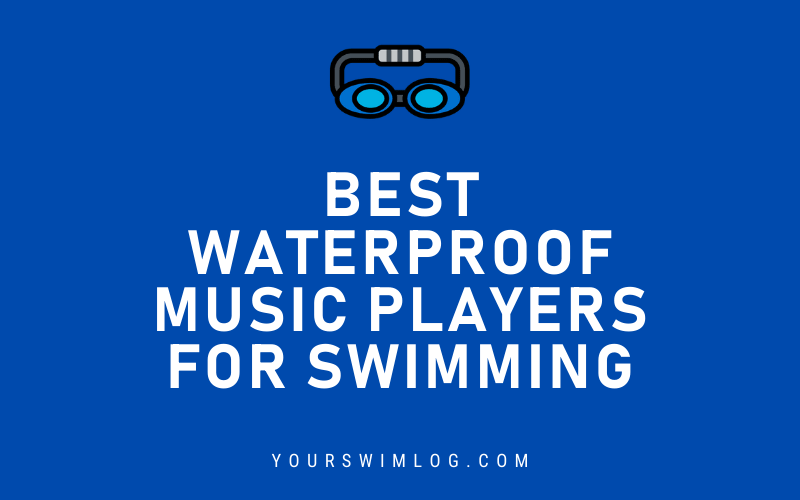 To give you an idea of what kind of swimming I am doing with these things, long course meters, freestyle, averaging around :40 seconds per 50m. Not blitzy fast, but not slow either.
Let's do this. Here are some reviews on some of the best waterproof mp3 music players for swimming.
1. The FINIS Duo.
⭐ Best waterproof MP3 player for full sound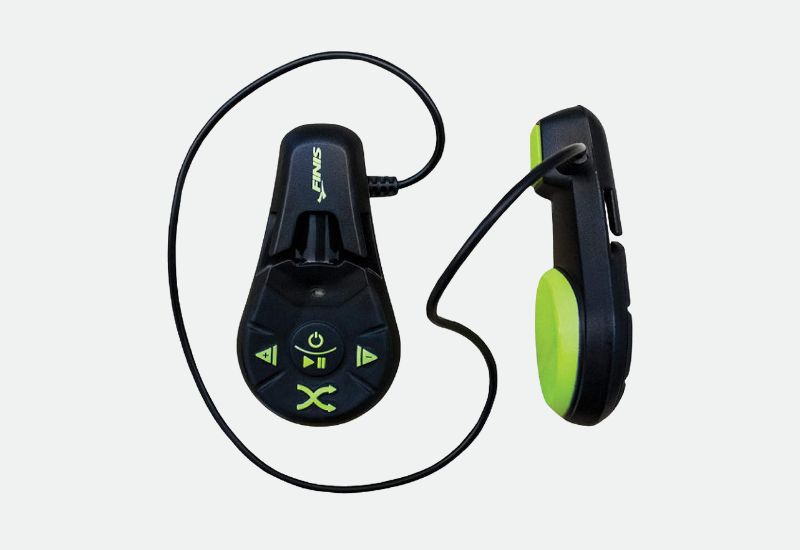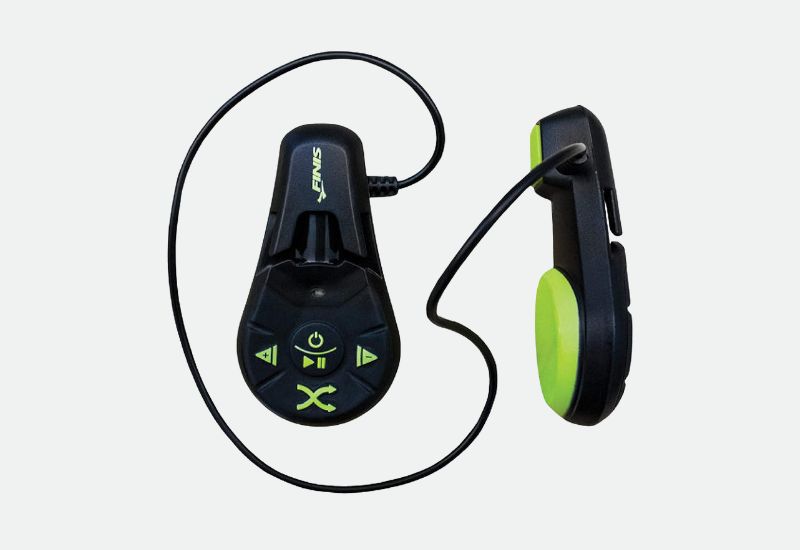 I've been a FINIS swim gear fanboy for a long time, purchasing their swim snorkels and the Tempo Trainer Pro from the get go.
When you unwrap this bad boy for the first time you will likely experience confusion: there's no headphones! Music is pumped into your inner ear via your cheek bone, removing the need for earphones.
This, in itself, makes the FINIS Duo underwater mp3 player a winner for me. As you will see in the next review, getting a pair of headphones to stick in your ear while swimming is a pain in the butt.
Because there are no headphones with the Duo, there is also no risk of water getting between the music and your inner ear.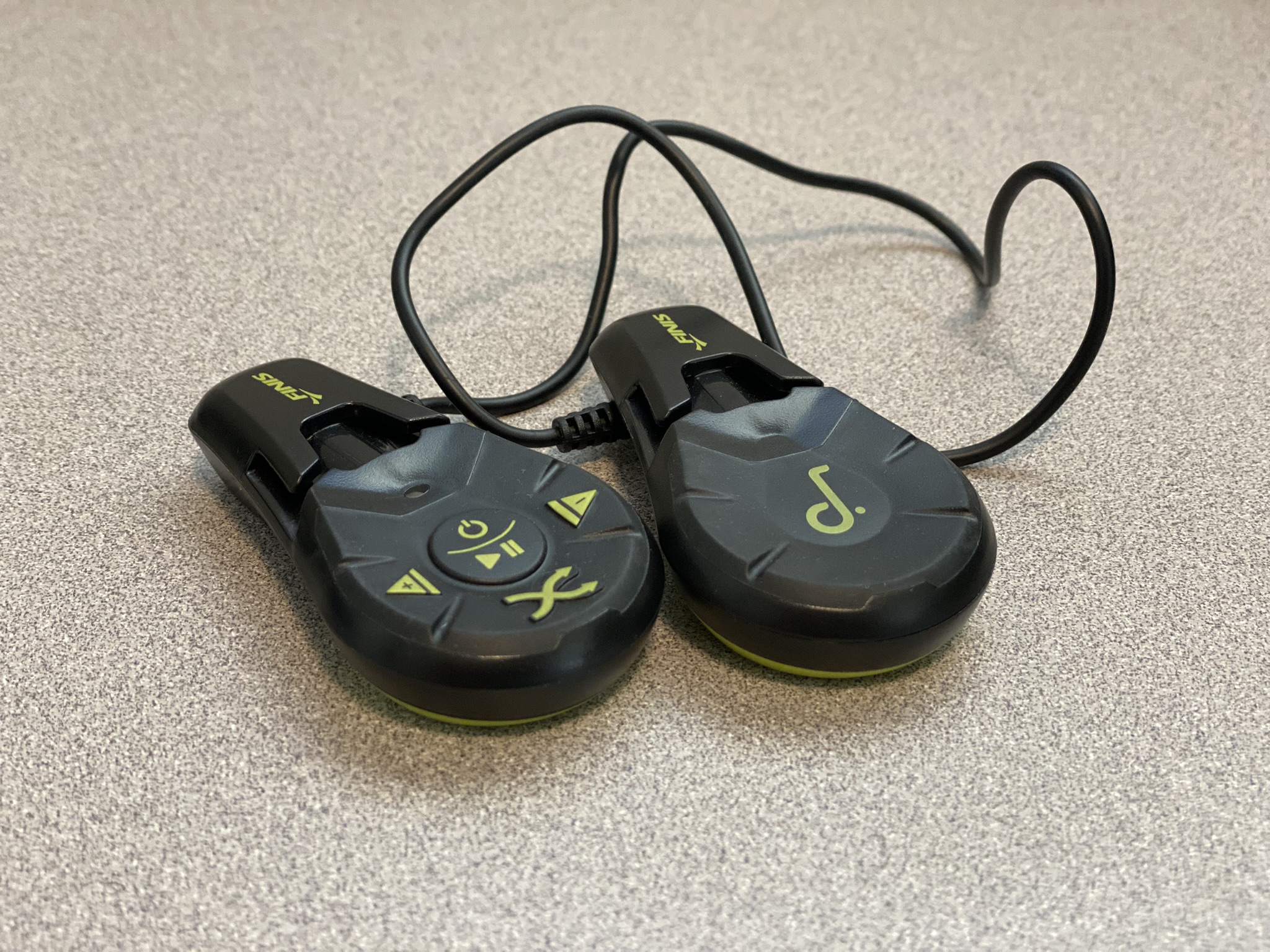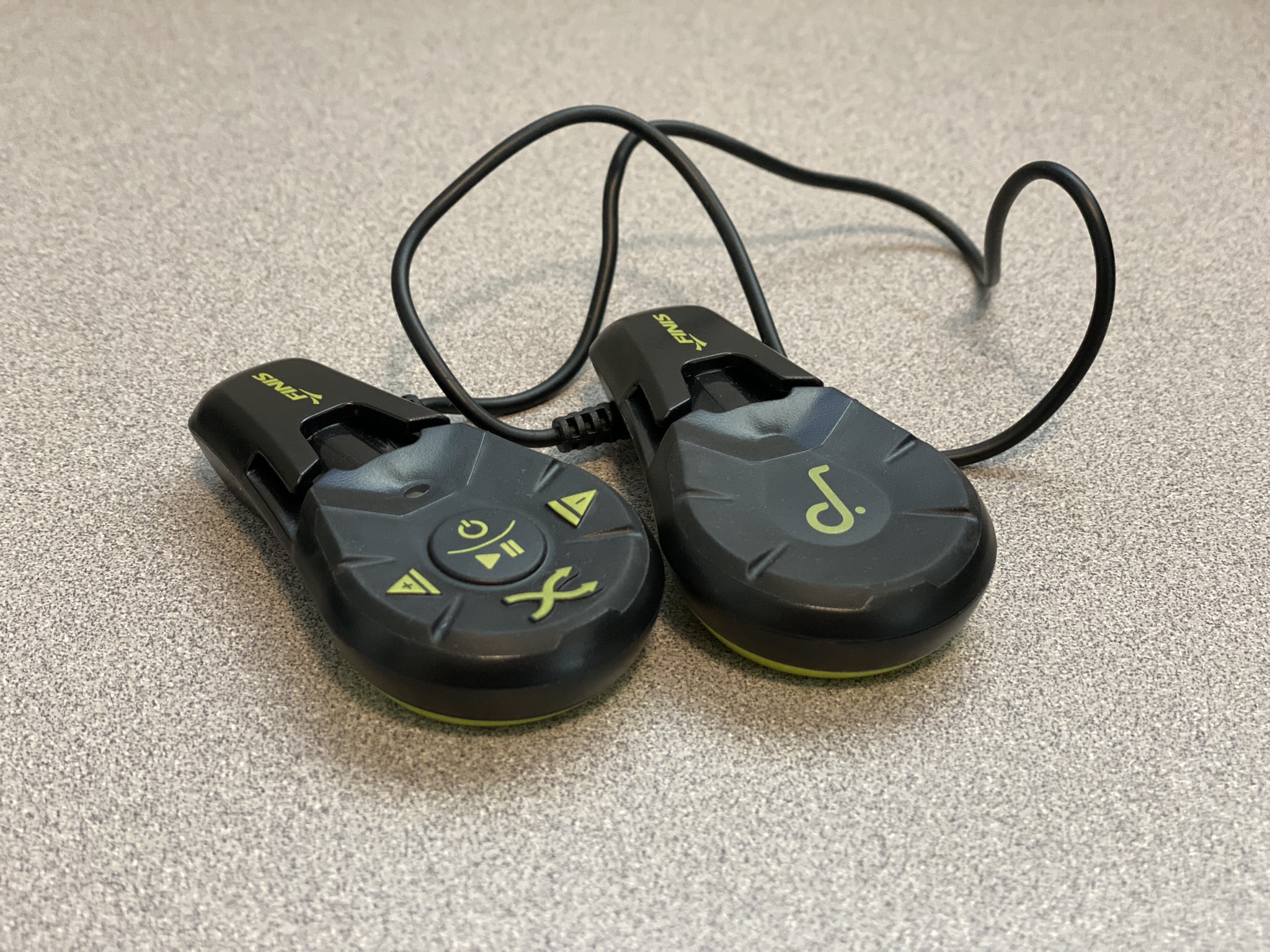 This is one of the most frustrating parts of underwater music players, in my opinion—the moment any water gets into your ear canal, the music becomes immediately muffled and distorted.
As if that wasn't enough, for someone who wears swimmer's earplugs regularly (Mack's for life!), I was pleasantly surprised to learn that wearing them while listening to the FINIS Duo actually improved the listening experience.
That's likely the first and last time I'll ever credit earplugs to better sound quality. So for that fact alone, I respect you FINIS! You get five happy faces out of five from this life-long swimmer.
They retail for around $100ish, are fully backed by warranty, and you can pick up your own FINIS Duo over at Amazon by clicking here.
---
2. SHOKZ OpenSwim Bone Conduction MP3 Waterproof Player 
⭐ Runner-up for best waterproof MP3 player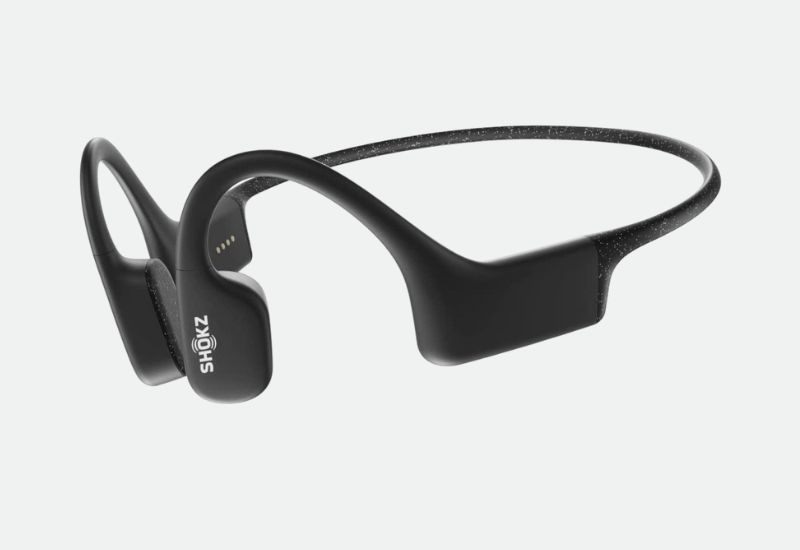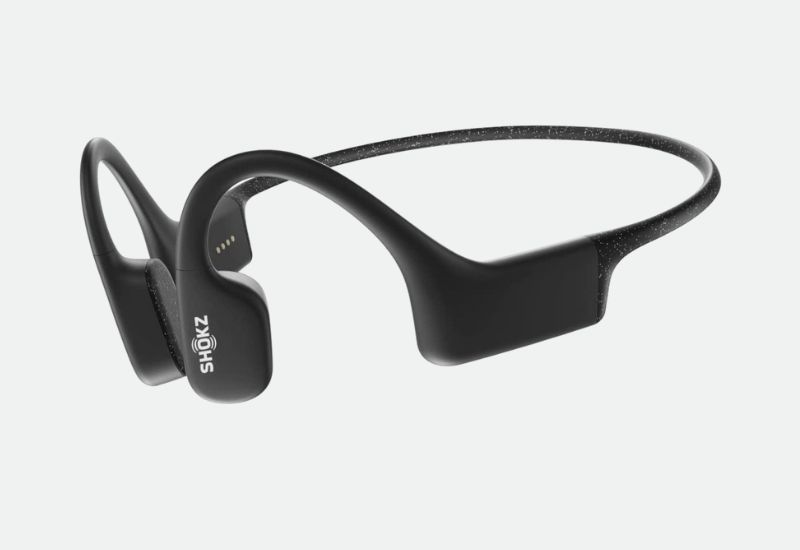 The design of the SHOKZ OpenSwim MP3 Waterproof Player is the best thing going for it—the player wraps around the back of your head and transmits music using bone conduction.
As we saw with the FINIS Duo, there are two huge benefits to this type of device.
First, the sound is clear and full. You don't have to worry about water getting into the ear canal, between the ear bud and your ear drum, distorting the music (generating the dreaded "tinny" sound).
And second, there are no wires to mess around with. One of the more frustrating parts about waterproof MP3 players is that the back of the head can start to look like a bowl of spaghetti with all of the wires combined with your swim goggle straps.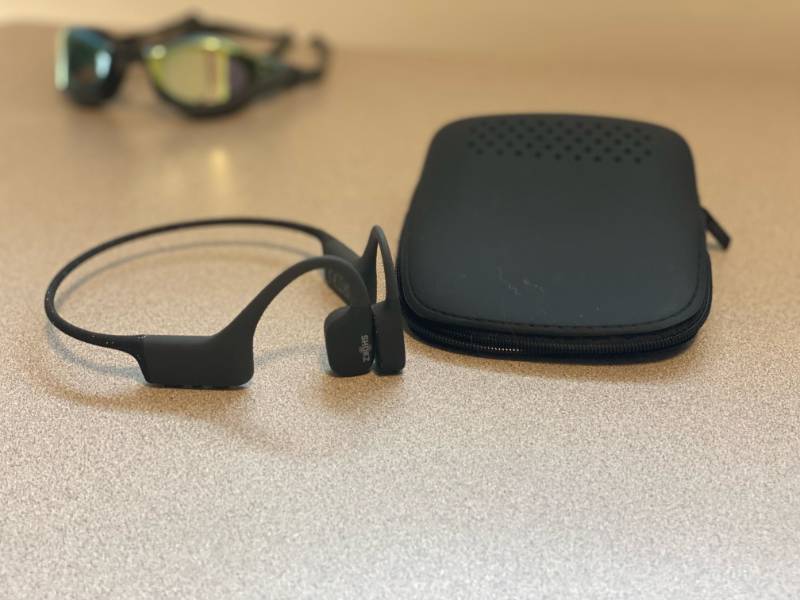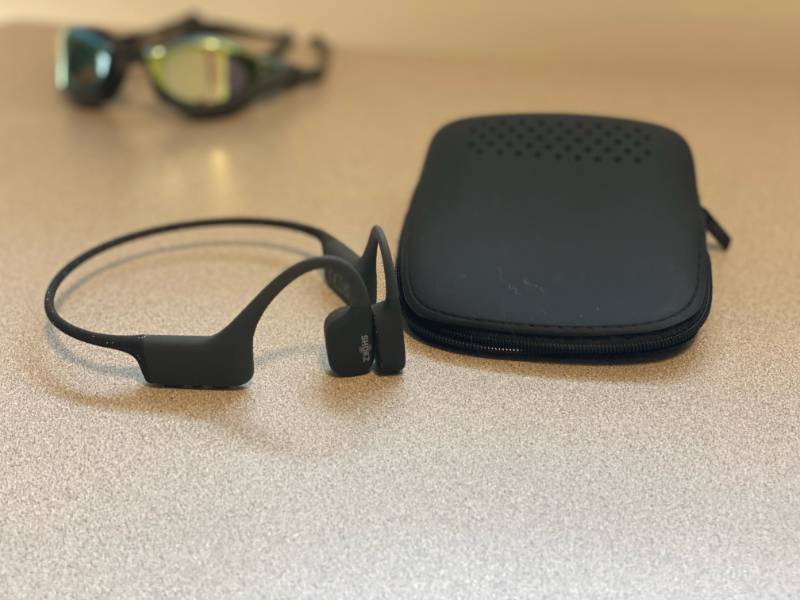 The design of the SHOKZ is super hydrodynamic, tucking behind the back of your head and staying out of the way while you churn up and down the pool.
Transferring music over to the device was painless, and it can play around 1,200 songs formatted as MP3, WAV, WMA, AAC, and FLAC. Although it looks heavy—it's made of titanium, after all—the OpenSwim only weighs 1oz.
There are two main downsides to this product. It's expensive—at $149 it's easily the priciest option on our little list when it comes to pure MP3 players—and it doesn't store as many songs as some of the other MP3 players listed below (the SYRN, for example, has double the storage).
Also, if you are looking for Bluetooth or streaming compatibility, the SHOKZ OpenSwim is not the device for you.
| | |
| --- | --- |
| ✅ PROS | ❌ CONS |
| Hydrodynamic design; barely notice it is there | Only 4GB of storage (~1,200 songs) |
| Bone conduction for clearer sound when swimming | A bit pricey at $149 |
| Very light; weighs just 1oz | |
| Several different color options | |
---
3. Underwater Audio SYRYN Flip Bundle
⭐ Best waterproof MP3 player for using ear buds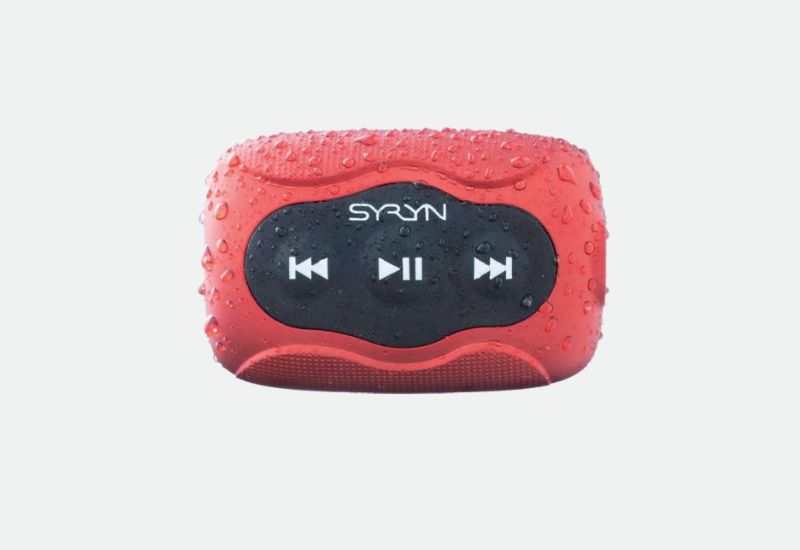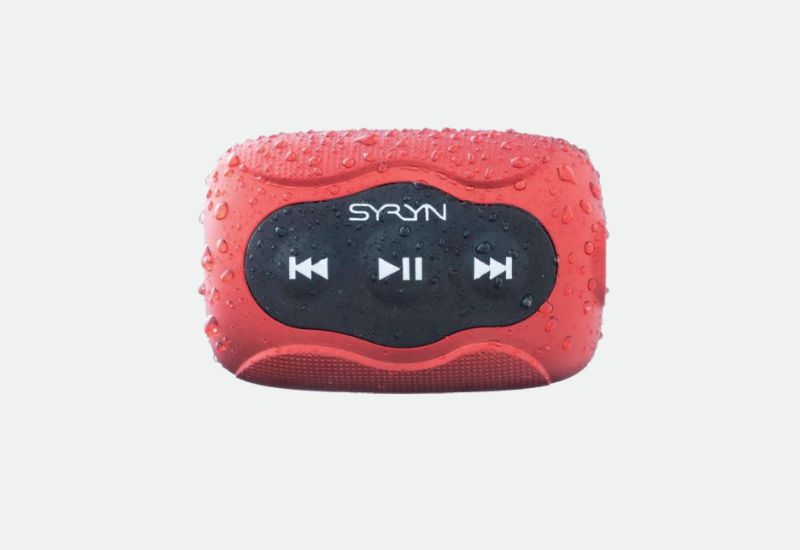 Underwater Audio is one the leading companies in the pool when it comes to making waterproofed music players for swimming, making waterproof iPod shuffle cases and even mini waterproof tablets for swimming (the Delphin, which we will cover shortly).
The SYRYN is their most recent edition of their waterproof MP3 player for swimming.
But how does it perform in the water?
The thing I liked most was the sturdy clip on the SYRYN which stayed completely in place when fixed to my swim goggle straps (place it at the back of your head). No matter how hard I pushed off in the water, it stayed firmly in place.
The three elevated buttons on the player made it easy to scroll through songs and adjust the volume. Each button has multiple functions, giving you a lot of device functionality without having to clutter up the MP3 player.
The SYRYN also lasts; I got a week of swim workouts in with it on a single charge (Underwater Audio's specs list battery life at 10 hours).
The 8GB of memory stacks about 2,000 songs and loading the device with your tunes was a breeze; drag and drop using File Explorer on Windows or iTunes.
The SYRYN is shipped as a bundle that has multiple ear tips so that the earbuds have a custom fit in your ear that won't fall our when you are swimming.
In terms of a straight-up waterproof MP3 player, the SYRYN is an absolute beast.
| | |
| --- | --- |
| ✅ PROS | ❌ CONS |
| Lightweight design | A bit bulky |
| Strong clip; stays in place | Can't create multiple playlists |
| Easy to load music | |
| Up to 2,000 songs of space | |
| Buttons are easy to use (once you memorize the functions) | |
| Comes with tons of ear tip options | |
---
4. Delphin Waterproof Micro Tablet
⭐ Best waterproof music player for Spotify and streaming music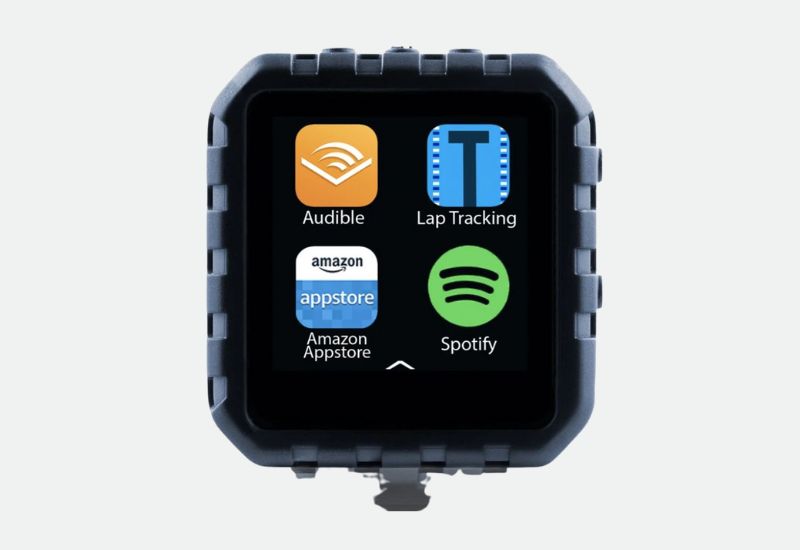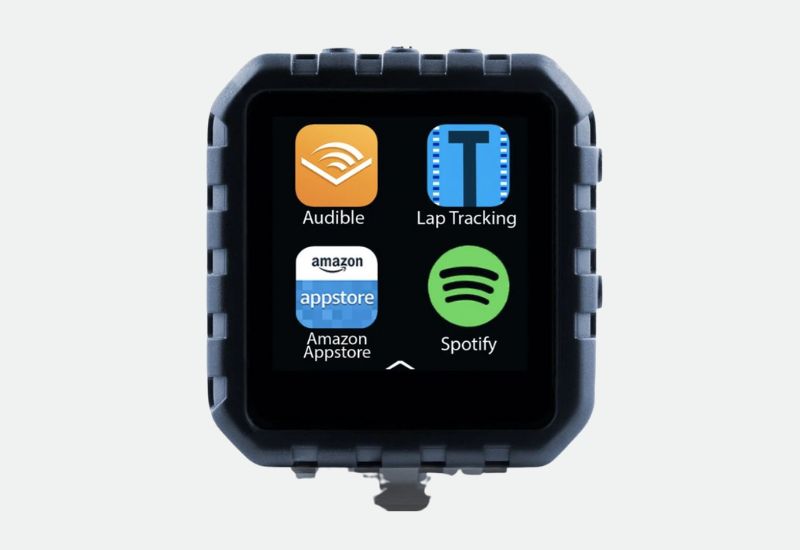 The next generation of waterproof music players are here, and right at the top of the list is the Delphin Waterproof Micro Tablet, which is part music player and part waterproof micro tablet.
When you get to the pool, or while you are at home getting ready for your practice, hook up the player via Bluetooth to your smartphone and load up the player with your favorite Spotify, Pandora, and Audible music, podcasts, and/or audiobooks. Download the playlists, clip the mini tablet to your goggle strap, and off you go. The player has a touch screen and five elevated buttons for easy-access control and playback.
Of course, a music player in the pool is only as good as the waterproof headphones that come with it, and Swimbuds makes some of my favorites.
With the Delphin you get headphones that have eleven different kinds of tips, ensuring that no matter what size your ear canal, you will find a comfortable and secure fit.
Available in 8gb and 16gb versions, the Delphin comes with a 30-minute guided swim workout and a sample bottle of Aqua Guard.
| | |
| --- | --- |
| ✅ PROS | ❌ CONS |
| Best waterproof MP3 player for streaming while swimming | Pricey! |
| Crisp touchscreen | Screen may be too small for some users |
| IPX8 waterproof | |
| Tough case for added durability | |
| Super easy to load music | |
| Extremely lightweight; 1.6oz | |
---
5. Mighty Vibe Waterproof Audio Spotify Player
⭐ Best no-frills Spotify Waterproof Music Player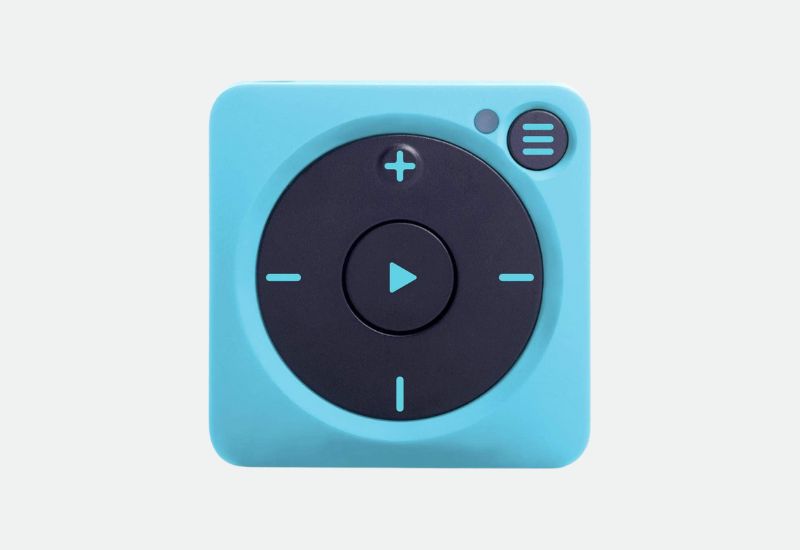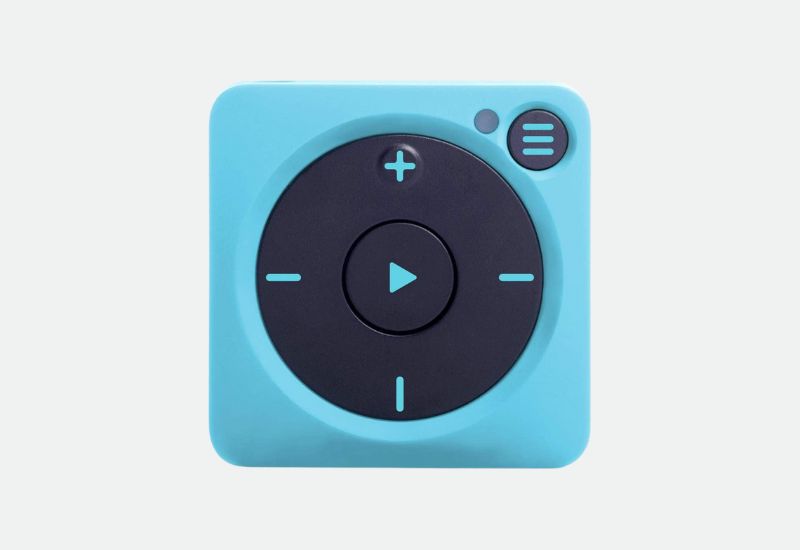 If you want to take your Spotify and Amazon Music to the pool, and don't need a touch screen or the corresponding price tag, the Mighty Vibe Waterproof Audio Spotify Player is a budget-friendly way to take your streaming music to the swimming pool.
The device holds up to around five hours of playlists and podcasts, which you download at home or on the way to the pool via Bluetooth, which means you can leave your smartphone in your locker and focus on crushing the laps.
The player itself is very small, extremely light at under one ounce, clips easily to your swimming goggles, and the slightly raised playback buttons are intuitive and easy to get a handle on. The device updates wirelessly to your smartphone, which means that it stays current on your hottest new playlists.
Available in three different colors, waterproofed to IP68, the Mighty Vibe Waterproof Audio Spotify Player is a small device that packs big sound in the water.
---
6. H20 Audio Stream 3 Waterproof MP3 Player
⭐ best waterproof music player for swimming with multiple headphone options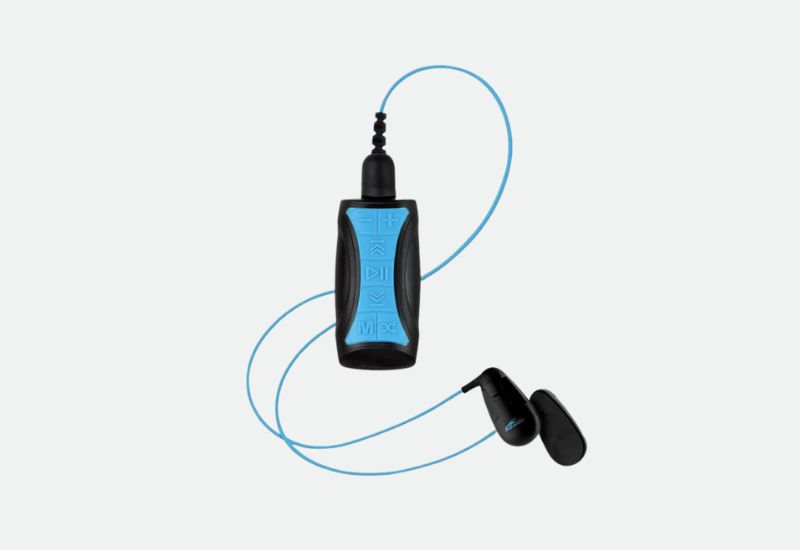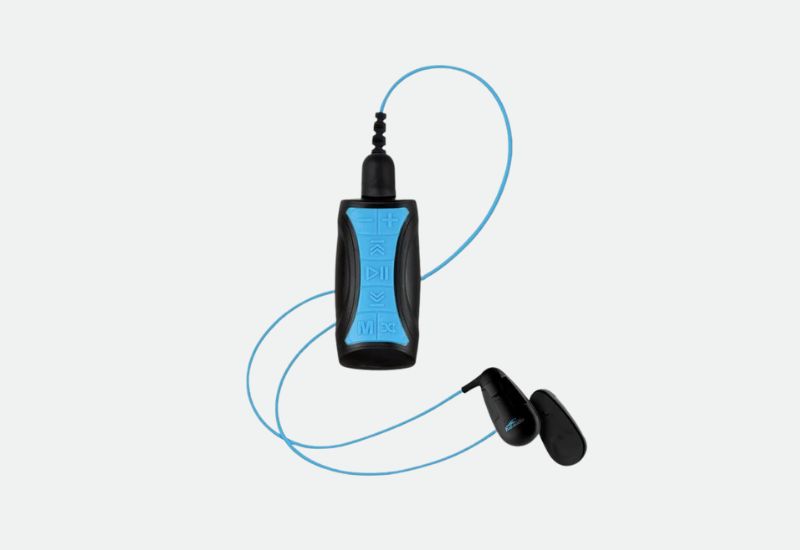 The H2O Audio Stream 3 builds on previous editions of their wildly popular waterproof MP3 players. They've been making them since 2003, with Michael Phelps seen using one of their early devices back in the day during training.
The H2O Audio Stream 3 takes things up another level by adding multiple headphone choices, streaming capability, and exceptional waterproofing, with the player rated IPX8 (good up 12ft deep).
My preferred option for listening to music when swimming is via bone-conduction headphones. This is partially because the sound is fuller and clearer, but also because I usually wear swimmer's earplugs to ward off earaches, rendering waterproof ear buds a bit useless.
The H2O Audio Stream 3, in this sense, feels like it was built for me with the option of ear buds or bone conduction headphones.
(H2O Audio also makes a standalone bone conduction set, the H2O Audio Sonar Waterproof Headset with built-in MP3 player.)
The Audio Stream 3 is also one of the very few waterproof MP3 players that has Bluetooth. This feature is a little limited—Bluetooth doesn't work through the water—but if you are doing a kick set or vertical kicking in the pool, and keeping your head above water, you can stream music from the device.
The main downside I found of swimming with the H2O Audio Stream 3 is that things quickly start to feel busy with all of the wires on the back of my head.
Additionally, there is a lot going on in terms of buttons and controls. For people who want to just get in the pool and go, navigating seven controls when starting a swim workout feels like it's a bit much.
| | |
| --- | --- |
| ✅ PROS | ❌ CONS |
| IPX8 rated | Music controls feel "busy" |
| Bone conduction or waterproof ear buds | I liked the look of the Audio Stream 2 better |
| Excellent brand reputation | |
| Bluetooth connectivity | |
| Tons of music storage (~2,000 songs) | |
---
How to Choose the Best Waterproof MP3 Player for Swimming
Adding music to your swim workouts is a great way to make your time in the water go by faster. Plus, the beat from your playlist will help you master a good rhythm in the water.
But choosing the right waterproof MP3 player for the pool is crucial.
Here are the key things to look for when shopping for an MP3 player for swimming:
✅ Music format
Taking your music to the pool is easier when you can drag and drop the tunes to your device, or quickly download a Spotify playlist to your device.
All of the options on our list do not include proprietary software—i.e. you can literally drag and drop music from File Explorer or iTunes to the player.
Choose the device that matches the tunes or playlist you want to churn up and down the pool to.
✅ Headphone type
The hardest part about listening to music in the water has always been getting the headphones right.
Water will almost always find a way to get in the way, seeping into the ear canal and distorting the sound coming from your headphones.
For in-ear listening, choose a waterproof MP3 player that has multiple ear tips and trees to get a leak-free, comfortable fit.
If you want to bypass this challenge altogether, strap on one of the bone conduction options—including the FINIS Duo and Shokz Open Swim Waterproof Player to blast your favorite songs straight into your noggin' through your jawbone.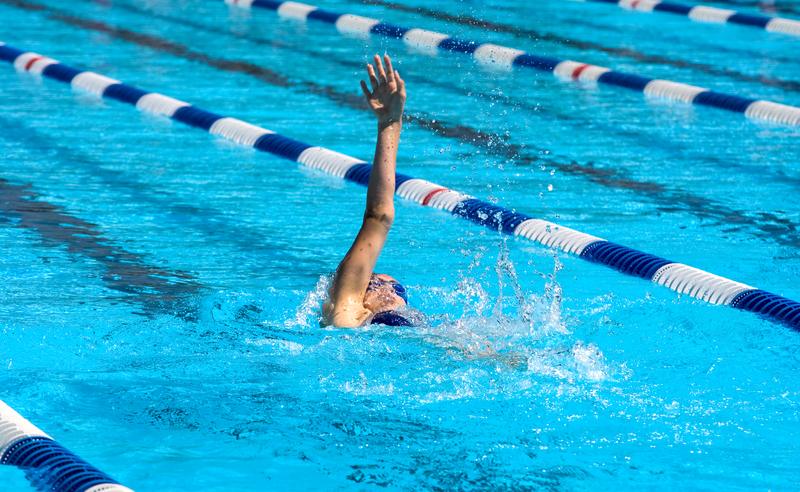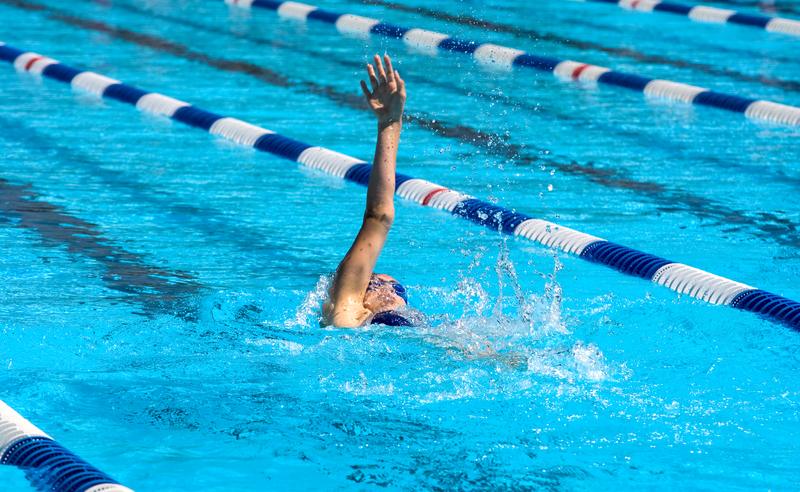 ✅ Audio storage
Storage is another key thing to look for, especially for swimmers who plan on using larger audio files like audiobooks during their aquatic adventures.
The players on this list range from 4gb to 8gb, storing a range of 1,000 to 2,000 songs.
✅ Waterproof rating
There are two levels of waterproofing to look for when it comes to devices you can swim with, IP68, IPX7 and IPX8.
IP68 indicated that devices can be submerged up to 1.5m in depth and not incur any damage. The Shokz OpenSwim Waterproof Player and the Mighty Vibe have this rating.
IPX7 rating means your device can be submerged up to 3ft of depth. This is more than sufficient for most swimmers, who rarely stray far from the surface when swimming.
Players and devices that are rated IPX8 kick up the waterproofin', being rated for up 10ft of depth.
Waterproof MP3 players rated at IPX8 include the FINIS Duo, Underwater Audio Delphin Player and the SYRYN Waterproof MP3 Player.
The Bottom Line
Finding the best waterproof MP3 player for swimming laps can be a little trickey when you aren't sure about which type will work best for you.
However, with the right features, such as headphones that stay in place, proper waterproof rating, and storage for your music format of choice, you can take your swims to a whole new level.
To recap:
⭐ The FINIS Duo Waterproof MP3 Player is our numero uno, with crystal-clear sound, no wires to get tangled up with, and has easy-breezy, drag-and-dropping for adding music files.
⭐ The Underwater Audio Delphin Micro Tablet is a bit pricey, but it absolutely rocks for playing Spotify and streamed music, and it has that fancy screen for using apps like lap tracking.
⭐ And the H2O Audio Stream 3 Waterproof Music Player is our top choice for swimmers who want the best of both worlds when it comes to headphones or bone conduction.
Choose the best waterproof music player for you, load up your list of personal hits and bangers, and take your swim workouts to the next level.
---
More Gear Guides for Swimmers:
The FINIS Duo: The Best Underwater Music Player for Swimmers. Looking for more information on the Duo? Here's a more detailed breakdown of why this underwater MP3 player is so awesome.
Swim Gear Guide: FINIS Tempo Trainer Pro. It's one of the simplest and effective tools for swimmers looking to master their stroke rate, stroke distance, and more. Here's the dealio on this popular device.
Swim Gear Guide: The Best Waterproof Fitness Trackers. Ready to take your swim workout to the next level? Here's your guide to the best waterproof fitness trackers for swimming.
The 5 Best Waterproof Headphones for Swimming. Ready to take your tunes to the pool? Heck yeah you are. Here's a breakdown of the top waterproof headphones for lap swimming.
The Best Waterproof Fitbits for Swimmers. Fitbit—one of the most popular wearables on the planet—have two waterproof fitness trackers for swimmers. Here are reviews of both of Fitbits waterproof trackers for swimming.