Kathleen Hersey is a two-time Olympian who represented the United States at the 2008 and 2012 Games. In London, she placed fourth in the 200m butterfly.
Growing up in Atlanta, she trained at SwimAtlanta under her coach Mark Minier. The following workout was done in June of 2008, a couple months before she would make her first Olympic Games in Beijing.
"Kathleen never shied away from the challenges," said her age group coach, Mark Minier.
The workout was completed in short course yards.
WARM-UP
1000 choice
8×100 IM @1:30
ODDS: drill-swim
EVENS: swim-drill
8×50 free swim @:45 (Breath 3/5/7/9 by 50)
KICK SET
6x
100 free kick @ 1:30 (kick-board optional)
4×50 kick stroke @1:00, :55, :50, :45
4×25 fly kick (12.5m underwater dolphin kick fast) @ :25
200 recovery to shake it out
PULL SET
3x
600 free swim with snorkel + paddles @7:30/7:20/7:10 by round
3×100 free pull with snorkel @1:15/1:10/1:05 by round
MAIN SET – BROKEN 200s
Broken 200s
Four rounds:
1×75 all out @1:10
1×50 cruise @:45
1×50 all out @:45
1×50 cruise @:45
1×50 all out @:45
1×50 cruise @:45
1×25 from a dive, all out
100 easy @2:00
Add up the all-out efforts (75 + 50 + 50 + 25) to get a 200 time.
Hersey did one round of each stroke. Her results: 200 fly = 1:52.40, 200 back = 1:57.20, 200 breaststroke = 2:20, 200 freestyle = 1:47.20
Fun relays + 300 yard warm down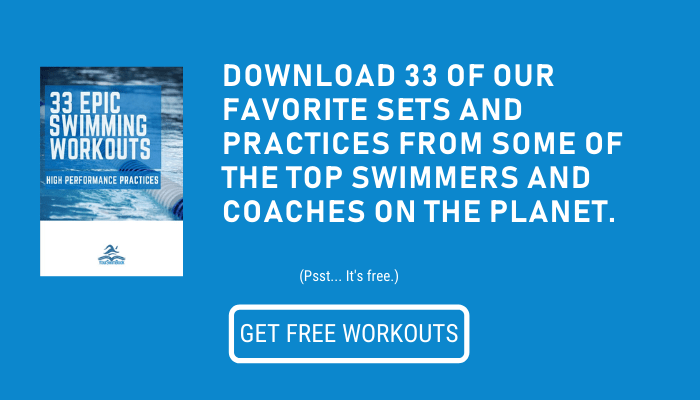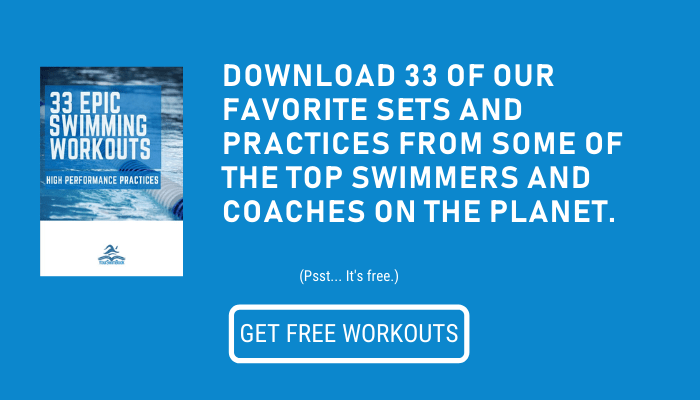 More Stuff Like This:
3 Distance and IM Sets with Olympic Champion Janet Evans. Janet Evans ruled the distance events for nearly a decade. Here are some of her legendary sets and workouts.
How to Train for the 400m Individual Medley with 3-Time Olympian Elizabeth Beisel. The 400m individual medley is one of the most challenging events in the swimming program. Here is one of the sets that Elizabeth Beisel, a three-time Olympian and silver medalist in the 400m IM, used to prepare for this grueling race
***Props to Michael J. Stott who originally covered this workout for Swimming World Magazine in January 2009.