The Michael Phelps Diet – Fact or Fiction?
We tend to build up our heroes and stars into the stuff of myth and legend. Michael Phelps was no different. From lauding his built-for-swimming-physique, to his surreal talent and innate feel for the water, it is easy to forget that most importantly he had an insane work ethic, a level of focus and clarity that few could match, and an unwavering amount of commitment.
The Michael Phelps diet legend was just that, legend, according to the swimmer.
12,000 CALORIES PER DAY? NOT SO MUCH.
The New York Post was the first to run a story on Phelps' reported binge eating, with news outlets from Men's Health to NBC all taking the story and running with it in the vignettes before and during the Beijing Games. In the article that ran the Post wrote that Phelps would consume 4,000 calories per meal. Here is what the Post ran as Phelps' diet (which upon reading is ridiculous) –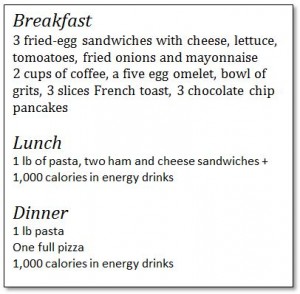 In numerous interviews since then Phelps has refuted the calorie bonanza as a myth, as a story that was overblown. In an interview with Ryan Seacrest before the London Games Phelps chuckled at the supposed fact, telling Seacrest –
"I never ate that much. It's all a myth. I've never eaten that many calories. I wish! It's just too much though. It would be impossible."
Seacrest's reply is typical of what many people probably felt upon reading the smorgasbord that Phelps allegedly stuffed himself with on a daily basis, while also managing to keep the swimmer figure – six pack and all –
"Good, because I was starting to really loathe you, that you could eat all of this."
His actual diet may have included a lot of pizza and carb-heavy foods in the past, but during his prep for London, where he wasn't training as much ("only" six days per week) his nutrition improved.
Now his day tends to look more along the lines of this: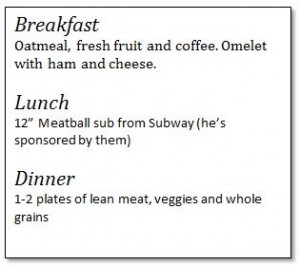 See More Stuff Like This:
Nutrition for Swimmers: Everything You Need to Know. Our always growing section of nutrition and diet tips, from gluten, creatine to pre-workout, we cover all things diet related for competitive swimmers here.
Michael Phelps by the Numbers. How many gold medals has he won? What's his resting heart rate? And much more.