Nathan Adrian is not only one of the fastest swimmers on the planet, he is also one of the biggest. Standing at 6'6" and weighing anywhere between 225-245 pounds he imposes a large presence on the competition.
His exploits in the gym have reached full beast mode status, with Adrian having maxed out the barbells (160lbs) in the Cal weight room when doing dumbbell bench press. (That is benching 320lbs in dumbbells for those keeping count.)
See Also: Nathan Adrian's Start Is Devastating (Video)
Besides his staggering consistency on the national and international stage, he has been winning medals since Beijing 2008, winning a medal swimming the prelims on the legendary Lezak 4x100m freestyle relay, Adrian is also well known for his methodical approach to training.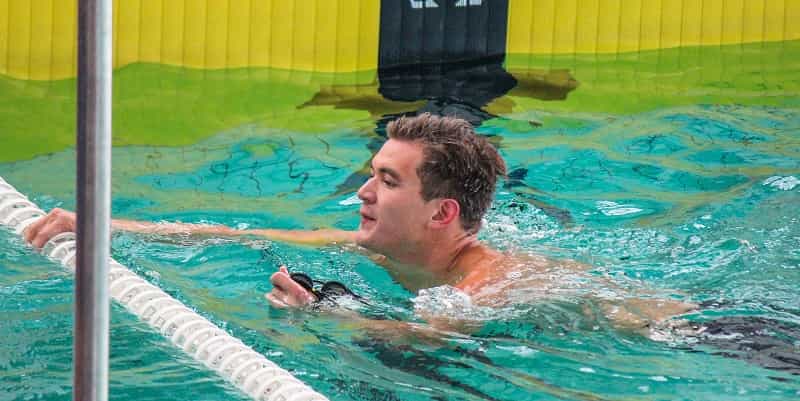 With his focus on mastering the process of becoming an elite swimmer, and tackling his swims piece by piece, it's no surprise that his analytic nature would extend itself to the kitchen.
With the swimmer's appetite being what it is—Michael Phelps and his diet have become a thing of legend at this point—it's always cool to see how the top swimmers in our sport do fuel themselves.
A Typical Day in Nathan Adrian's Diet
During an interview that Adrian did in promoting his appearance in the ESPN body issue earlier this year he talked a little bit about what his eating habits looked like.
Here is what the menu looks like for a typical day on Nathan Adrian's menu in the midst of hard training.
Before AM Practice
Big bowl of oatmeal with frozen fruit.
Core Power protein drink (a milk based shake)
During AM Practice
Post-Practice
Breakfast
Four eggs topped with cheese and avocado
Two pieces toast
Fresh fruit
After a nap (Adrian sleeps between 10-12 hours a day including naps during hard training, with 8ish hours per night, a two hour nap and "what I can scrounge up later")…
Lunch
Veggie based smoothie
"Fairly large" sandwich with turkey, provolone, lettuce, tomato and banana peppers
During PM Practice
Post-Practice
Core Power protein shake
Some form of rice bowl, sandwhich or chicken teriyaki
(This takes Adrian to about 3-4pm)
Snack
Fruit and veggies or frozen dumplings.
Dinner
Deep-dish pizza (the goal is to carb up to avoid late night hunger pangs).
In total this is in the neighborhood of 6,000-8,000 calories, enough to help keep a 6'6" sprint machine fully fueled and ready to rock and roll both in the gym and in the weight room.
The Takeaways
There are a few things you should take from his eating:
It's strategic. Eating carbs late at night to keep the ravenous swimmer's hunger away is a smart move. As someone who has zero control at 3am and will destroy whatever is ready and available in the fridge or in the cupboards I can appreciate this.
Post-workout recovery. Adrian is consuming protein shakes after each of his workouts, long before he gets home and has a chance to have a proper meal in order to give his body a head-start on replenishing and recovering.
Peri-workout hydration. Outside of the water that I can only imagine he is also taking in, Adrian is consuming Powerades while he is in the water. While these aren't the best peri-workout beverages out there, they are much better than nothing.
More Stuff Like This