Much has been made about the value of experience, that it is required to perform at a high level. And then a swimmer like Penny Oleksiak comes along and completely destroys that notion.
With Rio in the rear-view we can now begin to more fully appreciate the breadth and awesomeness of 8 days of unbelievable swimming.
There were superstars who stepped up and crushed it when it mattered most, superstars who gave us one final hurrah before descending off of the Olympic stage for the final time, and the next crop of up-and-comers, the superstars in the making.
It's that last class of swimmer that is perhaps the most fascinating.
The noob who has never made an international team before that medals repeatedly. The swimmer who cruises to three gold medals and a world record at the age of 21, suddenly becoming one of the top male swimmers in the world.
And of course, the 16-year old from Canada named Penny Oleksiak who won 4 medals and seemed truly baffled by every moment of the experience.
Much is made about experience. About having "been there, done that."
But what those swimmers showed us is that experience isn't always to our benefit. Or at least, that it doesn't matter as much as we tend to think.
In fact, experience can often be the thing that keeps us from performing at our potential.
The Myth of Experience
The rapid ascent of a young swimmer is nothing new. Our sport is littered with stories of athletes who detonated upon the world swimming stage out of seemingly nowhere.
Coverage of these athletes mythologizes them as prodigies, as "naturals" that defy common sense, explanation, or the rules of hydrodynamics.
For the superstar swimmers who crash the top of the medal podium in a frenzy of youthfulness the hard part isn't always getting there—it's staying there that becomes the most challenging aspect of it all.
And while some swimmers, Katie Ledecky and Michael Phelps, for instance, are able to parlay that initial burst of success into something greater, other swimmers almost seem to fall prey to their original triumphs.
At the Seoul Olympics in 1988 Janet Evans rocketed to the American consciousness when the small Californian systematically dismantled the dominant East German women in the 400m individual medley, and the 400 and 800m freestyles.
With her patented high tempo windmill Evans became an instant celebrity in the United States. On her return she was met with an avalanche of press, endorsements, and a trip to the White House to meet the President.
Four years later in Barcelona she would "only" repeat the 800m freestyle title.
During the London Olympic Games the story for USA Swimming was Missy Franklin.
She had surprised the swimming community winning a world title in Shanghai the year before in the 200 backstroke, but between the viral "Call Me Maybe" video that imprinted her smiling face on a generation, as well as a 5-medal haul in London, Missy "The Missile" was pegged as the next great American swimmer.
In Rio, Franklin would struggle mightily, medaling only by swimming in the heats of the 4×200 freestyle relay, and unable to final in either the 200m backstroke—in which she holds the world record–or the 200m freestyle.
Ryan Cochrane of Canada, a specialist in the mile, has been on the scene since Beijing, winning a bronze in 2008, and then a silver in 2012 in London in the 1500m freestyle. Based on that progression Cochrane was confidant he could compete for gold in Rio.
See Also: At What Age Should Swimmers Start Mental Training?
However, after placing a disappointing 6th in a race that he was never really in, he was clearly frustrated and disappointed with how he had swum.
"All year long, it was the best training I've ever had," a dripping Cochrane told the CBC after his race.
I was surprising myself every day… It's really hard to come here and not have it transfer into good results."
For these swimmers, who ascend to greatness and then have difficulty maintaining what is an otherworldly standard of excellence, it's tough to explain what went wrong.
After all, the talent is still there. The work is still being done on a regular basis. The accumulated meters is greater than ever. And despite how much arm-chair coaches contend that peak performance happens only at so-and-so an age, physically they are as capable as ever.
And perhaps most importantly…
They have the prior experience of being the best in the world to prop them up mentally.
They've been there.
They know they can perform at that level.
How Inexperience Can Actually Help You Relax
Over the course of a week in Rio Penny Oleksiak won a surprise four medals, including a gold medal in the 100m freestyle in which she tied Simone Manuel of the United States, upsetting the world record holder in the event, Cate Campbell of Australia.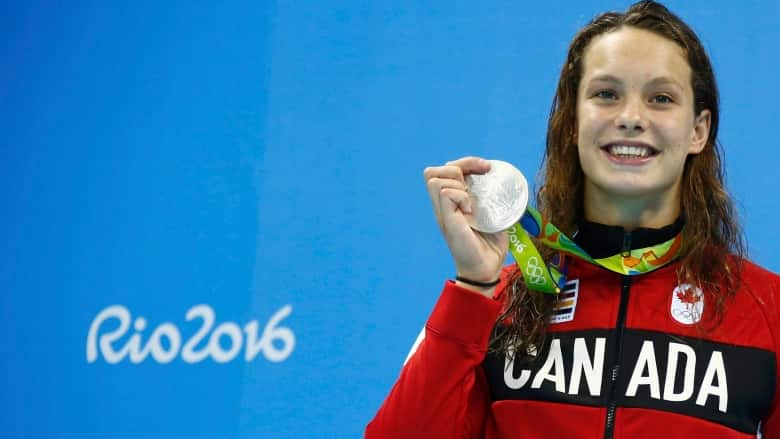 The utter astonishment was visible not only in Oleksiak in her post-race interviews, but on her the faces of her family in the stands, including her parents, sister and brother. The journey to Rio in itself had been a stunner, considering that she was a surprise to make the team back at Canada's Trials in April.
If she had planned on hauling away Canada's biggest medal total she clearly was as taken aback as the rest of us.
And while it is easy to sit here and pick and choose why she performed the way she did, it's clear that value of inexperience was on her side in Rio. With all eyes focused on the heavyweight favorites, the Campbell sisters, for instance, Oleksiak was able to swim her own race.
In trying to explain her performance, it is worth considering the words of mental training specialist Dr. Patrick Cohn of Peak Performance Sports LLC, who notes how debilitating expectations can be:
Inexperienced swimmers have no fear or worry. They simply swim without fear of failure. Champions are able to to swim to their potential they show in practice, or better, because they don't allow the fear of expectations to slow them down or cause them to try too hard in the water.
The Power of Having a Rookie Mindset
At the same FINA World Championship meet that Missy Franklin was busy getting her name out there by winning the 200m backstroke, Sweden's Therese Alshammer was making history by becoming the oldest world champion in history, swimming a 24.14, one one hundredth of a second off the 50m freestyle world record of 24.13 set by Inge de Bruijn over a decade earlier in Sydney.
But what is most notable about this performance is that Alshammer was just a month shy of turning 34 years old, an age that is considered ancient by any standard in high performance swimming.
When asked about what it was like to swim against athletes half her age, Alshammer had the following to say (emphasis mine)…
If anything it's easier being younger because you have no experience. Experience can also be an advantage but so can inexperience, you can learn from inexperience because in youth you don't think about anything. Later on you become more self conscious and you expect too much. That's why you get big drops and then it stops for a reason. The mind-set is what stops faster progress."
While it is easy to point at a swimmer's talent or genetics as a reason for their explosive improvement, we neglect the mindset that these young swimmers have.
They come in with nothing to lose.
No baggage of previous performances.
Without expectations that can cripple even a veteran swimmer.
1. The rookie mindset means you compare yourself less.
"Constantly comparing oneself to a past self is unmistakably common in elite athletes," notes Karolina Wartalowicz, a sports psychology graduate student at the University of North Texas, who studied psychology while swimming for NCAA div 1 program University of Iowa.
When you are comparing yourself to previous performances you are ignoring the process-based things you can do in order to prepare to swim at your best.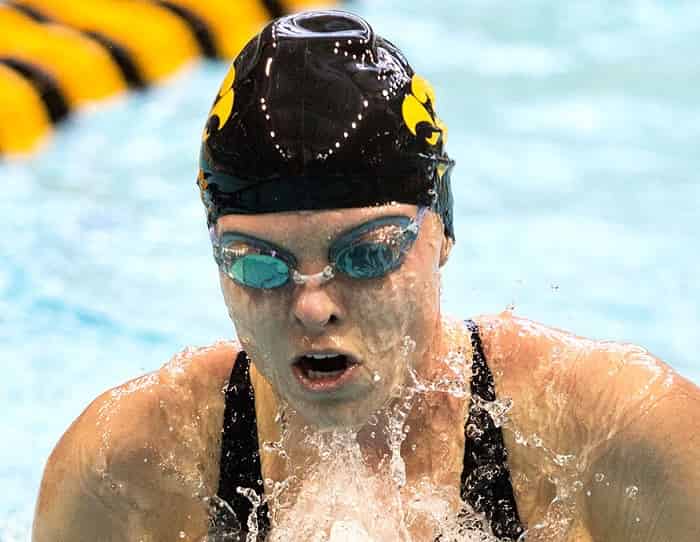 2. The rookie mindset means you have nothing to lose.
Dr. Jim Afremow is a sports pyschologist and author of The Champion's Mind: How Great Athletes Think, Train and Thrive. 
He adds that experience isn't all it's cracked up to be with some athletes.
"Scar tissue resulting from crushing disappointments, near victories and pressure to continue winning, can lead veteran, experienced athletes to think too much and become timid," notes Dr. Afremow. "In other words, they sometimes lack the clear mind and high confidence they had during the early stages of their career."
Karolina agrees.
"Sometimes, going into a big competition or meet as a dark horse or without experience can be a fresh start, and the idea of "I can only go up from here" can only help an athlete be successful," she adds.
The Takeaway
If there is one thing we learned in Rio, it's that being the fastest swimmer in the history of an event doesn't guarantee you a gold medal.
You can be the world record holder, the fastest in textile, or the defending champion–it doesn't matter.
That at the end of the day, it's going to be the swimmer who is not only physically prepared, but is mentally best positioned to swim like gangbusters that is going to sneak in there for the win.