Having solid underwaters means being able to kick hard and fast. Here is a tempo-based vertical kicking set that will help you tighten up your underwater skills.
The underwater dolphin kick.
You know it's important, you know you should be working on it, and you saw how critical it can be when you watched Michael Phelps use his dolphin kick to dust the competition on the turn in the 4x100m free relay in Rio.
So what do you do?
Dutifully perform a handful of dolphin kicks off each wall. Most of them at a generally soft pace. Once in a while you do them at a tempo that mirrors what you would hope to do in a race, but let's be honest, those moments are far and few between.
If you want those deadly underwaters you need to do more of it at the tempo you plan to race with.
And I bet that during your warm-ups, the pre-set, and maybe even the main set you aren't doing your underwaters at the same kick tempo you would while racing.
Why Kicking at Race Tempo Matters
Practice is where you lay the groundwork for the performance to come. It's where you build the speed, endurance, and power to swim your brains out at the big meet.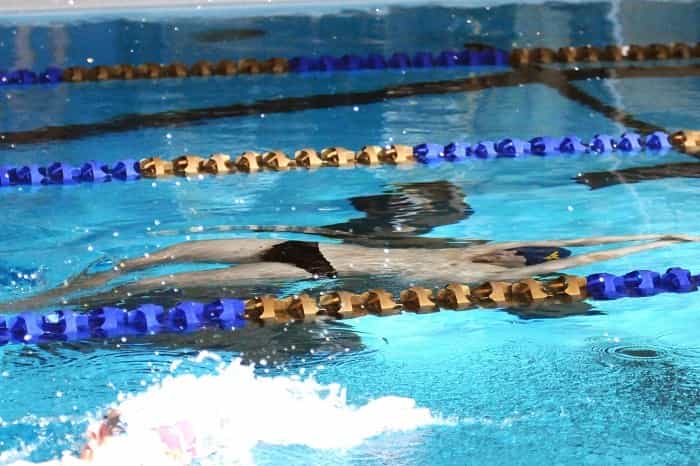 In the same way that your coach has you try and swim race pace as much as possible in practice,  you can do the same thing with your underwaters.
After all, train with a slow tempo underwater fly kick and you are going to have a hard time unleashing a lightning fast dolphin kick when it matters most.
Here is a quick vertical kicking set that will help you develop that monster underwater fly kick that will help you dominate your races.
What Should Our Goal Tempo Be?
In order to do this set properly we are going to need a goal or a target. It's not enough to do the set "hard" or "fast"—we want a way to measure our training so that we have a goal and a way of seeing improvement.
In this case, it's our kick tempo.
While each swimmer is different, Russell Mark, a high performance consultant with USA Swimming—who we also worked with in developing our flagship underwater dolphin kicking guide—measured the dolphin kick tempo of national team swimmers during their starts and breakouts.
For swimmers who competed in the 100m backstroke and butterfly events their tempo was 0.40 seconds per kick.
What he found also was that the tempo typically slows into the breakout, which, if you think about it, makes sense. Swimmers tend to not maintain that rapid-fire kick tempo from push-off to breakout.
This means that there is a golden opportunity for you to train this portion of your swimming.
Here's how to do it.
The Dolphin Kick Tempo Set
The set is simple, and can be adjusted to kicking ability. Butterfliers will have an easier time of it and will likely require less rest.
16-20 x :10 seconds vertical kicking at goal kick tempo, :20 seconds rest
Using the national team tempo numbers, we can develop a goal tempo for our vertical kick set:
10 seconds @ 0.4 kicks/second = 25 kicks
20 seconds @ 0.4 kicks/second = 50 kicks
Set notes:
Do it with your arms at your side to start. Progress to a streamline.
Once you can hold the tempo for :10, level up to :15, :20, etc. If you are falling consistently short of your goal tempo take more rest. The goal is tempo, not fatigue.
Add resistance: strap on a pair of swim fins, or DragSox (or both), use a weight belt, or hold a brick in your hands. Mix it up and keep the set fresh.
You can clearly see start and stop times with the pace clock and get an accurate kick tempo.
Vertical kicking forces you to emphasize the upkick, encouraging a fuller kick. The upkick also makes it more challenging to get more kicks in. You'll really notice this the next time you push off and do a fast breakout—it's like your kick gets a quick turbocharge injection.
Don't cheat yourself by taking tiny little kicks—aim to have a full kick at high tempo. That's the goal!
Do it right before your main set so that you carry your high tempo kicking into your bread-and-butter set.
The Takeaway
The first time you do this you will be surprisd at how difficult it is to get the number of kicks in with the time allotted. After a week or so of doing this set I can only get 23 kicks in over 10 seconds.
And the best part about this set?
Only takes about 8-10 minutes of your workout to complete, so add it to your regular rotation of sets and kick your way to a faster breakout and underwater fly kick.
More Stuff Like This:
The Ultimate List of Workouts for Competitive Swimmers. Our ever-growing list of kick sets, pull sets, sprint sets and more for swimmers. Whatever you are in the mood for, we got ya covered.
How to Develop an Unstoppable Freestyle Kick. Want to swim faster? Start by becoming a faster kicker. From the research on fast kicking to sets to help you kick faster it's all here.