Relays are one of the best parts about our sport.
The lead changes, heroic comebacks, and team aspect makes relays exciting to watch.
Some of the biggest moments in Olympic swimming history are relays, featuring performances that border on superhuman.
Jason Lezak's epic comeback in Beijing. Bruce Hayes in 1984, losing the lead, and then clawing back to win gold. Shirley Babashoff and the American women against the invincible East Germans.
In Lezak's case, the split he swam in Beijing was laughably faster than his flat time start (almost two full seconds quicker). His split of 46.06 was so fast that it was 1.2 seconds faster than the world record in the event.
So why do some swimmers seem to be total magic when it comes to swimming on relays?
While other swimmers swim *normal* or even slower than their individual times?
One of the biggies comes down to a question of motivation. More specifically, what type of motivation a swimmer uses.
Let's break it down.
How you swim on relays depends on what motivates you
Back in the late 1970s, researchers sat down with three different Canadian college swim teams, 70+ swimmers in total. The swimmers did a series of 200s, both as an individual and as a relay.
Before there was any swimming done, each swimmer was evaluated for affiliation motivation, which is a measuring stick for how swimming with others motivates you.
If you view swimming with your teammates and friends as a positive, your motivation (and performance!) is approval-oriented. On the other hand, if you find performing and competing in a group as risky, as a possibility to let others down, your motivation leans toward rejection-threatened.
This difference accounted for some big disparities in performance.
If a swimmer was worried about letting their teammates down, they didn't swim that fast on the relays. The rejection-threatened swimmers felt increased pressure and tensed up, swimming slower—what if I let the team down?
But as individuals, the rejection-threatened swimmers performed great. Getting in the water, with only themselves to worry about, was where they swam best. They could relax, concentrate on their swim and let it fly.
On the other end, the approval-oriented group killed it on the relays.
Because they viewed competing with their teammates as a positive, and they sensed the reward and recognition from helping the team be successful, they let loose and out-performed their individual swims.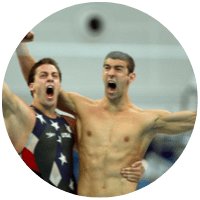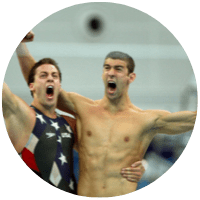 "Lezak calls the four of us together and he said if we swim it as four individual 100s, then nothing good happens. So, let's go and swim a 400 freestyle and let's do it together."
–Garrett Weber-Gale
, member of 4×100 freestyle gold winning relay, Beijing
Fastest team vs the fastest individuals
These differences in performance help explain how picking the best four swimmers for a relay is sometimes more art than science.
As coaches know, there are some swimmers that will always show up and dominate when they are placed on a relay. The four fastest individuals don't necessarily make for the fastest relay.
When you compare best times to best times, this was the case in Beijing with the 4x100m freestyle relay.
The French team, on paper, were easily the superior team. But the motivational intangibles helped the Americans pull off the upset, with Lezak dropping a split that still boggles the mind.
What motivates you?
Take some time to sit down and think about the times where you have performed at your best.
What was it that was driving those epic performances? What got you fired up to get up on the blocks and throw down?
Getting a better understanding of your "motivational style" can pay huge dividends in the water. Once you come to terms with what actually motivates you, there's an opportunity to leverage that knowledge for better and faster swimming.
More Stuff Like This:
The Age Group Swimmer's Ultimate Guide to Motivation. Want to set your motivation levels ablaze this season? Here's your go-to guide for unleashing world-class motivation.
Jason Lezak and Unleashing Your Competitive Fire. Competition can bring out the best in us. In 2008, at the Beijing Olympics, Jason Lezak showed just how far competition and motivation can take us.