Stop losing track midway through your swim workouts with the best lap counters for swimming.
If you like crushing laps on the regular then it's happened to you.
You'll be swimming along, your stroke feeling long, smooth, and powerful when that moment of doubt hits you…
Is this wall coming up 450m?
Or was the last wall 450m?
Or is it the wall after this wall?
Oops.
It's happened to me more times than I care to remember, err, forget (I once lost count swimming a 200 in a long course pool. Seriously.) and it's annoying as balls.
Particularly if you are halfway through a long swim and you aren't able to figure out where you are by breaking down the time elapsed off the pace clock.
Fortunately, there are some extremely simple tools that you can use to make sure that you don't lose count.
Here are some of the best lap counters for swimming so that you not only stop losing count, but also get some informative feedback on your workout including pace, splits, stroke count, and so on.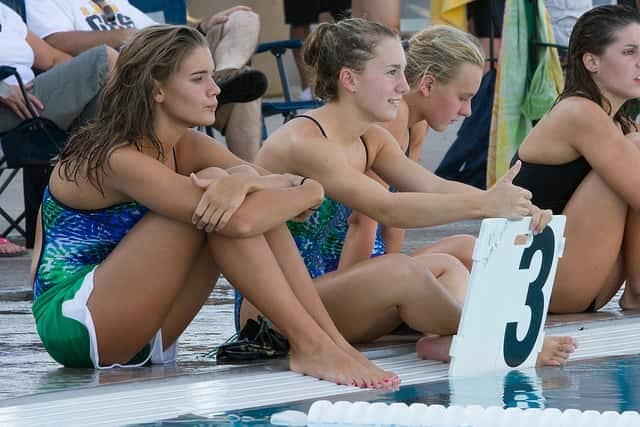 The Best Lap Counters for Swimmers
Aqua Tally Swimming Lap Counter
This almost looks like a novelty item. But not only is it designed to look like a lane rope, but it's the simplest tool you can use to keep track of laps and reps in the water without having to strap anything to your hand or wrist.
An open water swimmer friend stacks plastic rings from one pile to another as she works her way through long sets of 100s; this takes that same concept. Every five markers the color changes so that you can quickly count how far along you are in the workout.
It's also water-resistant, doesn't require a user manual, and it's dirt cheap (around $12-15). The Aqua Tally Swimming Counter is as simple and effective as it gets.


---
SportCount Swim Lap Counter
Now we get into the wearable gear. The SportCount LapCounter is a bare-bones lap counter for swimming with an easy-to-see LCD display. While it looks like it will slip off your finger, this isn't the case. It has an adjustable strap so that you can adjust it your fingers. I have skinny ET-phone-home fingers and thought it might be loose and slide off. A quick adjustment on the finger strap and it was snug as a bug.
The SportCount Lap Counter is straight-up for counting laps; just give it a little flick with your thumb each time you come into the wall or at the end of your rep and away you go.
The device is waterproofed (seems like a reasonable feature), hilariously light, and it's hydrodynamic enough that you won't notice it causing any additional drag on your hand while you are swimming.
How many laps can you count up to? The sky is the limit. (Well, not really. It taps out at 9,999 laps.)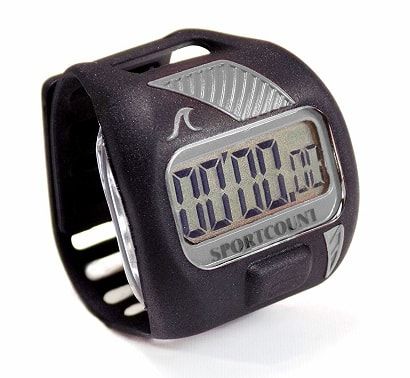 ---
SportCount 200 Swim Lap Counter & Timer
The last lap counter does an effective job at counting laps, and that is great if that's all you are after. The SportCount 200 Lap Counter & Timer takes the same lap-counting skillz of its little brother and adds a line-up of timing features.
While this lap counter won't give you the same readout that a fitness smartwatch provides, the info it spits out is impressive given its low price point ($40).
Besides showing how many laps you did, you can time the duration of your overall swim, fastest split, slowest split (booo), the average pace you held over the course of your swim, and it has enough on-board memory to hold onto up to 200 splits or lap times.
You can pause the timer during use (click the button twice to do so), it's highly accurate time-wise (to the hundredth of a second), and is water-resistant up to 50m.
In terms of battery life, it's not uncommon for swimmers to use them for years before having to replace the small nickel battery.
If you are looking for a simple way to track the duration of your swim practices and getting bare-bone information on what you are doing in the water, and having a counter to make sure you aren't losing count, than the SportCount 200 is pretty hard to beat.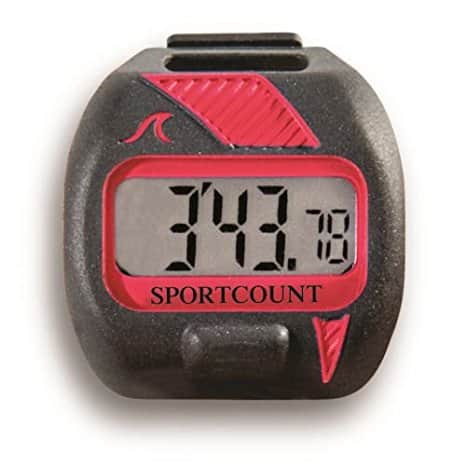 ---
Looking for a waterproof fitness watch to count your laps for you?
The lap counters presented in this mini-guide are low tech and cost-effective. That being said, they also aren't high on features and they also still require some effort on your part.
If you are looking for more information on the growing line-up of swim watches and trackers for swimming we have covered quite a few of them in depth. All of them can be set to track your laps, stroke rate, distance swum and more without you having to remember to do a thing besides turning it on.
For a full breakdown of the best waterproof fitness trackers for swimmers click here.
We have also written individual guides and reviews for the Garmin Swim Watch, the (currently) two waterproofed Fitbits that are ready for the pool, as well as the MisFit Shine 2.
---
More Stuff Like This:
Swim Gear Guide: FINIS Tempo Trainer Pro. It's one of the simplest and effective tools for swimmers looking to master their stroke rate, stroke distance, and more. Here's the dealio on this popular device.
7 Best Swim Watches for Dominating the Water. For those who like to play and train in the water, here is a collection of the best waterproof watches and smartwatches for swimming.
The Best Underwater and Waterproof MP3 Players for Swimming. Ready to level up your swim workouts with music? Here's a breakdown of the most popular underwater and waterproof iPod/mp3 players on the market today.