Swimmers invest a lot of time in the water over the course of the season.
The two-a-days, long swim meets, and the perpetual sogginess can be difficult to bear for even the most motivated of swimmers.
In the moments when you are struggling with commitment or motivation, it's a great time to spend some time with your "why" for living the life of a chlorinated athlete.
Here's more on how to choose a "why" that really sticks and some advice from an Olympic gold medalist on the power of a why.
How to Choose a Why That Works as Hard as You
When it comes to choosing a "why," there are lots of things to choose from.
The most obvious ones are the external rewards that signify success.
These include:
Winning a gold medal in your best event at the Big Meet.
Smashing your personal best time.
Making the Olympic team.
Earning your first state or national cut.
And so on.
These are the types of goals that we dream about at night when we lull off to sleep (like how Michael Phelps practiced his visualization).
We write them down so that we see them every morning before practice.
And we mentally rehearse the race of our dreams when we should be paying attention in class.
But while these goals are awesome for red-hot, electric motivation, they can be a little…
Shallow.
Because they are external and focused on a result, they are harder to control. And they can feel really shaky on days when we go through a stretch of bad workouts or have a bad swim meet and our self-confidence sinks.
A simple exercise you can do to shore up the external "why" is to look under the hood and the behaviors required to make those things happen.
By looking at the deep-rooted whys you swim.
Why Do You Swim?
Today, sit down and think about the fundamental reasons you swim in the pool each day, pushing the limits during those lung-busting main sets, swimming to the point of total exhaustion.
I swim because I enjoy the process of working towards a goal.
I swim because working hard makes me feel proud of my effort.
I swim because each swim practice is an opportunity to overcome adversity.
I swim because I love trying to figure out how to move through the water more efficiently.
And so on.
These whys aren't fundamentally tied to a result or outcome, which means you can control them.
For example:
Even though you are having a stretch of poor workouts… you can still work hard and feel proud about your effort.
Even though you had a bad swim meet… you can find opportunities to overcome adversity in training moving forward.
An Olympic Champion's Advice for a Powerful Why
Olympic gold medalist and NCAA champion breaststroker Breeja Larson has this advice for swimmers who are going through a tough spell:
"The biggest thing for swimmers, especially when you are going through a spell of wanting to retire or stop, or going through winter training, is asking yourself, 'Why am I doing this?'"
"Remember why you started. You need to stay strong until the end of the season. In the final minute of your final race of the season, you will realize all the hours were worth it."
The Final Lap
The desire to be heavily outcome-focused is understandable. Gold medals and records and state cuts are given out on the basis of a result, after all.
But getting there and mastering the process and the result requires using all of the motivational tools in your mesh swim bag.
Sit down with a pad and pen or fire up the notepad app on your smartphone and reflect on the outcome and process-related whys for hitting the pool and giving a great effort today.
Doing so will give you a more well-rounded motivational surge to get you through swim workouts.
---
Mental Training for Swimmers (FINALLY) Made Simple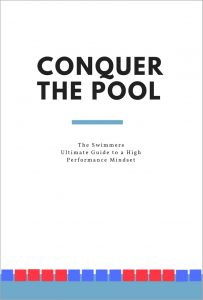 Whether you are tired of choking on race day, want to finally conquer your mindset so that you can give your PB's the beating they deserve, or want to develop a killer game plan for your mindset, Conquer the Pool is your ticket to faster swimming.
"This is the best book I've ever seen concerning mental training." — Ray Benecki, Head Coach, the FISH Swim Team
Used and trusted by some of the top clubs and swimmers on the planet and written with the feedback of 200+ head coaches, Olympians, former world record holders, and NCAA champions.
Click here to learn more about how Conquer the Pool will help you take your mindset to the next level.