Whether you need some slip-free and waterproof footwear for walking on a pool deck or hitting the showers, we've got you covered.
Here is the ultimate guide to the best shower sandals, flip-flops, and pool deck shoes.
Quick Picks:
---
Crocs Classic
Best overall pick: Best shower sandals
Everyone knows about them. The clog-like shoes, initially designed for boating, are easy targets for a little ridicule from our fashionista friends. But no one can argue that their simple and slip-free design is super effective.
Lilly King, Olympic gold medalist breaststroker, happily paddles around the pool deck while wearing her pink Crocs.
Sure, they may not be the runway model of shower sandals (or any kind of footwear, really) but their functional and stable design means you don't need to stress slip-and-sliding on wet pool decks and tiled shower floors.
Crocs provide good grip on swimming pool decks and shower floors, are certified by the American Podiatric Council. They provide more support and comfort compared to your typical swimmer's flip-flop, and with the closed-toe protect the tips of your toes.
At last count, they come in eleven different colors, are extremely durable, and are properly ventilated for extended wear and waterproofing.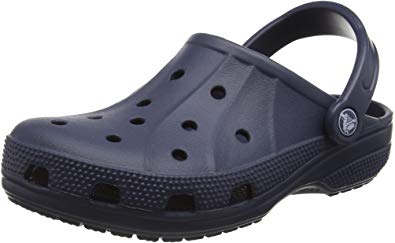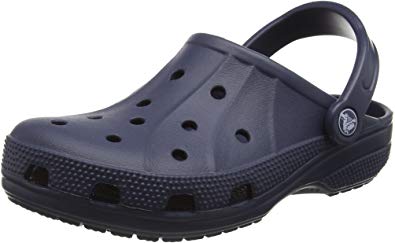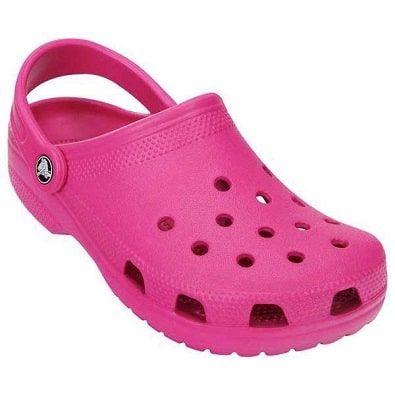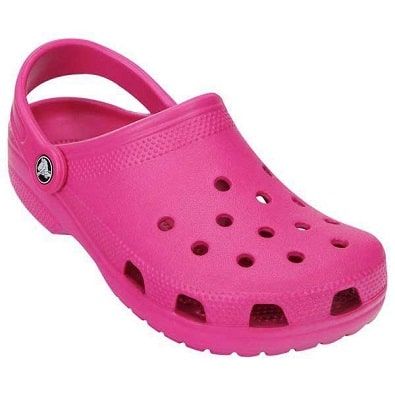 ---
Speedo Deck Slide Sandal
Top Pick: Best Sandals for Pool Decks
Speedo is one of the most popular swim gear manufacturers on the planet. They are so ubiqutious when it comes to water sport gear that swimming briefs are simple known as "Speedos." Although they are extremely popular when it comes to swimwear, they also make a ton of other swim apparel, and one of my favorite are their classic Speedo Deck Sandals.
These pool sandals are extremely clean, featuring the classic blue and red Speedo logo emblazoned on the top of the sandal strap. The sole is made of high-grade rubber, which makes it ideal for not slipping on the pool deck.
The Speedo Deck Sandals are available in three different color combos, but I am partial to the classic white. It should also be noted that these bad boys float.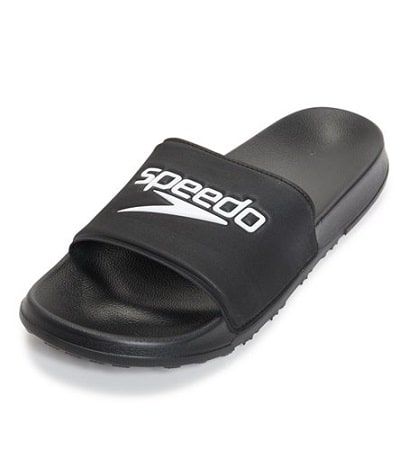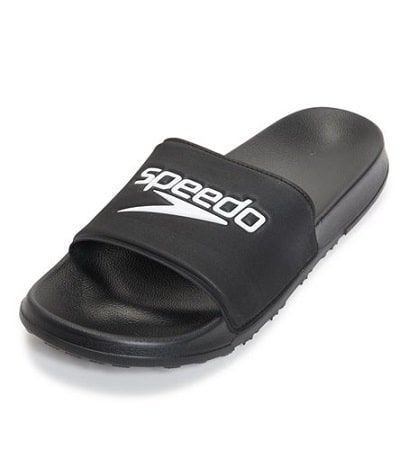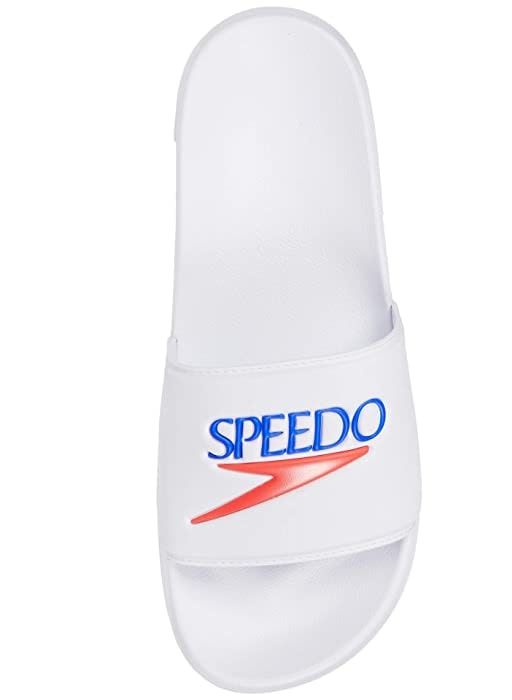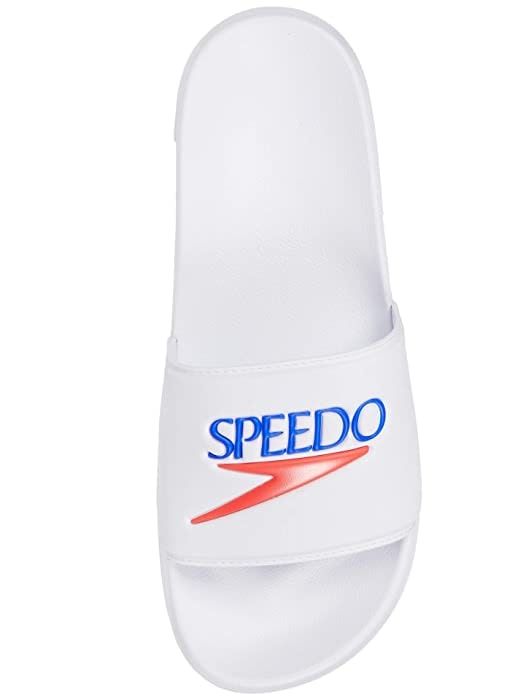 ---
Crocs Men's and Women's Crocband Flip Flops
Top pick: Best shower flip-flops
Crocs makes a second appearance on our list of best shower sandals and flip-flops and for good reason–these flip-flops absolutely kill it. They provide a surprising amount of support and are far sturdier compared to your traditional flip-flop.
One of the main complaints I have had with my flip-flops over the years has been how fragile they can be. They are rarely durable. The Crocs Flip Flops are an exception to the flimsy flip-flop.
Comfortable enough for daily use, and supremely durable, they cost a little more than cheap-o flip-flops you will find at your local sporting store, but will last far, far longer, repeatedly making up for the higher up-front cost.
They come in unisex sizing, up to a men's 13/women's 15, and are available in just about every color under the sun.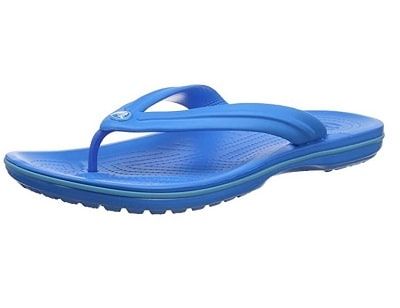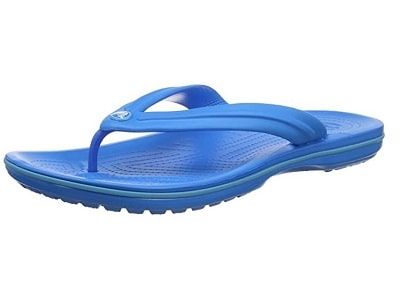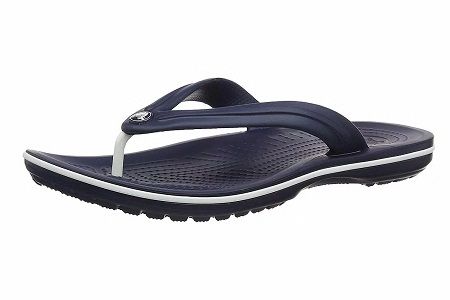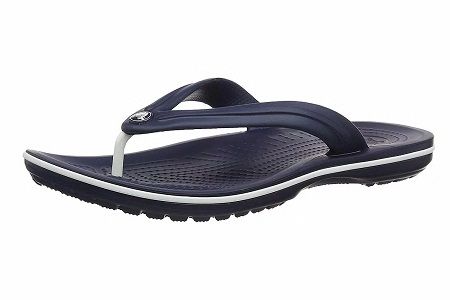 ---
Nike Air Max Sandals
Top pick: Best premium shower sandal
These sandals are straight-up gangster. Not too sure what else to say about them except that they are super comfortable and about as stylish as it gets.
The strap of the sandal features the legacy Nike logo that we all know and love. The upper is EVA with a Gore strap that keeps your feet locked in, while the Max Air unit (the "bubble") gives you premium-level support and cushioning.
Definitely on the pricier end of the spectrum, these slip-on sandals are comfortable, durable, and great to look at.
Nike Air Max Camden Men's Sandals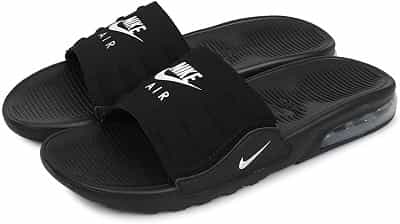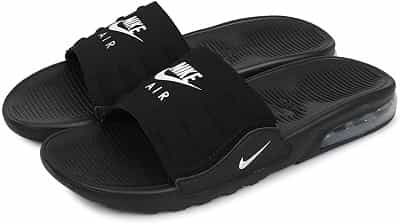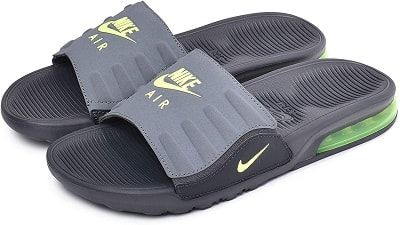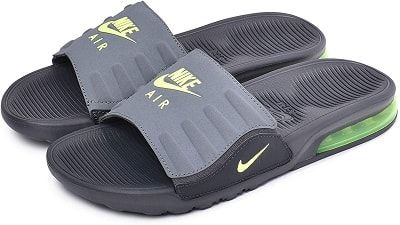 Nike Air Max Camden Women's Sandals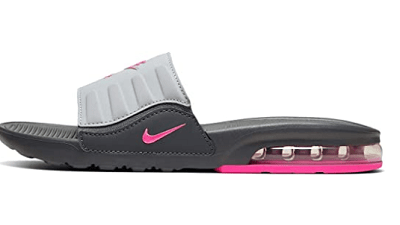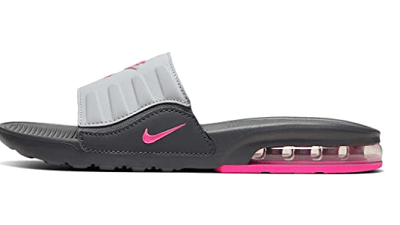 ---
More Stuff Like This
14 Best Water Shoes for Toddlers. Ready to take your kiddo to the beach or pool? Here's a breakdown of the best water shoes for toddlers and kids.
8 Best Pool and Water Shoes. Looking for a closed-toe shoe that is waterproof? Check out our list of the best shoes that are waterproof and provide the grip you need.
7 Best Water and Swim Shoes for Women. Whatever kind of aquatic activity you are into, here are our favorite water shoes for women.