Made for speed and with industry-leading anti-fog tech, the Arena Cobra Swipe Tri has changed the game when it comes to open water swim goggles. Here's a hands-on, in-the-water review of the Cobra Swipe Tri Goggles.
The Arena Cobra Tri Swim Goggle is a premium swim goggle that is designed specifically for open water and triathlons.
It's got Arena's proprietary "swipe" anti-fog technology (which will blow your mind), an extremely slim lens profile, and all the peripheral vision you could ask for.
They look great, too.
But is the Arena Cobra Swipe Tri Goggle going to be the right swim goggle for you?
Having tested more swim goggles than I can count over 30+ years in the pool and open water, I know a thing or two about what makes a goggle awesome.
In this review of the Arena Cobra Swipe Tri, I'll discuss the highlights of these goggles, some of the cons, and line it up against comparable swim goggles.
By the end, you will have a crystal-clear idea if the Arena Cobra Swipe Tri Goggle is the one to help you kick butt in the water.
Let's dive right in.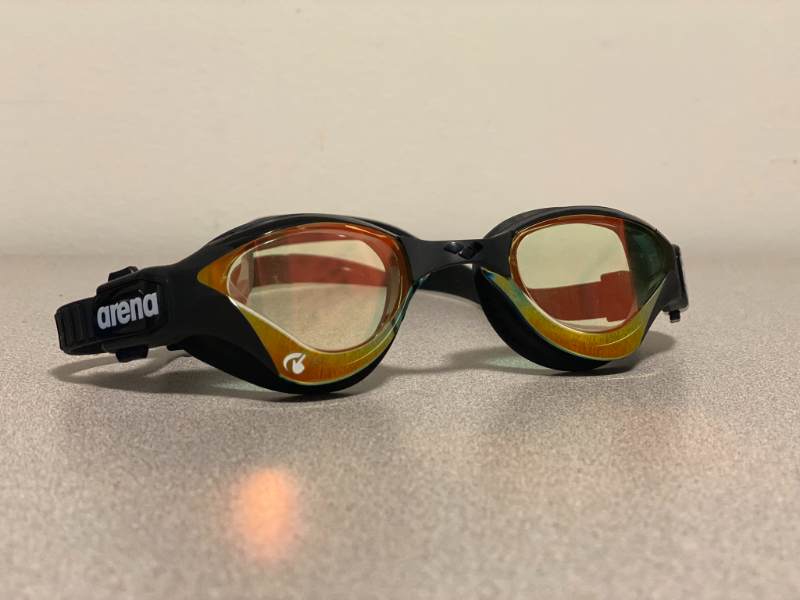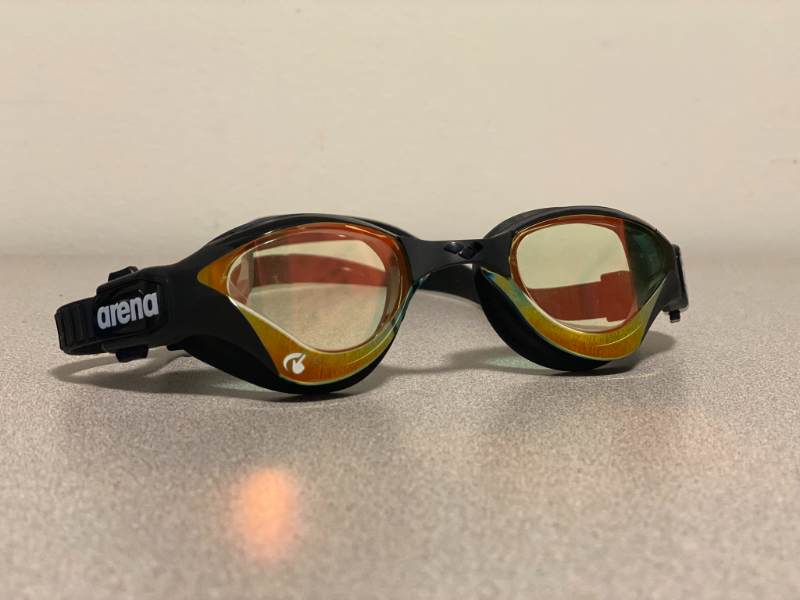 The Arena Cobra Swipe Tri Goggles – The Pros
Okay, let's lead things off with what I really liked about the Arena Cobra Swipe Tri Swim Goggles:
✅

The anti-fog technology rocks!
We gotta kick off this review with how utterly awesome the anti-fog is on these swim goggles.
When Arena came out with the pool version of the Ultra Swipes a couple of years ago, they were such a hit that they soon after released an Ultra Swipe designed for open water and tri swimming.
The way the technology works goes against everything you've ever been told about how to keep swim goggles from fogging up over the years.
Instead of doing everything you can to avoid rubbing the inside of the goggle lenses with your fingers (thereby ruining the delicate factory anti-fog coating), when the goggles start to fog, gently "swipe" the inside of the lens with your fingers five times and presto—anti-fog coating has been reactivated.
I know—what kind of space magic is this?
Finally, an anti-fog swimming goggle that is truly anti-fog.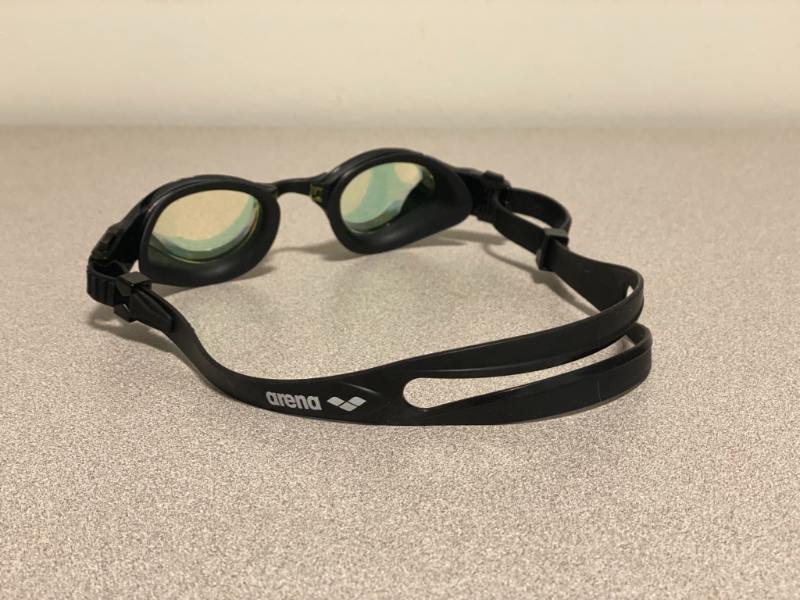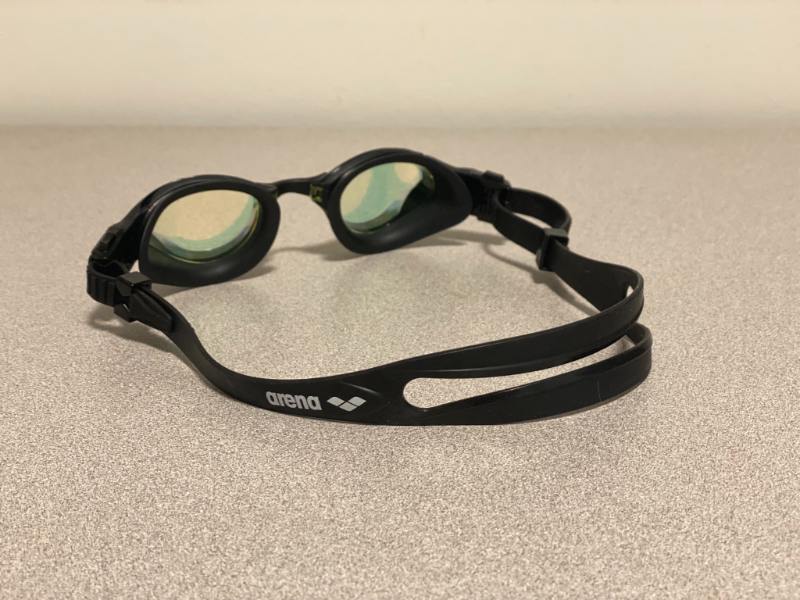 ✅

Exceptional peripheral and "regular" vision.
Open water swim goggles are designed to give you TONS of vision in the water.
This is why open water and tri swim goggles tend to be a lot larger than pool swim goggles—they have to be in order to get the huge field of vision that makes it easier for swimmers to get their bearings (literally) when out in open water.
The Arena Cobra Ultra Swipe Tri Goggle nails this requirement spectacularly with an extra wide peripheral field of vision that makes it easy to see all around you.
Putting on the goggles I felt a bit like a fly, with 180-degree vision, and excellent vision "up"—looking upwards when swimming on my front—and the lens, despite being polarized and slightly mirrored, were extremely bright.
The goggles give you full range of sight, whether you are sighting, looking off towards the horizon, or simply want to try and see through the bubbling chaos of swimmers in the pack.
✅

They are the slimmest open water swim goggles I've ever seen
Open water swim goggles—because they are designed for maximum field of vision—can sometimes come close to swim mask status by how thick and large they are.
Not the case with the Arena Cobra Tri goggle.
It's an almost impossibly thin goggle for how wide the peripheral vision is.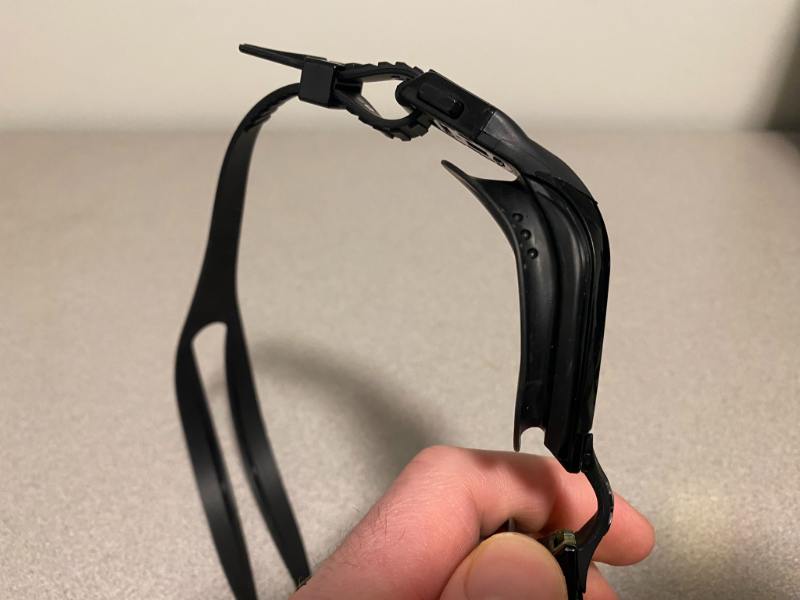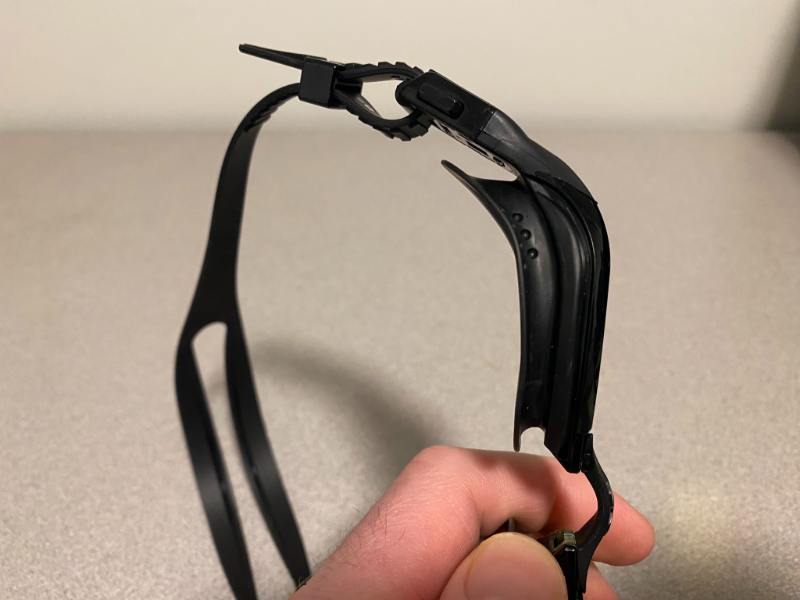 Arena is known for having extra thin lenses on their racing swim goggles—the original Cobras, a pool goggle, were so thin that my eyelashes would brush against the inside of the goggle—and they take this same hydrodynamic approach to the Swipe Tri.
As a result, these goggles are made for blistering speed.
Additionally, because the goggle lenses are so thin, they are far less likely to wobble and leak when diving in with them on as they create almost no resistance to the onrushing water.
✅

They are comfortable.
When swimming for extended periods of time, you want a set of goggles that are going to be comfy on your face, and not feel like your head is getting squeezed like a pimple.
The Arena Swipe Tri goggles have a large rubber skirt that sits softly on the skin of your face to create a watertight seal.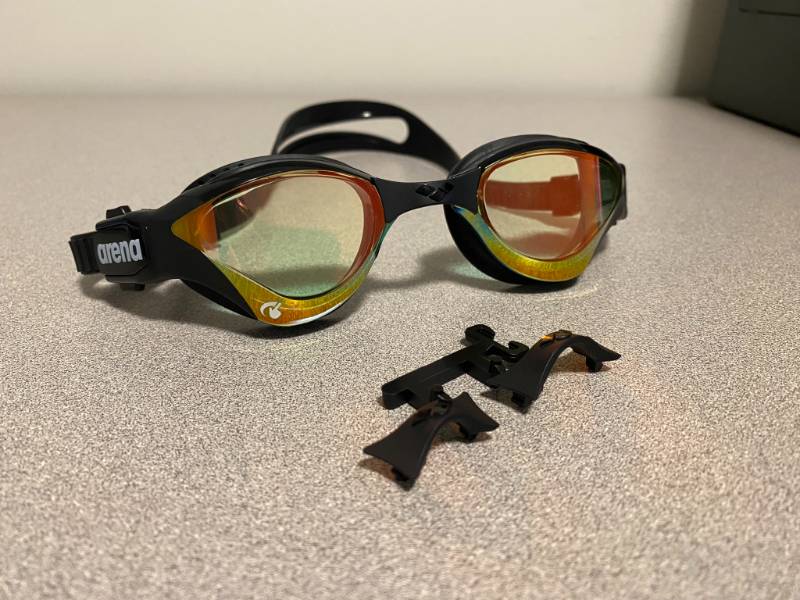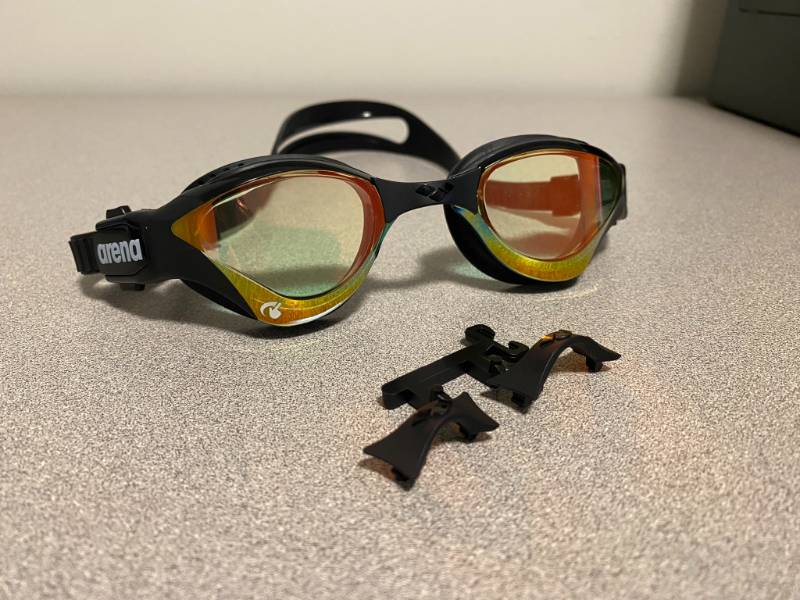 Three nose pieces to get the perfect distance between the two ocular lenses. And of course, head straps that are fully (and as we will see in a moment—easily) adjustable for a comfortable fit.
Over the span of a week, I did some 90min+ swims with these goggles and at no point did they leak or become uncomfortable.
Perfect for swimmers who go long, in distance and time, in the water.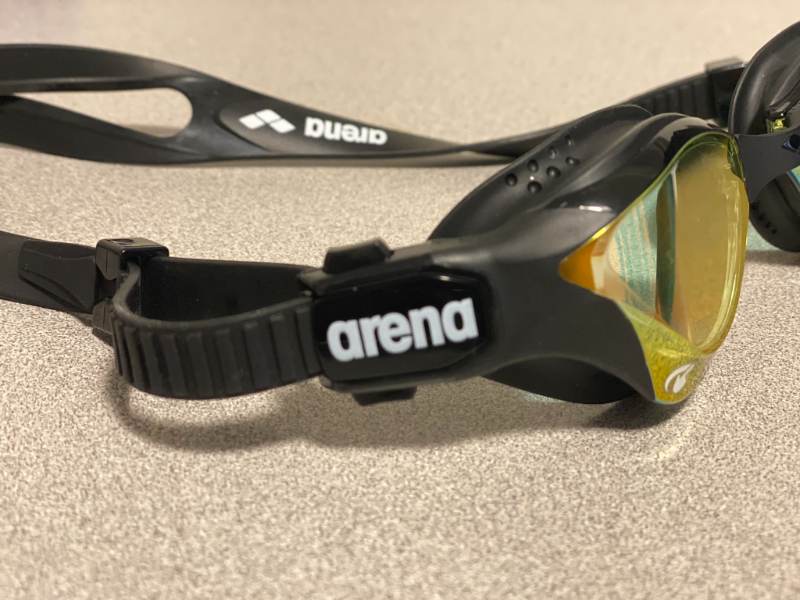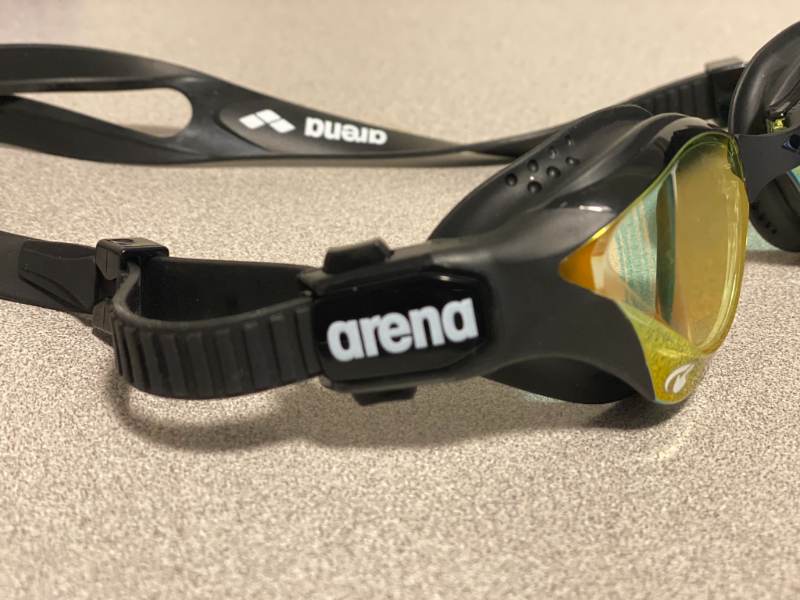 ✅

Super easy to adjust.
The head strap on the Arena Cobra Tri goggle is extremely easy to adjust.
Simply squeeze the two knobs on the buckle located on the sides of the housing unit, tug the strap to tighten or loosen the head strap, and you are in business.
This is one of the easiest head strap adjustments I've ever made with a swim goggle and can be done easily when you are wearing the goggles, which is next to impossible for back-of-the-head buckles that are common on most swimming goggles.
The Arena Cobra Tri Swipe Swim Goggles – the Cons
Okay, not everything is perfect in paradise. As with everything in life, there are trade-offs, and the main one with the Cobra Tri Swipe Goggle is this…
They are expensive.
While not as expensive as smart swim goggles ($200) or premium racing swim goggles (which can cost as much as $85), the Cobra Tri Goggle ain't cheap, retailing for around $60 to $70.
Other open water swim goggles like Aqua Sphere Kayenne ($42), Speedo Futura Biofuse Goggle ($32), and TYR Special Ops 3.0 Goggles ($49), are more budget-friendly.
All that said, I'm grasping for something crappy to say about these goggles in an effort to balance out this review.
The Arena Cobra Tri Swipe Swim Goggles – The Competition
There are two main swim goggles designed for open water swimming that I consider the closest competitors to the Cobra Tri's.
They include:
The Magic5 Swim Goggles
Like the Cobra Tri, the Magic5 Swim Goggles are another trailblazer when it comes to swimming goggles.
The Magic5 goggle is the first truly custom-built swimming goggle designed to the specific shape of your face.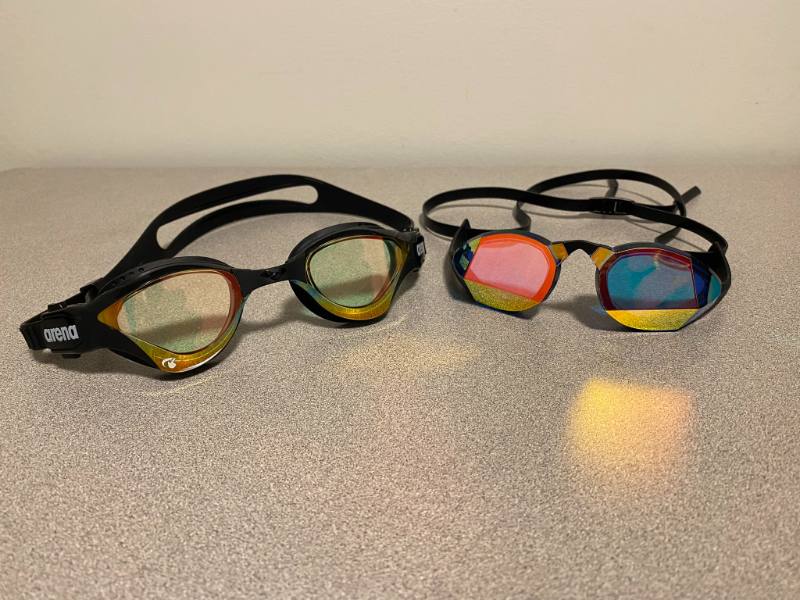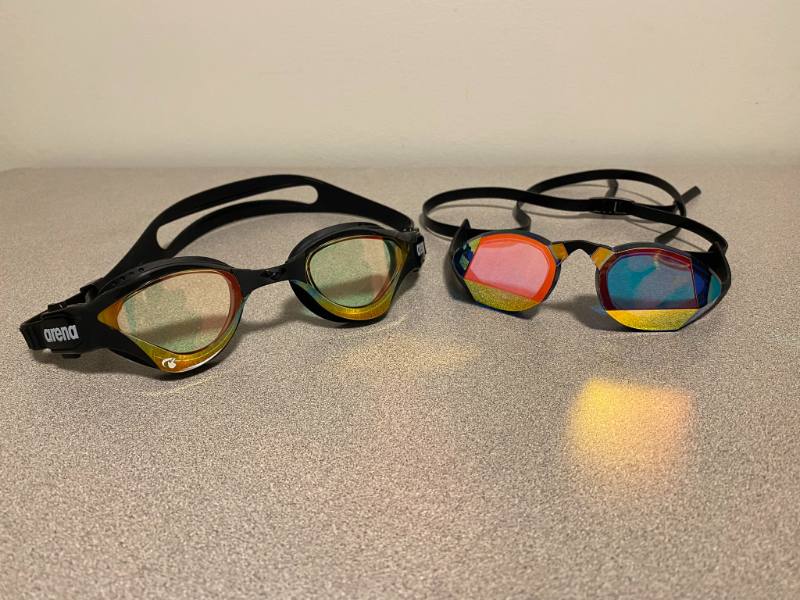 Because of the custom design—an app scans your face and a week or two later a custom set of swim goggles shows up on your doorstep—they don't have to be worn extra tight.
This makes them an excellent choice for long distance swimmers. They are relatively comparable to the Cobra Tri in terms of price and lens thinness.
Arena Cobra Swipe Swim Goggle
Wondering what the key differences are between the open water/triathlon version of the Cobra Swipe and the original pool version?
The two goggles look very similar and both have the anti-fog technology that 10x's the anti-fog protection of the goggles.
From there, however, there are some significant differences in the way each goggle is built.
The pool version of the Arena Cobra Ultra Swipe is a lot thinner and is designed for elite pool swimming.
See also: Arena Cobra Ultra Swipe Swim Goggle Review — The Best Anti-Fog Swim Goggles Ever
They feature a narrower lens and gasket, and because the plastic buckle for adjusting the strap length is on the back, doesn't have the same thick housing unit as the Tri version.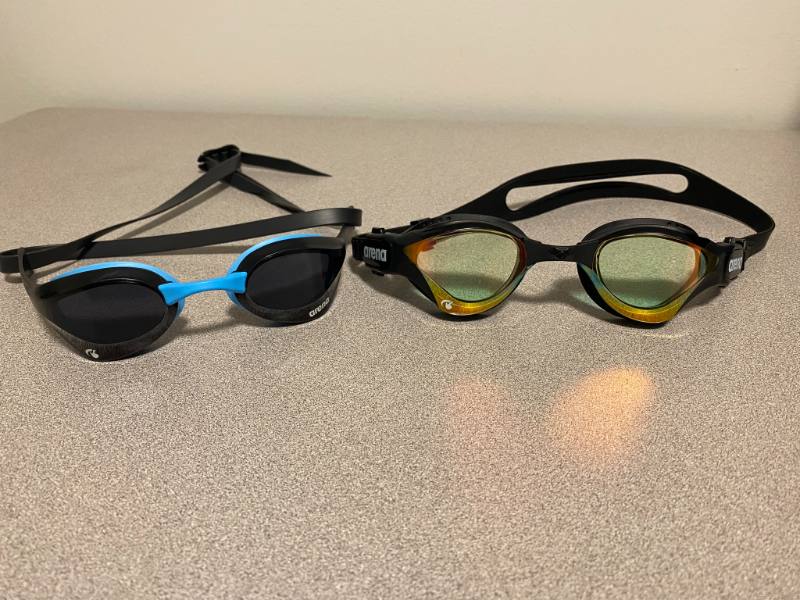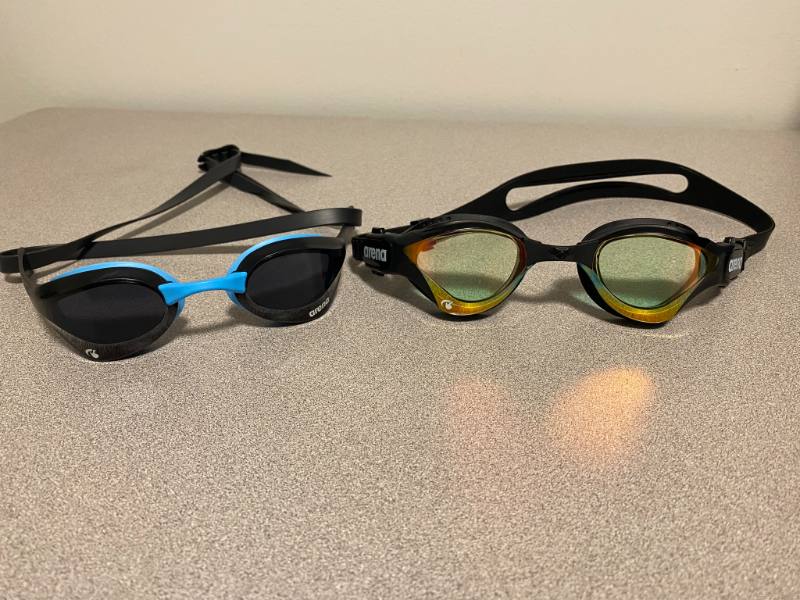 The pool version of the goggles also has two head straps, a feature that is common with swim goggles for lap swimming, and side arms for added stability when cruising along at high speeds.
The Tri, because the lenses are bigger, has much better peripheral vision compared to the pool version of the Cobra Swipe.
Ultimately, the key difference is in overall size and peripheral vision between the two siblings.
The Final Verdict
Are these the best swim goggles for triathletes and open-water swimmers?
For many, I would argue absolutely.
They are priced (fairly) reasonably, look deadly, and perform like gangbusters in the water.
To recap, the Arena Cobra Swipe Tri Swim Goggles are great for:
Open water swimming—with all that peripheral vision, you will be able to swim safely and with full vision
Swimmers who want the best in anti-fog technology
Those who want an open water swim goggle that isn't overly clunky and boxy
Swimmers that want a goggle that kicks butt in the pool and in open water

---
More Swim Goggle Reviews and Articles
How to Clean Your Swim Goggles (Step-by-Step). Nothing ruins a good swim faster than dirty goggles. Here's everything you need to know about cleaning your swim goggles and keeping them in tip-top shape.
Why Do Swimmers Wear Mirrored Swim Goggles? Curious why competitive swimmers wear dark or mirrored swim goggles? Here is why, including the pros and cons of using mirrored swim goggles in the water.