Lenny Krayzelburg won the 100 and 200m backstrokes at the Sydney Olympics and broke all the long course backstroke world records in the book. Here are three backstroke sets that Krayzelburg did on his way to becoming a backstroke legend.
United States swimming has a long and proud history in the backstroke. The men, in particular, have dominated the events on the world stage.
Since 1996, American men have won both the 100 and 200m backstroke at every Olympics. Legendary names like Aaron Piersol, Ryan Lochte, Tyler Clary and Ryan Murphy have carried on the proud American backstroke tradition.
At the Sydney Olympics in 2000, it was Lenny Krayzelburg who held the mantle for the United States, winning both backstroke races. During 1999, Krayzelburg also broke the world records in all the long course backstroke races.
Here are some of the swimming workouts used during his preparation.
Krayzelburg: The Mindset of a Champion
It is likely no surprise that Krayzelburg had a healthy appetite for training. While training for Mark Schubert at USC, there was a moment where teammates were groaning and complaining about a big main set.
Krayzelburg turned to his coach and told him: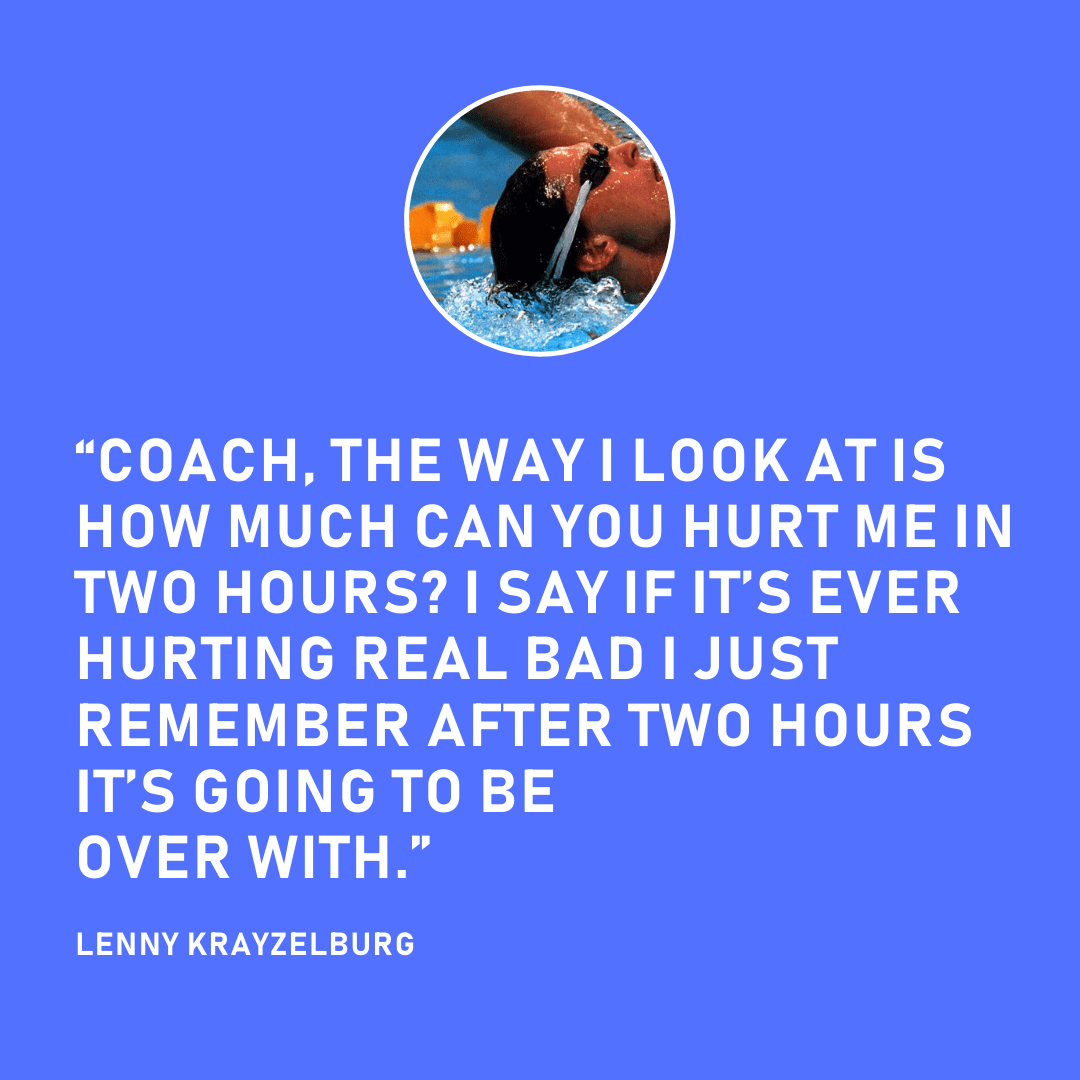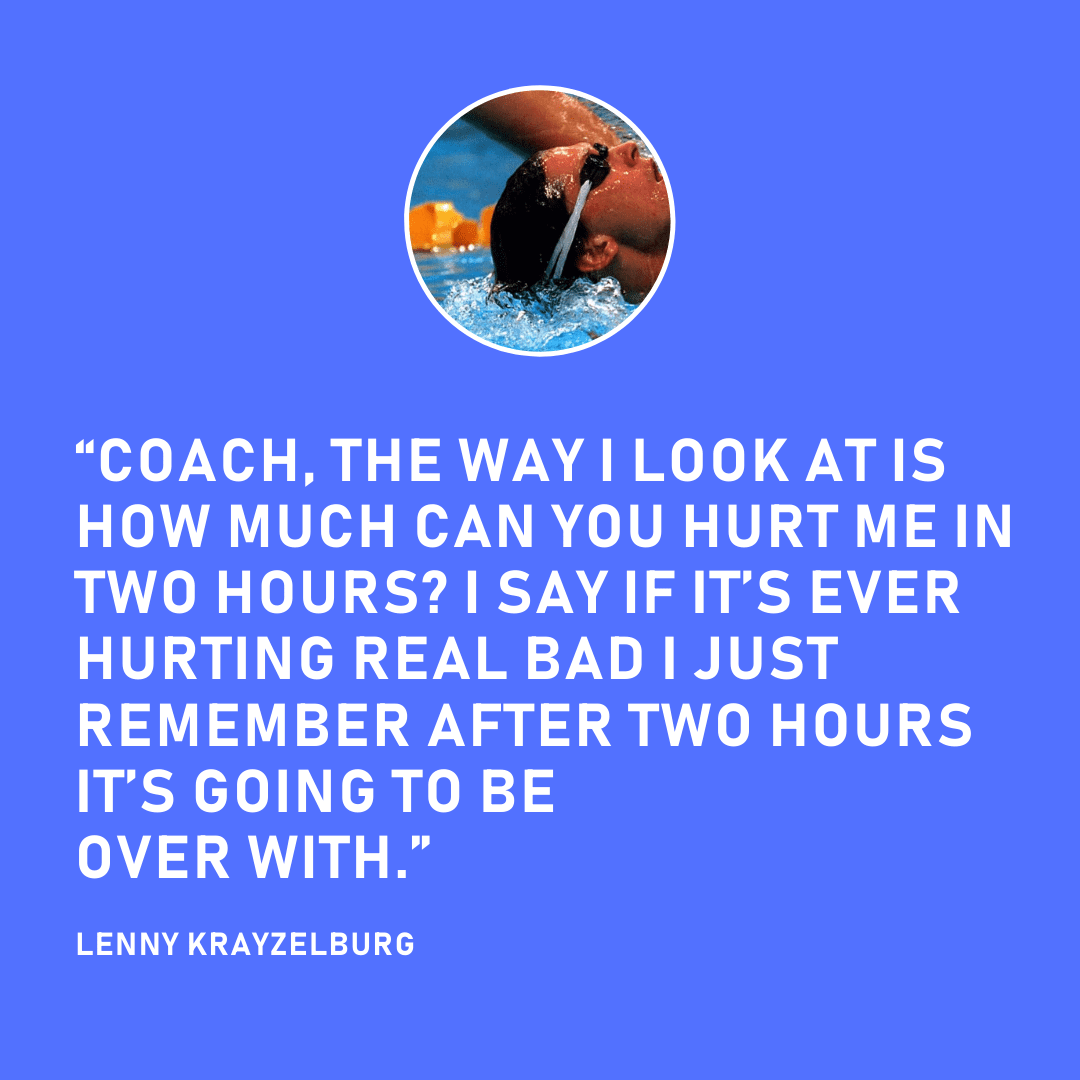 Here are some of the big backstroke sets that Krayzelburg completed on his route to be a world record holder and Olympic champion.
Freestyle/Backstroke Pull Set
Krayzelburg could swim backstroke nearly as fast as he could swim freestyle. His backstroke was so fast, in fact, that he would often race backstroke against teammates who swam freestyle.
The below set was done with a pull buoy and paddles.
(Krayzelburg didn't do pull sets with an ankle band–Schubert found his backstrokers had better body position and balance in the water without it.)
16×50 @:40 — freestyle
8×100 @1:20 — backstroke
2×400 @5:20 — backstroke
800 @ 10:00 – backstroke or freestyle, "depending on feel"
Descending Interval + Increasing Volume 200 Set
This set is a doozy—5,000m of short interval swimming that focused on 200s of backstroke with cruise freestyle in between.
Krayzelburg would average around 2:15 on the 200s backstroke, and would get down to 2:10 on the last set of five.
And yes, this workout was done in a long course pool.
4×50 free @:45
2×100 free @1:20
200 back @2:40
4×50 free @:45
2×100 free @1:20
2×200 back @2:35
4×50 free @:45
2×100 free @1:20
3×200 back @2:30
4×50 free @:45
2×100 free @1:20
4×200 back @2:25
4×50 free @:45
2×100 free @1:20
5×200 back @2:20
Descending Effort 200s
In one of the more memorable practices that coach Mark Shubert witnessed Krayzelburg complete was in July of 1999, the same year he demolished world records in all of the backstroke events.
Krayzelburg, along with defending Olympic champion in the 200m backstroke, Brad Bridgewater, were put in the same lane and instructed to start at 2:15 on a series of descending 200s and "see where we go."
The full set was:
6 rounds…
50 choice @ :45
100 choice @ 1:25
150 choice @ 2:00
200 best stroke @ 2:30
Here is how quick the pair got towards the end of the set:
#4: Krayzelbrug, 2:05. Bridgewater, 2:04
#5: Krayzelbrug, 2:02. Bridgewater, 2:01.8
#6: Krayzelbrug, 1:58.2. Bridgewater, 1:59
Krayzelburg's final time was fast enough to win gold at the Atlanta Olympics three years earlier.
More Stuff Like This:
5 Distance Sets from Olympic Gold Medalist Kieren Perkins. The work required to become an Olympic champion and world record holder in the mile is no joke. Here are some of the sets that Kieren Perkins used to become one of the best middle and distance swimmers in history.
This is What Katie Ledecky's Main Sets Look Like. You don't become the fastest distance freestyler in history without having done some impressive stuff in training. Here are a handful of Katie Ledecky's main sets. Try at your own risk.
Missy Franklin's Favorite Backstroke Drill: The Water Bottle Balance. Having a balanced and straight head when swimming backstroke is key. Here's how Missy Franklin drilled a better head position using a water bottle.