Ready to say goodbye to foggy swim goggles once and for all? Here's everything you need to know about the best anti-fog sprays to keep your goggle lens crystal-clear.
So you've searched high and wide for the best pair of swim goggles to match your goals in the water.
You've got your swim workouts lined up, the training suit, and a whole bunch of red-hot motivation.
By the end of the first week of training you notice something not-so-awesome—your goggles are beginning to fog up as you work up a sweat.
You do what we all instinctively do the first time this happens: you wipe the inside of the goggle lens with your fingers to momentarily clean the fog.
Only this is just a quick fix: as you continue to exert yourself the fog quickly returns, only this time it happens faster and faster until you get to a point where you find yourself thumbing the inside of your goggles every couple of minutes in the water and barely able to see the rest of the time.
The solution?
Either throw those fancy new goggles out and get a new set or invest in some anti-fog spray.
Here's a full breakdown of what you can do to keep your swim goggles from fogging up and a rundown of the best anti-fog sprays on the market.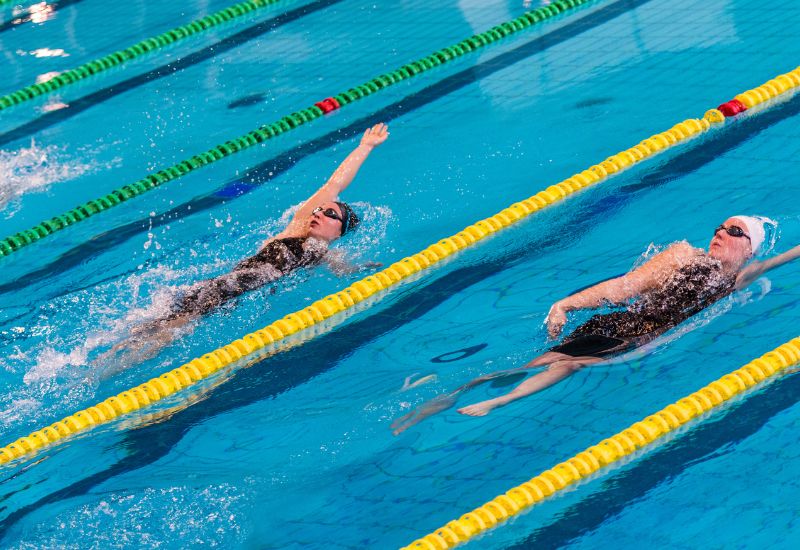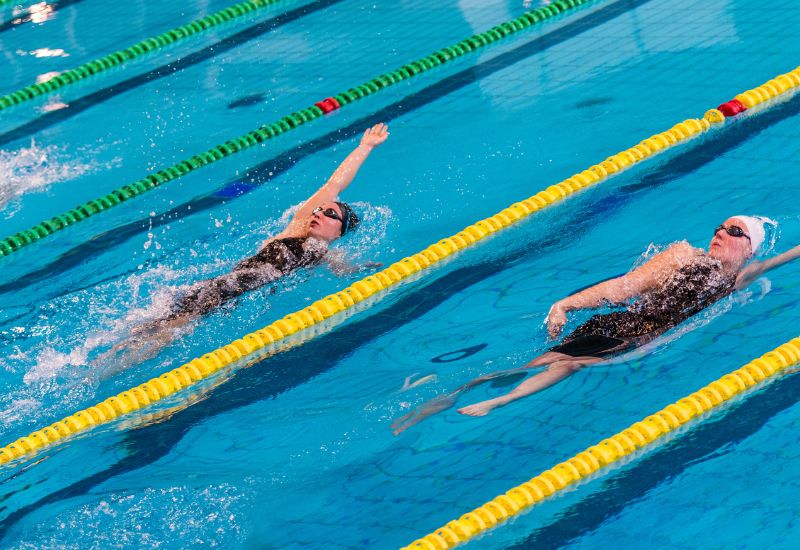 ---
The Best Anti-Fog Sprays for Swim Goggles
TheMagic5 Antifog Swim Goggle Spray
⭐ Best overall antifog swim goggle spray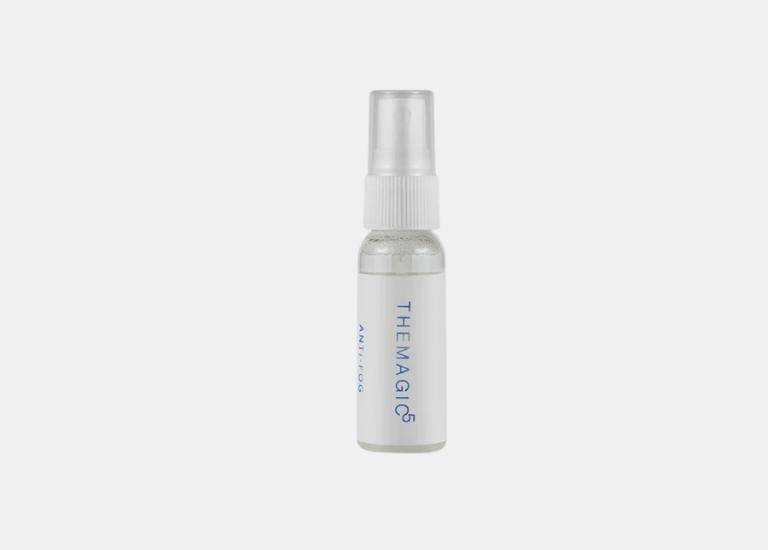 The Magic5 Antifog Swim Goggle Spray gets the nod as our top antifog spray for swimmers thanks to its proven antifog ingredients, easy application, and affordable price.
Made by the same folks who brought TheMagic5 Swim goggles to market (the world's first and only custom swim goggles, FYI), the Magic5 Antifog Spray is packed with proven ingredients that clear vision and help reduce pesky mid-swim goggle-fog breaks.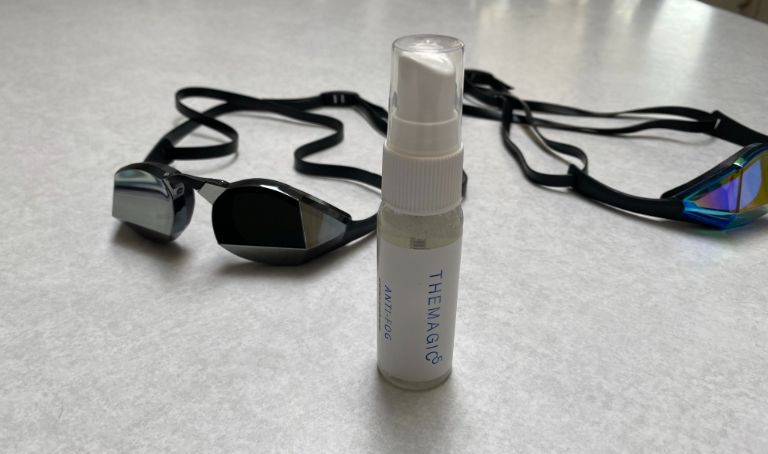 The primary active ingredient in the Magic5 Antifog spray is a surfactant called fluoroaliphatic oxyethelyne adduct that packs a one-two punch for keeping your swim goggles clear.
It's both a water-repelling and water-absorbing molecule that binds effectively to surfaces like a swim goggle lens.
While that sounds contradictory, this allows the antifog spray to both spread out water (reducing beads of water from forming) while also reducing excess pooling of water.
Basically, it creates a thin, see-through layer of water on the goggle lens that you can still see through instead of fogging up. Which means that the Magic5 Antifog spray ensures clear visibility even when there's moisture in the goggle lens.
Give each goggle lens a spray 1-2 minutes before you get in the water, and you are in business.
---
Speedo Anti-Fog Solution
⭐ Runner-up for best antifog swim spray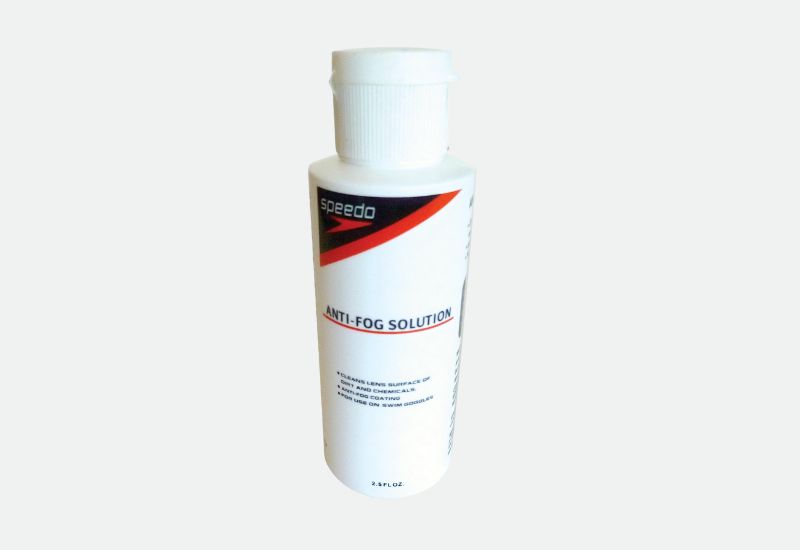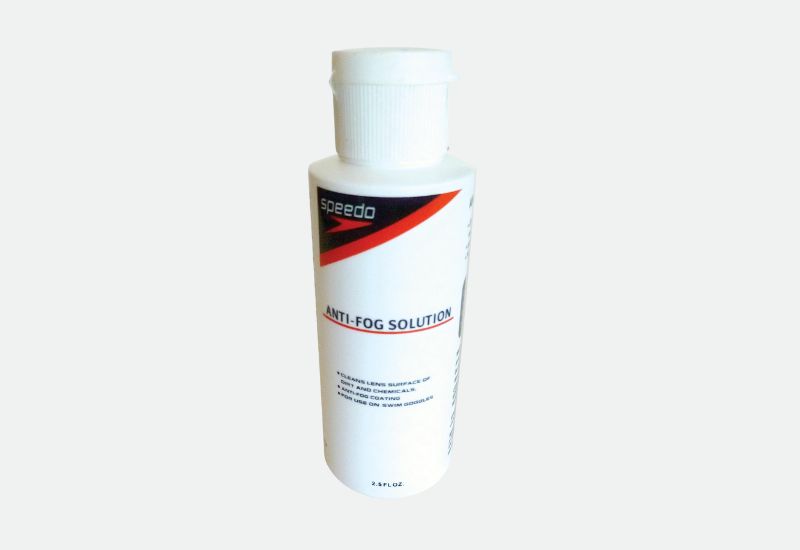 Speedo makes just about everything else for swimmers, from swim caps to racing suits to their line of Speedo swim goggles, so it would make sense that they also produce an anti-fog spray.
It comes in a convenient travel size (which means it fits nicely into your swim bag), can be used on diving masks as well as swim goggles, and with each bottle ya get 2.6oz of anti-fog spray.
---
TRISWIM Foggies Anti-Fog Towelette
⭐ Best anti-fog for crystal-clear swim goggle lenses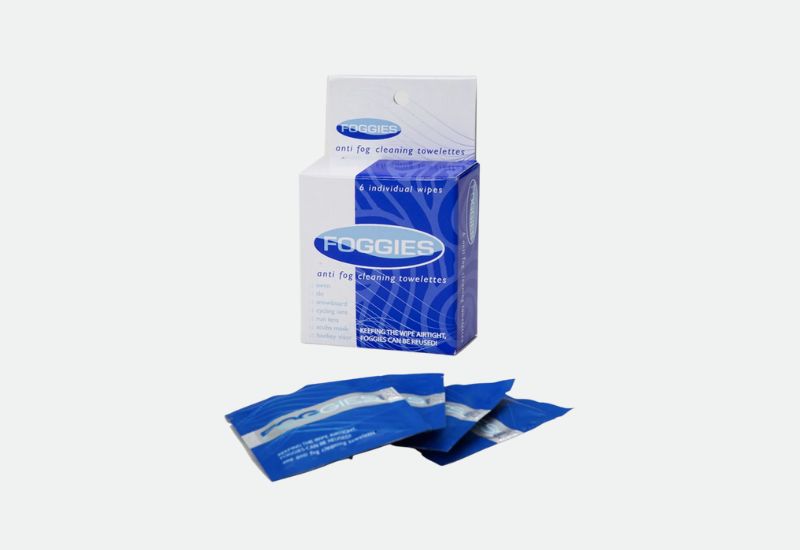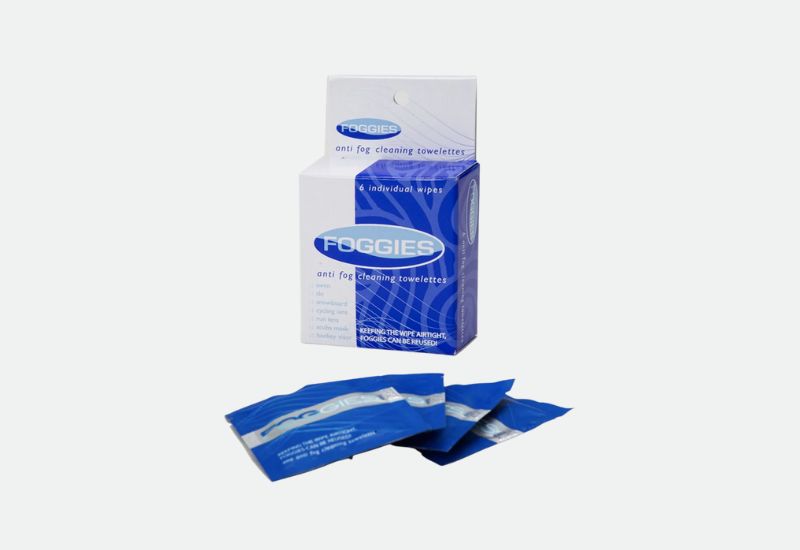 TRISWIM is one of the best swim brands when it comes to skin and haircare for swimmers. Their swimmer's body wash is the best one on the pool deck, and the TRISWIM Foggies are a unique entry in this list.
Part cleaner, part antifog, these towelettes are not a spray but have the same effect. Each mini towelette can get around 5-6 applications.
Using the Foggies is super easy; before your next swim, give the lenses of your swim goggles a gentle wipe, give it a few minutes to do its thing, and you are off to the races with clean and fog-free swim goggles.
For swimmers who don't want to use a spray, and want to keep their swim goggle lenses crystal-clear, the Foggies are a no-brainer.
---
TYR Anti-Fog Spray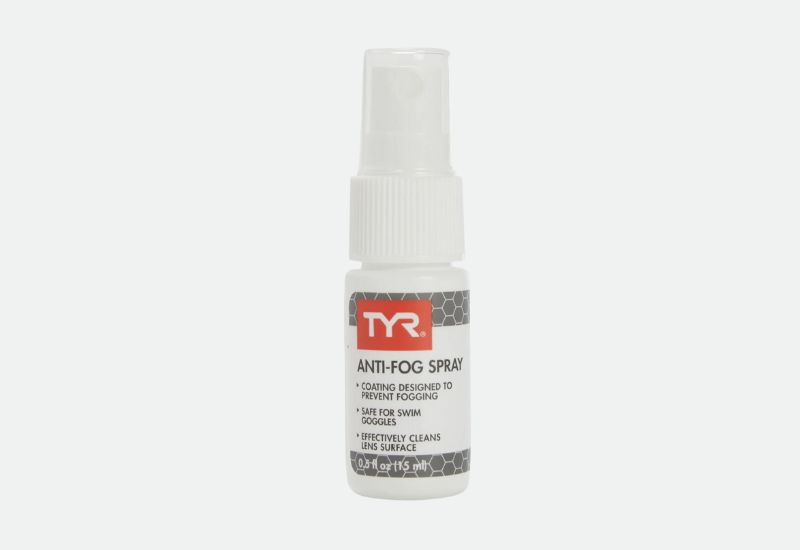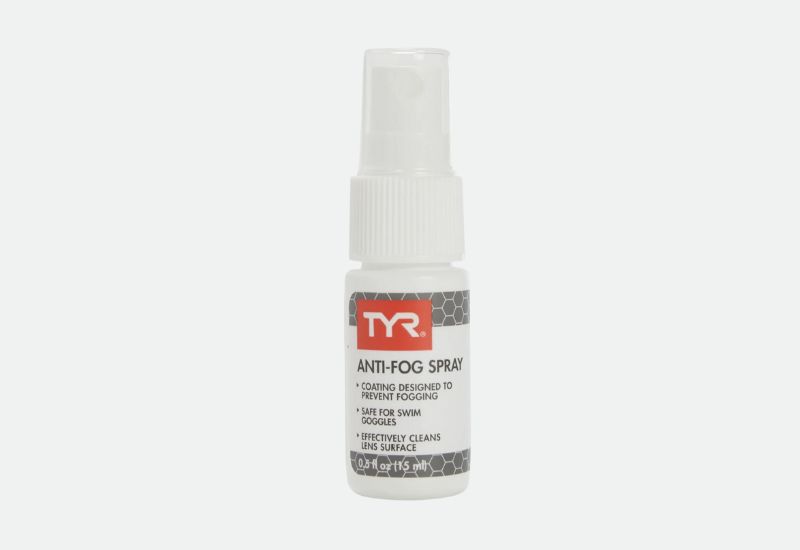 Another one of the biggie swim companies, Huntington, California-based TYR serves up their own offering, this one 1.6 fluid ounces of vision-sharpening goodness.
Pro tip: To help the spray work most efficiently, spray the inside of the goggles either the night before you head down to the pool or at least an hour before you hop into the water.
---
Arena Anti-Fog Spray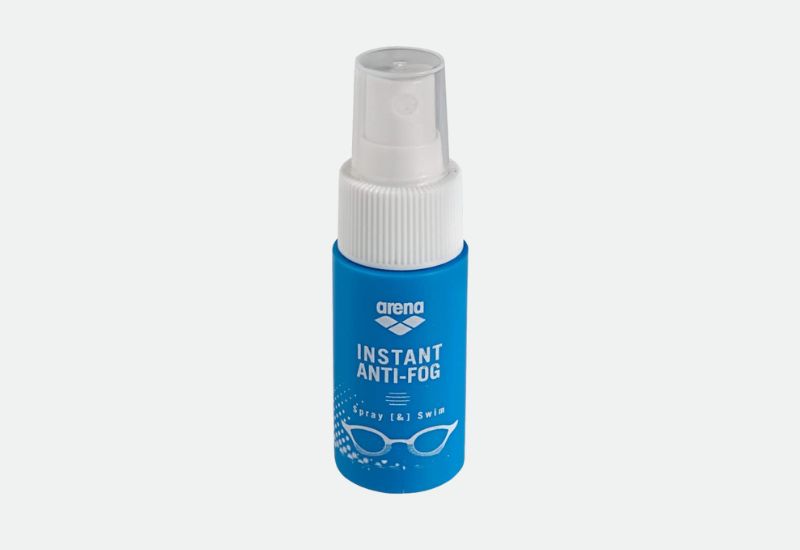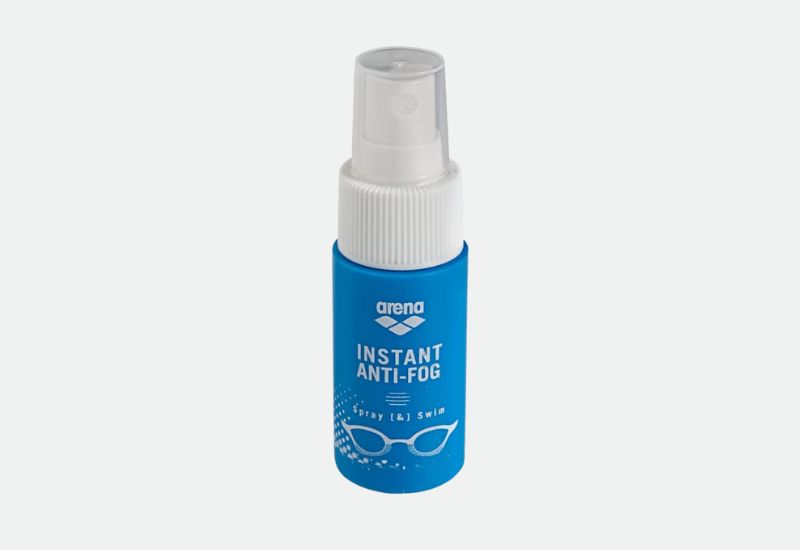 Arena is one of my favorite swim equipment companies. I have played around with just about every kind of gear they make for swimmers, from their elite racing goggles, the Cobra Ultra goggles, the Powerskin ST 2.0 racing suit, and their high end racing suit, the Carbon Pro jammer.
Arena's anti-fog spray weighs in a little less than the Speedo and TYR sprays (at 1.4oz).
What I like about this spray is that you can give your swi goggles a quick blast and you're done. No rubbing in the solution or waiting twenty minutes for the spray to dry out so that you can get to swimming.
---
Jaws Quick Spit Antifog Spray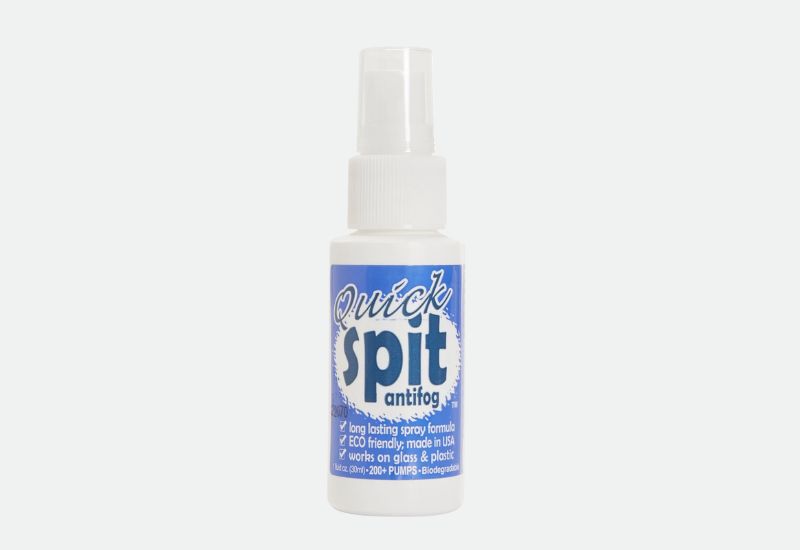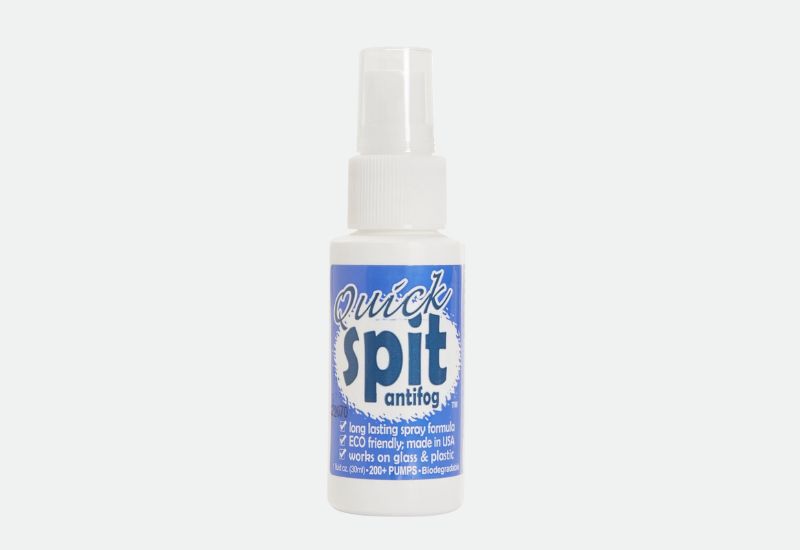 When it comes to who has the best anti-fog name, the Jaws Quick Spit spray takes the cake.
Each bottle gives you about two hundred sprays, and when purchased at a discount rate as a 2-pack this means you are getting 400 blasts of anti-fog spray. (This should last you a while.)
This particular spray is branded as being non-toxic and biodegradable. (But not recommended for use with prescription swim goggles.)
---
Antifog Sprays for Swim Goggles — FAQs
Why do swim goggles get fogged up in the first place?
Condensation on the inside of the goggles are the culprit here. It comes from an elevated temperature within your goggle lens (typical when we are kicking butt and working hard in the pool) that causes the water vapor to turn to water droplets.
Because the pool temperature keeps the actual goggle lens cool, this hot-cold meet-up causes the perspiration and water vapor in the goggle lens to turn to water and condensation.
But, but…my goggles say "anti-fog", what gives?
Goggle manufacturers from Speedo to TYR feature anti-fog as standard on their goggles. But although it says that they goggles are anti-fog, this doesn't mean for life, man!
Sadly, all it takes is a couple errant thumb-swipes of the inside of your goggle lenses to wash away the anti-fog layer. Goggles have a delicate silicone film that is sprayed on the inside during production.
This film is rather delicate, which is why you should hold off on wiping the inside of your goggles for as long as you can—the moment you do, you are not only rubbing away condensation but whatever is left of that anti-fog coating.
The faster you succumb to the temptation of wiping the inside of the goggle, the faster your anti-fog coating goes bye-bye.
Other fun facts about anti-fog coatings and sprays:
Anti-fog coatings naturally wear off over time.
Even if you use an after-market anti-fog spray, you will still have to reapply occasionally.
The harder you work, the more condensation piles up.
If the pool is really hot, and you are really exerting yourself and as a result causing a heap of condensation the anti-fog might not be able to handle all the condensation.
The Bottom Line
Clear swim goggles are an essential tool for better swimming.
Not only does being able to see clearly and properly allow you to swim safely—dodging errant swimmers in the lane and not crashing into the wall—but also allows you to see the pace clock, properly time your flip turns, and more.
Using an anti-fog spray gives your swim goggles added life and gives you crystal-clear vision in the water, no matter how hard you are working in the pool each day.
To recap:
⭐ The Magic5 Antifog Spray for Swim Goggles is our champ thanks to proven ingredients, easy-to-apply bottle, and low price point. Also, it's made by swimmers for swimmers, so there is that.
⭐ The Speedo Antifog Spray is our runner-up. Easy to apply, with a lot of application per bottle, it continues to be one of the best antifog solutions for swimmers.
⭐ TRISWIM's Antifog Towelettes are a great choice for swimmers who prefer to wipe the fog away themselves, also cleaning the swim goggle lens along the way.
Choose the right antifog spray for you and your swim goggles, nuke the fog, and get back to focusing on your swim technique and performance in the water!
---
More Swim Gear Guides:
7 Gift Ideas for Competitive Swimmers. Looking to pick something up for the competitive swimmer in your life? Let our little gift guide show you the way.
The 8 Best Swim Caps for Swimmers. Looking for the best swim cap for training and competition? Here's your ultimate guide to picking out the best swimming cap for you.
The 7 Best Goggles for Competitive Swimmers. Our breakdown of the best training and competition goggles. Includes goggles from SPeedo, MP Michael Phelps, Arena, and more.