Below is a breakdown of the best budget triathlon wetsuits for both men and women. Read on, find the wetsuit that matches your budget and preferences, and get to conquering the swim.
Training for a triathlon is hard enough. But picking out the right equipment and gear can quickly feel overwhelming.
Whether it's choosing the right multisport watch, finding the right pair of open water swimming goggles, or yup, finding the wetsuit that matches your ability, triathlon is not a cheap sport.
Especially when it comes to wetsuits, which can quickly run up to the $1,000 mark for a premium racing wetsuit.
Fortunately, there are plenty of budget-friendly wetsuits for triathletes on the market. With a little research, there are some excellent deals out there.
That's where this guide comes in.
We've done the legwork in finding the best deals on wetsuits out there.
Below are the top budget wetsuits for triathletes, including key features, size options, and of course, pricing.
Read on, find the right triathlon wetsuit that matches your budget, and conquer the swim in style (and without crashing your bank account).
TYR Cat 1 Full Sleeve Triathlon Wetsuit – $199
The TYR name is synonymous with excellent gear for water-based athletes. Whether you are a competitive swimmer who races and wants an elite-level tech suit for race day or an open water swimmer searching for goggles that provide excellent visibility, TYR makes excellent kit.
The TYR Cat 1 Full Sleeve Triathlon Wetsuit is the same one that I rely on every spring and winter for my lake and ocean swims. Comfortable, with plenty of range of motion in the shoulders and upper back, and super affordable at around $200, the TYR Cat 1 is my top pick for the best budget triathlon wetsuit.
The wetsuit is fast, made with a slick skin neoprene that is also thick enough to increase buoyancy in the water while also resisting scrapes and scratches when climbing in and out of rocky beaches (which I am frequently doing here on the Pacific west coast).
For athletes who want to compete with the Cat 1, the wetsuit is WTC and USAT legal. The bottom of the wetsuit has quick-release ankle cuffs and form-fitting wrist cuffs that eliminate water seepage into the suit.
Fast, comfortable, and with plenty of give in the shoulders to swim with proper technique, the TYR Cat 1 continues to be my favorite budget triathlon wetsuit for beginners and more experienced swimmers.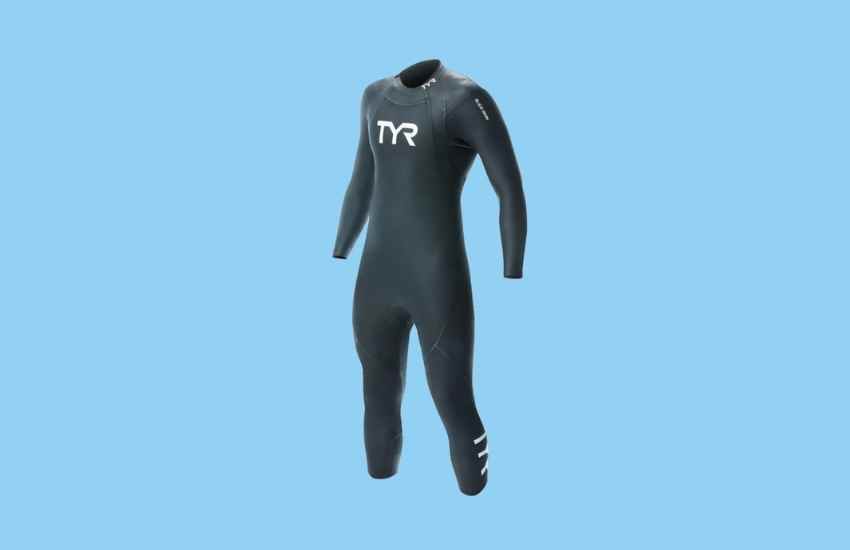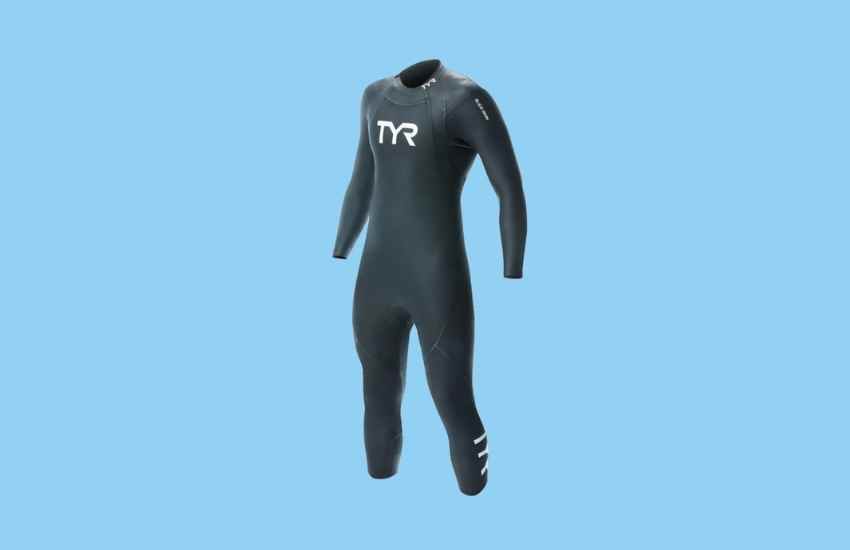 ---
Blueseventy Sprint Tri Wetsuit – $260
Blueseventy is another one of my recommended makers of swim gear. They specialize mostly in tri and open water swim gear, with high-quality gear that is priced in a manner that is very budget-friendly.
The Blueseventy Sprint Tri Wetsuit is a perfect example of this.
Although it is a fraction of the price of some of the high-performance wetsuits, it's still feature-packed.
The shoulders and arms use a combination of neoprene and exposed jersey to give free range of motion so that you can swim properly and with excellent technique in the water. Padded neoprene paneling around the lower body helps keep your hips nice and high in the water, improving body position and helping you to swim more efficiently.
Blueseventy offers the wetsuit in a wide variety of sizes (or should I say, a tall variety of sizes), with the largest Sprint wetsuit suited for triathletes and open water swimmers up to 6'7" in height.
Whether you are using the Blueseventy for training and want a cheaper wetsuit for daily use or want a budget-friendly wetsuit for racing, the Sprint is an excellent option that helps you swim better while also not breaking the bank.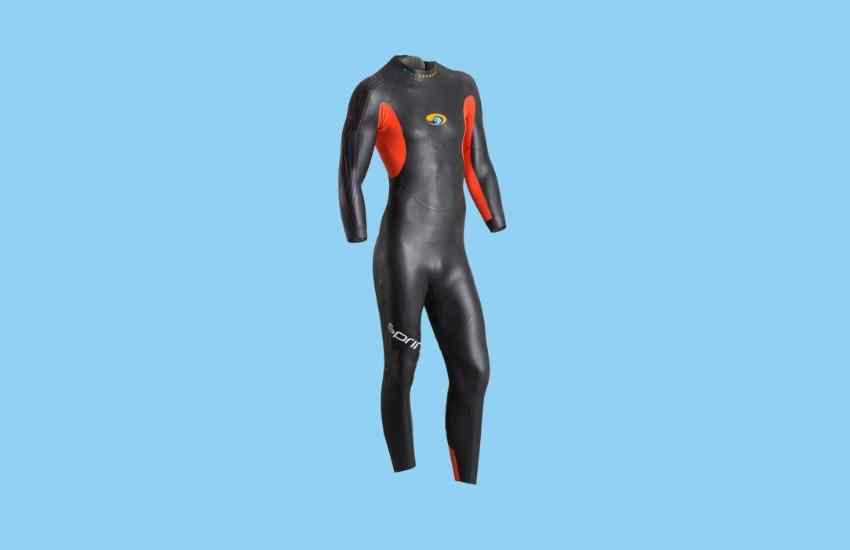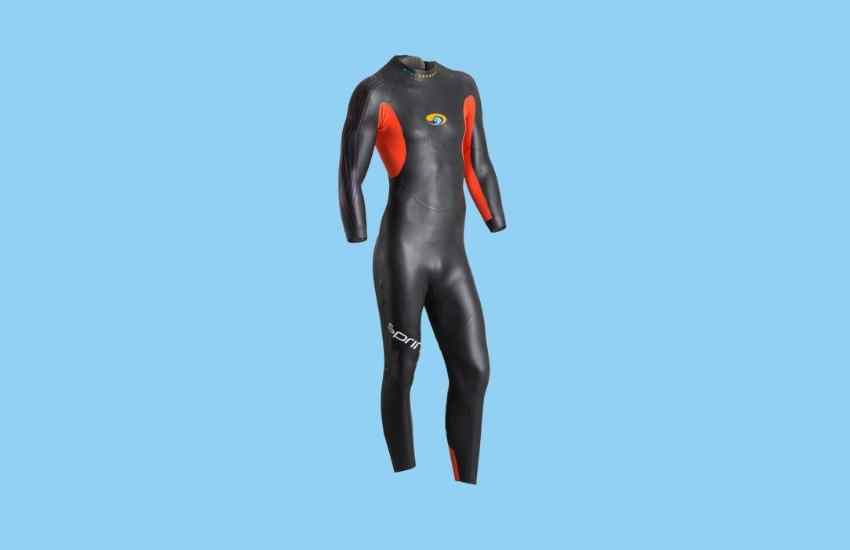 ---
Phelps Pursuit 2.0 Triathlon Wetsuit – $199
You know the name: Michael Phelps. GOAT. Best swimmer in history.
At the tail of his career in the pool he partnered up with Aqua Sphere to start producing swim gear of his own. From racing swim goggles to snorkels for swimming, the MP brand has carved out a place in the competitive market of swim gear.
While their open water swimming gear hasn't made huge inroads yet, that doesn't mean their gear isn't good, especially as it's all produced by a company that most triathletes and open water swimmers already trust.
[This wetsuit is the same as the Aqua Sphere Pursuit 2.0. Just the logos are different.]
The Phelps Pursuit 2.0 is a high-performance wetsuit that is easy on the wallet. The "cage" of the wetsuit, the area around your midsection and hips, a 4mm neoprene, providing optimal buoyancy that helps you swim longer and with better body position.
An easy-pull zipper on the back and ankle panels that release quickly make for quick transitions when competing. And if a chafed neck when turning your head to breath is a recurring problem, you will like the Aqua-Flex collar that is great at not leaving your neck red while also keeping water out of your wetsuit.
The Pursuit is a budget-friendly wetsuit for triathletes that also happens to look pretty badass.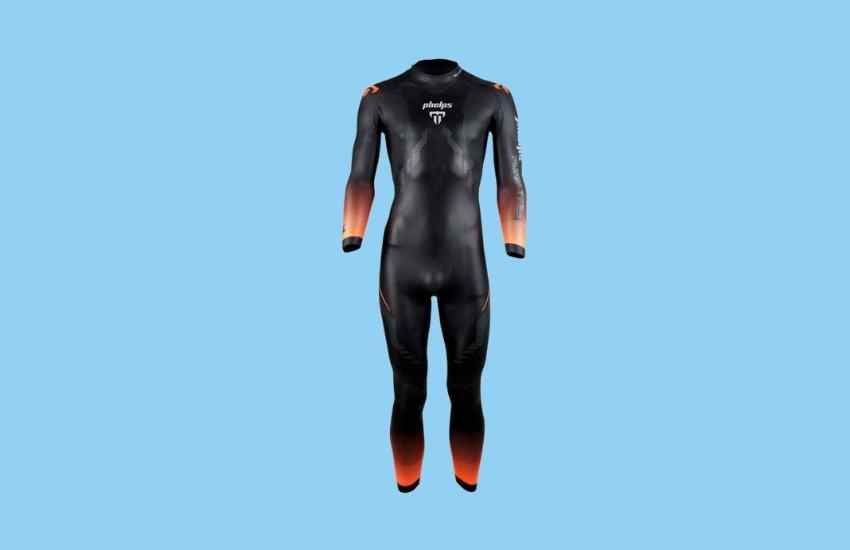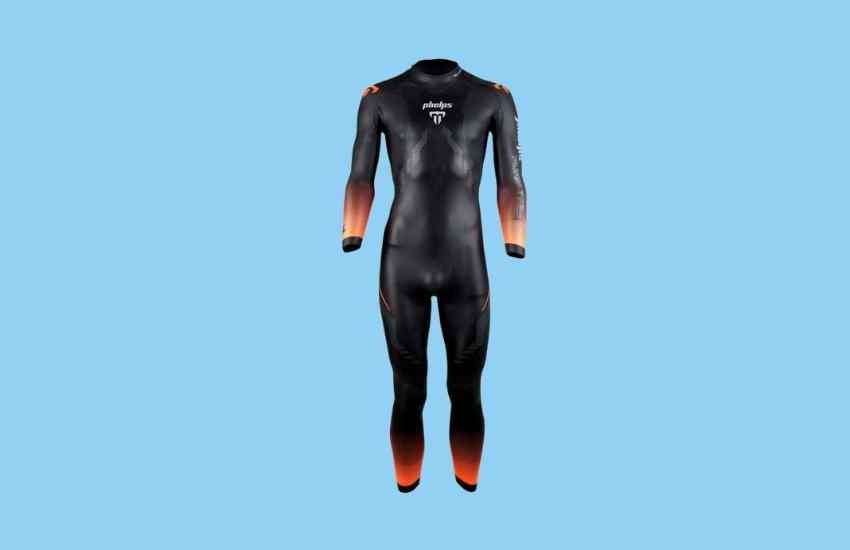 ---
Zone3 Advance Triathlon Wetsuit – $280-395
We are going a little north with pricing with the Zone3 Advance Triathlon Wetsuit, but I had to include it as it's one of the best wetsuits on the market for open water swimming.
The Zone3 Advance is a budget wetsuit that is about half the price of Zone3's more advanced wetsuit, the Vanquish. But it carries a lot of the same features and performance benefits as its more expensive counterpart.
Built specifically with beginner and intermediate triathletes in mind, the Advance has 1.5mm neoprene shoulder and arm panels that give an exceptional range of motion when swimming. This model is 16% lighter than previous editions without sacrificing any of the buoyancy that helps you swim with better body position in the water.
Other key features include an AQUA-X coating that reduces drag and friction in the water, 4mm panels around the core and hips for helping your hips ride high in the water, and high visibility markings on the water to help you stay safe out on the water.
In sum, the Zone3 Advance is a pretty cool wetsuit. It looks good, is fast, and with a reasonable price tag, it's earned a place on this list of the top budget-friendly triathlon wetsuits.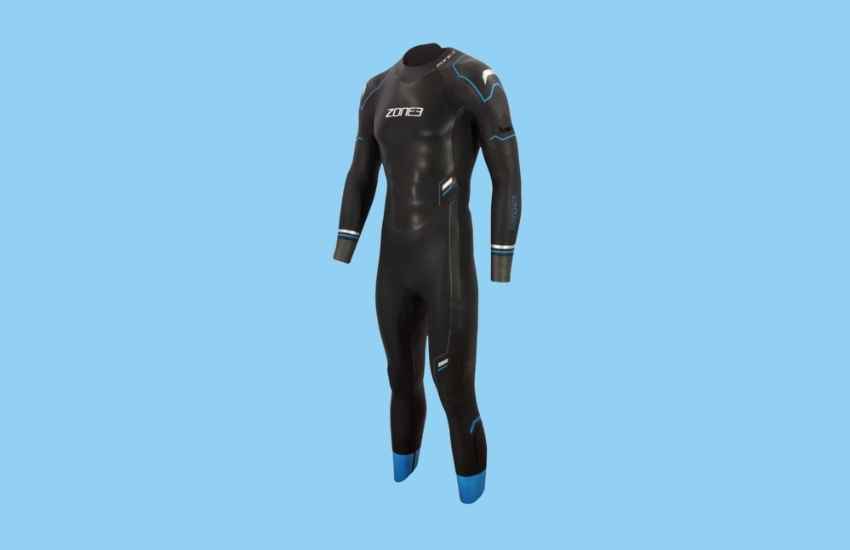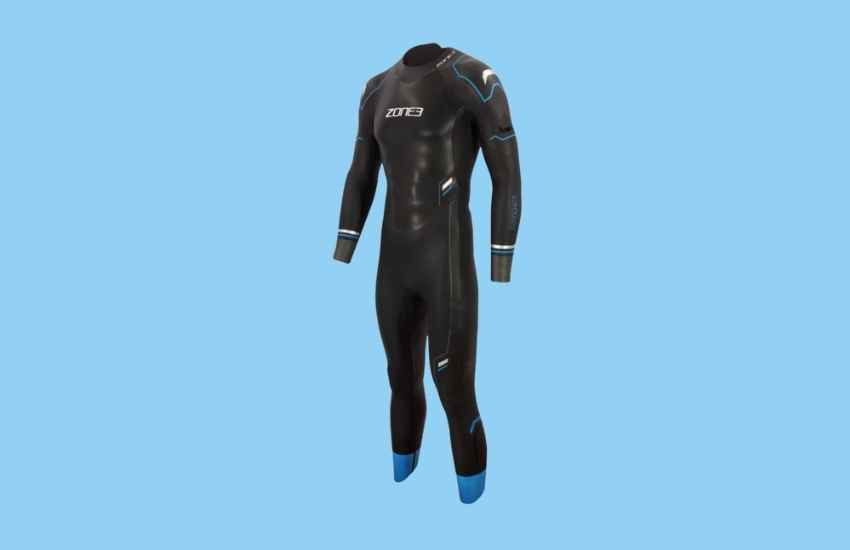 ---
HUUB Men's Axiom Full Sleeve Tri Wetsuit – $280
While there are some cheaper HUUB wetsuits out there, the Axiom is a solid option for a budget-friendly wetsuit that is comfortable and fast in the water.
Made for cold water, with a 5mm neoprene cage around the lower body (5mm is the thickest it gets with wetsuits) and a 3mm neoprene thickness around the upper body, the Axiom has a flexible underarm panel for increased range of motion.
That said, the HUUB Axion is one of the stiffer wetsuits on this list. It definitely takes breaking in period in the water.
Other features of the wetsuit include a 3:5 buoyancy profile (the women's version of the Axiom has a 3:3 buoyancy profile) and a low neckline that reduces chafing and rubbing and also frees up your shoulders to swim with proper technique.
In sum, the HUUB Axiom Full Sleeve Tri Wetsuit is a low-cost wetsuit for tri and open water that is best suited for colder water swimming.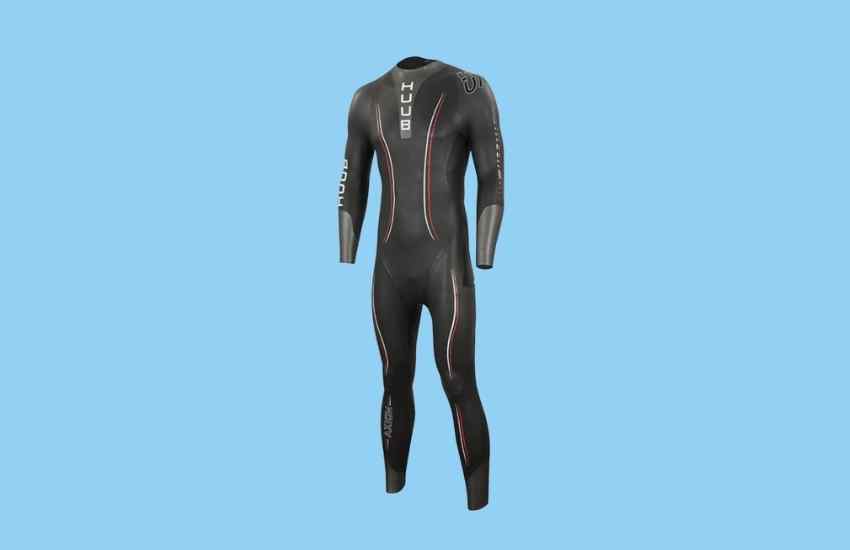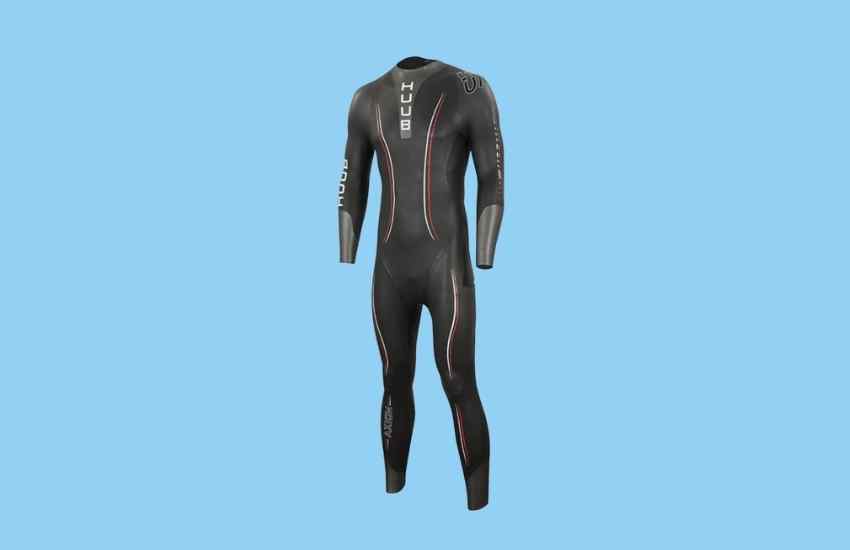 ---
Recommended Reading
Didn't find the wetsuit you wanted?
I've written other detailed guides about wetsuits and gear for open water swimmers and triathletes looking to improve their swim times.
5 Best Wetsuits for Open Water Swimming. Looking for the best open water wetsuits for swimming? We've got you covered with the top wetsuits for every kind of swimmer and budget.
The Best Swimsuits for Triathletes. Head to the pool or lake in style with this comprehensive buyer's guide to the top swimwear for triathlon training.
My Favorite Wetsuits for Cold Water Swimming. Keep warm and comfortable out in open water with these wetsuits that are specifically designed for colder conditions.