Protect your pool, keep the water clean and balanced, and enjoy your pool longer. Here's a breakdown of the best digital pool testers.
Testing your pool frequently and consistently is one of the best things you can do for your swimming pool.
Knowing the chlorine, pH, alkalinity, hardness and cyanuric acid levels in the pool water helps you keep your water sparkling clean, protect the pool equipment, and helps you enjoy your pool for longer.
When it comes to testing your in-ground or above-ground swim pool, there are a couple of options for pool test kits.
First, you got your old-school pool test strips. They are perfect for smaller pools and beginner pool owners. They are low-priced, easy to use, and provide a quick and reliable breakdown of water chemistry.
The only problem with test strips is that you won't get an exact color. You need to eyeball the color matches each time you test the water. For example, you might think the alkalinity is set to 150ppm but the color doesn't match perfectly to the strip
And secondly, and what we are going to cover in this guide, are digital pool test kits, which are a little pricier but are more accurate, giving you a clear and exact overview of your pool chemistry.
---
Best Digital Pool Testers for Pools and Spas
LaMotte Color Q Pro 7 Digital Pool Tester
⭐⭐⭐ Best overall pick for digital pool water tester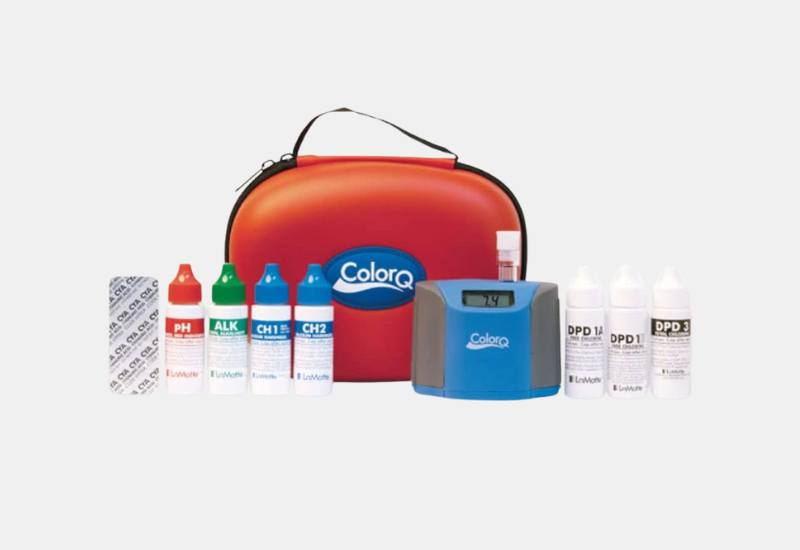 LaMotte makes the best digital pool tester kit on the market. Hands down. Loved and recommended by countless pool professionals, it quickly and very accurately tests for free chlorine, total chlorine, bromine, pH, alkalinity, calcium, and more.
The LaMotte Color Q Prol 7 works with a photometer that instantly reads the color of the water sample, giving you a precise reading of the test factor. Fill up the vials of water, add reagent solution, and boom—instant and accurate readout of what your pool water is up to.
No more wasted trips to the pool store. No more wasting time eyeballing color matches. And no more needless and expensive repairs to your pool because of out-of-whack pool chemistry.
Compared to your regular old-school test strips, the LaMotte Color Q is a little pricier, typically costing around $150-200 (check Amazon for current pricing and availability), but when you consider how critical proper water testing is to your swimming pool, both in terms of repairs and enjoyment, it's easily worth the upfront investment.
---
Pool Lab 1.0 Photometer Digital Pool Water Tester
⭐⭐ Runner up – best digital pool test kit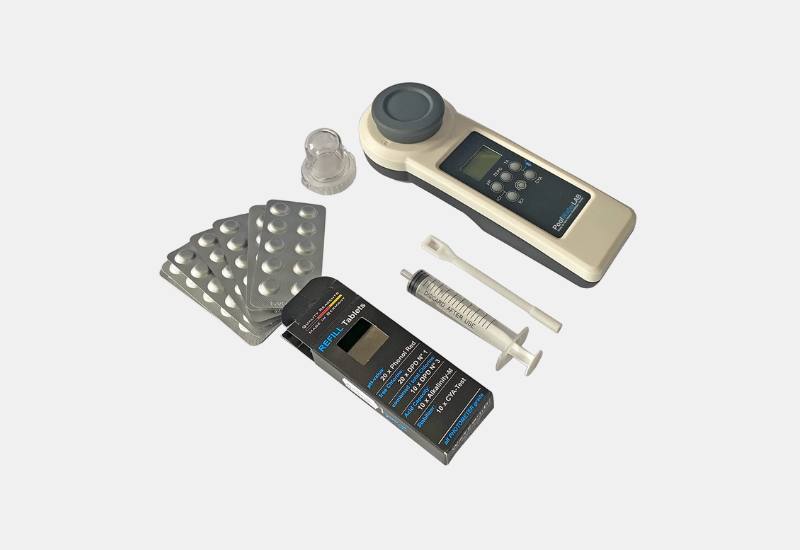 The Pool Lab is another excellent choice for the more serious pool owner (or even commercial pool specialist).
The Pool Lob 1.0 Photometer measures 13 different variables in the water, including all of the main ones: Free, combined, and total chlorine. Stabilizer (cyanuric acid). Chlorine dioxide. Ozone. Total and calcium hardness. Alkalinity. And even urea.
Packaged with three AAA batteries to help you hit the water running, the Pool Lab 1.0 comes with a detailed user manual that guides you step by step in using the tester.
The water tester comes with a bunch of bells and whistles for tracking water chemistry including an app and desktop software, making it easy to see how your water is doing over the course of the year. Despite being a basically commercial-grade option, it's price-point is affordable, costing around $180 (check Amazon for current pricing and availability).
---
AquaCheck Trutest Digital Reader
⭐ Best low-cost digital pool water tester (for test strips)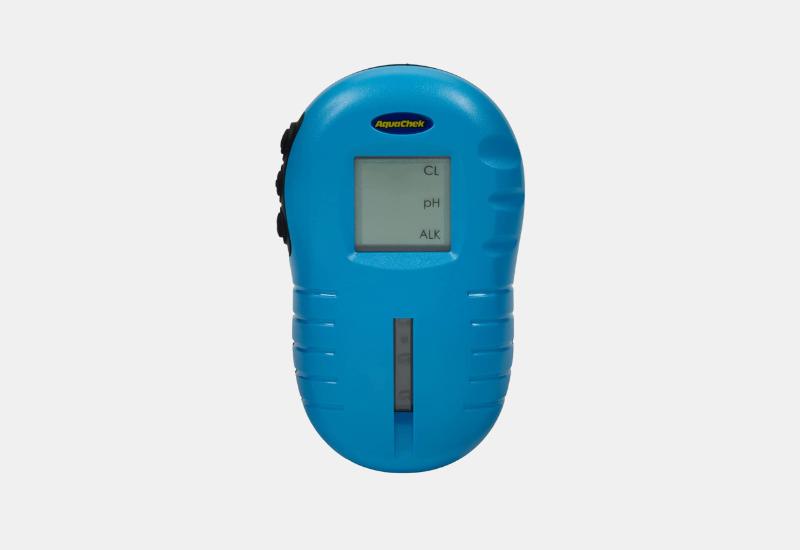 Want a digital pool tester with the affordability of a test strip? The AquaCheck TruTest Digital Reader gives you the reliability of digital with the affordability of test strips. The device works by taking your test strips, inserting them into the read tray, and in about fifteen seconds gives you a more precise measurement compared to eyeballing colors.
The AquaCheck gives you a breakdown of the big three with your pool chemistry—free chlorine, pH levels, and total alkalinity. Powered by AA batteries, the unit is tough, water-resistant, and easy to use.
The device is super well-priced, at around $55, making it an excellent low-cost digital pool water tester…that's also kind of a test strip kit. Both of best worlds!
---
Solaxx SafeDip Digital Pool and Spa Test Meter
⭐ Best digital pool tester without strips or regents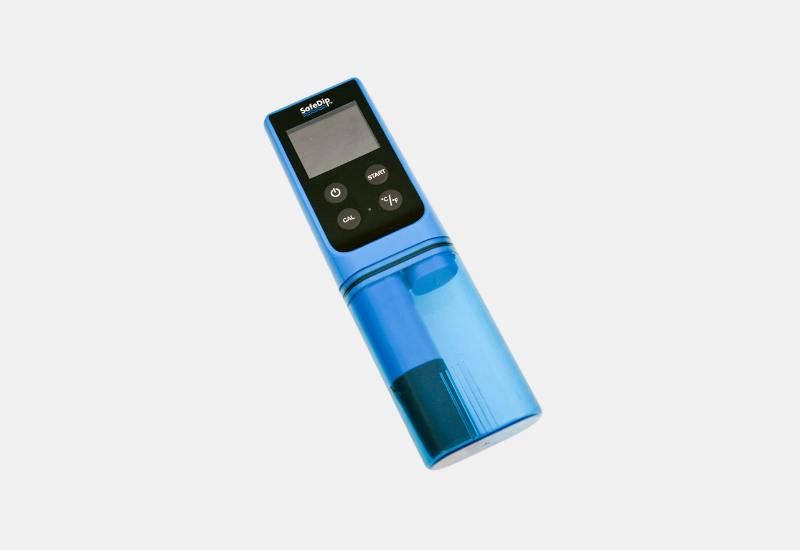 The Solaxx SafeDip Digital Test Meter is an excellent option for people who don't want to mess around with regents or test strips.
The device is super simple to use—fill the testing cup, slide the machine's probes into the sample, and voila—a nice, crisp LCD readout of the chlorine, salt, pH, and even temperature.
The reviews on this device are all over the place, but in my experience—having followed the instructions to the letter— the Solaxx SafeDip was more accurate than test strips.
While the upfront cost may give some pool owners a bit of sticker shock, over time you do end up saving money by not having to invest in regents or strips.
Additionally, because it's a purely digital readout, there is no color matching or guesstimating the ranges of your pool chemicals.
---
pHin Digital Water Tester
⭐ Best "hands-off" digital pool tester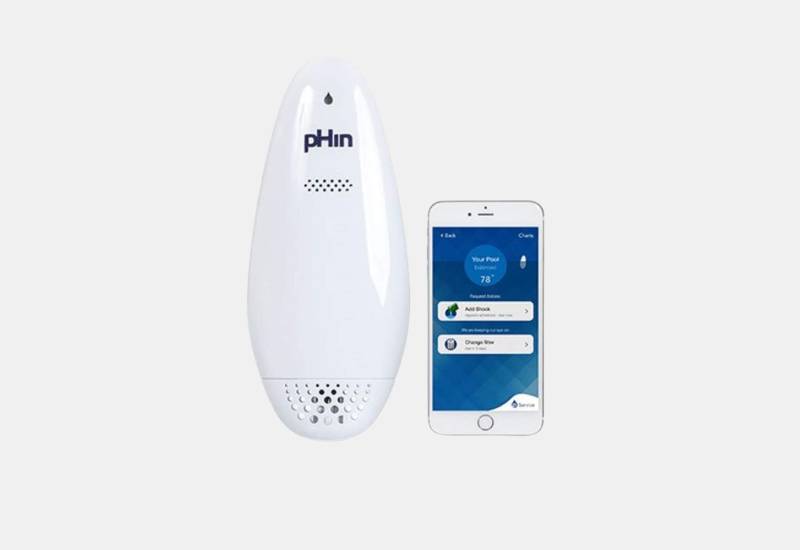 The ultimate dream for most pool owners is a "set and forget it" system for cleaning and maintenance. We spend a lot of time testing, cleaning, and fixing our pool over the course of the year. So when tools come along that promise a hands-off solution we are going to take notice.
The pHin Digital Water Monitor and Tester is a big step in this direction. Drop the unit into your pool or hot tub and it pumps data in real-time to an app on your phone via Bluetooth. When things get funky with your pool chemistry the app will let you know, taking a lot of the guesswork out of balancing your pool water.
At least, that's the way it's supposed to work.
When reading reviews of other pool users who had tried it, I found that those who liked it, loved it. They appreciated the graphs on the app showing pool chemistry, the notifications of when to take action, the frequent updates on changes to pool chemistry, and even what products to use at what time.
A significant portion of reviews, ~20% or so, was initially impressed before dealing with battery issues, connectivity problems, and of course, frustrated with the $99/year subscription to use the device after the first year.
The pHin is one of those devices that works like a dream when it works, and at around $350 per unit, plus $99 a year after the first 12 months of use, that's a fair request.
---
Digital Pool Testers – FAQ
How often should I use a digital pool tester?
While you can get away with using a digital pool tester once a week for testing low traffic pools and spas, I'd recommend testing the water at least twice a week, particularly for chlorine and pH.
You should always test the pool water after heavy usage, a big storm, or heavy rainfall. Heavy pool traffic, wind, and rain can all significantly burn up or dilute the amount of chlorine in your pool.
Finally, test the water after adding any chemicals to the pool to ensure that the water is properly balanced.
For more on pool testing frequency, read this article: How Often Should I Test My Pool?
What are the advantages of using digital pool testers?
Digital pool testers are generally more accurate and reliable than traditional pool testing kits, and they are also faster and easier to use.
They provide real-time readings that are easy to understand, and they can help you maintain optimal chemical levels in your pool to prevent algae growth and other water problems.
Additionally, because they provide a digital readout, they avoid some of the guesstimating that comes with comparing colors on test strips.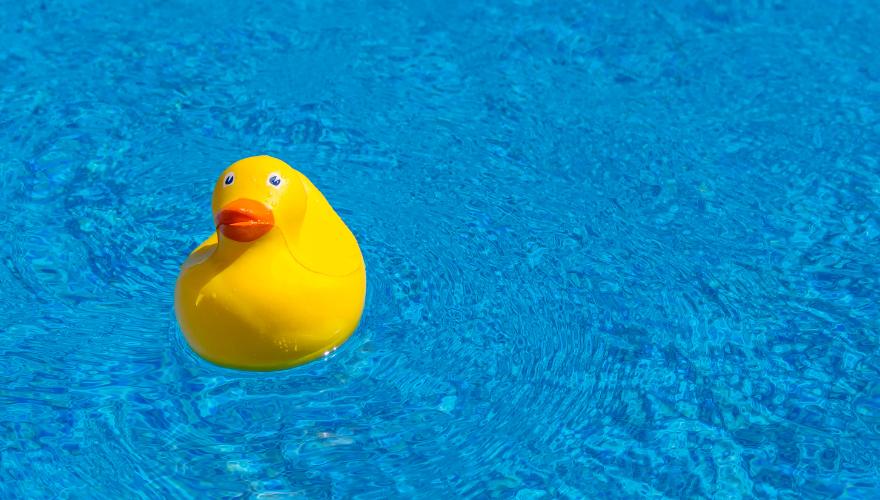 What should I look for when choosing a digital pool tester?
When choosing the right digital pool tester for you, the main things to consider include accuracy, ease of use, accessibility, and affordability.
Look for a tester that is easy to read and operate, with clear instructions and a user-friendly interface.
Accessibility is a unique factor with pool digital testers, as some devices—such as the pHin Digital Water Tester—allow you to test the water without having to take a sample.
Finally, recurring cost is a big one (as it is with just about everything pool and spa related 😉).
Digital pool testers are generally not cheap, but recurring costs like subscriptions (ahem, pHin) or buying more reagents and test strips can make them even more expensive.
The Bottom Line
Investing in a digital pool tester is a no-brainer for the pool or spa owner who wants to guarantee clean and sparkling water every time they go for a dip.
To recap our top choices:
The LaMotte Color Q Pro 7 Digital Pool Tester is our runaway favorite, used and recommended by countless pool owners and pool professionals.
The AquaCheck TruTest Digital Test Strip Reader is our top choice for best digital tester for analyzing test strips.
And if you want nothing to do with reagents or test strips, the Solaxx SafeDip Digital Pool and Spa Test Meter is your best bet.
Choose the right digital pool tester that matches your pool, budget, and testing methodology, and test your way to sparkling pool water!
---
Recommended Reading
Looking for more guides and reviews on pool cleaning and maintenance products? We've covered plenty below.
6 Best Floating Chlorine Dispensers for Pools and Hot Tubs. Keep your pool balanced and clean with our hand-picked selection of the best floating pool dispensers.
5 Best Chlorine Tablets for Keeping Your Swim Pool Sparkling Clean. Nuke bacteria and algae and keep your pool clean and sparkling with the best chlorine tablets for swimming pools. Let's do this.
5 Best Pool Thermometers for Your Backyard Pool or Hot Tub. The right pool thermometer helps keep your pool running properly and comfortably. Here's a breakdown of the best ones on the market for backyard pools and hot tubs.