Looking for the right algaecide for your swim pool? Get ready to take the fight to algae with a detailed look at the best algaecides for backyard swim pools.
You walk out onto your back deck, greet the sun with a big "hey, how are ya!" and get ready to hop into your pool for a refreshing dip.
Only one problem…
Algae.
Green, and lots of it.
Hanging off the walls of your pool, sliming across the surface, discoloring the water.
Like most pool owners, you've just come face-to-face with your perhaps the most persistent foe of your backyard swimming pool.
And persistent this little bugger is.
Algae doesn't take long to grow, it spreads quickly, and the longer it is left to its own devices, the harder it becomes to eliminate.
Fortunately, there are some excellent algaecides that you can use to nuke algae growth and also help prevent future outbreaks from happening.
Algaecides are also relatively cheap (for once—not much in the backyard swim pool market is all that cheap) and will keep your pool and spa clean and clear and ready for fun and relaxation.
Here's a rundown of the best algaecides on the market, including key features, price, and more.
Let's dive right in. (Well, not yet… But soon!)
BioGuard Algae All 60
⭐ Best overall pick for copper-free algaecide
Looking at a green swamp instead of the crystal-clear blue waters you were expecting? The BioGuard Algae All 60 has your back.
Whether you have a chlorinated or bromide-treated pool, BioGuard's proven non-foaming formula will help clear things up. You can use it to attack an algae bloom or as a preventative for all types of algae while not disrupting the existing pH balance of your pool.
It's a copper-free algaecide, which is crucial for areas that have higher levels of metallic content in the water. Excess metal in the water speeds up oxidation and corrosion of your pool.
I'm far from alone in singing the praises of this particular algaecide, with Amazon reviewers giving it a consistent five-star rating (click here to read the raves) and BioGuard ships these in a three-pack for a reasonable price.
Hold onto your butt algae, cause you're about to go to Nuketown.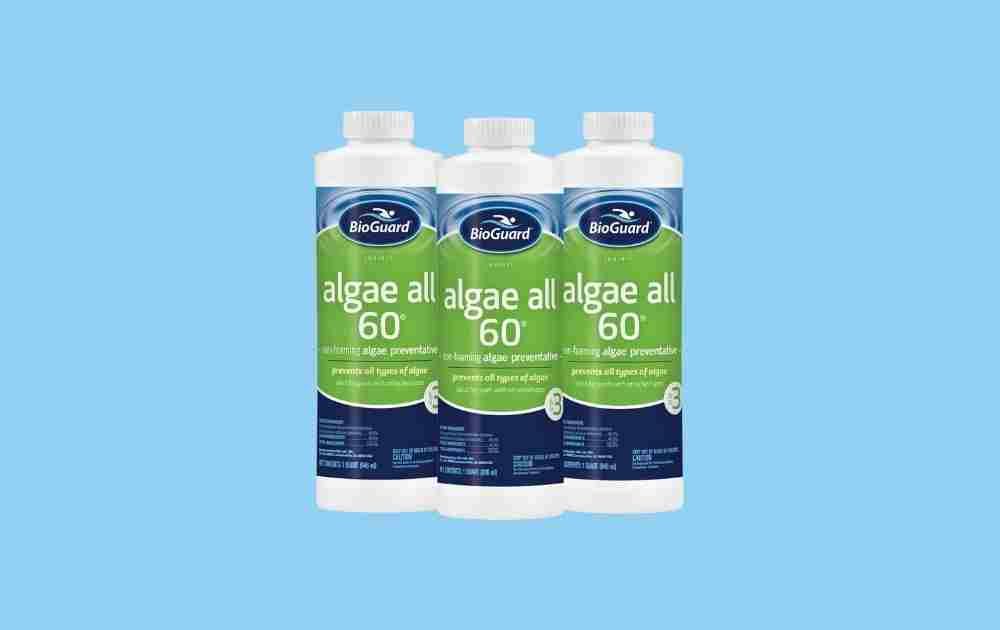 Clorox Pool & Spa Algae Eliminator
Clorox is one of the big names when it comes to cleaning supplies, and their expertise and quality extends to swim pools (they also make some of my favorite chlorine tablets for swim pools, too).
The Algae Eliminator is a non-foaming liquid that works in all pool types, from your softer vinyl-lined above ground swim pool to in-ground concrete swimming pool. As part of your weekly maintenance duties, like using the pool brush to keep the sides of the pool clean and using your pool test kit strips to gauge pool chemistry, this product will help keep your water algae-free.
Clorox has a free and helpful app that you can also use to stay on top of your pool cleaning and even set reminders for when to restock on pool maintenance supplies.
Reviewers love it—with nearly 4,000 five-star reviews on Amazon (click here to read them over at Amazon), noting that the smell it makes isn't as pungent as others on the market.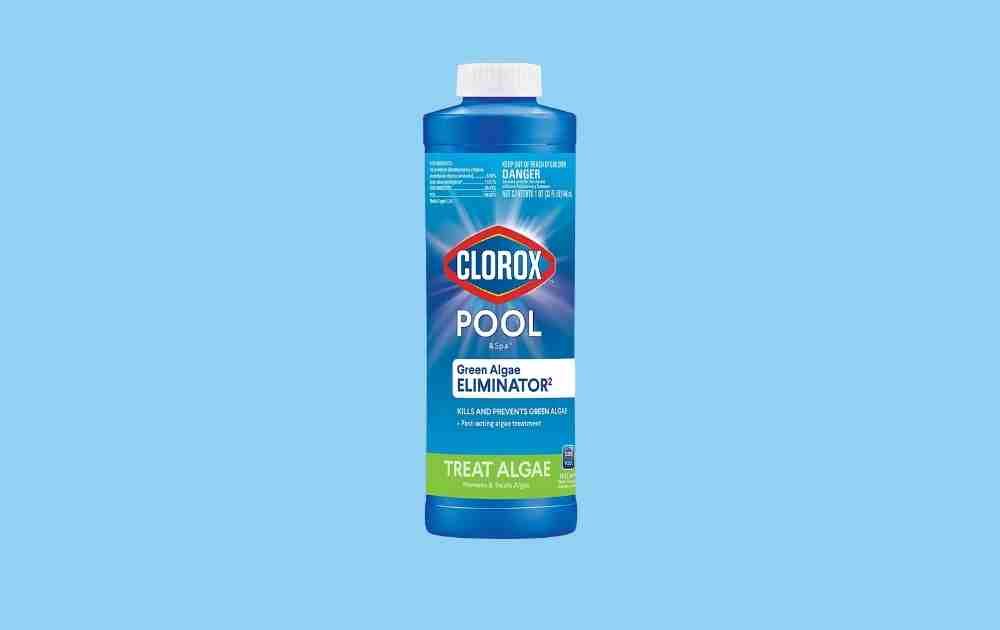 HTH Super Algae Guard 60
HTH is one of my preferred brands of pool treatments and liquids. The Super Guard 60 is a powerful algae assassin that targets and kills yellow, green, and black algae and is designed to be included in your regular routine of balancing, sanitizing and shocking your swim pool for sparkling water.
Compatible with saltwater pools, HTH manufactures this algaecide in the USA and recommends that it be used weekly (unlike copper-based algaecides which are usually added every three months).
While described as a non-foaming algaecide, a minute number of reviewers noted that foaming did occur, while a majority (3,500+) give the HTH Super Algae Guard 60 five stars.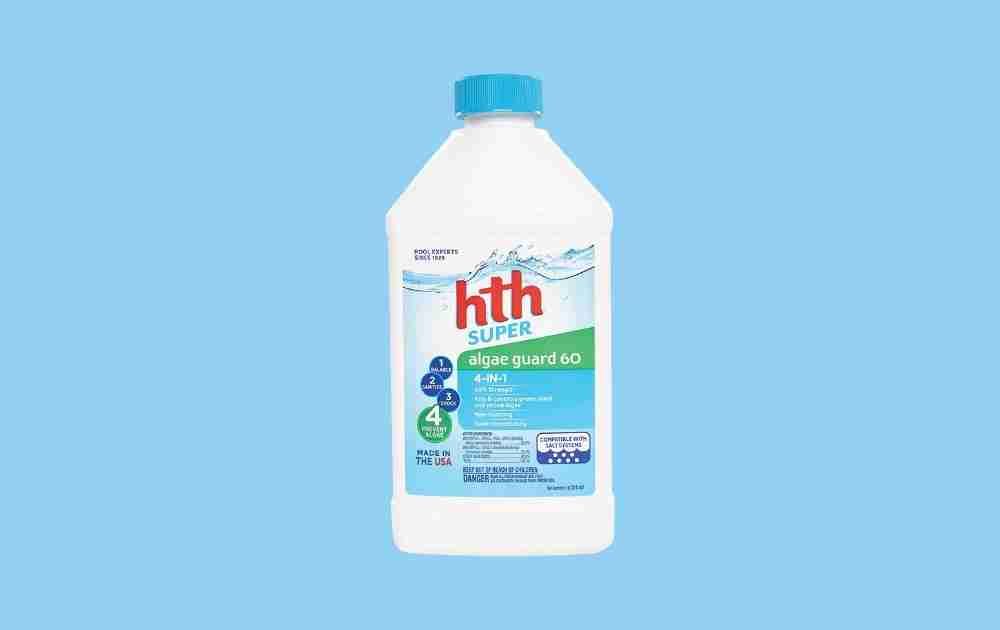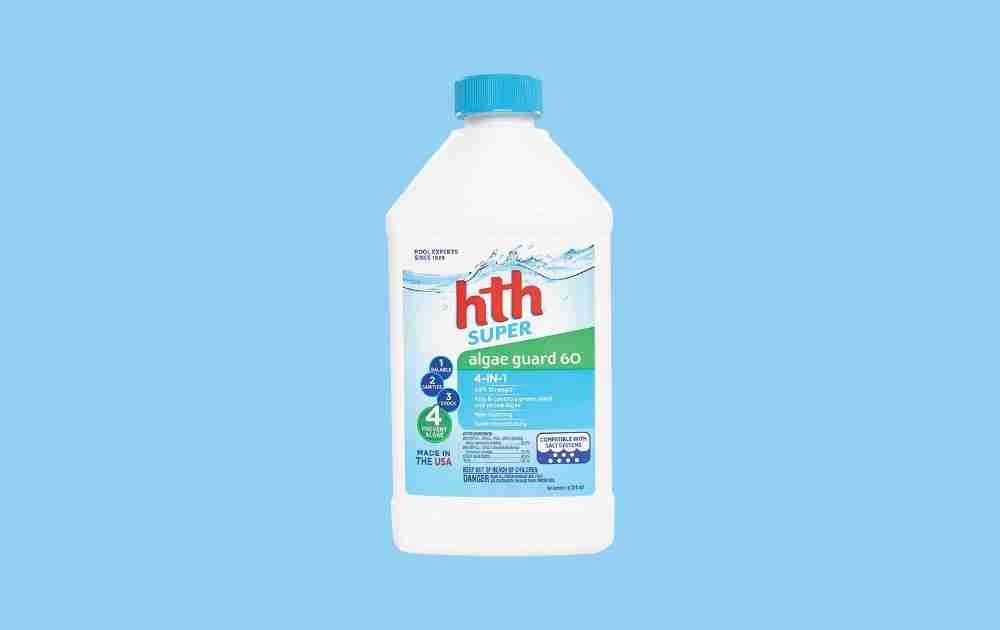 In the Swim Super Algaecide
In the Swim is another player in the backyard pool market, makers of excellent above ground pool covers and chlorine tablets. In the Swim's Super Algaecide is a concentrated, copper-based formula is an algae slayer.
Suitable for both in-ground and above-ground swimming pools, In the Swim lists a recommended treatment dosage of just 4oz per 10,000 gallons—it's that potent—every two weeks.
Algae infestations can be a real pain in the butt, so add In the Swim's Super Algaecide to your regular pool cleaning so that you can spend more time swimming in blue water than looking at a green swampy mess.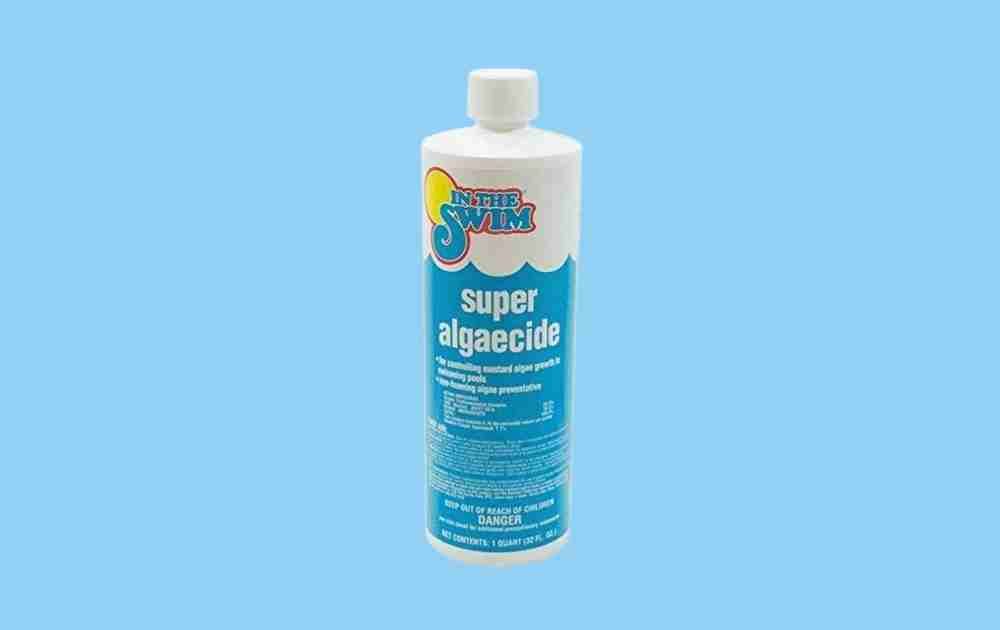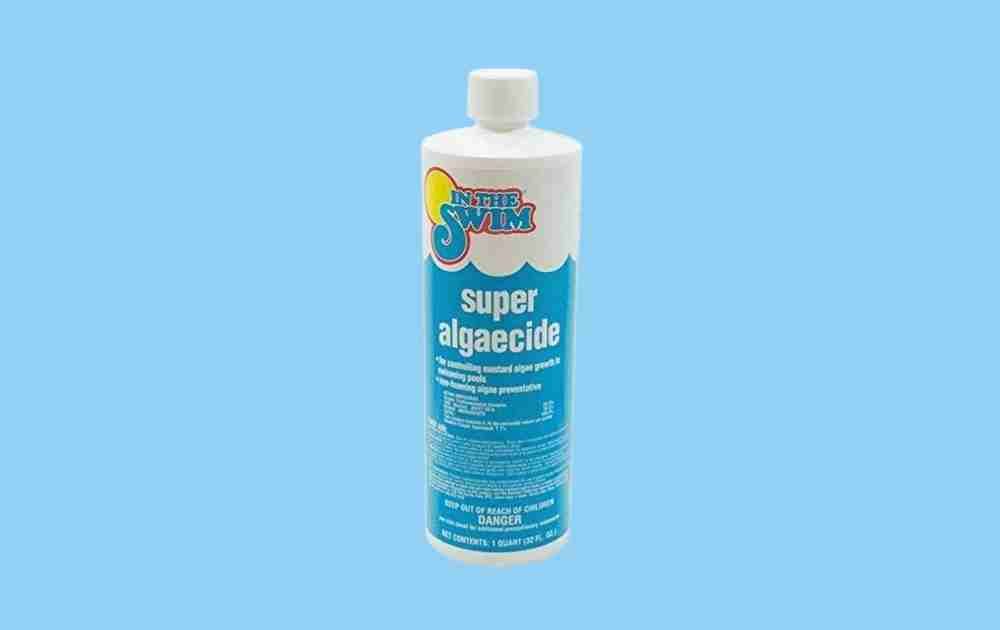 Clorox Pool & Spa XtraBlue Algaecide
⭐ Best for black algae
Another entry from the folks over at Clorox is their XtraBlue Algaecide. When you need to bring in the big guns, the XtraBlue is your go-to.
Designed to work with all kinds of algae, including your run-of-the-mill green algae and the next-level black algae (which is actually a bacteria and not technically algae, but I digress), which has a nasty habit of digging into concrete and causing water-borne illness.
For tough to remove black algae spots, or blasting a pool whose pump broke, or people whose outdoor pool is in a heavily wooded area (and susceptible to organic contaminants), the XtremeBlue works wonders.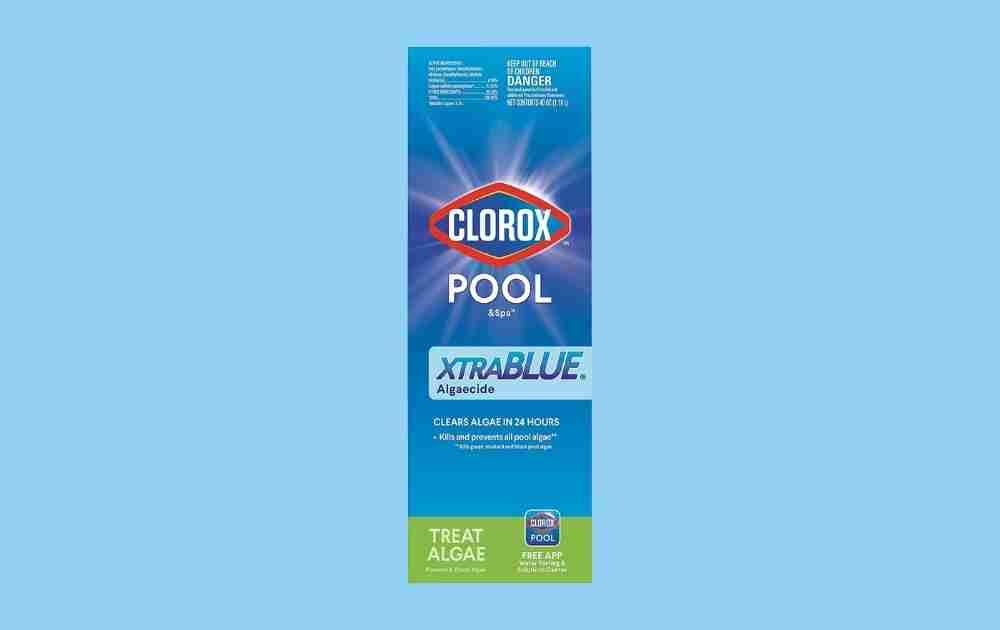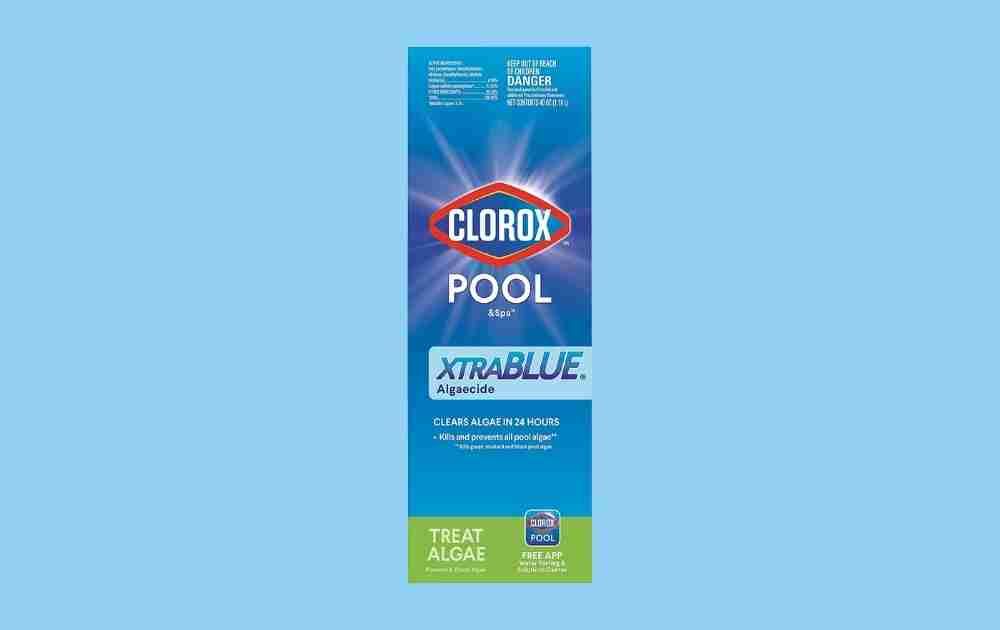 ---
Tools for Attacking Algae in Your Swimming Pool
Algaecides are an important component of keeping your pool sparkling clear and free of algae. And they are one of your weapons when algae growth really gets away from you.
There are also other tools that you should be using to prevent algae from flourishing in the water.
Manual pool vacuum. While I love robotic pool cleaners, removing pool algae requires a more targeted approach. Robotic and automatic pool cleaners tend to use the pool filter to clean the water, which simply recirculates the algae into the pool.
Brush the walls. Pool brushes are another manual tool for smashing problem spots, especially off the walls. Doing this helps pool sanitizers to really get in there and target algae and stirring up the algae helps it get picked up and filtered. See my favorite pool brushes in this round-up.
Balance your water. Before you start blasting away with shock and algaecide, use your favorite pool test strip or digital pool tester to make sure your water chemistry is where it should be. A properly balanced pool boosts the effectiveness of the sanitizers and the algaecide you will use later in the process.
Chlorine shock. How yuck your pool is will determine how much shock to use. If you've got green algae, a simple rule of thumb to use is double the recommended dose for your pool. Chlorine shock helps maintain chlorine levels and prevent algae from gaining a foothold in your water and is also the first wave in your assault to clear algae when it takes over your pool.