Swimming fast on race day means being equipped properly. Here's a look at the best racing swim goggles.
Swim goggles are one of the most critical pieces of gear you bring with you behind the blocks.
The right pair of goggles help you see clearly while in the water, which is critical for nailing your turns, judging the finish, seeing your competitors, and even swimming with proper technique.
Racing goggles have a lower lens profile that helps to reduce drag in the water. With less resistance, you swim faster. Pretty much that simple!
When it comes to choosing the right swim goggles for you, there are lots of things to think about.
Gasket composition, customizing the width of the nose bridge (or nose string/strap), tint, anti-fog, UV protection, lens depth, strap material, and of course, price.
Over the years I've tried just about every racing goggle there is.
Below is a detailed breakdown of the best goggles for competition, including key features, price points, and where to buy.
Let's dive right in.
---
Best Swim Goggles for Competition
Speedo LZR Pure Focus Swim Goggle
⭐ Best racing swim goggles for looking like an Olympian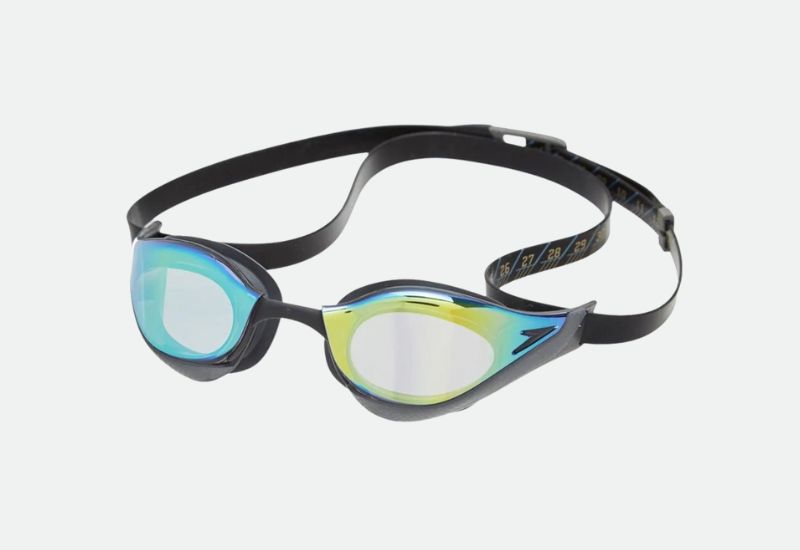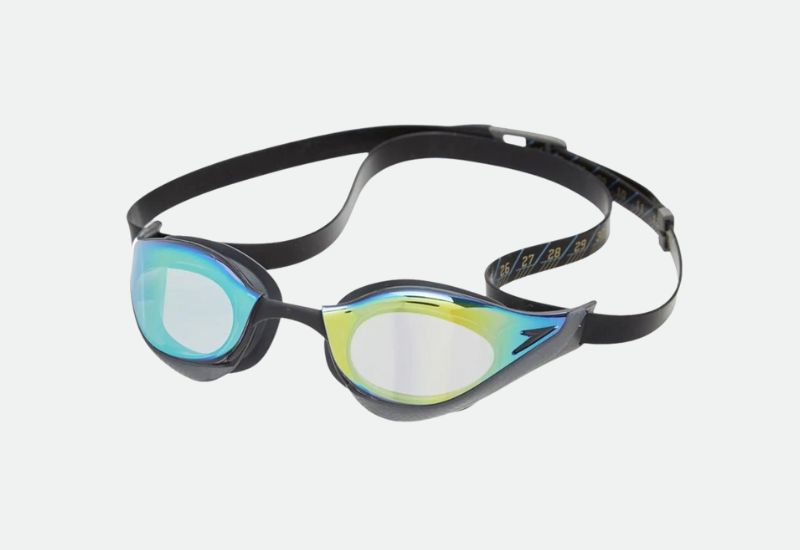 The Speedo LZR Pure Focus Goggle is Speedo's fastest and most premium swim goggles, designed primarily for speed on race day.
The LZR Pure Focus has an extremely thin goggle gasket that sinks deeply into the face, removing any drag or resistance from the water.
(According to Speedo, the LZR Pure Focus reduce drag by 5%1 compared to Speedo's other premium swim goggle, the Speedo Hyper Elite Goggles.)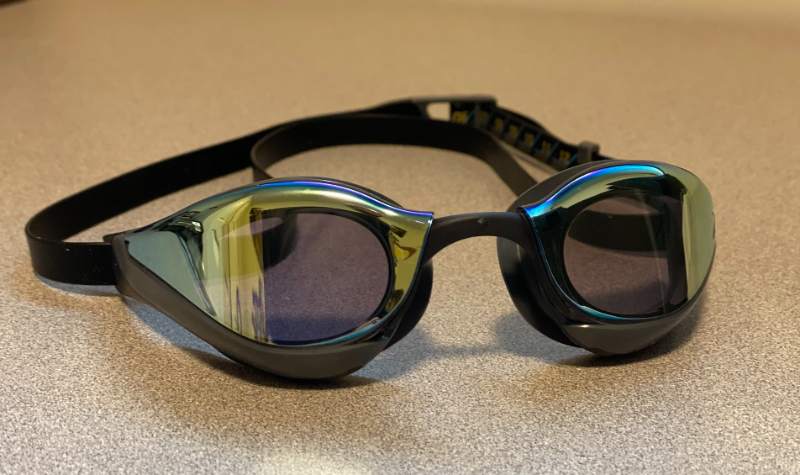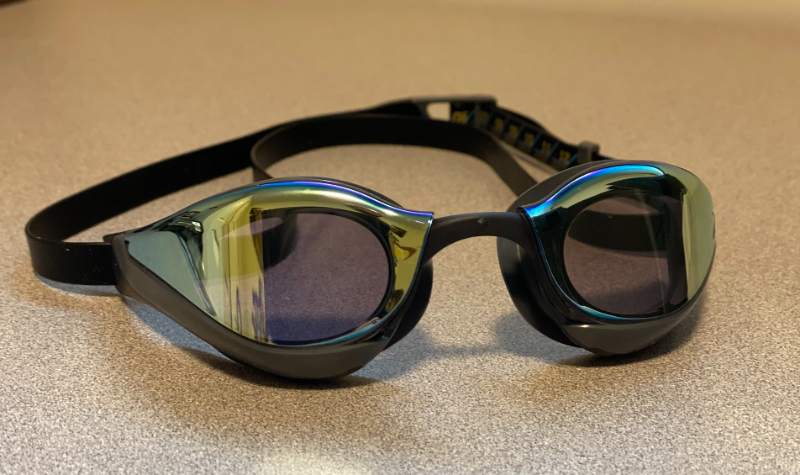 The goggles have fit point markers on the head straps that help you place your cap and goggles on straight before racing, the extra-wide lens gives you exceptional peripheral vision, and the LZR Pure Focus goggles have extended lenses that create more stability.
The Speedo LZR Pure Focus comes with three nose pieces for a custom fit, head straps that are made of durable silicone, and are available in three bright color combinations.
The downside?
These swim goggles are about $80, which makes them ideal for competition, but not ideal as a daily driver swim goggle for training.
But for the swimmer looking for the best of the best, the Speedo LZR Pure Focus Swim Goggle is your top choice for racing like a pro in competition.
---
Speedo Speed Socket 2.0 Goggles
⭐ Best hybrid racing and training swim goggles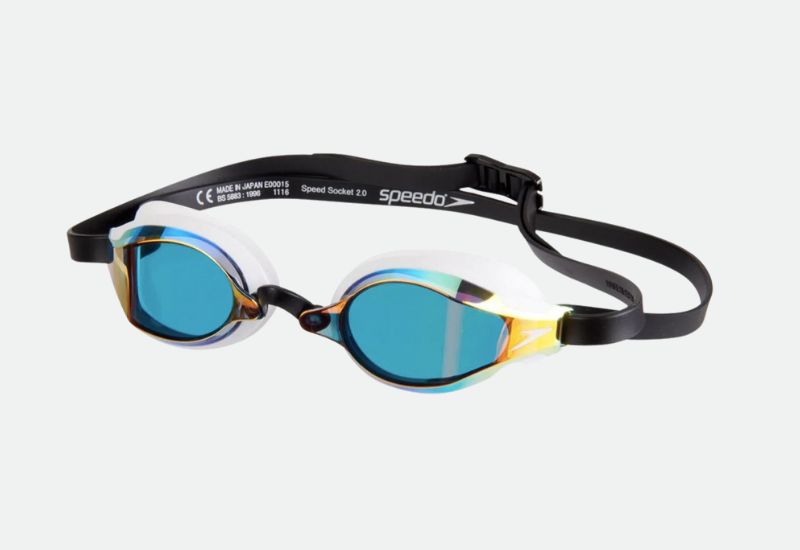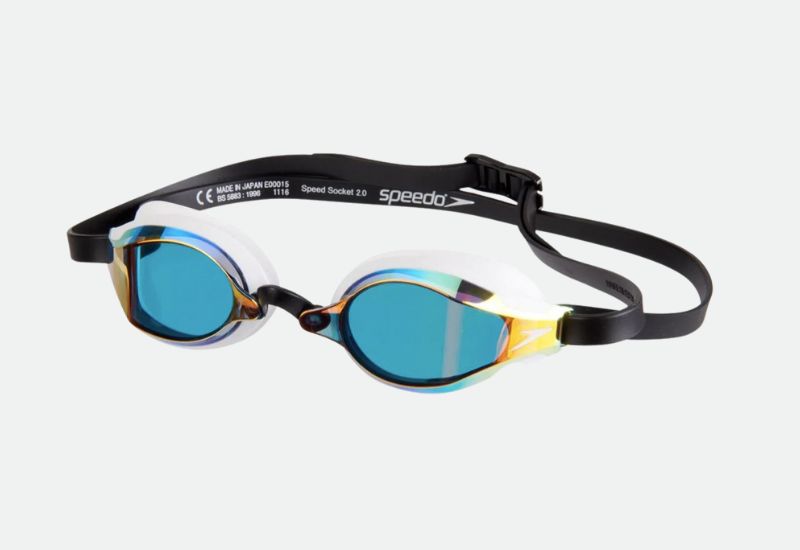 You might not be able to swim as fast as 7-time Olympic gold medalist Caeleb Dressel, but you can wear the same racing goggles that he does!
The Speedo Speed Socket 2.0 goggles have long been Dressel's goggle of choice (plus now that he's sponsored by Speedo, he likely gets them by the bag for free!) and are an excellent multi-purpose goggle that are durable, comfortable, and can be used for both training and competition.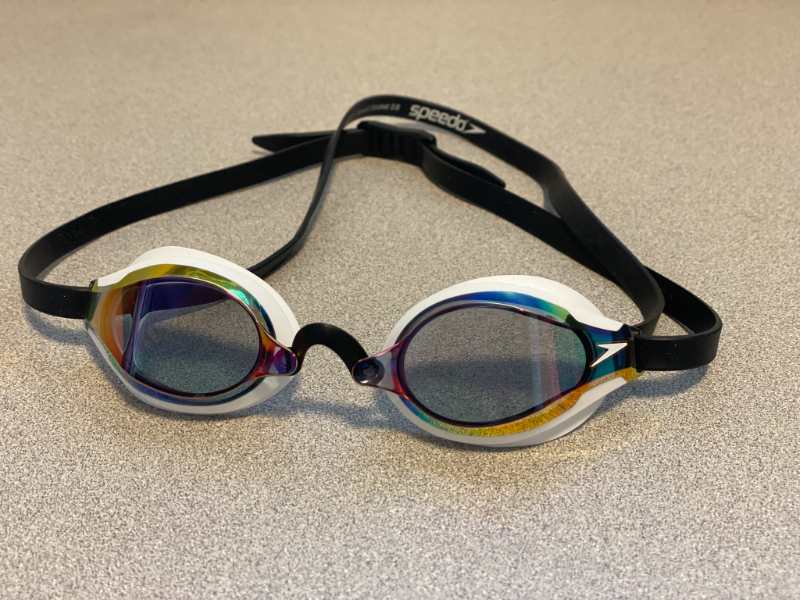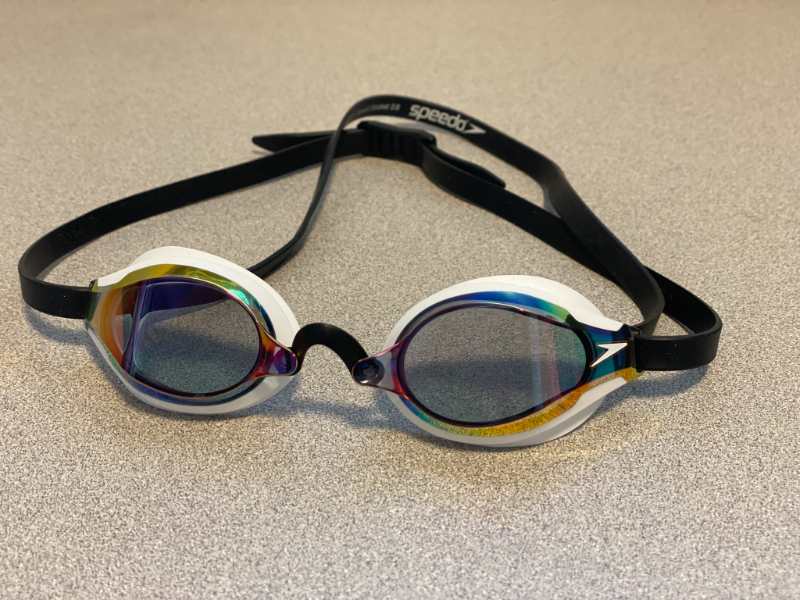 The goggles have a low profile, which helps cut down on drag, making them ideal for racing. The straps are made of long-lasting silicone and are easy to adjust to the circumference of your head. And the vision through the goggles is excellent with superior peripheral vision.
Speedo offers these in a wide variety of colors and tints, including mirrored, clear, smoke, and more.
And the best part of these racing goggles?
The price—at around $35 (check SwimOutlet for current pricing and deals), makes them one of the most affordable of competition-grade swim goggles on the pool deck.
---
Arena Cobra Ultra Swipe Mirror Goggle
⭐ Best antifog racing swim goggles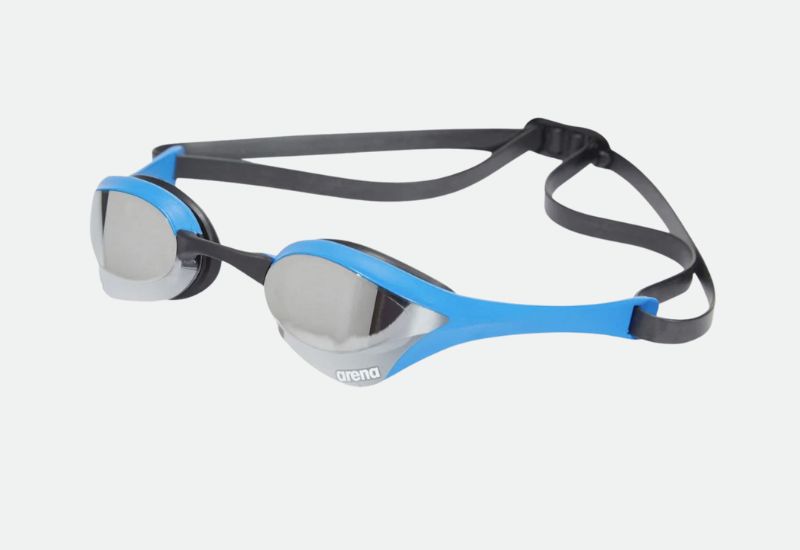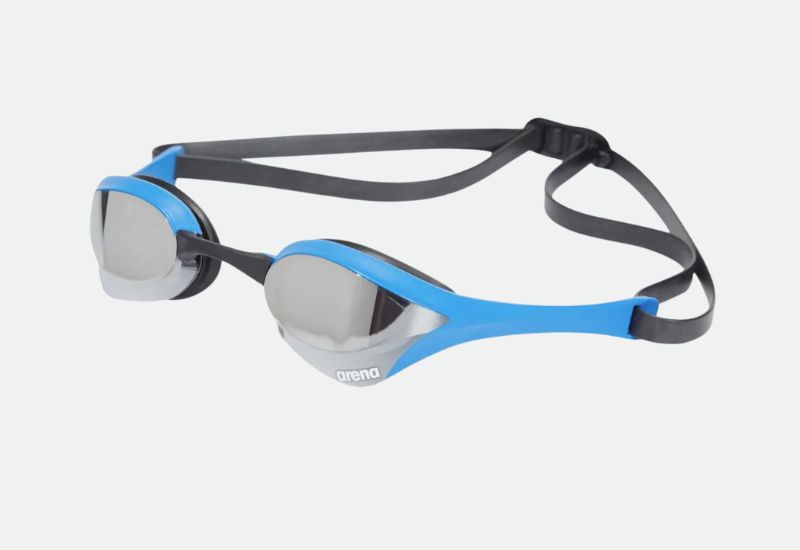 I am a huge fan of Arena gear in general, from their tech suits to the Arena Cobra Ultra swim goggles.
The most recent edition of the Cobra Ultra takes things to a new level with enhanced anti-fog, a slimmer profile for minimal resistance in the water, and nearly a dozen color combos and tints.
The Arena Cobra Ultra Swipe Swim Goggles ship with five different nose bridges, ensuring that you will get a custom and leak-free fit.
Dual silicone straps keep the goggles firmly in place when you dive into the water on race day. And the polycarbonate brackets wrapping around the side of your head help to cut down friction in the water even further.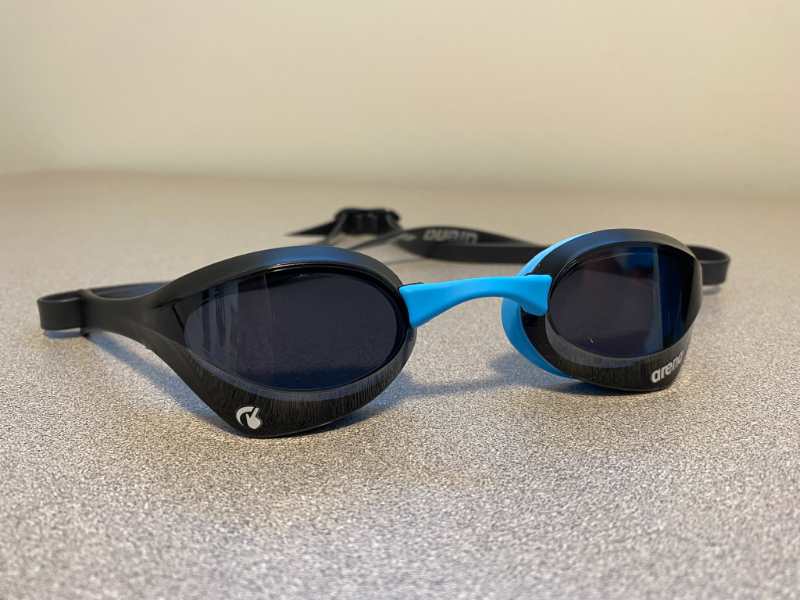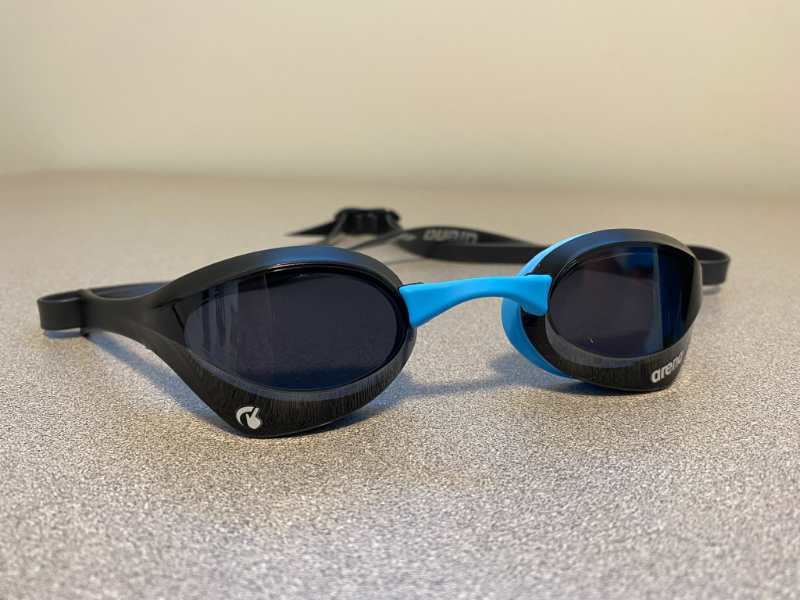 The main selling point of the Swipes has to be the extended anti-fog properties.
Unlike most other goggles, whose lenses lose their anti-fog coating when you rub them, the Cobra Ultra Swipes are specifically designed to be gently swiped on the inside.
The Arena Cobra Ultra Swipes is an excellent racing goggle that is low-profile and will help you see clearly even on the last race event on the last day of the Big Meet.
Being Arena's premium racing goggles, it's priced as such, with retailers offering them for around $60-70, putting them at the top end of the pricing range when it comes to racing goggles (check SwimOutlet for current pricing and deals).
---
Magic5 Swim Goggles
⭐ Best custom swim goggles for racing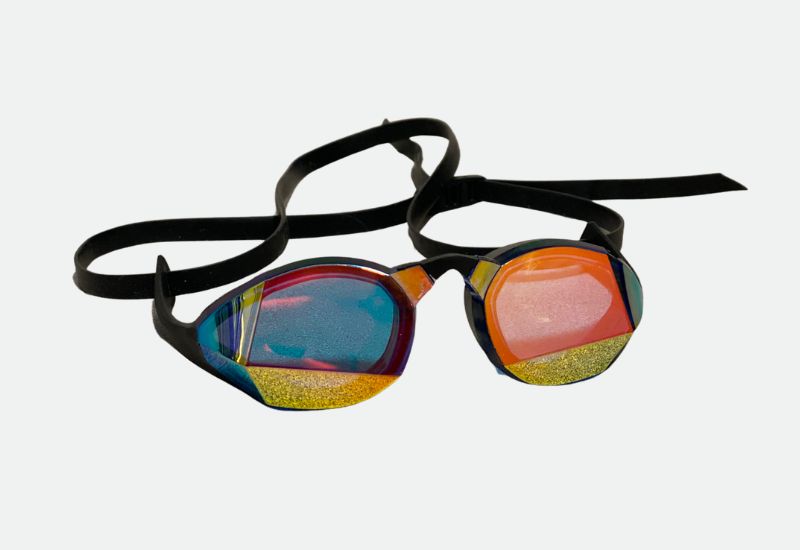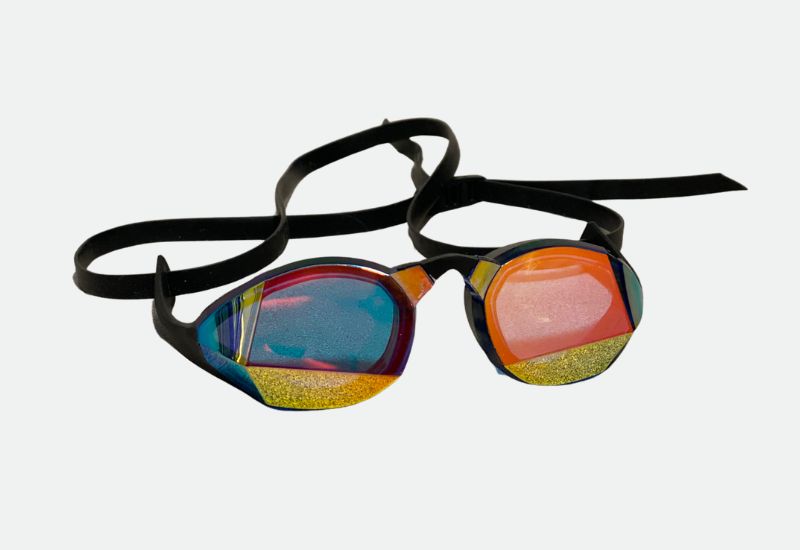 The Magic5 Swim Goggle is a one-of-a-kind goggle.
Literally.
When you order the goggles through their website, you download an app that performs a face scan, and a week or so later, a custom molded swim goggle shows up on your doorstep.
The result is a swim goggle that is uniquely shaped and designed for the contours of your face and eye socket. The goggles sit snugly in your face, creating a leak-free fit that doesn't require tightening the head straps like a vise to keep water out of your swim goggles.
The customized design of the goggles makes them an excellent swim goggle for training (as they remove the headaches and racoon eyes typical of ill-fitting swim goggles).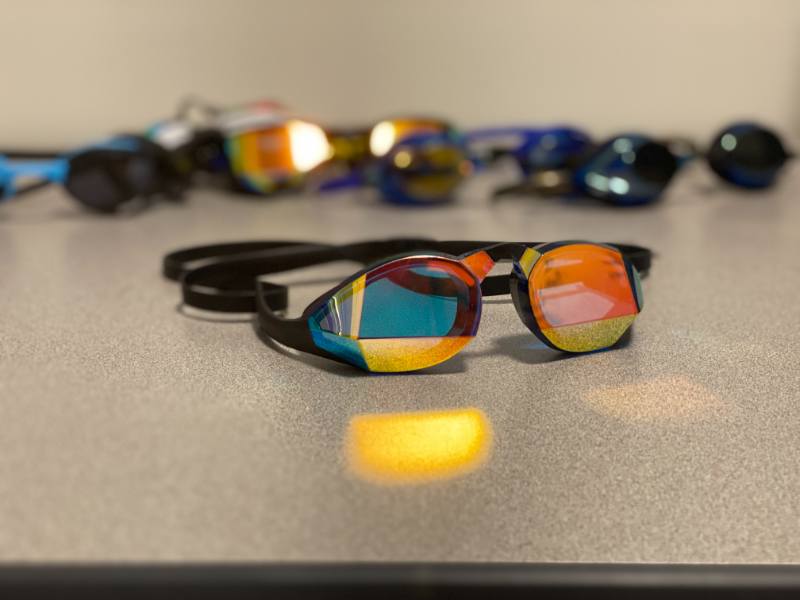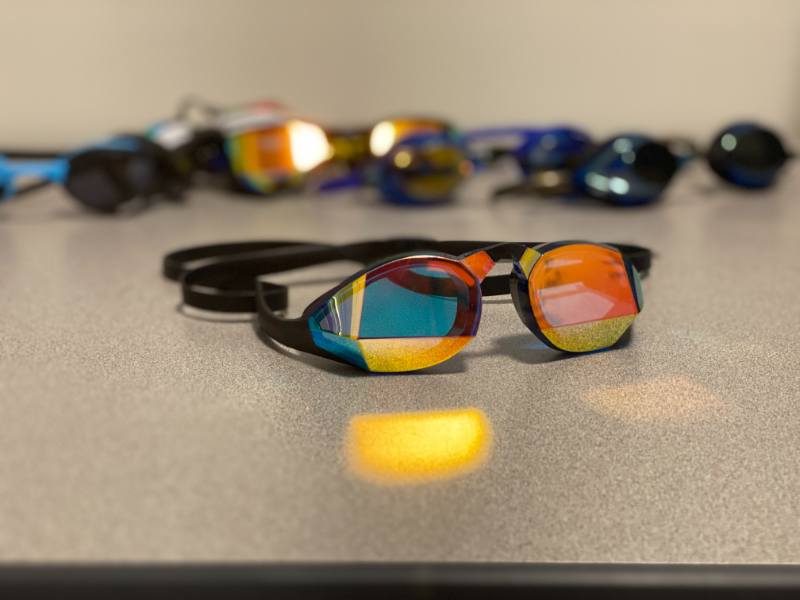 Beyond being comfortable, these are fast goggles, with an extraordinarly thin lens profile (just 0.5", which is tied for thinnest goggle lens with the Arena Cobra Ultra Swipes), mirrored lenses (perfect for racing outdoors), and dual silicone head straps to keep the goggles extra firmly in place.
One note: Magic5 themselves recommends wearing the swim goggles a little looser than you would a regular goggle.
On race day, it would be prudent to tighten up the head straps just to make sure they don't wobble (or worse) when diving into the water.
Ultimately, the Magic5 Swim Goggles are one of the coolest types of swim goggles to come along. They are on the pricier end of the spectrum, retailing for around $70 to $100 depending on tint (Tip: order in bundles to drive the price down).
---
TYR Socket Rocket Goggle
⭐ Best Swedish swim goggles for racing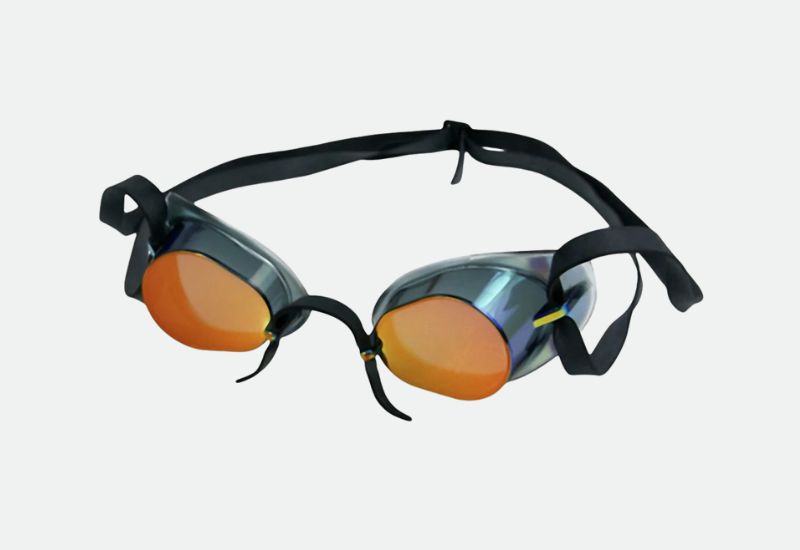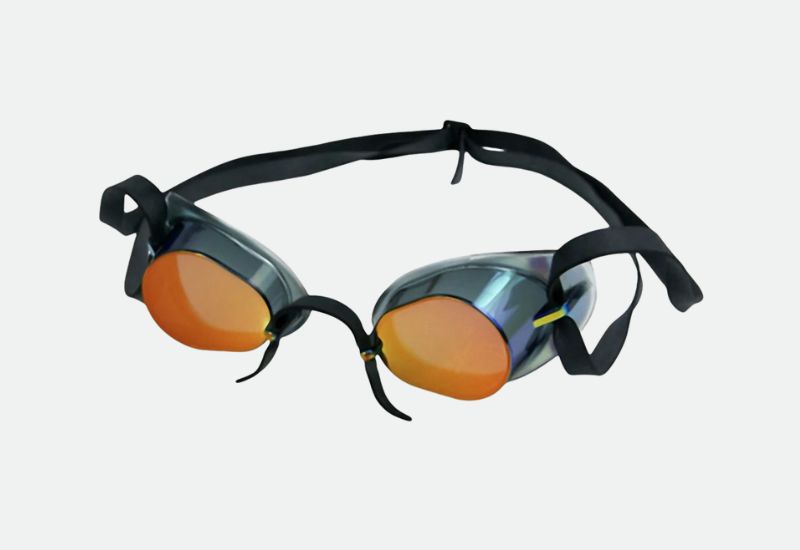 The TYR Socket Rockets have been one of my favorite goggles over the past few years.
Even though I don't compete anymore, they were a pair of goggles that I felt comfortable wearing on race day as well as during my day-to-day training.
Why do I like these swim goggles so much?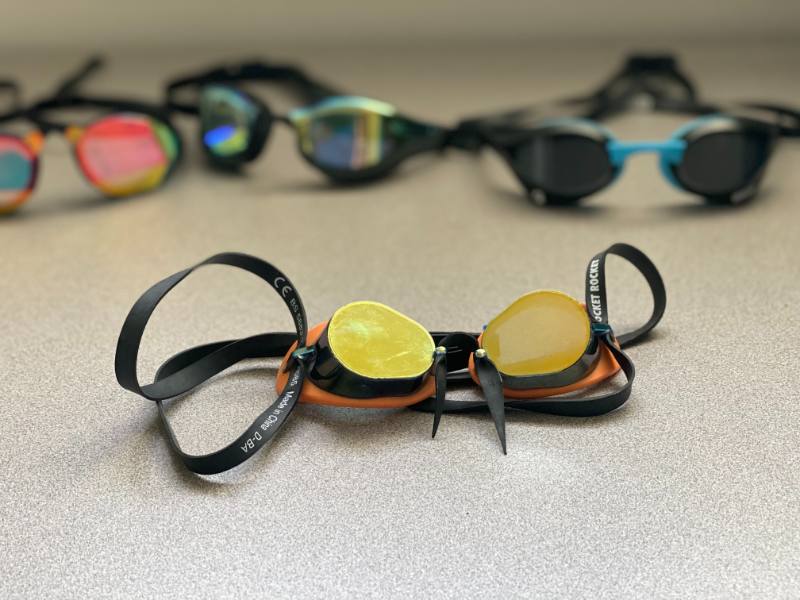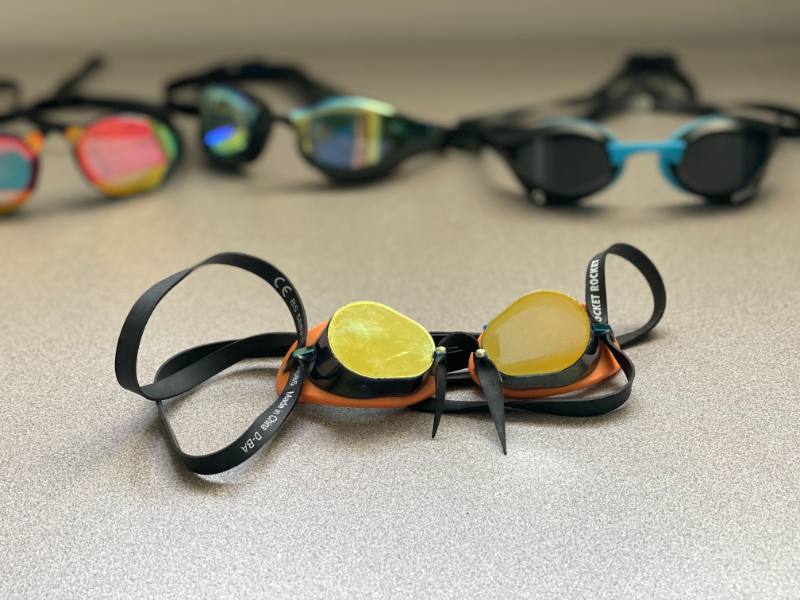 The Socket Rockets are an excellent blend of the old school Swedish goggles combined with the recent advancements in goggle technology, including silicone straps, soft gaskets and both string or strap nose bridges for a custom fit.
Other key features include a wide variety of colors and tints, 180-degree peripheral vision, and a low-profile lens for reduced drag when churning towards a new personal best time in competition.
The Socket Rockets are also exceptionally cheap, the cheapest racing goggles on this list, at less than $20 per set (check SwimOutlet for current pricing and deals).
---
Mizuno GX Sonic Eye Swim Goggles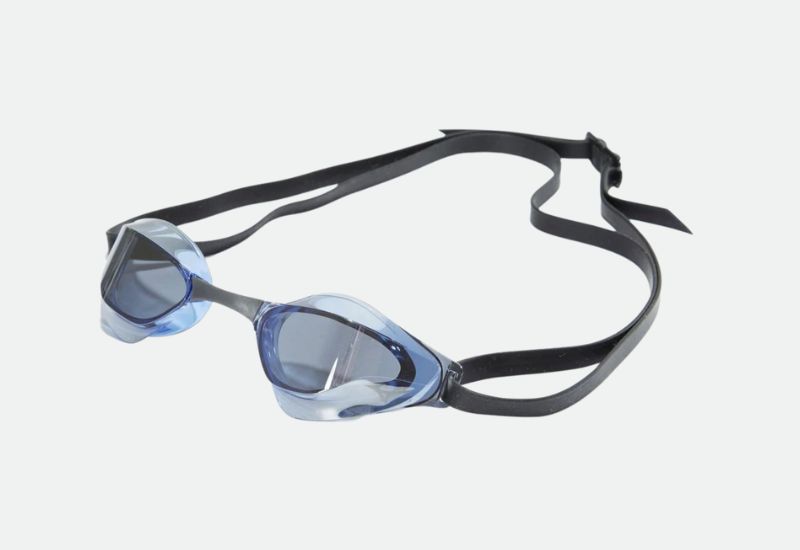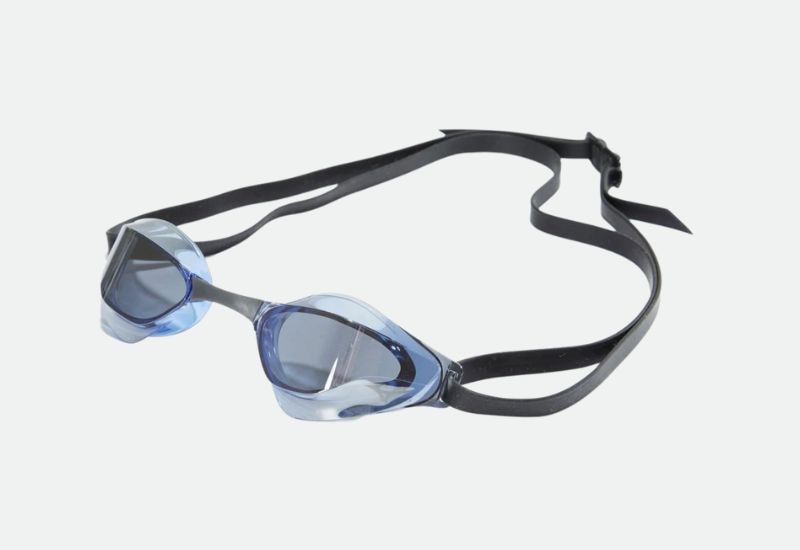 Mizuno is better known for their racing suits, but they also make a solid pair of racing goggles with the GX Sonic Mirrored Swim Goggles.
The lenses are made of strong polycarbonate that has an anti-fog layer for clear vision in the pool. The profile of the swim goggles is very low, on par with the Cobra Ultras, and the straps have a low-profile adjustment buckle for a custom fit.
While not as popular as the other goggles on this list, they are a solid pair of racing goggles if you want something that is unique.
Mizuno offers these goggles in a couple of different color options, and they retail for $45 (check SwimOutlet for current pricing and deals).
---
Swim Goggles for Racing – FAQS
What are the best Speedo racing goggles?
Speedo is arguably the top swim brand when it comes to making swim goggles.
They've been doing it the longest (100+ years) and offer a wide net of goggles, from swim goggles for kids to open water swimming goggles.
When it comes to blistering speed in the water, the Speedo LZR Pure Focus Swim Goggle are Speedo's fastest swim goggles. The Speedo Speed Socket 2.0 Swim Goggle is a more budget-friendly option that is also a hybrid version.
Do racing swim goggles make a difference?
The right racing swim goggles help you swim with confidence thanks to the low-profile design, leak-free fit, and peripheral vision that allows you to time turns and the finish perfectly.
The mirrored lenses of a competition swim goggle can also provide a great psychological edge in the moments before your race.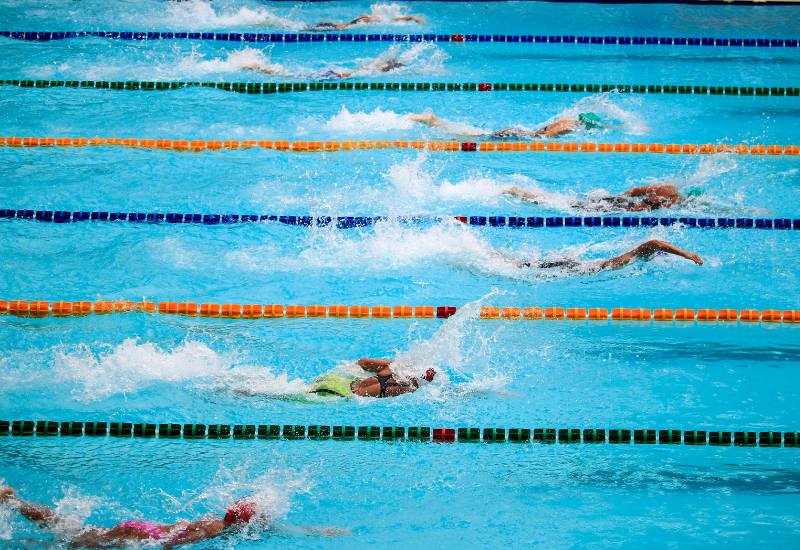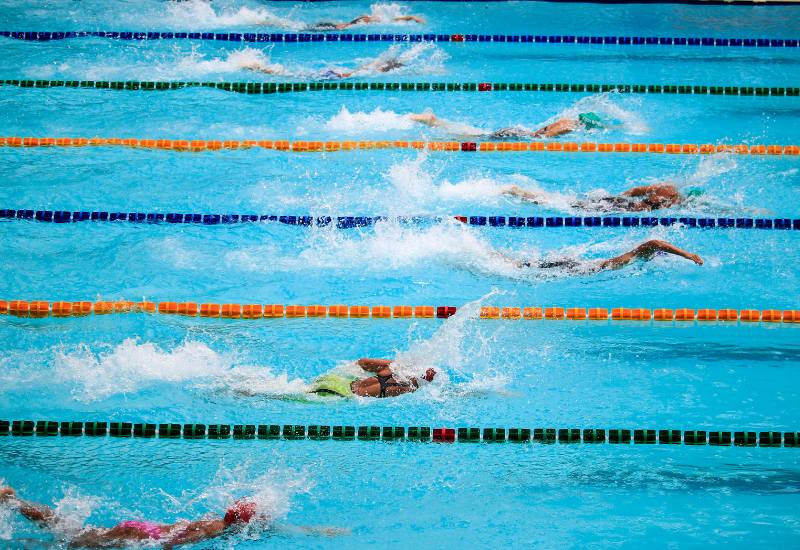 What are the differences between training and competition swim goggles?
The key difference between training and racing goggles are in the lens thickness. Competition swim goggles are thinner, reducing drag and resistance.
The reduced drag is also beneficial in that they help the goggles "sink" into your face, cutting down the probability the goggles will leak or fall off when diving into the water.
Here's an extreme example to highlight the important of a thin goggle profile: Consider the difference between diving into the water with a swim mask, and the amount of surface area it slams into the water with, compared to a low-profile swim goggle.
The result is a significant decrease in the likelihood your goggles will leak or fall off when diving into the water.
The Bottom Line
A lot goes into performing your best on race day. All of those early morning workouts, attention to diet, nailing the taper, and performing a nick-free shave down on the night before competition.
The swim goggles you choose to race with should give you the confidence to focus on swimming your best instead of hoping the goggles stay in place when you launch yourself off of the blocks.
Choose the best racing swim goggles for you, race with confidence, and smash those personal best times in style!
---
More Swim Goggle Resources
Looking for more google resources and guides?
I've put together a few other reviews and round-ups for swimmers looking for the right pair of goggles for their swimming.
8 Best Swim Goggles for Every Kind of Swimming. Not sure about what kind of goggles to get for your swimming? Here's a detailed look at the best for lap swimming, open water, juniors, and more.
6 Best Prescription Goggles for Swimming. Ready to take on the pool, but want to be able to take your prescription with you? Here are the best prescription goggles for swimming.
5 Best Goggles for Open Water Swimming and Triathlons. Ready to dominate your open water race? Here's a breakdown of the best swim goggles for open water swimmers and triathletes.