Looking to protect your hair at the pool? Here are the best swim caps for long hair to keep your hair out of the pool and protected from harsh pool chemicals.
Swim caps are one of the basic pieces of swimming equipment for those of us who hit the pool, but they are also one of the most misunderstood.
How can a latex or silicone swim cap be misunderstood?
For starters—and this will blow your soggy, chlorinated hair back—is that swim caps don't actually keep your hair dry.
Instead, they help reduce the amount of chlorinated water your hair encounters, keep your hair out of the pool, keep hair out of your eyes (so you can see, which is helpful when swimming!), and can even help you swim a little faster.
But for those swimmers with long hair, a regular swim cap usually doesn't suffice. We require a little (or a lot) extra space to store hair.
In this guide to the best swim caps for long hair, we highlight the most comfortable swim caps for people with long hair.
We'll also highlight the benefits of wearing a swim cap in the water, and also list the key things to look for when choosing the perfect cap for your hair and swimming.
Let's jump right in.
---
Speedo Silicone Long Hair Swim Cap (#1 pick)
⭐ Best overall swim cap for long hair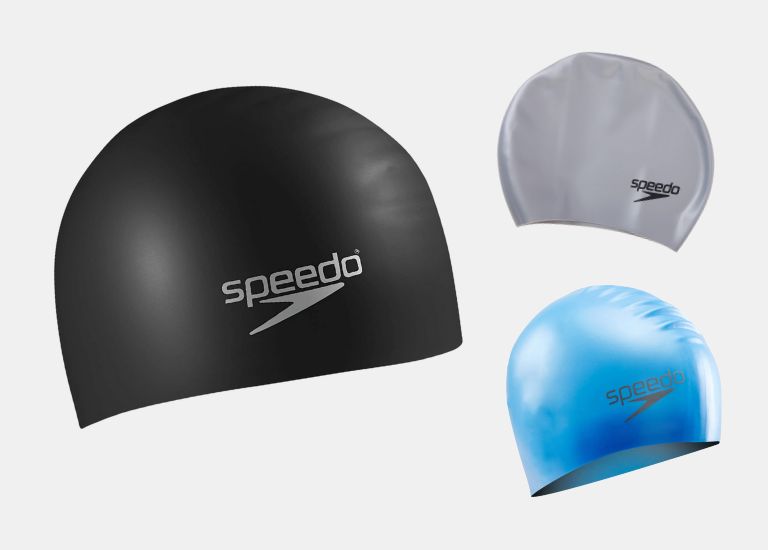 We all know and love Speedo. They make some of the best gear for swimmers. From racing suits to swim goggles, they make it all. They also make some of our favorite swim caps.
Our top pick for best swimming caps for long hair is their basic silicone cap. Caps made of silicone are soft and don't yank on your hair when you pull it off, something that comes in extra handy when you have a whole bunch of hair up there.
Speedo's silicone long hair cap is offered in five different colors, is super durable (another perk of silicone caps!), and will stay nice and snug on your head while you churn away the laps at the pool.
---
Sporti Long Hair Bun Silicone Swim Cap
⭐ Best budget-friendly long-hair swimming cap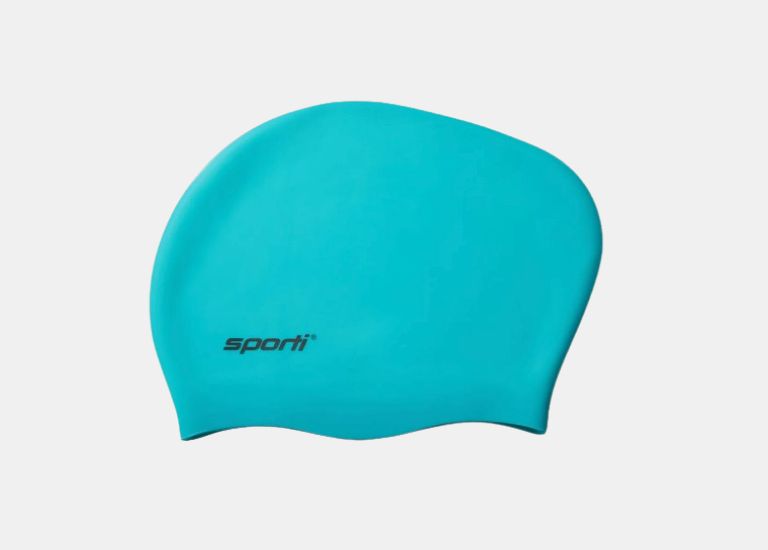 Sporti is one of the best swim brands when it comes to affordable and high-quality gear for conquering the lap pool.
The Sporti Solid Long Hair Bun Silicone Swim Cap is an excellent example of this, with a price tag of just $7, four different colors to choose from, and plenty of room to stuff your bun into the back of the cap.
It features the typical performance features I expect to see with a quality swim cap, including a 100% silicone construction (doesn't yank and rip at your hair), contoured edge that gives a hydrodynamic fit, and interior lined grip to help position the cap properly on your head.
---
TYR Sport Long Hair Swim Cap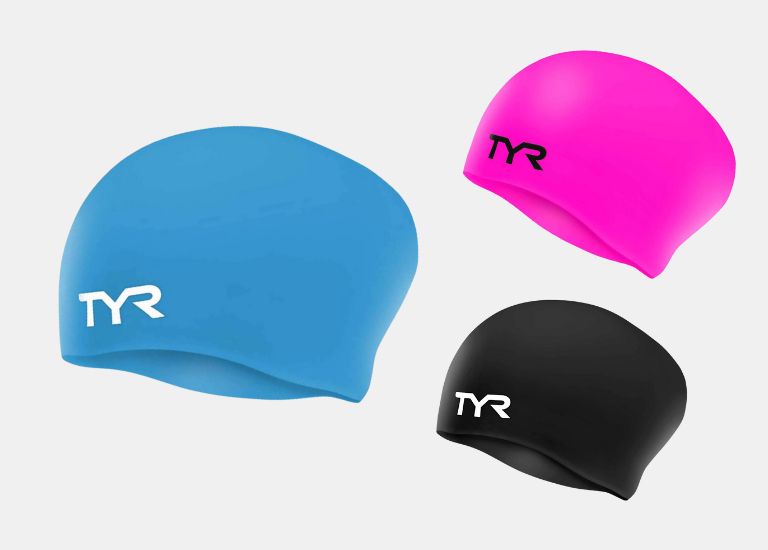 California-based TYR's series of long hair swim caps are designed much like the Speedo cap above, but with a little more space at the back of the cap.
Made with 100% silicone, the TYR Sport long hair cap has a specially contoured cut around the ears and sits softly and comfortably around your head while you swim up and down the pool.
---
Friendly Swede Silicone Hair Swim Cap
⭐ Best long hair swim cap for covering ears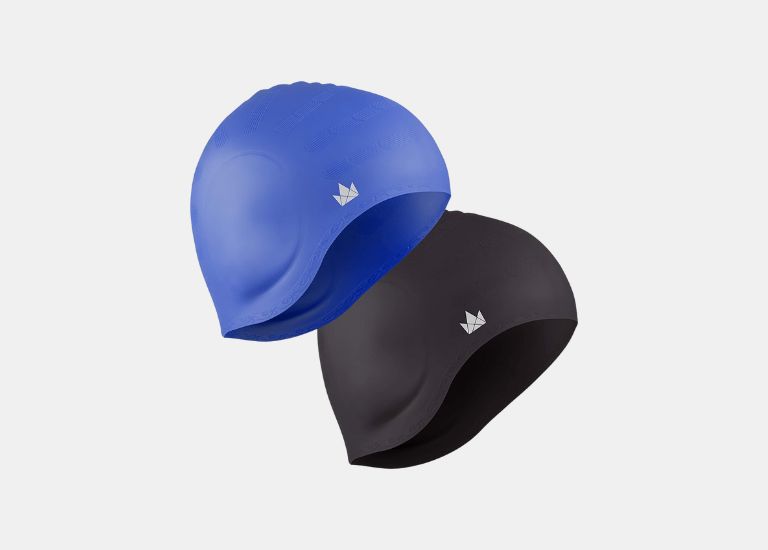 For a change of pace, we have the Friendly Swede cap for long hair and covering your ears.
If the idea of getting water anywhere remotely near your ears makes you a little nervous, this cap will completely wrap around them, giving you a silicone shield around your hearing apparatuses.
(The cap won't give your ears 100% protection if you dunk your head, though. If you want to keep water out of your ears when swimming, consider picking up the best earplugs for swimming, Mack's silicone soft putty ear plugs.)
One thing I really like about this particular cap is that it has light treads on the top that makes it easier to adjust and reposition the swim cap. One of the issues with swim caps, and this goes especially for swimmers with really long hair, is that they can slide around when moving about in the water, whether that's swimming, doing flip turns, or churning out a pulse-pounding water aerobics class. The light treading makes it easy to readjust the cap when this happens.
The Friendly Swede caps come in a 2-pack, with two different color combination choices.
---
Sporti Long Hair Swim Cap
⭐ Best for swimmers with medium to long hair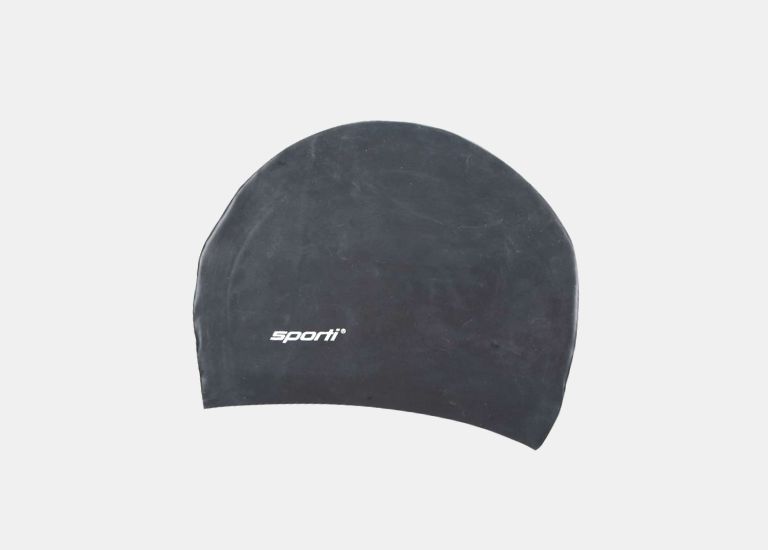 Another long hair swim cap from the folks at Sporti—and another excellent budget-friendly option—this cap is perfect for swimmers with medium to long hair.
Like its sibling, the Sporti Long Hair Swim Cap is made with 100% silicone which is nice and soft and doesn't feel like hair is getting ripped out of your head each time you take the cap off.
Sporti offers the cap in a huge range of colors—12 color choices, last time I checked—and at that price point, you can't really go wrong.
---
Friendly Swede XL Long Hair Swim Cap
⭐ Best extra large swim cap for braids, deadlocks, afros, and extra long hair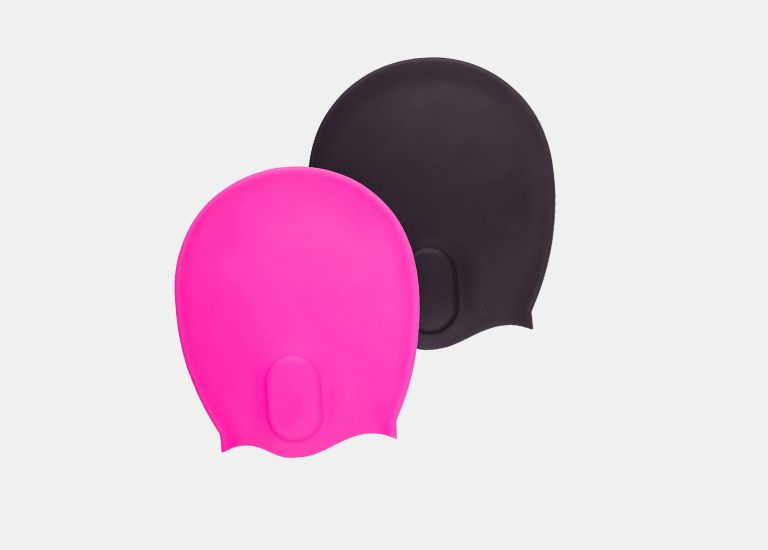 Looking for an XL swim cap for more recreational swimming and keeping hair and ears dry in the shower or when wading into the water?
The Friendly Swede XL Cap comes in a two-pack and are perfect for those looking for maximum hair storage. They are designed for really long and bulkier hair—like dreadlocks, braids, or afros—and are meant to be worn looser compared to caps that are meant for lap swimming.
Like the "regular" Friendly Swede caps, the cap comes down over the ears, protecting them from splashing water. While they won't keep water out from submerging under the surface of the water, the cap is an excellent choice for keeping hair and ears dry in the shower or bath or from light splashing.
Made with 100% silicone, the caps don't yank and tear on your hair when putting on and taking off, and they are designed specifically for adults thanks to their gargantuan size.
---
Long Hair Swim Caps — FAQs
What are the benefits of wearing a swim cap for long hair?
The big misconception about swim caps is that their primary function is to keep your hair dry. But no matter how tightly you wrap your swim cap around that long-hair-do of yours, water will inevitably seep in.
So why should you wear a swim cap at all?
There are several reasons why you should wear a swim cap, especially you swimmers with long hair:
1. Swim caps keep your long hair out of the pool.
Hair falls out. Fun fact.
When it falls out in swim pools, it accumulates into little balls at the bottom of the pool, floats like strings across the sub-surface of the water, and gets caught in the pool filters. I can't count how many times I have taken a stroke mid-workout and someone's errant hair(s) have gotten tangled across my fingers.
In terms of pool maintenance and reducing the yucky factor (no one likes swimming mouth first into someone else's hair, after all), swim caps keep your long, luscious mane centralized on your head.
2. Swim caps protect that long hair-do from chlorine and other harsh pool chemicals.
Even though your hair won't be 100% dry at the end of your swim, a cap does do a lot of good when it comes to protecting your hair from chlorine.
Chlorinated water will seep in there, but it won't be the same kind of soaking that you will receive without a cap on. Pool chemicals can really do work on your long hair, so protect it with a swim cap. Pair your long-haired swim cap with a quality swimmer's shampoo and your hair will thank you.
Pro Tip: Rinse your hair with water before you get into the pool to give it another layer of protection from chlorine. Your hair will absorb far less chlorinated water because it is already wet. Science!
3. Keeps your hair out of your face when swimming.
Ponytails can work in a pinch, but if you want to make sure that hair doesn't mat down across your favorite pair of swim goggles and blind you Cousin It-style, wrap that long hair up in your swim cap.
Being able to see where you are going is key when swimming. This is also one of the reasons that young children should wear a swim cap for toddlers when in the water–seeing where they are and where they are going is key.
Safety first and all that!
4. Swim caps help you swim faster.
The actual amount of drag that your hair causes when swimming is minimal, and obviously depends on how much hair you are tugging along behind you in the water.
Your hair absorbs water, creating excess drag. When you wrap your head in a swimming cap specifically designed for long hair, you cut down excess weight and resistance in the water (which is nearly 800 times denser than air–let that sink in for a moment).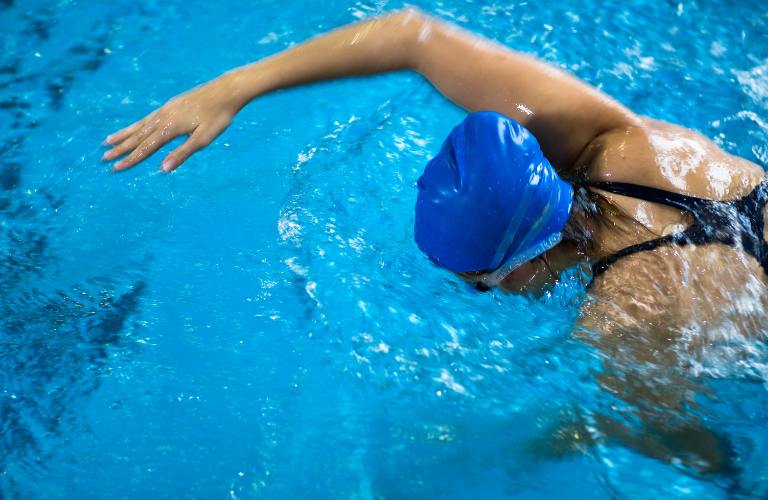 What type of swim cap is best for long hair?
Swim caps come in a variety of materials, including silicone, latex, and Lycra The most two most common for lap swimming are silicone and latex swim caps.
Silicone swim caps are perfect for long hair as it is soft and also exceptionally durable. They can be stretched further—perfect for wrapping the cap around your long hair once it's up in a bun—compared to other types of swim caps.
Latex swim caps the cheapest of the bunch and are better suited for "regular" hair as they are more prone to ripping and tearing.
Finally, there are also Lycra swim caps, which are great for keeping your hair up and out of the water, are breathable, and are not good for lap swimming as they can slide off more easily.
How do you keep long hair in a swim cap?
The fastest and easiest way to keep long hair in a swim cap is to put it in a bun or "pack" it before pulling the cap over your hair. Collect any stray strands of hair and tuck them up into the cap once it's on your head.
Can long hair swim caps keep hair dry?
Yes and no. Long hair swim caps can keep your hair dry as long as you do not submerge your head under the water.
They protect hair from incidental splashing—like if you are in the shower, bath tub, or wading/walking in a shallow depth swim pool—but once your head goes under the water, there will be some seepage into the cap.
The Bottom Line
Swim caps are one of the essential tools for swimming safely and protecting your hair from pool chemicals like chlorine, which strips out the oil in your hair, leaving it dry and brittle (and smelling like chlorine).
Choosing the right swim cap for long hair is crucial for keeping your hair healthy and helping you see properly in the water.
To recap our top choices:
The Speedo Silicone Long Hair Swim Cap is our top overall choice. Made with soft and wrinkle-free silicone, it's the best option for swimmers with longer hair.
Sporti's Long Hair Bun Silicone Cap is a budget-friendly option for swimmers stuffing a bunch of hair into the back of their swim cap.
And the Friendly Swede XL Long Hair Swim Cap is the best cap for really long or bulky hair and people who want to keep hair on the dry side when doing light water activities.
Choose the right swim cap for you and make the most of your time in the water.
Happy swimming!
---
More Guides and Articles Like This
How to Get Chlorine Out of Hair (Goodbye Dry and Smelly Hair). Fed up with the effects and smell of chlorine in your hair after swimming? Here is how to remove chlorine from your hair once and for all.
The 5 Best Body Washes for Swimmers (Bye-Bye Chlorine Smell and Dry Skin). Looking for some proven and gentle body washes to get rid of the pesky smell of chlorine from your skin? We've got you covered!