When it comes to swimming outdoors, a rash guard can help you get more from your time in the sun. Here's a detailed look at the benefits of swimming with a rash guard and what to look for when choosing one.
When hitting the water, whether in the ocean or at your local outdoor lap pool, protecting your skin against UV exposure is crucial.
While there are plenty of ways to protect yourself from the harmful effects of over-exposure from the sun, including waterproof sunscreens, one of the best ways to almost completely eliminate sunburns is through the use of a rash guard.
In this article, we will look at how effective rash guards can be for swimmers, the right fabrics to look for if you plan on using it for swimming, and more.
Let's jump right in.
What is a Rash Guard?
Rash guards are short-sleeve or long-sleeve shirts made of "swim friendly" fabrics like polyester, elastane (Spandex), and nylon.
Although originally designed for surfers and to protect them from rashes that happen out on the water (hence the name!), rash guards have evolved to be an all-purpose shirt for wet environments and protecting swimmers from the elements in a variety of ways.
Why Do Swimmers Wear Rash Guards?
There are some excellent reasons to wear a rash guard when you are swimming.
Some of the benefits of swimming with a rash guard include:
Rash guards protect you from the sun.
There are fewer things more enjoyable than swimming laps at your local outdoor swimming pool.
Rash guards protect your skin from extended UV exposure. They are available in a variety of shapes that can increase or decrease coverage as you see fit.
Rash guards come in long or short sleeves, high or low neck, and with varying degrees of thicknesses to provide maximum UV protection. Polyester rash guards, for example, provide up to 98% protection from the sun.
Keep you warm.
On the flipside of temperature, rash guards can also keep you warm when swimming in cooler water.
Rash guards provide a balance of coverage and warmth between going with skin and a cold water swimming wetsuit.
Rash guards are effective at reducing that chill when swimming outdoors on an overcast day.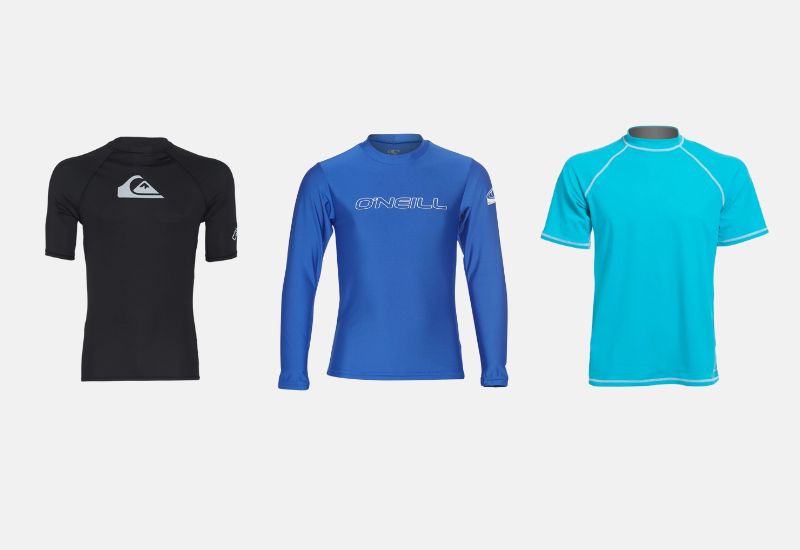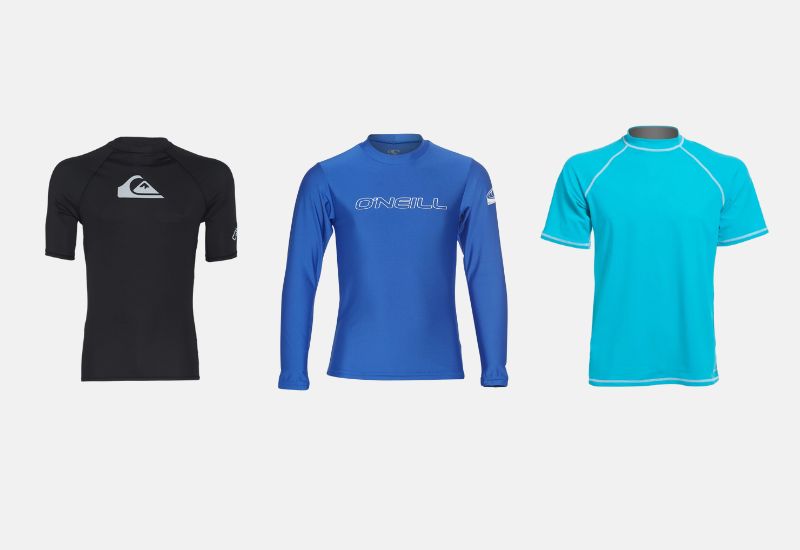 Increase visibility on open water.
Rash guards—particularly the bright and vibrant colored ones—are an excellent tool for increasing visibility when you are out on open water.
Whether you are body boarding, or swimming up and down the beach, it's crucial that you can be visible to others on the water, boating or otherwise.
Waves can quickly roll in unannounced, swallowing up swimmers playing on the beach or simply wading out into the water, and a rash guard keeps swimmers visible.
For open water swimmers, a brightly colored rash guard or swim shirt, paired with an open water buoy and a bright open water swim cap, is just smart and safe swimming sense.
Better range of motion
Swim shirts are designed specifically to allow full range of motion when being worn.
Compared to a loose-fitting cotton shirt, which will roll up and take on tons of water, weighing you down, rash guards are made with performance in mind.
The water-repellant fabrics don't absorb water and sit snugly on the skin, allowing swimmers to move with freedom and proper range of motion.
Reduce rashes
As the name of the shirt suggests, rash guards also protect your skin from rashes that happen as a result of using a surf board, body board, paddle board, etc.
The surface of boards gets covered with sand which combines with board wax to create an abrasive texture that can tear up your skin when you lay on it.
Rash guards provide a protective layer between the gritty combo of sand and wax and your skin, extending your time out on the water and reducing painful rashes and irritation.
Swimming with Rash Guards — FAQs
What fabrics should I look for in rash guards for swimming?
Rash guards and swim shirts are made of polyester, nylon or elastane.
Polyester and nylon are built for maximum durability, whereas elastane is a stretchy and
Are rash guards chlorine-resistant?
This depends on the primary fabrics in the rash guard.
Materials like nylon and polyester are exceptionally durable and take a very long time to fade and stretch.
Competitive swimmers, who spend a TON of time in chlorinated water at swim practice, choose training swimsuits that are made mostly if not entirely of polyester.
(See also: Best training and lap swimming suits for men and Best lap swimming suits for women)
Elastane (also known as Spandex) is a more stretchy and form-fitting material, allowing more stretch in the fabric, but it degrades much faster from chlorine exposure and/or UV exposure compared to polyester and nylon.
The best rash guards for swimming have a blend of both elastane and polyester, balancing durability and a comfortable fit.
Look for a rash guard that has around 80-90% polyester or nylon with 10-20% elastane for an optimal combination of fabric endurance and fit.
Is a rash guard the same as a swimsuit?
Rash guards and swimsuits differ by the amount of coverage they provide.
Swimsuits design bottom and top coverage. A rash guard specifically provides top coverage.
Rash guards, at the end of the day, compliment your swimsuit, not replace them.
Where is the best place to buy rash guards for swimming?
There are plenty of retailers who sell rash guards online, including Amazon, Walmart and Dick's Sporting Goods.
SwimOutlet, a US-based swim-focused retailer has the best and broadest selection of swim shirts and rash guards for both leisure and more competitive swimmers.
They carry rash guards in all sizes, for men, women, and children, and carry all the "big" rash guard brands, including Speedo, O'Neill, Nike, Sporti, and more.
To shop SwimOutlet's full range of rash guards, click here.
The Bottom Line
Rash guards are an excellent tool for getting more enjoyment out of your time out and in the water.
Whether you are swimming laps under the blazing sun, splashing in the waves, or plotting your next big open water swim, a rash guard is an essential.
The right rash guard protects you from the sun, provides for a comfortable fit, reduces board rash, and keeps you warm on days that have a chilly wind.
Choose the right rash guard for you and your swimming, and swim on!
---
More Rash Guard Guides and Articles
7 Best Rash Guards and Swim Shirts for Women. Ready to conquer the water? Here is a breakdown of our favorite rash guards and swim shirts for women.
7 Best Rash Guards and Swim Shirts for Men. Hit the water and sun with confidence. Here is our hand-picked selection of the best rash guards and swim shirts for men.
6 Best Rash Guards and Swim Shirts for Kids. Rash guards a great way to provide protection during those long summer days. Here's a round-up of the best rash guards and swim shirts for kids.