Ready to level up your distance swimming? Here are five epic distance swim workouts from some of the best coaches and athletes on the planet.
The distance swimmer lifestyle is a unique one.
You typically swim more kilometers in a week than people drive. You have a list of about a million ways that you keep track of laps. You look with envy at your fast-twitch teammates, who are usually done their swim workout as your warm-up winds down.
But there is a lot of pride and satisfaction that comes from training in the "Animal Lane."
Below is a collection of some of my favorite distance swim workouts that I have collected over the years from some of the best coaches and distance swimmers on the planet.
No matter what your current fitness level, you can use the distance swim workouts below as a template for your training. Adjust the length, adjust the intervals; whatever you need to do.
Let's get our distance on!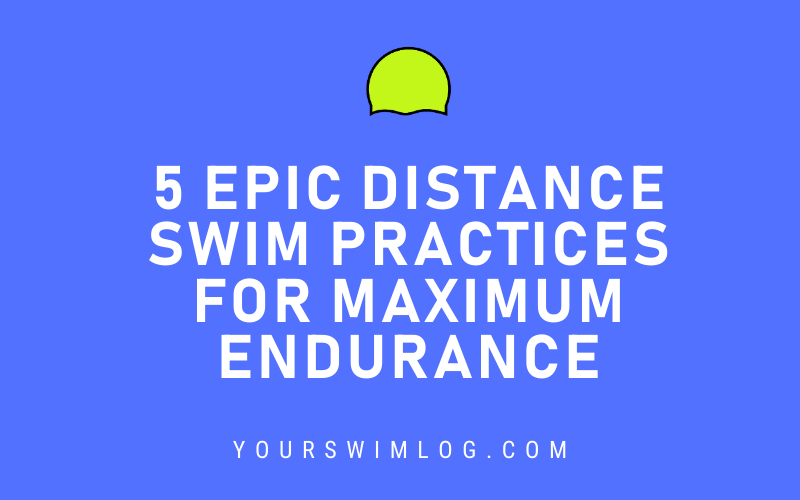 The Ledecky Threshold Set
Katie Ledecky is one of the best swimmers on the planet. Her accomplishments on the international stage are legendary. It will come as little surprise, then, that the most dominant female distance freestyler in history also trains like a complete monster.
The following distance set, which was done while Ledecky was training at Nation's Capitol Aquatic Club under Bruce Gemmell, was done as Ledecky was preparing for the 2013 FINA World Championships. At that meet, she would break world records in both the 800 and 1500-meter freestyles.
Gemmell notes that "cruise" is left purposely vague for swimmers to decide for themselves. The set was done in short course yards and represented 6,000 yards of a 9,700 yard swim practice. "Pink" is part of the color-coded system popularized by Jon Urbanchek to describe intensity of effort. Pink is aerobic work, with your heart rate about 150bpm.
5 rounds—
3×100 free swim @1:10 cruise
1×300 free swim @3:10 Pink (Target: 2:58)
3×100 free swim @1:05 cruise
1×300 free swim @3:10 Desc 1-5 Start at Pink (2:58)
The Eddie Reese Ladder Set
Eddie Reese is one of the most successful swim coaches on the planet. He has wracked up an insane amount of NCAA and conference titles in his decades at the University of Texas.
One of Reese's favorite sets for getting his athletes in great shape is this variation of the ladder set, where the reps get longer and the rest gets progressively shorter. The intervals listed below are done in short course yards.
2 rounds –
5×100 free swim @1:10 (Round 2: 1:00)
4×200 free swim @2:10 (Round 2: 2:00)
3×300 free swim @3:10 (Round 2: 3:00)
2×400 free swim @4:10 (Round 2: 4:00)
1×500 free swim @5:10 (Round 2: 5:00)
Take 2:00 rest between the first and second round

The Broken 1500s Set
Distance swimming is no joke. You don't need me to tell you that. Not only are the races the biggest on the racing program, but distance swimmers often have the biggest meet schedule on their hands as well.
The broken 1500s set below, submitted by Jake Des Roches, a coach at Sandpipers of Nevada, prepares middle distance and distance swimmers for the epic amount of racing (multiple 400s, 800s, and 1500s for example) that happens at swim meets.
The main part of the distance workout is a set of broken 1500s that are designed to push swimmers past what is comfortable. The set was done long course meters, and as Des Roches notes, the set "is certainly not for those afraid of big challenges and potential failure."
3x
4×100 free swim with snorkel. DPS @ 1:45
:60s rest
500 for time @ 7:30
+:30s transition between rounds
The 500s for time were done as follows:
Round 1: 500 is 10×50 @ :40/45 best average
Round 2: 5×100 @ 1:20/25 best average
Round 3: 500 from the block
The Split Buster
Although Gregg Troy has more recently become known among modern swim fans as Caeleb Dressel's swim coach, within the swim community he has long been known for his distance-based training philosophy.
The following distance workout is highly adjustable according to your fitness levels and goals. As Troy notes when he sent over the practice, the intervals can be scaled to where you are at.
This set will require you to be Johnny-on-the-spot with getting your split times, whether that is sneaking a peek at the pace clock pool-side or doing an open turn to check your swim watch.
As outlined below, the set is 4,500m. But for those who are really looking for a challenge, you can start the first rep at 1,000m and progress down to 200s.
The final round of 100s can be tailored to the athlete. Could be race pace, all-out, or changed completely to a timed swim of a different distance. Some of Troy's swimmers have done a 400 IM for the last round in lieu of the 100s.
Make no mistake, this set is taxing physically and mentally.
3-5 rounds…
500 free swim (get your split at the 400)
400 free swim (faster than your split from above; get your split at the 300)
300 free swim (faster than your split from above; get your split at the 200)
200 free swim (faster than your split from above; get your split at the 100)
**1-5×100 free swim (all faster than your split from above)
(For more of Troy's workouts, check out this set he did with Ryan Lochte that the swimmer called one of the hardest he'd ever done.)
The Meat and Potato 100s
If you've spent any time in the distance lane, you have come across a variation of the 30×100 set.
This distance set is not particularly sexy, but judging by how many top-level swimmers and programs use it, it works.
Kieren Perkins is my favorite miler of all-time (he broke the world record in the 800 and 1500m freestyle in the same race at my home pool), and would regularly do sets like the following under the supervision of his long-time coach, John Carew.
The training that Perkins did bucked the trend of massive over-distance swimming that is/was rampant in our sport. Instead, Carew and his star swimmer focused on swimming lots of meters at a pace that was faster than what Perkins hoped to compete at.
Perkins and Carew attacked this particular set with the very specific goal of not having his heart rate go above 150bpm. Perkins would average a stunning :56-:57 per repetition on this set, which allowed for more rest than is typically seen in distance sets.
30×100 free swim
First 10 @2:00
Last 20 @1:40