The fastest man ever across 50 yards used a logbook to develop his insane speed and uncanny feel for the water. Here is how to make this tool work for you as well.
---
Whenever we talk about the great swimmers invariably something comes up about their relationship with the water. The way they seem to flow and cut through, across and over the water in a manner which is difficult to adequately describe but fascinating to watch.
We've even popularized a term for this particular talent or skill, terming it, "feel for the water."
He has a great feel for the water. Her feel for the water is what sets her apart.
These things are not uncommon to hear on deck, and because we've made "feel for the water" into lore it is viewed as something that is purely God-given or inherited.
Not so.
Even the fastest man to ever swim the 50-yard freestyle developed this feel for the water with intent and focus.
He found and built it in pages and pages of his log book where he detailed notes and descriptions of how he felt in the water. How his muscles felt. How each differing movement of his limbs solicited a different reaction in the water.
Yes, we are talking about Caeleb Dressel, the same person who earlier in 2016 twice broke the long-standing US Open record in the 50-yard freestyle, ultimately swimming an 18.23 during finals at the SEC Championships at the University of Missouri.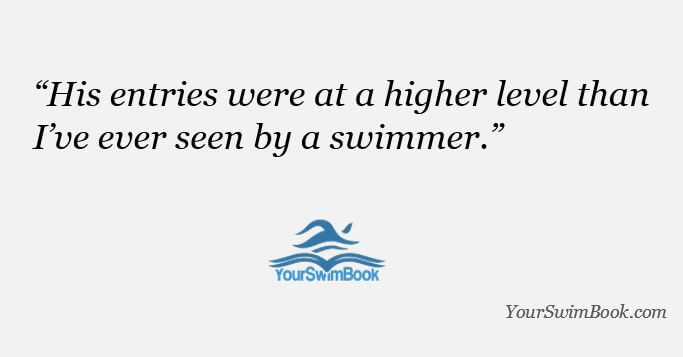 Swimming at a Higher Level
Before Dressel became a high school phenom, smashing numerous NAG records, and before he went to the University of Florida to swim for Gregg Troy, Dressel was a promising up and comer with the Bolles Sharks program.
During his time in Jacksonville Dressel used the pages of his logbook to steadily develop his feel for the water.
At Bolles one of his coaches was Jason Calanog, who is now a coach at Texas A&M. Calanog had his swimmers track their workouts in a log book, and encouraged them to write notes about their practices.
Dressel' s log book took a nearly legendary status, with detailed descriptions and commentary.
Dressel would even jump out of practice mid-session in order to make note of something in his log book while it was still fresh in his mind:
"His entries were definitely at a higher level than I've ever seen by a swimmer," Calanog told the NYT recently. "He'd write pages and pages about how every muscle felt and what he wanted his stroke to feel like."
How to Use a Logbook to Help You Swim Faster
Now, you don't need to write a dissertation each time you hop into the water in order to make a logbook work for you, and you don't need to hop out after every set to get poetic about your swimming.
If you decide to start using this tool, and swimmers like Katie Ledecky, freestyle distance legend Janet Evans, and even Michael Phelps and more all track their workouts as well– here are some best practices for reaping the most of this powerful weapon:
Write out more than just the workout you did.
Reciting the sets and repeats you did can provide some insight into your training, but the running commentary of how you felt, what led to you performing the way you did, is the most rewarding aspect of logging your workouts. Your logbook is a place where you can learn habits, detect patterns, and get a deeper understanding of your performances.
SEE ALSO: 5 Science-Backed Ways That Tracking Your Workouts Can Make You a Faster Swimmer
Write it out immediately after practice.
Dressel was smart to write out his thoughts mid-workout when freshest—doing so insured an accurate record. Writing out your workouts post-workout while the workout, results and how you're feeling is freshest gives you a chance at making it as accurate as possible. We love to think that our recall is perfect, but time distorts our memories. Dry your hands off, and dive into your logbook after your practice is done.
Use it for feedback.
Your logbook is more than just a bunch of results, it's the road-map of your progress. It shows you the things that work, and the things that don't. Dressel used it as a tool for gaining feedback from himself, achieving intuitiveness that is on another level. Your logbook is a place for experimentation, for trying new things, and for steadily crossing off those that don't work.
Evaluate with your coach.
Not many swimmers have the kind of deep attentiveness that Dressel possesses. Sharing your logbook with your coach is a powerful way of not only getting insight to your own performances, but will also help your coach learn more about you and how you react to specific types of training. With the notes and feedback your coach will get a broader understanding of how you are actually feeling in the water, helping them to coach you even better.