Fast freestylers have a powerful catch and an early vertical forearm. Here is an awesome drill to help you do both. 
Coley Stickels, head coach of the University of Alabama, is pretty familiar with elite level swimmers.
As a 14-time All-American and USA National team member as a swimmer he has worked his way up the coaching ranks since hanging up the swimsuit in 2001, starting as an assistant under Frank Busch at the University of Arizona (his alma mater).
Before heading to Alabama, he was the head coach at the Phoenix Swim Club where he sent nine swimmers to the 2012 US Olympic Trials.
It was in Phoenix that Stickels worked with legendary and timeless South African swimmer Roland Schoeman, who placed 5th in the 50m freestyle at the London Games.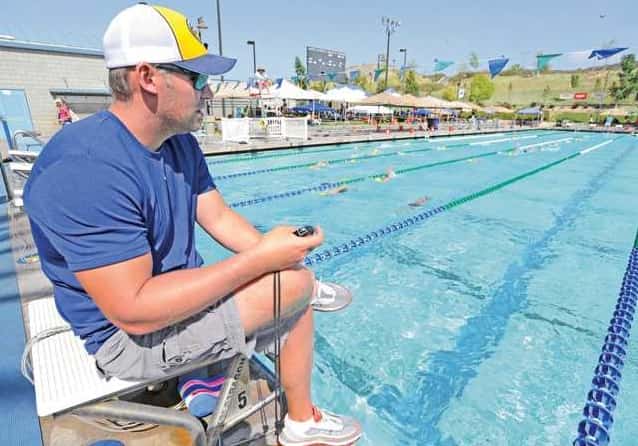 Coley Stickels' Favorite Drill for Sprint Freestylers
Today Stickels stopped by to share one of his favorite drills for freestylers, something called the "retraction drill."
It's designed to promote an early vertical forearm, something even freestylers of the non-sprinting variety need to work on.
"It's designed to reinforce EVF by keeping the elbow in front of the head as the recovery arm comes over," says Stickels.
Here is how to do it:
Strap on a swimming snorkel and one paddle.
The paddle stays on the "catch" arm, with the opposite arm in a recovery position.
The catch arm does a quick scoop-like motion engaging the core and forcing the torso and hips into a flattened position, while the recovery arm moves forward.
Both arms quickly retract to the original catch and recovery position, before then taking a full cycle of a stroke.
The swim paddle then switches to the other hand.
"The paddles allow for more surface area on the hand and forearm, which accentuates the immediate catch," explains Stickels.
Here is a video of one Coley's swimmers performing the drill:
A big thank you to Coach Stickels for sharing this sprint freestyle drill. Give it a shot at your next practice and work your way towards a better catch.
You can catch up with Coley on Twitter, as well as stay up to date with the news and goings-on of the Canyons Aquatic Club here.
See Also: