Looking for some killer sprint workouts for swimmers? World champion and national level regular Nick Brunelli shares some of his favorite sets for sprinters.
Nick Brunelli is an American sprinter who was a regular on the national scene during the 2000's. At the Olympic Trials in 2004 he came up just short of qualifying for the team in the 50m freestyle.
Despite being one of the fastest swimmers in the world, he had the misfortune of competing for an Olympic berth for a country that regularly fields a deep roster of talent.
In 2008, he would again come one place away from making the team, placing 7th in the 100m freestyle and just missing making the relay team that would later go on to swim in infamy in Beijing.
He would make another run at making the 2012 team but would come up short, putting an end to a long run of top tier swimming that included over half a dozen world championship medals.
Nick started a blog in the year prior to his Olympic Trials run in 2012, frequently posting his thoughts and swimming workouts. Even though he hasn't updated it since June of 2012, and has since retired, his sprint swim workouts are still there for us to try out and enjoy.
Here are three of my favorite swimming sets from his training log.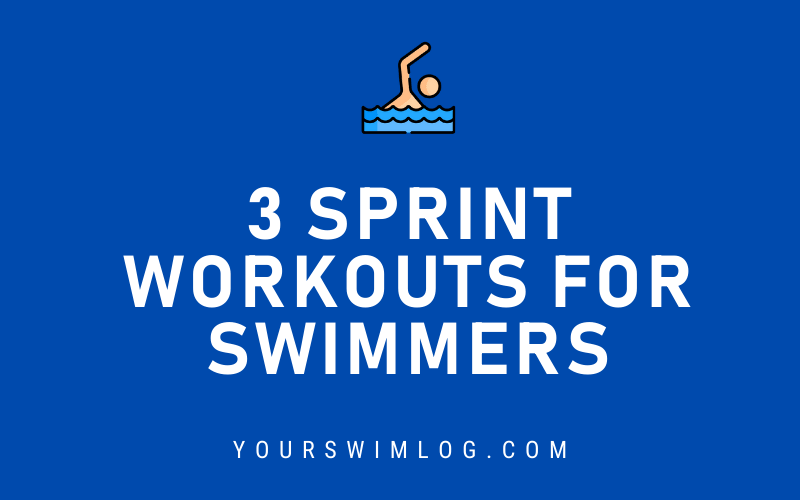 Sprint Set #1
Done in short course yards, this sprint set is high rest, low yards, and high speed. Passive rest between the reps is encouraged to help flush metabolic waste and kickstart recovery. Even though this set is low yards, it is meant to be done with complete focus and maximum speed with your freestyle stroke.
5 rounds of—
1×50 all-out @3:00 (Nick did these from a push, and averaged 21.5's.)
1×75 all-out @6:00 (He averaged 35.5's)
For a total of 625 total yards at 100% intensity.
Sprint Set #2
This set was originally done in short course yards alternating with long course meters. Although it can be adapted easily enough depending on your pool set-up. This set is a mix of middle distance and sprint work, designed to improve your aerobic capacity while also hitting the top ends of your speed.
The last round is short, but under fatigue, is a great way to simulate those last few meters of a sprint race when your body is flooding with pain and you are struggling to maintain speed and excellent technique.
3×200 swim in short course yards, descending 1-3 @ 7:00 (Nick's results: 1:50, 1:47, 1:42)
3x50m swim all-out in long course meters from a dive @ 6:00 (Nick did these in 23.5, 23.6, 23.8)
3x20m swim all-out from a dive @ 4:00 (:09, :08.8, :08.88)
While this set only totals 900 meters (or 750 if you walk back on the final dive 50's), it's high-quality yardage.
Sprint Set #3
This one is my favorite, and I have done it on a couple of different occasions. The first time left me pretty winded, but I am looking forward to giving it another go soon.
Take your 100 best time–doesn't matter what stroke–and add :15 seconds. We are going to try and hold that speed for the duration of the set. It starts out somewhat easily with the 25's, but progressively gets more challenging to hold on to the target times.
So let's say your best 100 time is :55. The target pace is 1:10.
3 rounds of—
6×25 swim @ :30 (target: :17.5's)
4×50 swim @ :60 (target: :35's)
2×75 swim @ 1:40 (target: :52.5's)
1×100 swim @ 2:10 (target: 1:10)
200 easy @ 4:00
Nick originally did this set in long course meters, with his target pace being 1:03. The set totals 2,400 meters.
More Swim Sets & Sprint Guides: