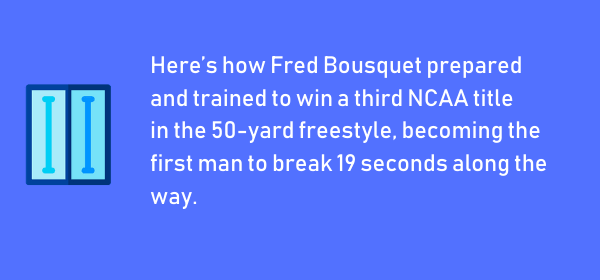 Fred Bousquet was the first man to swim under 19 seconds in the 50-yard freestyle and break 21 seconds in the 50 meter freestyle (long course). Bousquet was a part of an elite group of French sprinters that loomed large during the 2000s.
His coach at the time, Dave Durden (now the head coach at Cal), worked with Bousquet during his time at Auburn University, where he was a stand-out.
As a senior, Bousquet swam the first 18-second 50-yard freestyle, swimming an 18.74, shaving a significant chunk of time off Tom Jager's 15-year old record (19.05).
During the rubber suit years, Bousquet became the first man to swim under 21-seconds in the 50m freestyle, dropping a 20.94 in the spring of 2009.
The following sets were pulled from Bousquet's training at Auburn during 2004-2005. There is an emphasis on developing the kick and incorporating it into regular swimming.
During the fall, the focus would be on technique and building an aerobic foundation to be able to compete multiple times per day at NCAA's.
Below are a few of the swimming workouts that Bousquet would do during this phase.
3x [200 + 150 + 100 + 50 – all done with a swimmer's snorkel, third round with fins, long course meters]
200: Freestyle swim. Focus on decreasing stroke count while building the intensity of kick.
150: 25m wide scull, 15m quick catch, 10m swim.
100: Kick, alternating body position every 15 meters.
50: 15m surf kick, 35m swim maintaining kick intensity.
"Quick catch" is a variation of an old school freestyle drill that is helpful in improving the early vertical forearm and catch.
"We did something that is called 'quick catch and we could do it with fins, no fins, snorkel, without a snorkel, head up, head down. Different body positions, having our athletes try different things, learn different things and basically all it is, is a sprint doggie paddle," said Durden.
6x [150 @ 2:00 + 100 @ 3:00]
150: 50 swim fast, attack the turn, 100 cruise maintaining kick intensity
100: 50 kick fast, 50 kick cruise
This set is fly-specific and was done short course yards:
8×75 + 8×50 + 8×25
8×75 @1:10 – ODDS: 2 strokes right arm, 2 strokes left arm, 2 full; EVENS: 35 swim fast with flip turn, 15 easy, 3 fast strokes off last wall
8×50 @:50 – ODDS: 2 strokes right arm, 2 strokes left arm, 2 full, EVENS: 25 build freestyle swim, 15 underwater dolphin kick, two full strokes butterfly fast
8×25 @:30 – ODDS: 2 strokes right arm, 2 strokes left arm, 2 full, EVENS: all fast
Fine-tuning the details
As Bousquet neared NCAA's, the yardage came down, rest went up, and the focus turned to sharpening the details. This included swimming as close to race speed (or faster) as possible.
"We worked daily on perfecting the mechanics of his start. Dive entry and breakout were a couple of the keys that we worked on with Fred," said Durden. "We did a lot of work at race speed to practice his turns and end-of-race finishes."
One of the tools Auburn University used, whose roster also included Bill Pilczuk, whose start was legendary, were running dives (or "runners").
This particular drill helps encourage a better body position diving into the water and the running start adds a jolt of speed.
8×50 from a running dive.
The goal was to be able to swim two laps short course yards in under :20.
More Stuff Like This:
Train Your Ability to Sustain High-End Speed with this Set from Olympic Coach David Marsh. This set for sprinters is one of the workouts Dave Marsh used at Auburn University to develop a sprinting dynasty.
Butterfly Sets: How to Dominate Your Next 100m Butterfly. Two awesome sets for developing a monster back-half on your 100m fly (equally applicable to other strokes as well). The sets were developed by Bob Bowman for Mr. Butterfly himself, Michael Phelps.
H/T to Michael Stott for covering Bousquet's training in the November 2007 edition of Swimming World Magazine.