The breakout and your underwaters play a huge role in your results in the pool. Here's a sneaky way to level up your breakouts.
Caeleb Dressel's freestyle and butterfly are killer.
He won the 50 and 100 yard freestyles at NCAA, and also upset Olympic champion Joe Schooling in the 100 yard butterfly.
While Dressel's above-water speed is no joke—he swam a 21.53 at nationals in 2015 long course—his underwaters have become somewhat legendary.
See Also: How Caeleb Dressel Used His Logbook to Become the Fastest Sprinter in History
Take the Rio Olympics, for example.
He led off the 4x100m freestyle relay for the American men, and when you watch the video of his start you understand why.
He is simply a monster off the blocks and out of the breakout, exploding to a half body length lead against some of the top sprinters on the planet.
Re-watching this race I noticed something else that he does, as well as Michael Phelps, another monster with the dolphin kick.
They both use their dolphin kick to propel them past the competition, and then use one final dolphin kick as they breakout.
This last fly kick happens as they are taking their first stroke, and helps them to explode to the surface like a nuclear submarine smashing through the ice.
Below is a screenshot from Dressel's first breakout on the 4x100m freestyle relay (I apologize for the not-so-hot image quality).
At the top of his final underwater dolphin kick Dressel is halfway through his first pull: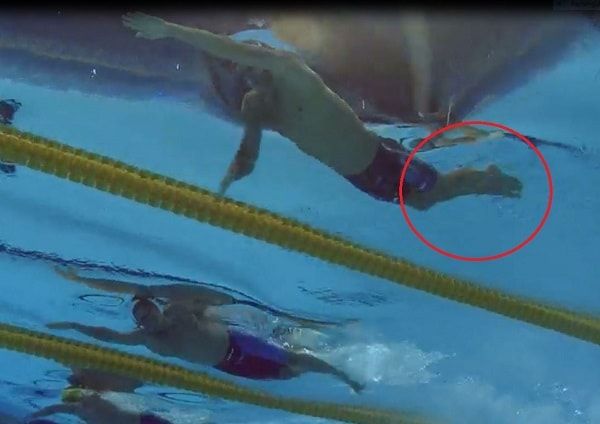 Michael Phelps does this as well.
In the image below–again, I apologize for the grossness of image quality–Phelps is completing the last dolphin kick of his breakout at the same time that he is finishing his first stroke.
The reason that they are both so adept at this is likely because they are both very strong butterfliers. During a butterfly breakout we use our dolphin kick to power through the first stroke cycle. It would make sense that performing a final dolphin kick at the top of the breakout would come more naturally to butterdiers, err, butterfliers.
But with freestyle (and backstroke) events, when we do our breakouts we perform our designated number of dolphin kicks, and then flutter kick to the surface into our first stroke.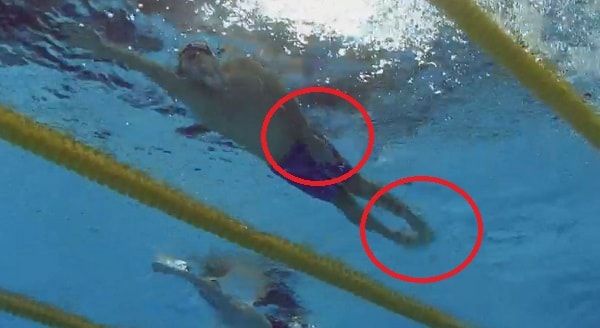 You can see this with the anchor of that relay, Nathan Adrian.
The London champion in the 100m freestyle elects with the more common approach of freestyle kicking into his first stroke.
(He also picks his head up while still under the water, a surprising no-no for someone who is otherwise highly process-focused.)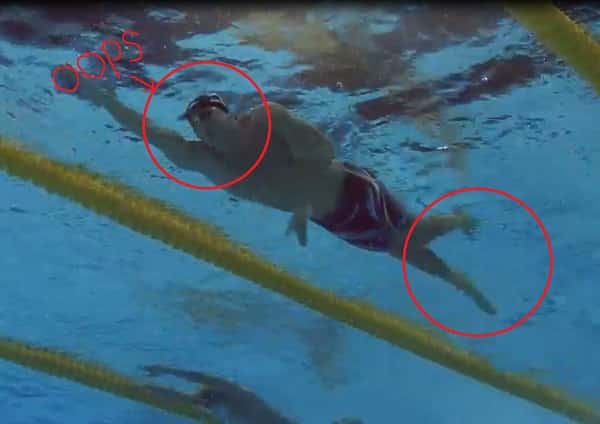 Your Turn
Getting the hang of the timing of this takes a little bit of work, and will likely feel a little awkward at first, as though you are dolphin kicking at the surface of the water.
The key with making it work is really hitting that last dolphin kick and using it to power you through that first stroke cycle at full speed and power.
Give this dolphin kick technique a try at practice today and see if you feel a difference.
More Stuff Like This:
How to Develop an Awesome Underwater Dolphin Kick. Our flagship guide for improving your underwater fly kick, featuring tips from Olympic gold medalists, elite coaches, and biomechanists.
How Far Underwater Should I Be Dolphin Kicking? The underwater fly kick is graceful and really, really fast. But at what point does it become counter-productive? Here's how to figure out how far you should be kicking out on your walls.