The TYR Tracer goggles are competition and training goggles that are slim in profile and sharp in looks. Here's a swimmer's review of the TYR Tracer Racing goggles.
TYR's Tracer Racing goggles are high performance racing swim goggles.
If you have ever watched Olympic gold and silver medalist Cody Miller's YouTube videos—super recommended for swimmers of all ages—you've likely seen him rocking these exact goggles.
They are low profile, durable, and with the mirrored finish they look particularly slick.
Here are my first impressions and full review of the TYR Tracer Racing goggles.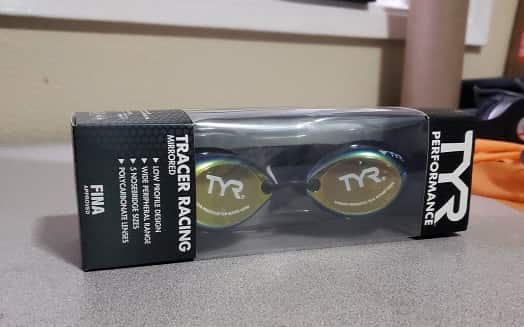 TYR Tracer Racing Goggles Fast Facts
Designed for high-performance swimmers.
The Tracers come with five different nose piece sizes.
The lenses are made of a heavy-duty and long-lasting polycarbonate.
Like just about every other pair of swim goggles worth their chlorine, they come with the usual anti-fog coating on the inside of the lens.
Hypoallergenic, rubber gaskets help "suck" the goggles to your fix for a leak-proof fit.
The straps are made of durable silicone and have an adjustable plastic doo-hickey at the back to quickly adjust length and tightness of the goggles on your head.
First impressions:
These swim goggles are low profile (but not absurdly low profile). Which makes total sense given that most high-performance goggle, like the Arena Cobra Ultra or the Speedo Fastskin Elite3's, all have a thinner profile compared to training goggles. And especially when you compare them against open water and tri goggles. Some low profile goggles are so thin that your eyelashes brush against the inside of the lens. Not the case when I tried these on.
They fit right out of the box. I'd consider my head to be of a fairly average size, and the goggles fit my head well with the nose piece that it came assembled with. Literally straight out of the box, and into the pool.
Similar to Speedo Vanquishers. The build, shape and fit of these goggles reminded me a lot of Speedo's Vanquishers and Speed Sockets. Same type of silicone gasket and fit. The Tracers are a little cheaper than their Speedo counter-parts.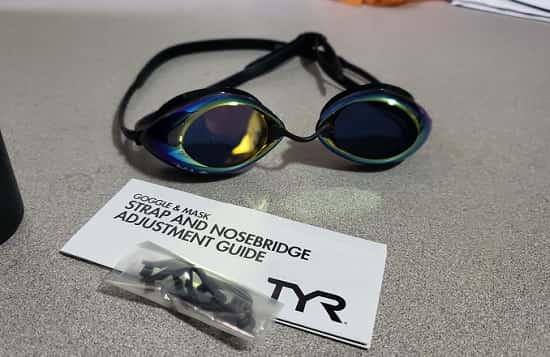 How the TYR Tracers held up in the pool
Swimmers know the joy of wearing brand new goggles to the pool. The anti-fog coating on your goggles is still there, the lenses softly hug your face, and the ability to see clearly and perfectly is certainly not lost on us either.
I wore them for a two-hour morning long course session at my indoor long course pool.
No leaks or movements on diving into the water, no raccoon eyes after two hours of consistent wear, and no leaks to repost. The silicone gaskets were very comfortable, making them ideal for long swim practices (like there is any other kind).
All in all, comfortable, but there are two things keeping me from making them my daily training goggles.
First, I like my mirrored goggles. And like the mirrored Vanquishers, I could see how these goggles would be problematic in darker pools (like my local YMCA pool, for instance).
The lens aren't as bright as the Arena Cobra Ultras or my trusty Swedish goggles. Save the TYR Tracers for outdoor and brightly lit pools.
Secondly, the peripheral vision on these goggles is excellent when looking straight or to the sides. The curved lens gives you the ability to see to the side better than most goggles.
When it comes to looking "up", however, not as awesome. I found the TYR Tracers to have better "upward" visibility compared to the Arena Cobra Ultras, similar to the Vanquishers/Fastskin Elite3, but not as good as Swedish goggles.
Where to Pick up the TYR Tracer Goggles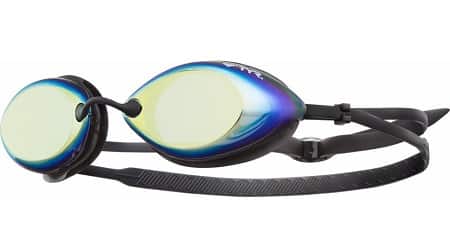 ---
Other Swim Goggle Gear Guides
The 7 Best Goggles for Competitive Swimmers. Confused about what kind of swim goggles to get? Here's a breakdown on the best swimming goggles for every kind of swimming.