Crank up the fun at the lake with our hand-picked selection of the best inflatable party islands.
Hitting the lake or the river with your friends during the summer is the best. No doubt about that. Sunshine, drinks, and fresh air.
But instead of everyone hauling along their own pool floatie, you can get the gang together and party up on an inflatable floating island.
Far from just being a big old floatie, inflatable party islands have a variety of features that make getting out on the water even more fun. Things like sunshades, built-in cooler, cup holders, backrests, and much more.
No matter what you are looking for, one of the below inflatable party islands will fit your needs.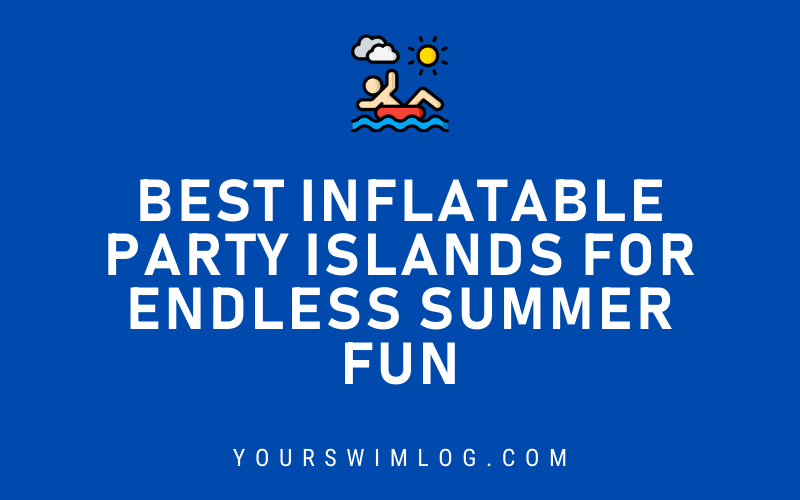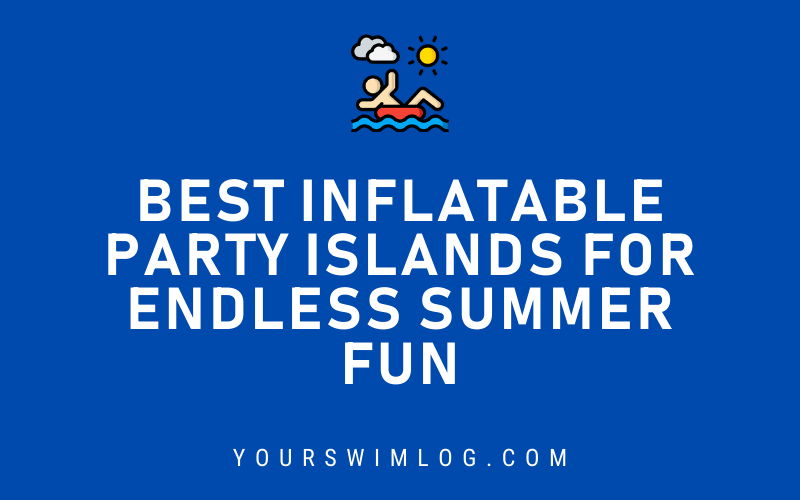 Bestway CoolerZ Floating Party Island
This bad boy is made to float and it is made to party.
With six cup holders, a built-in cooler bag (that can be removed to be reloaded), and room for up to six adults, the Bestway CoolerZ has all your party floatie needs covered.
Extra-wide backrests make for maximum comfort. A sun-shade can be quickly propped up to take a break from the sunshine. Cool your feet in the mesh floor area of the "living room."
Sturdy plastic handles and a swim-up platform make it easy to climb up onto the raft, and grab lines on the corners can be used to easily attach to the dock, the boat, or other floats.
The float is made of highly durable PVC nylon and even includes an anchor bag. Takes about 15 minutes to fully inflate with an air mattress pump.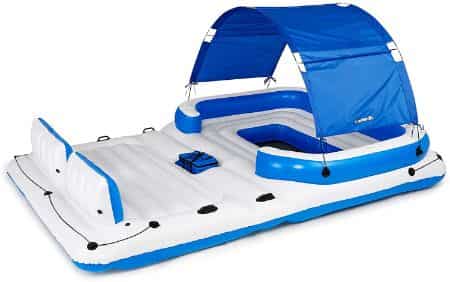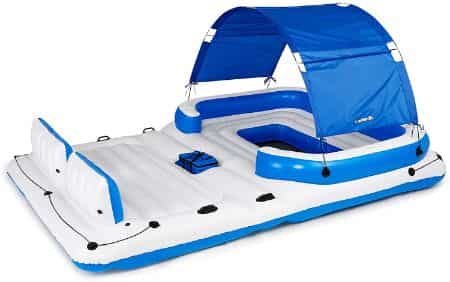 Bestway CoolerZ Tropical Breeze III Inflatable Party Island
Another entry by Bestway is the Tropical Breeze III. The set-up is similar to the one we just reviewed, but it adds some versatility with a pair of detachable floaties that can be removed from the mother ship.
Half a dozen cup holders line the raft, a removable sunshade can be put up to protect against the sun's rays during those hot summer days, and heavy-duty vinyl construction ensures that it will last during the wear and tear of the summer.
Numerous reviewers found that they were able to comfortably get eight adults on the Tropical Breeze III.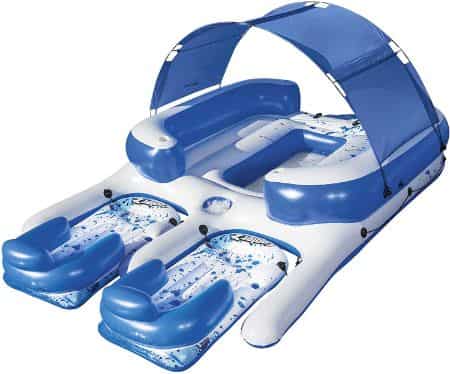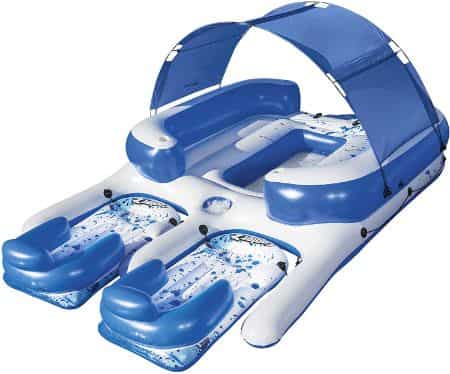 Body Glove Inflatable Island
The Body Glove brand is synonymous with summer and sun, and their inflatable floating island has everything you need for making the most of those long summer days.
Made with highly durable gauge PVC nylon, you can get up to six adults on the party island, with six drink holders and two built-in coolers for maximum refreshments.
Related: The Best Slides for Above-Ground and Inground Swim Pools.
The Body Glove Floating Island takes things to another level with the removable Bluetooth speaker system that blasts your favorite summer tunes.
Also included are a repair kit, anchor bag, and rope.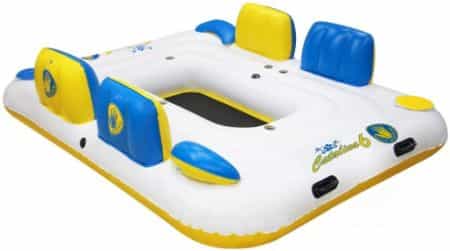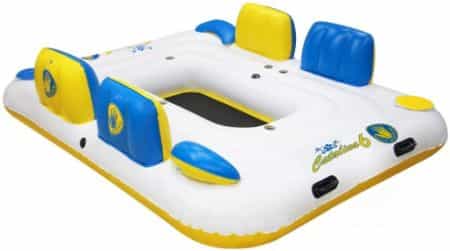 Airhead Inflatable Party Island
The Airhead Inflatable Party Island comes in two editions, one for 4 people (the Chill Lounge Island) and one for six people (the Reef Island Edition). In both cases, the Airhead Inflatable Islands provide seriously comfortable seating, with extra-wide back and armrests.
Made with long-lasting 80-gauge vinyl, the center of the island has a hole to dip your feet into the water, 4-6 cup holders, and a cooler built-in to the island to house your drinks.
A swim-up platform and heavy-duty handles make climbing up on to the party island easy.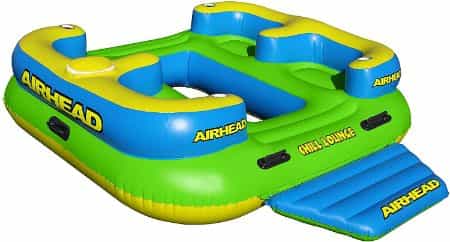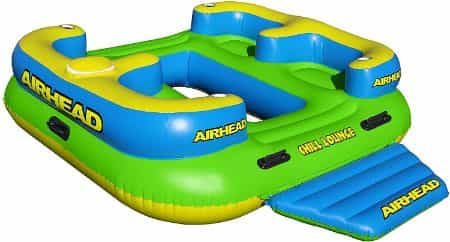 Intex Marina Breeze Inflatable Party Island
Intex is one of the most popular makers of aquatic gear, whether it's their popular line of above-ground pools or lineup of awesome pool toys for adults.
The Marina Breeze is a simple and fun party island that can accommodate up to three adults. It has a grab line to hook up to other floats, four cup holders, and two sturdy, extra-wide backrests.
Getting in and out of the inflatable island is made easy with a swim-up ramp at the front. A built-in cooler keeps your drinks nice and cold and the durable PVC nylon construction is ready for the epic fun to come.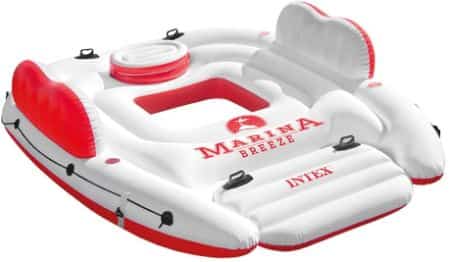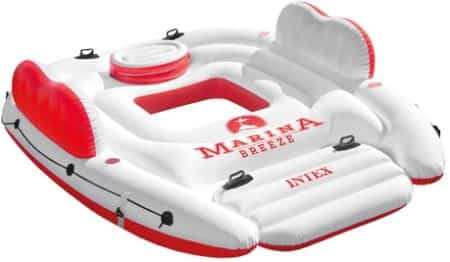 Intex Relaxation Inflatable Island
Another party island comes to us via the fine folks at Intex. This one provides a ton of seating, with reviewers finding that it could easily accommodate eight adults.
Made with Intex's standard durability, this party island is constructed of tough nylon. It features six cup holders, has a swim-up ramp to climb aboard (although the hole in the "doughnut" is easier to climb onto in my experience), and a built-in cooler that can fit ice and a couple of six-packs.
See also: 7 Best Inflatable Kiddie Pools for Backyard Splashing Around
A grab line, heavy-duty handles, and a hole to dip your feet into (and side in and out of the water), completes this full-package party floating island.
Also includes an anchor bag to park your float, an AC Electric Air Pump, and a patch repair kit.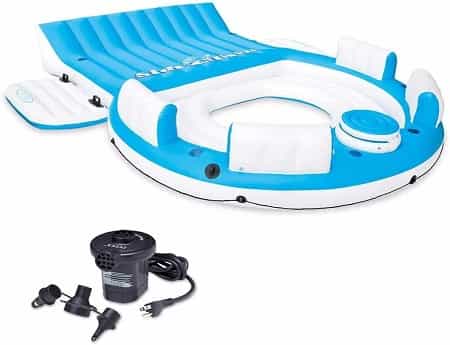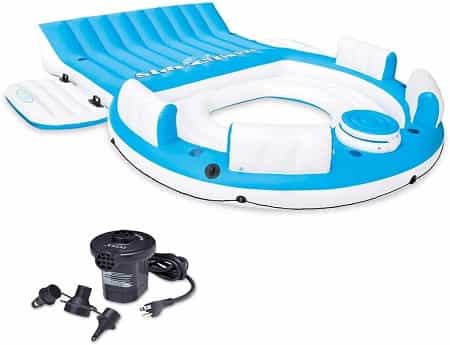 More Stuff Like This
7 Best Inflatable Pools for Adults and Families. Get the splashing and the fun of a backyard pool without having to build an above-ground or in-ground swimming pool. Here's a breakdown of our favorite inflatable pools for adults and families.