The right pool cover pump protects your pool by clearing water and snowmelt from the top of your swimming pool. Here's a detailed look at the best pool cover pumps on the market right now.
A lot goes into maintaining your swimming pool.
The chemical balancing, the vacuuming, the filtering, and so on.
And then there is the fall and winter maintenance, including covering the pool with a proper winter pool cover and stopping water from pooling on the cover.
When water accumulates on your pool cover, it can begin to tear at the seams of your cover, exposing your pool to rainwater and other debris.
Fortunately, pool cover pumps are relatively inexpensive, and can save you a ton of money on repairs and maintenance with both your pool cover and the swimming pool itself.
Here's a full look and buyer's guide for the best pool cover pumps on the market.
Let's dive right in.
Wayne WAPC250 Automatic Pool Cover Pump
The Wayne Automatic Pool Cover Pump—as you can guess from its name—is a set-it-and-forget-it pool cover pump that removes the hassle of having to turn on the pump yourself.
The pump can pull up to 3,000 gallons of water per hour, making it a certified workhorse and ideally suited for climates where it rains frequently. The pump has a 25-foot-long cord for plenty of range and a 1.25" drain hose for excellent flow.
This pump also has a protection circuit to protect the unit when the impeller is locked, either due to debris build-up or ice formation.
Key features: Runs automatically, strainer for collecting debris, freeze protection feature, max flow rate of 3000 gallons per hour.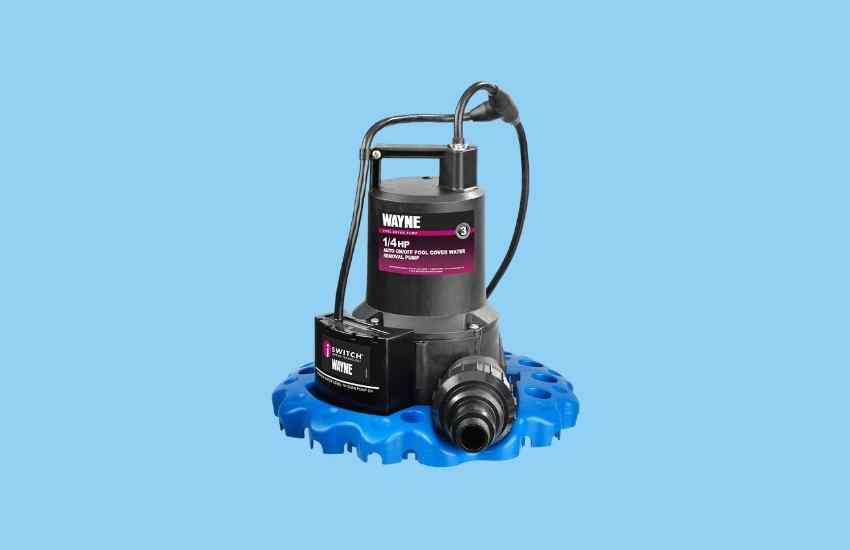 ---
Little Giant APCP-1700 Automatic Swimming Pool Cover Pump
One of the strongest pool cover pumps on the market, the Little Giant is an automatic pool cover pump can clear up to 1,745 gallons per hour off the cover of your swimming pool.
Ready for action right out of the box, the 1/3 HP unit comes with a 25-ft cord and a weighted base so that it doesn't wobble and topple when gulping and pumping water.
A screen is built into the filtration system that keeps debris and other organic matter from choking the motor. It's compatible with regular ¾ inch garden hoses, and the unit automatically stops working when water levels come down to 1.5 inches.
Other things I really like about the Little Giant is the carry handle on the unit that makes it easy to move the unit or to store it.
Key features: Easy carry handle, automatic kill switch, flow rate of up to 1,745 gph, weighted base.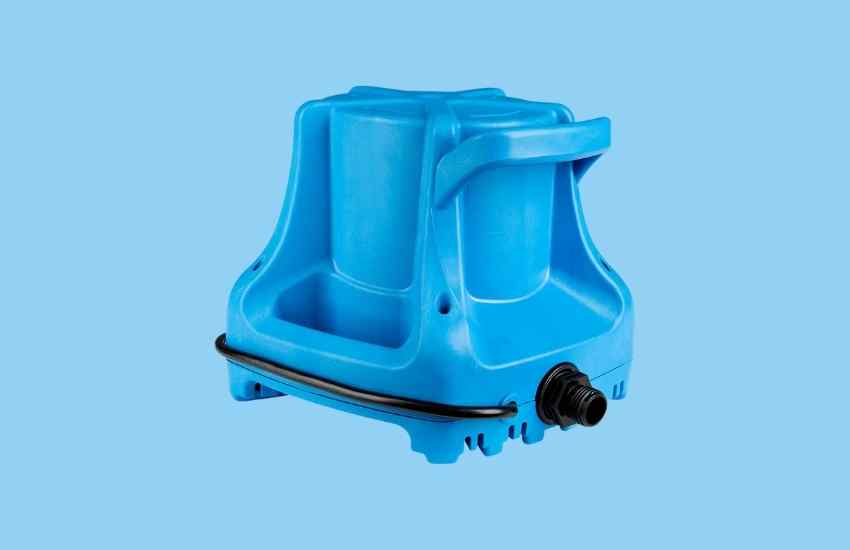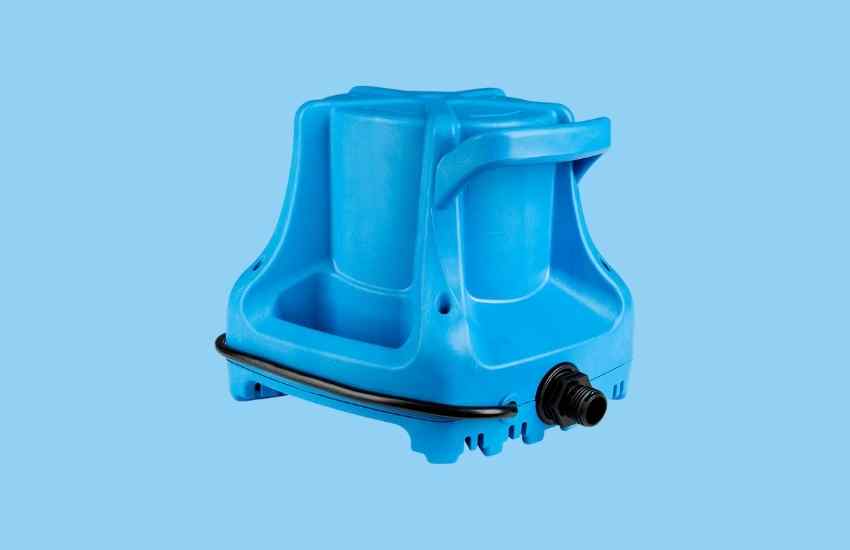 ---
EDOU Swimming Pool Cover Pump
Protecting your swimming pool over the winter is crucial if you want to avoid costly repairs when it comes to reopening your backyard pool when the weather warms.
The Edou Swimming Pool Cover Pump shows that you don't need to spend a ton of money (or time) removing standing water from your pool cover during the off months.
With a motor that can move up to 850 gallons of water per hour, this quiet little pump comes with everything you need to clear your pool cover of water.
Edou ships the 75-watt unit with a 16-foot hose that doesn't tangle or kink, three hose adapters (0.4", ¾" and standard garden hose), and a heavy-duty casing that is designed to stand up to the elements. Additionally, a filter hole at the bottom keeps debris from clogging up the motor.
The Edou Swimming Pool Cover Pump is very affordable, at around $40 (check Amazon for current pricing and availability) and has over a thousand five-star reviews from happy users.
The only downside? Unlike the previous two pool pumps that we've looked at, you will have to manually run the pump.
Key features: Flow rate of 850 gallons per hour, low-cost, quiet motor, manual pump.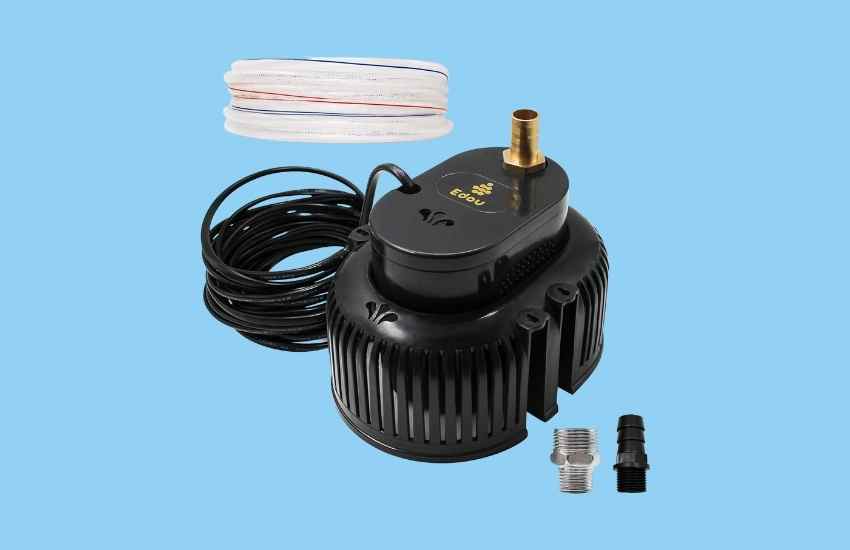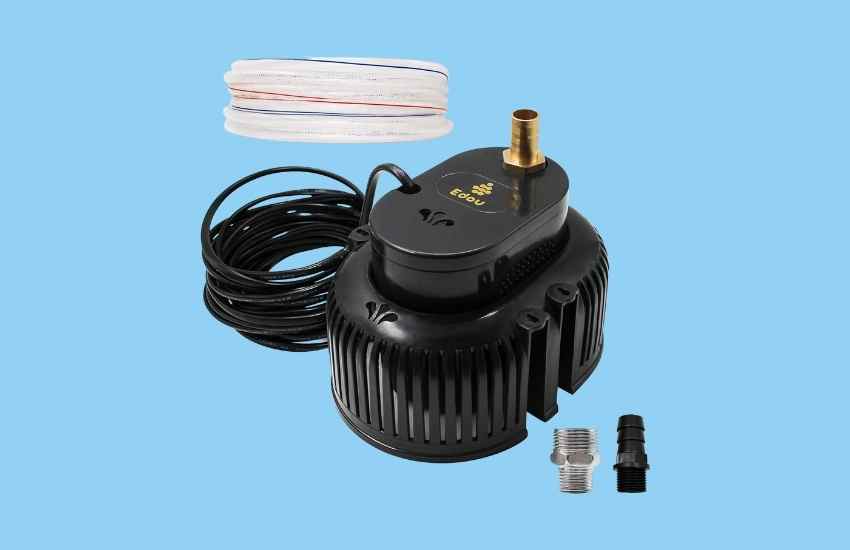 ---
Splash Pools Universal Pool Cover Pump
Smaller pools and backyards that don't get too much rain will appreciate this smaller swim pool pump by Splash Pools.
With a flow rate of 500 gallons per hour, a standard garden hose adapter, and a unit design that prevents clogging from debris like leaves, this unit punches above its weight in performance and price.
While it's not the strongest pool pump on the market, and water removal does take a little longer than some of the other higher-priced pumps in this list of the best pool pumps, the Splash Pools Pump is a sturdy option at a good price.
Key features: Great value pick, flow rate of 500 gallons per hour, manual turn on/off.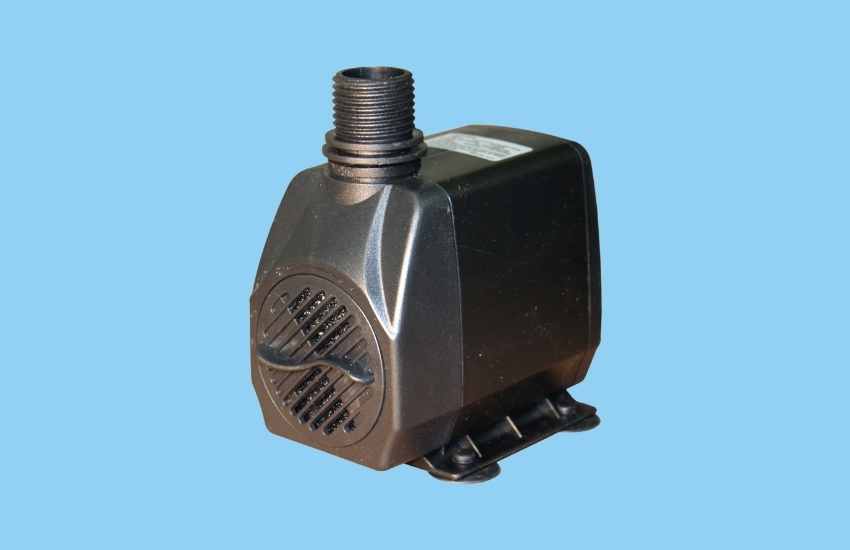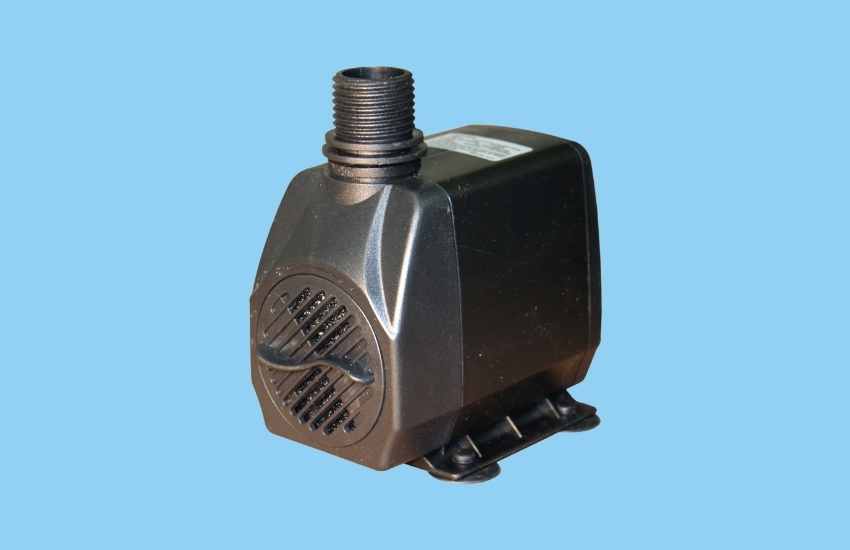 ---
FibroPool Electric Swimming Pool Cover Drain Pump
The best priced pool cover drain pump comes from the folks at FibroPool, with this entry that features a drainage rate of up to 600 gallons per hour, a 75-watt electric motor, and a 22-ft long, kink-free hose that can suck up water from just about any water depth.
The pump is very easy to set-up and get running. It's housed in a durable ABS casing that won't rust or corrode in the face of the elements.
The damage that can occur as the result of excess water and snowmelt pooling on the cover, damaging the seams, ripping holes, and causing added pressure to the liner of your above ground pool, can get really expensive, really quickly.
Fortunately, you can easily avoid these pricey headaches with a tool like the FibroPool cover pump, which retails for just $35, making it the cheapest on our little list.
It's also exceptionally well-reviewed, with over 3,000 five-star reviews (click here to read them on Amazon)
Key features: Low-cost, pump rate of 600 gph, manual on/off, 16-ft power cord.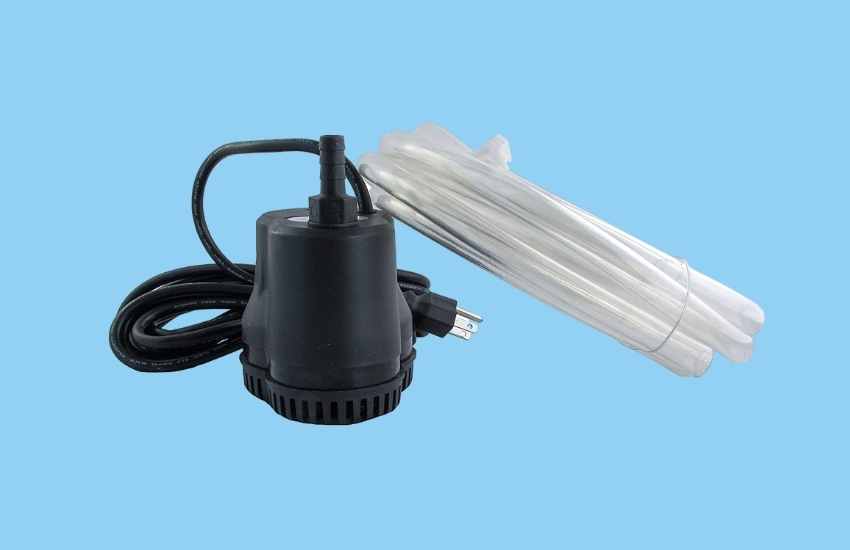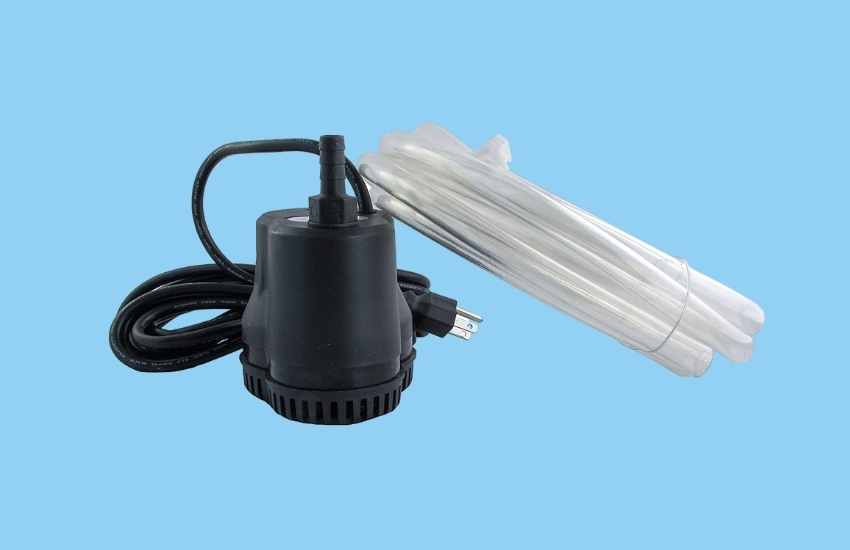 ---
AgiiMan Sump Pump for Swim Pools
One of the fastest of the manual pumps for pool covers on the market, the AgiiMan Pool Cover Pump has a strong copper motor that can quickly suck up as much as 850 gallons of water per hour.
The unit is designed in such a way that it doesn't get clogged down with leaves and other organic debris, comes with three different outlet adapters, and ships with a 16-ft drain hose for sucking up water.
With a price tag of just $45, the Agiiman pump is another low-cost option that delivers exceptional drainage for its price point.
Key features: Flow rate of up to 850 gallons per hour, 75-watt motor, multiple hose attachments.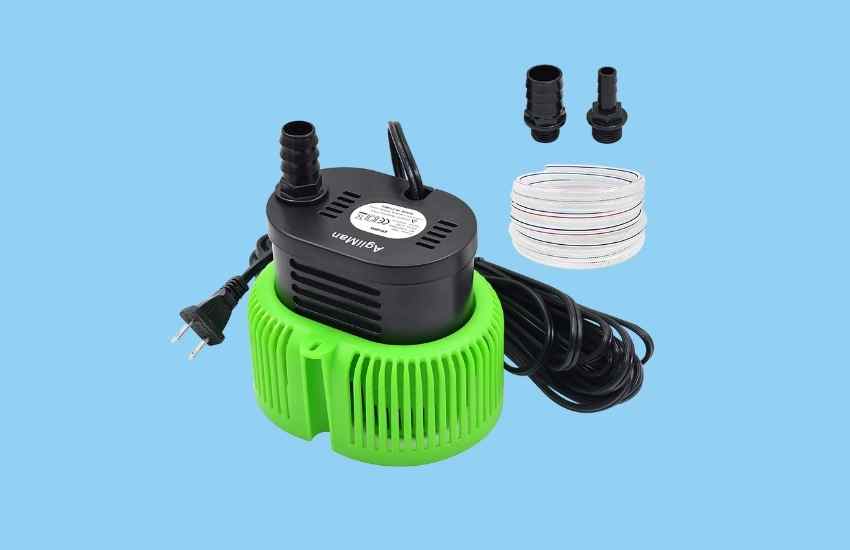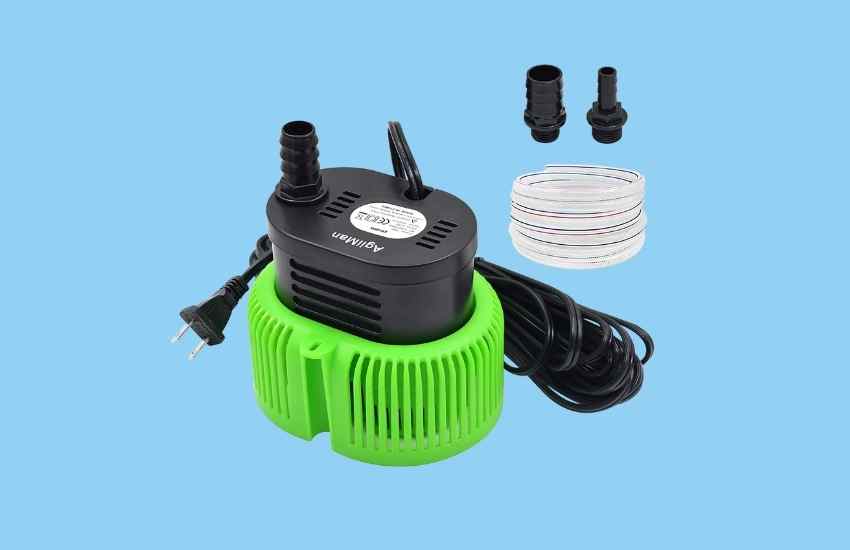 ---
Choosing the Right Pool Cover Pump
Backyard swimming pools look like a lot of fun. That is, until you sink into the realization of how much work and maintenance they can require.
Fortunately, once you develop a routine for cleaning and maintaining your swimming pool, things get a little smoother, and you can spend the majority of your time doing cannonballs into the water and relaxing versus maintaining and cleaning.
Also knowing what you are getting yourself into with each piece of maintenance and cleaning equipment for your swim pool is crucial.
When it comes to choosing the right pool cover drain pump for your backyard pool, whether it's an inground pool or an above-ground swimming pool, there are some key things to look for when buying one.
Here are the top things to keep in mind:
? Manual vs. Automatic. Pool pumps come in two flavors: automatic or manual. Automatic pool pumps, like automatic pool cleaners, can be set to run a specific number of minutes/hours per day. For pool owners who want a more "hands off" approach, an automatic pump is ideal. Manual pool pumps, as you can guess, require you to start and turn off the pump.
? Flow rate. Pool owners who live in places where it rains a ton, like the Pacific Northwest, will want a pool cover pump that has a higher flow rate. Flow rate is listed as how many gallons per hour the pump can move, with stronger pumps capable of moving up to 3,000 gallons of water per hour.
? Filtration. One of the main issues you will encounter with a pool cover pump is debris clogging up the motor. Look for a pump that can filter small amounts of debris while it's chugging along.
? Power cord length. Backyard pools vary in location in the yard or home. Electricity isn't always close by. Most pumps come with longer cords (16-25 feet appears to be the average). Give yourself enough cord length to plug in the pump from your home or electrical source.
Conclusion
Swimming pools bring us a lot of joy. They can also bring a lot of headaches when we neglect basic care and maintenance.
Small problems like water collecting on a pool cover can quickly turn to big expenses when the cover breaks or sags and the pool gets infiltrated with debris, rainwater, and other organic matter that requires deep cleaning.
The right swimming pool cover pump can help you avoid a lot of these headaches.
To recap:
⭐ The Wayne WAPC250 Automatic Pool Cover Pump is the best automatic pump on the market, designed for heavy use with a 3,000 gallon-per-hour flow rate.
⭐ For pool owners who want a manual pool cover pump, the FibroPools Electric Pool Cover Pump is an excellent value pick, delivering a high flow rate with a low-price tag.
---
Recommended Reading
Looking for more guides on pool maintenance and cleaning?
Below are some of the more popular ones.
6 Best Pool Skimmers for Above Ground Swim Pools. Keep your above ground pool crystal-clean and sparkling with our hand-picked selection of the best automatic and manual pool skimmers.
The Best Above Ground Pool Filters. An excellent pool filter is an essential tool for keeping your above ground pool clean. Here's a look at the best filters for above ground pools on the market.
7 Best Automatic Pool Cleaners. During the warmer months you want something that will keep your pool clean between swims. Automatic pool cleaners are the perfect tool for hands-free pool cleaning.