Swim caps protect your toddler or child's hair from harsh pool chemicals, helps them stay safe in the pool, and keeps their hair out of the pool. Here are our top picks for the best swimming caps for toddlers and children.
Swimming is one of the best activities you can do for your child.
Not only is it a great way to burn energy and have fun, but learning how to swim has been shown to improve motor learning later in life. Swimming quite literally makes you smarter.
While swimming safely is the first priority (check out our recommendations for the best life jackets for kids and our favorite swim vests for children), wearing a swim cap is also important.
Here is why your kiddo should be rocking out a swim cap at the pool:
⭐ Protects hair from harsh pool chemicals. While swim caps won't keep your child's hair perfectly dry, they will reduce the damage that is inflicted by chlorine, bromine, or other tough pool chemicals. Pro tip: Rinse your child's hair in the shower before getting in the pool. When hair is already wet, it cannot take on as much new water (in this case, chlorinated pool water).
⭐ Keeps hair out of the pool. Children, like adults, shed hair. Left unkempt, hair can clog gutters and filtration systems. Additionally, swimming around in someone else's hair has a high factor of "yucky." Toddler swimming caps keep the hair on their head and out of the pool.
⭐ Keeps hair out eyes and face. For toddlers and children who are just learning to swim, the process is exciting. The flurry, the splashing, the white water everywhere! Pair this excitement with maximum visibility by having your kid wear a swim cap, keeping hair out of their face and your child's swim goggles.
Here is a breakdown of our favorite swim caps for children and toddlers.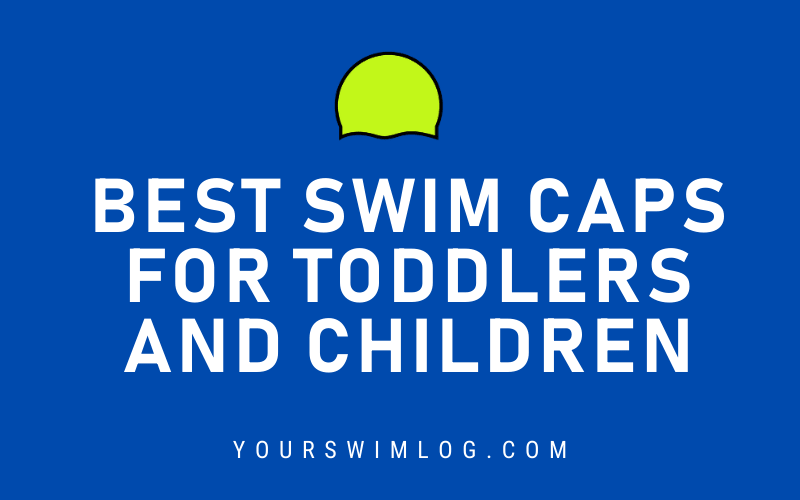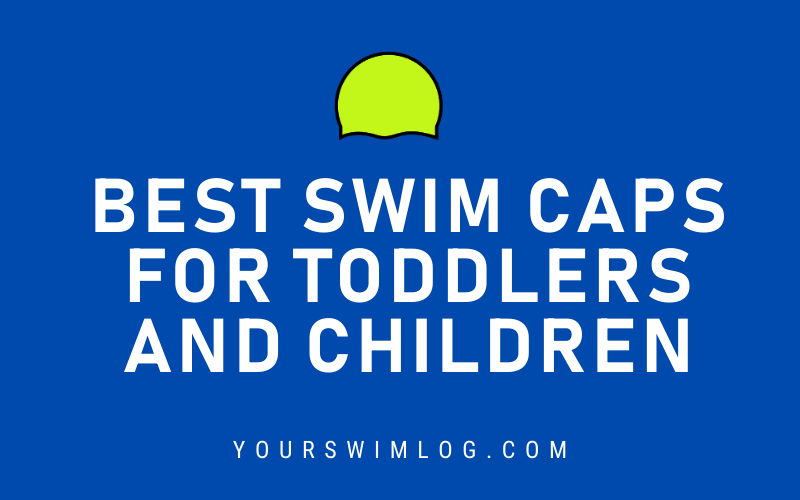 Speedo Unisex Children's Swimming Cap
Speedo is one of the most popular and recognizable swim brands on the planet. They've been around forever, and make all sorts of swim gear, from high-end racing suits to swimwear for babies.
They have a full line of swimming caps for all levels of swimmers, including children. The Speedo Unisex Youth Silicone cap is my favorite cap for kids. The soft silicone doesn't tear when the cap is removed, it is available in a variety of colors, and is moderately thick, keeping the head warm while in the water.
Made of soft silicon (no latex)
Elastomeric comfort
Doesn't pull on hair when removing
Stretches to fit comfortably
Suitable for children aged 3-8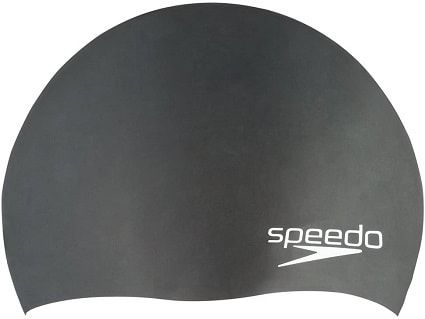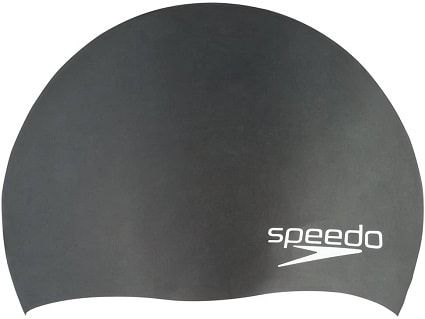 ---
Cheekaboo Swim Cap for Toddlers and Kids
The Cheekaboo Swim Cap is a great starter cap for those who love to swim but maybe aren't quite ready for a silicone or latex swim cap. Made with stretchable and soft material that is also breathable, I was surprised by how quickly the cap dries after use.
Suitable for swimmers age 2-8 years.
Very well priced at around $8-9 per cap
Comes in five different playful color combinations and patterns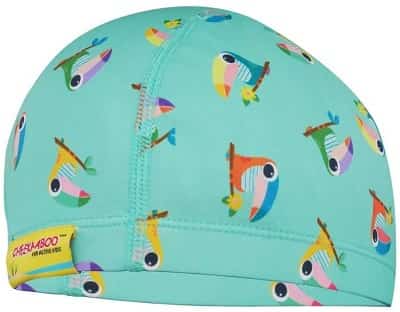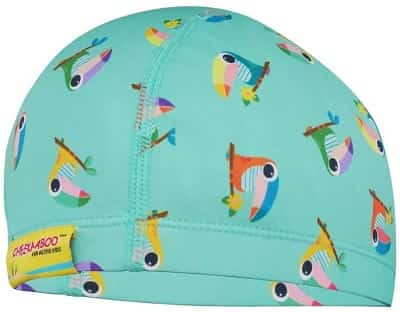 ---
SWIM Elite Junior Swim Cap
If you are looking for a more playful design, the line of SWIM Elite Caps are an excellent choice. They have five different designs, including a Finding Nemo-inspired design, whale, owl, and more.
Made of soft silicone
Reviewers found that they did fit a little small
Suitable for children 4-12 years of age
90-day money-back guarantee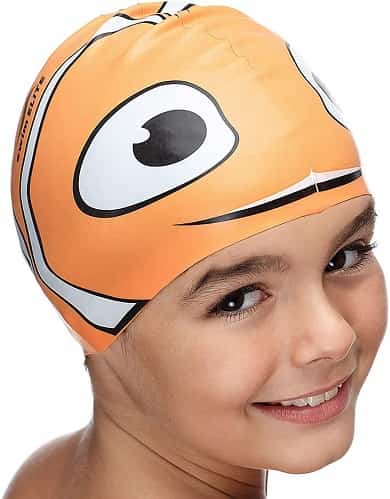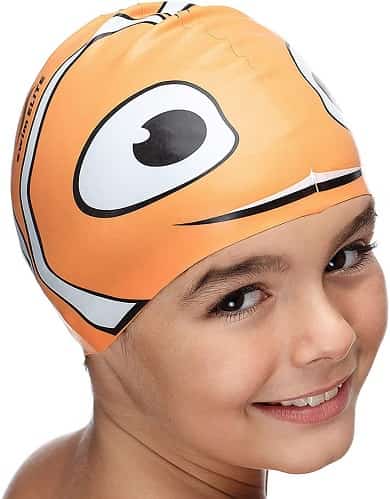 ---
TYR Lycra Swimming Cap for Children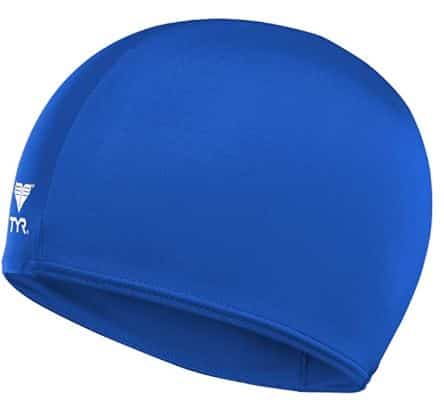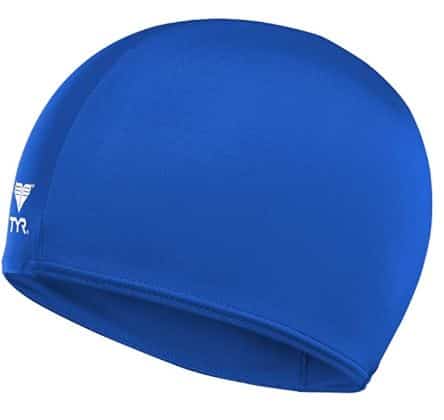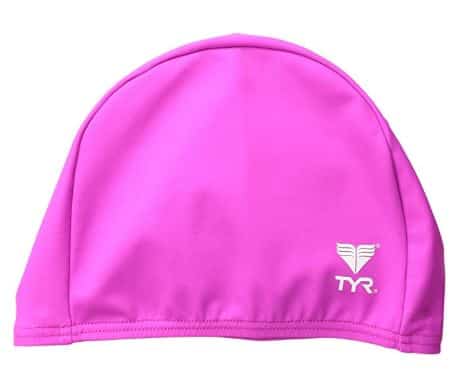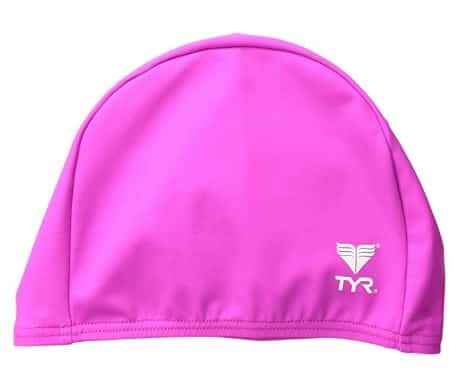 ---
Friendly Swede 2-Pack Swim Caps for Kids
** Best swim caps for toddlers with long hair
Made of soft silicone, the Friendly Swede Swim Caps for Children comes in a 2-pack, with a variety of colors. The silicone is durable, keeps the child's head warm, and protects the hair from chlorine while sitting comfortably on the head.
These caps have more "give" compared to the other caps on this list, making them very ideal for young swimmers who have long hair.
The Friendly Swede caps are also backed by a lifetime warranty (even longer than Amazon's return window).
Each order contains two swim caps.
Available in kids and adult sizes.
Made of 100% silicone for maximum softness
Textured inner to maximize grip and reduce slippage
Doesn't yank on hair when taken off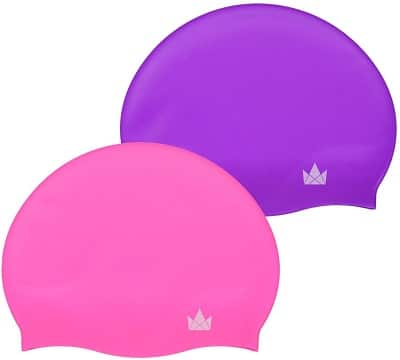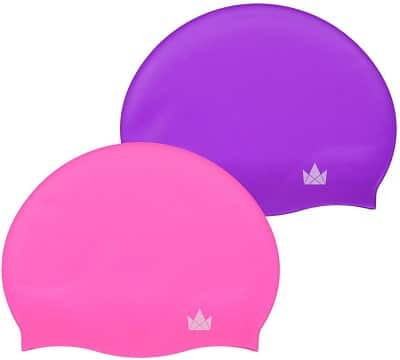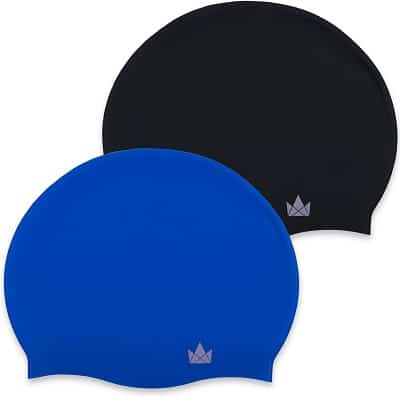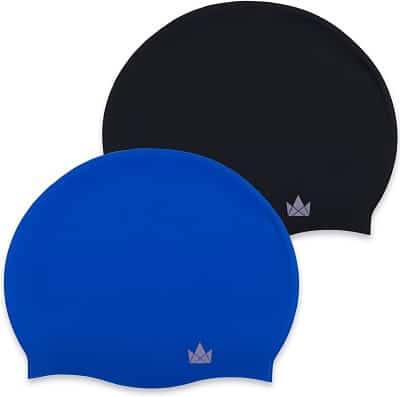 ---
Do swim caps actually keep hair dry?
Sort of, but not really.
This is one of the biggest "WTF" moments parents new to swimming encounter. No matter how tightly you wrap the swim cap around the head of your kiddo, water is still getting in there.
Swim caps can drastically reduce the amount of water that hair encounters, and caps are great at protecting the hair from pool chemicals (especially when you "pre-load" the hair with fresh water before a swim), but in terms of keeping the hair completely dry…
Not so much.
Water almost always finds a way in.
Which is probably leaving you to wonder…
What is the point of a swim cap?
So if swim caps do a marginal job of keeping water out of your child's hair, and it doesn't completely prevent water from going into a kid's ear canals (more on that in a bit…), what is the point of kids wearing a swim cap?
Glad you asked!
✅ Keeps hair out of the eyes. The biggest benefit to your little swimmer is that the right swim cap will keep hair from going full-blown Cousin It, covering their swim goggles and blocking their field of vision. This is a safety consideration—nobody wants to be swimming blind—and also allows your child to see other swimmers, the walls, and so on.
✅ Safety. Swimming caps help keep your child visible, whether you are at the local swimming pool or down at your favorite watering hole. Although it doesn't replace swim skills and proper supervision, a brightly colored swim cap is another layer of safety.
✅ Keeps hair out of the pool. Catching someone else's loose hair on your fingers (or worse—across the face!) while swimming has a high yuck factor. Swim caps keep hair from tumbling off into the pool, which also helps you save on pool chemicals (chlorine reacts with all organic matter in the water, including hair) and keeps hair from clogging up your pool filter and the pool pump.
✅ Holds goggle straps in place. For the young competitive swimmer, wearing a swim cap is a way to help keep their favorite swim goggles in place. Goggles have the pesky habit of sliding around and falling off when diving in, so wearing a cap over the head straps of the swim goggles can help keep them in place.
✅ Warms the head. Swimming pools can be a chilly place to be, especially if it's more of a float-and-play session versus swimming up and down the lanes with vigor and style. Swim caps retain some of the heat that would otherwise be lost with wet hair and an exposed head. Swim caps help your child or baby enjoy their time in the water without catching a case of the chills.
How do you put a swim cap on a child?
Every parent knows that getting your child or toddler to get dressed each day is an extreme sport of its own.
A swim cap presents a new challenge that can include hair-tugging, a cap snapping on the skin, and sliding around.
Fun, am I right?
Fortunately, there are a few things you can do to help wrestle, err, put a swim cap on your toddler or child:
Soak/rinse your child's hair. Caps can tug painfully on dry hair; putting a swim cap on a child is much easier when the hair is wet from the get-go.
Open the cap and line up the inside of the front of the cap to the middle of your child's forehead. You can do this standing in front or behind your child.
Using the forehead as an anchor, stretch the cap over and around the head. Pull your fingers out of the cap carefully to make sure the cap doesn't snap against the skin of your child.
Tuck in loose hair, adjust over the ears as necessary.
Unleash maximum splashing and fun!
What material is best for kids' swim caps?
There are three main materials that swim apparel companies use to make caps for kids.
Silicone, latex, and Lycra.
They each have their own perks:
Silicone has quickly become the most popular material for kids' swim caps It's awesome as it helps to keep the head warmer. It's thicker, creating a better "thermal seal" and retaining more warmth.
Silicone is an excellent all-around material for kids' swim caps as it also won't tug on the hair when putting it on and off.
And lastly, it creates the least amount of folds on the head, making it perfect for the high-performance kid swimmers who want to churn up and down the pool with minimal drag and resistance.
The old-school favorite, latex, is a comparable material to silicone. It has good stretch and elasticity, making it ideal for children.
Latex swim caps are inexpensive, but they don't quite have the same softness and thickness as silicone swim caps. That said, they are excellent all-purpose swim caps for kids.
For the young competitive swimmer, latex swim caps are a great choice for training and practice as they are durable and low-cost.
Lastly, we have Lycra swim caps. Lycra is a synthetic material that also goes by the name Spandex (or its non-branded name, elastane) and is very comfortable. These kinds of caps are great for toddlers and the splash-and-sun type of child.
Lycra swim caps are permeable, which is great for evacuating heat but not-so-great for taking on more water.
Not ideal for lap swimming, but great for protecting the head from the sun during warm summer days.
Can swim caps keep water out of ears?
As a lifelong earache enthusiast, I can assure you that swim caps do not keep water out of your ears when swimming.
As mentioned previously, the function of swim caps is largely around safety, protecting the hair, and comfort.
While there are swim caps that go all the way around the ears, in my personal experience—30+ years of swimming laps—these have limited use. They will prevent some water from getting into the ear from the occasional splash, but as soon as the head is submerged, water will find a way in there.
If water getting into your child's ears is something you are focused on, consider trying out swimmer's earplugs. Silicone putty earplugs are awesome at providing a custom fit that will also keep water out of your child's ears.
---
More Swim Gear Guides for Kids and Toddlers
9 Best Swimming Aids for Toddlers and Children. Ready to hit the water? Here are some of our all-time favorite swimming aids for kids and toddlers.
14 Best Water Shoes for Toddlers and Kids. Ready to take your kiddo to the beach or pool? Here's a breakdown of the best water shoes for toddlers and kids.