Looking to make things a little more fun in the pool? Here's our guide to the best pool toys for kids.
Whether it is the hot days of summer in your above ground swim pool or playing indoors at your local aquatic center, playing in the water at the swimming pool never gets old.
Beyond the fun aspect, there are a lot of health benefits to spending time in the water, even for the youngest swimmers via baby swimming lessons.
The pool features cannon-balls, diving, swimming and snorkeling; but there is an almost endless number of toys that kids (and adults) can use to make things even more fun at the pool.
The basics of the best pool toys are simple: They need to be durable, they should be able to help kids pick up water literacy, be safe, and of course, a chlorinated ton of fun!
Here is a list of our favorite pool toys to create endless fun at the pool.
SwimWays Toypedo Bandits
One of my favorite things to do as a kid was pretending that I was a submarine or a battleship. Yup, true story. With the Toypedo Bandits I get to relive a little bit of that role-playing.
The toys are as simple as they are fun—launch them under the water and they will glide quietly for around 20 feet or so. The SwimWays Toypedo Bandits come in a colorful four-pack.
Recommended for little swimmers aged five years and up.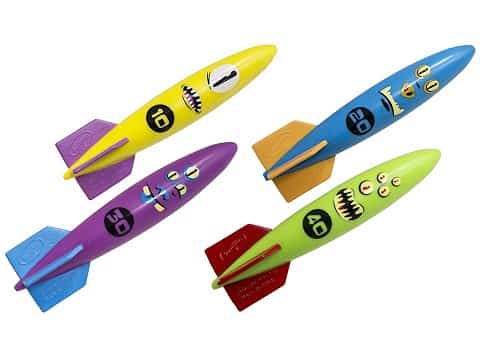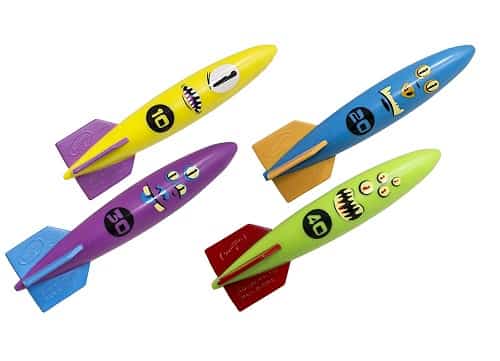 Water Sports Swim Thru Rings
One of my favorite pool toys for developing stronger swimming skills are these simple water swim thru rings. Kids can create a racing course with them around the bottom of the pool.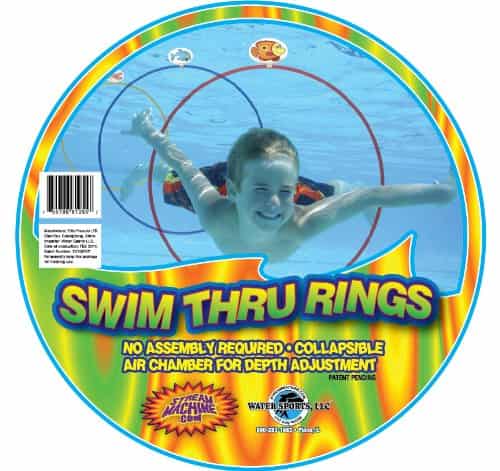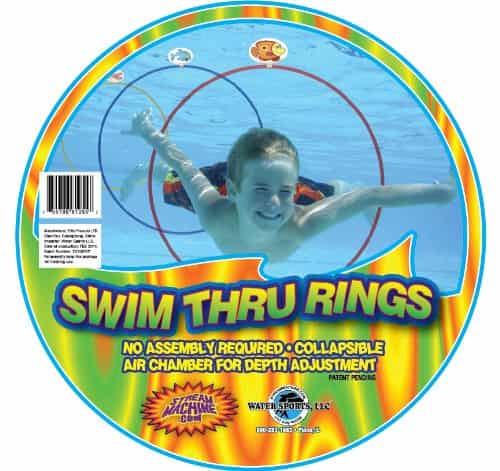 The Water Sports Swim Thru Rings are super easy to set-up. They don't require any assembly, are about 30" in diameter, and with collapsible air pockets and weights you can set the depth of the rings (in other words, they don't just sink to the bottom).
There are three rings in each pack, with colorful designs and decorated with turtles, dolphins and lobsters.
These rings are definitely made for older kids who are comfortable in the water. Recommended for kids 8 years of age and older.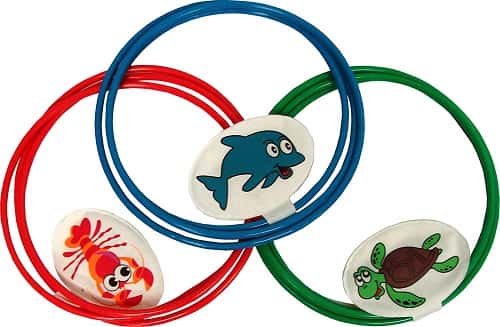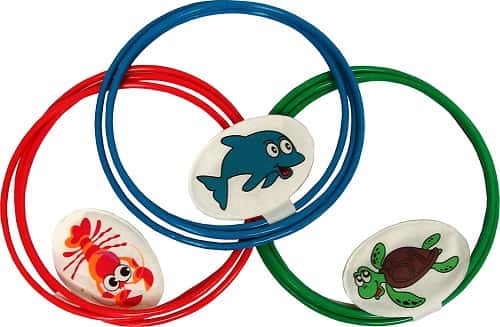 Watermelon Ball
As a youngster on the local swim team every Halloween we would play a game called "Greasy Pumpkin." This consisted of finding the biggest pumpkin possible, greasing it up with Vaseline, and playing a version of underwater rugby with it at the pool.
That game was the first thing I thought of when I saw the Watermelon Ball for the first time. Unlike regular balls, the Watermelon Ball is partly filled with water, giving it a neutral buoyancy. Its name comes from the fact that it floats quite literally like a watermelon.
The Watermelon Ball can be dribbled underwater and passed through the water, making it a lot of fun for pool parties, water-play, underwater rugby, and whatever other game or activity you can imagine. Vaseline not required!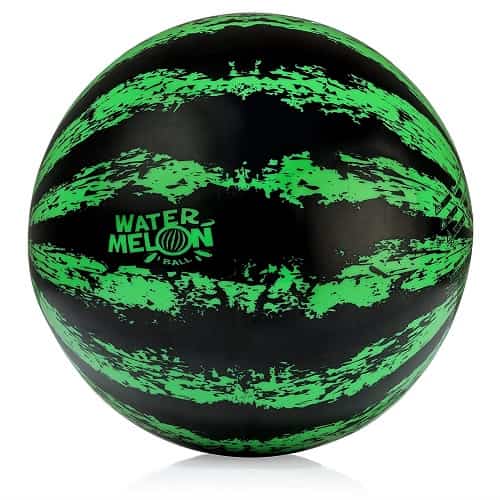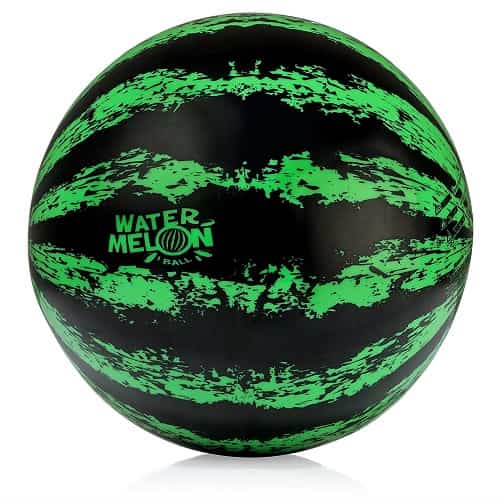 SwimSways Finding Dory Dive and Catch Game
Everybody loves a good Finding Dory toy, and this simple net and toy package will keep your kiddo entertained. Take the five chracters, Dory, Nemo, Pearl, Sheldon and Kathy, throw them into the water, and using the Mr. Ray net collect them.
I love pool toys like these. They are simple and more exciting variations of your classic dive ring, which are fantastic for developing stronger swimming skills while also having fun. Basically as win-win as it gets with pool toys.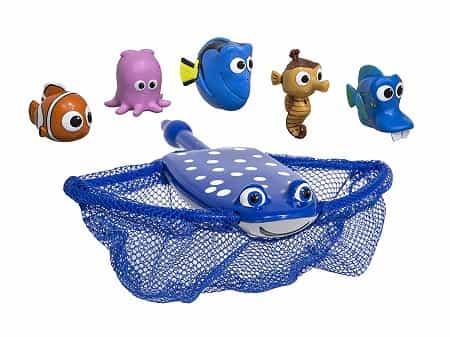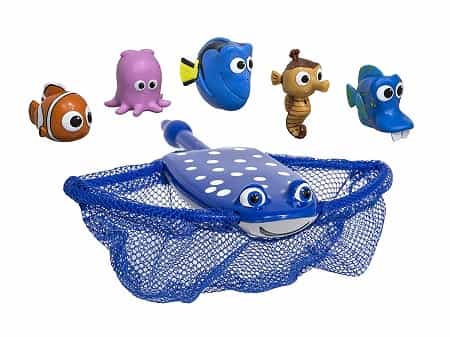 Fayoo Underwater Pool Toy Set (23 pieces)
Looking for an all-in-one pool toy bundle? The Fayoo 23-piece pool toy set has got you covered.
You get a little bit of everything: The Toypedoes as reviewed above, a set of diving rings, a set of diving sticks and a dozen little Pirate treasures. The bundle of toys are made of durable plastic, brightly colored for extra visibility, and come with a mesh bag so that they can be easily stored.
Recommended for children aged 3 years and up.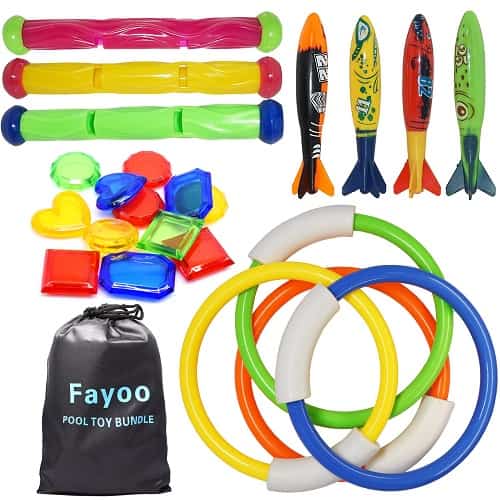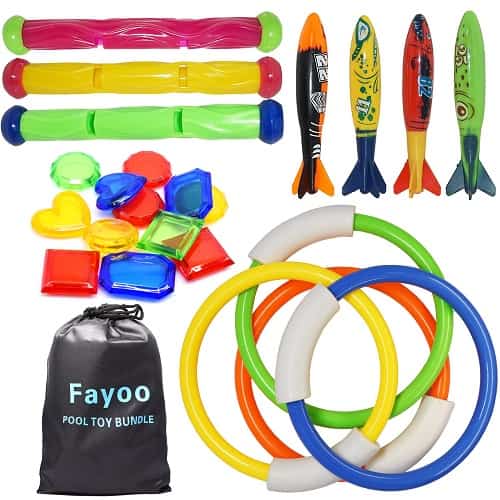 ---
More Stuff Like This:
6 Best Swim Floaties for Toddlers. Looking for the best swim floatie for your toddler or child? Here's a breakdown of our favorite water wings, baby cruisers, and more for safety and fun in the pool.
7 Best Floating Pool Lights. Light up your swimming pool (and crank up the tunes!) with our favorite floating pool lights.
5 Best Poolside Basketball Hoops. Stay cool, get some sun, and drain some chlorinated 3's with our list of the best poolside basketball nets and hoops.