Ready to take your swim workout to the next level? Here's your guide to the best waterproof fitness trackers for swimming.
Athletes, and swimmers are no exception, understand the value of monitoring and tracking their performance in the water.
When you know what you are doing in the water, it sharpens your focus, gives you a jolt of motivation, and helps you stay on track.
And there is no better tool for helping you get the most from your time swimming up and down the pool (or in open water) than a waterproof fitness tracker.
Over 30+ years of swimming in the pool, from Olympic Trials qualifier to noon-hour lap swimmer, I've tried more of these devices than I can count.
Watches. Smartwatches. Goggle-mounted trackers. Smart swim goggles. And even finger-mounted counters.
In this roundup, we will look at the best waterproof trackers for swimmers.
Which ones are accurate, which have excellent apps, and which ones perform best in the water.
Whether you are a casual lap swimmer or someone looking to get every last detail out of their swimming, by the end you will have a crystal-clear idea of which tracker is going to help you slay your goals in the pool.
Let's dive right in.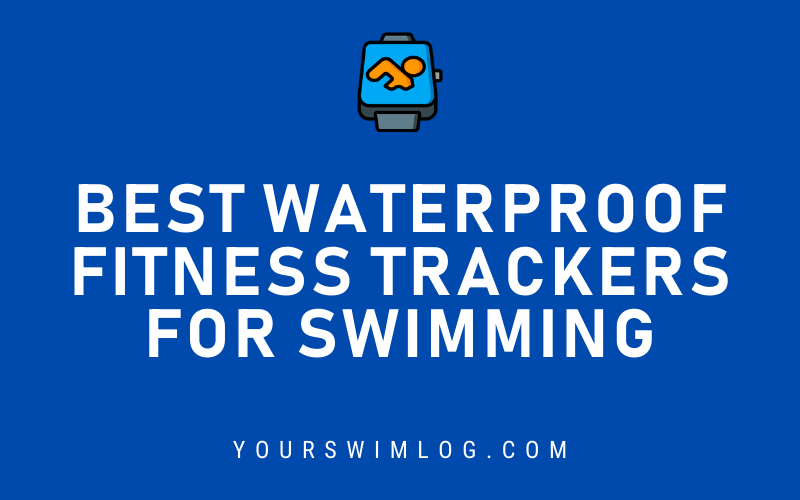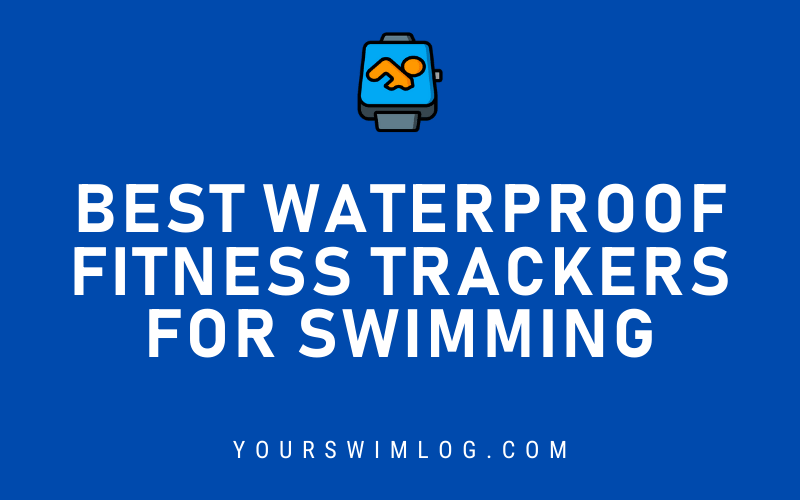 1. FORM Swim Goggles
⭐ Best hands-free waterproof fitness tracker
Waterproof trackers for swimmers took a big leap forward in 2019 with the world's first smart swim goggles, the FORM Swim Goggles.
In terms of wow factor, functionality, and accuracy, you can't beat the FORM goggles with their heads-up display.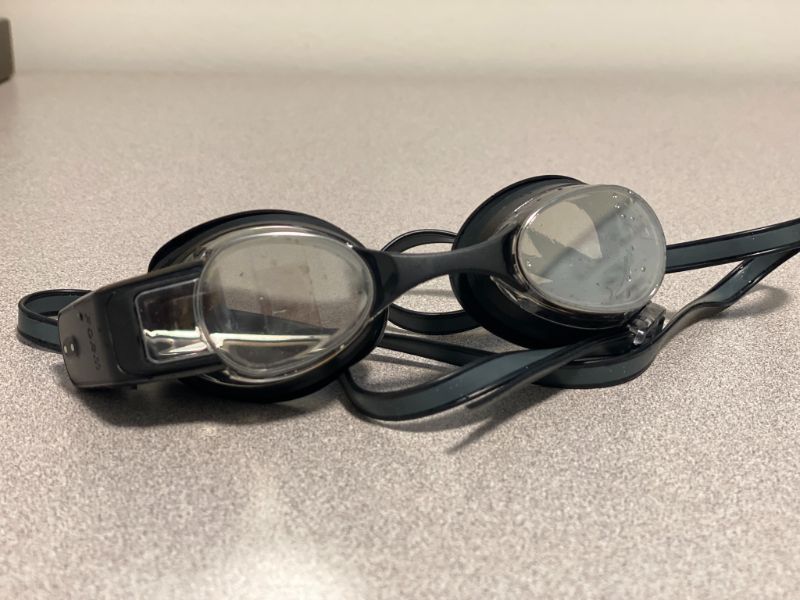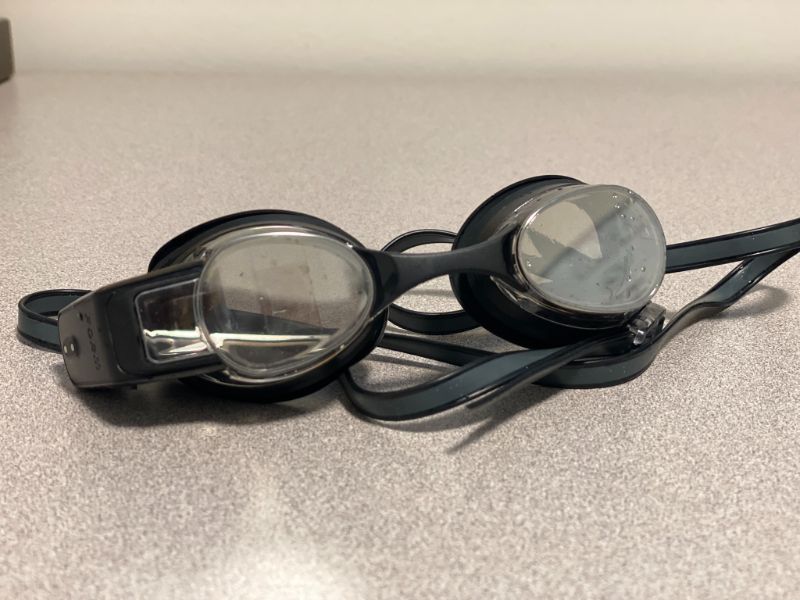 Yup, your splits, overall time, pace, stroke rate, heart rate, whatever metrics you choose, unspool right in front of your eyes as you swim.
The FORM Swim Goggles are compatible with the Polar OH1 and OH+1 heart rate monitors (my top pic for heart rate monitors for swimmers, by the way), which makes this combo every swimmer's dream data collection tool.
Is it distracting, swimming with the data right there? Yes. It can be. You do get used to it though.
Took me a handful of sessions to habituate to the rolling data in front of my eye. The first lap I swam with them I nearly rolled into the wall because I was mesmerized by the display.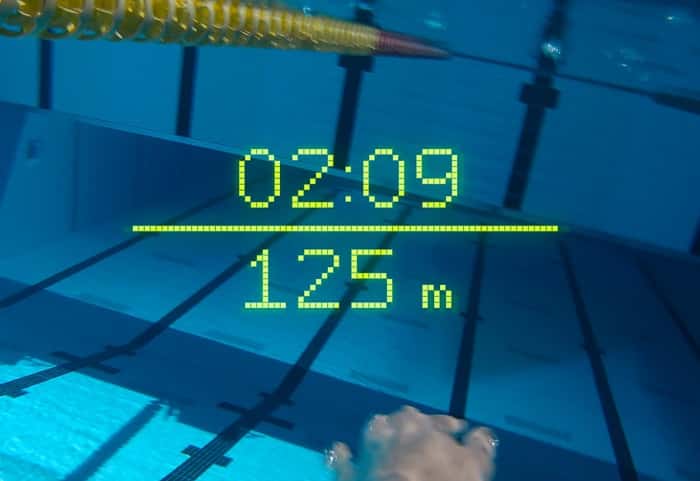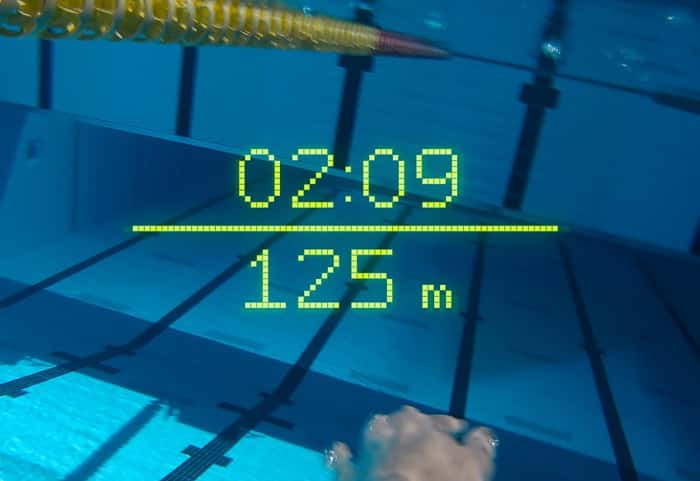 Some other key things to know about the FORM Swim Goggles:
Works well in low-light and outdoor pools. Sunshine doesn't white-out the display. The goggles are very comfortable (comes with 7 nose pieces, adjustable head straps and soft skirts on the goggles that gently suction to your skin for a leak-free fit).
The goggles remind me a lot of Speedo Vanquishers, which consistently ranks as one of my favorite goggles for swimmers.
Batteries last for around 16 hours, the straps are made of durable silicone (they last waay longer than latex goggle straps), and yes, the anti-fog will eventually wear off. You can mitigate this by using an anti-fog spray regularly and keeping your fingers out of the inside of the lenses.
The swim app that comes with the FORM Swim Goggle tracks every last detail of your swimming. Whether you are the kind of swimmer who likes to freehand their swim workouts, or you like a swim training plan that is formatted for you, the FORM Swim Goggles absolutely crush it.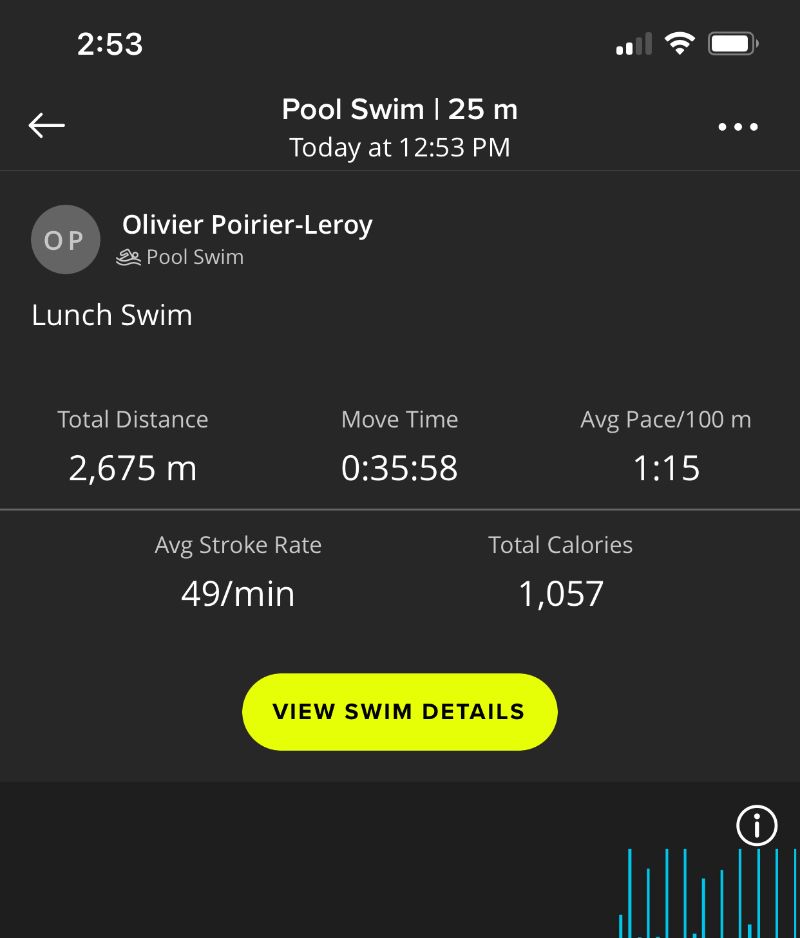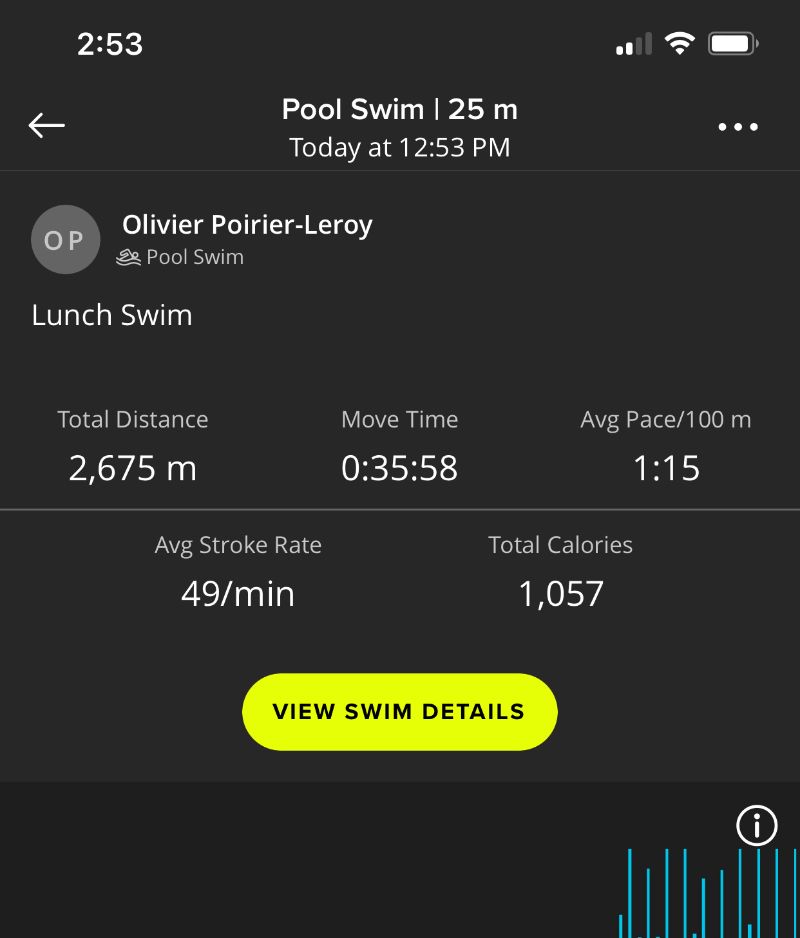 The two main cons of the goggles are that you do lose some peripheral vision to the side where the HUD unit is mounted and you cannot edit the training data after your swim.
The loss of peripheral vision to the side is a little disconcerting at first, but you get used to it.
And another thing that I didn't love–but could be easily fixed in a future software update–is that you cannot edit strokes in the app.
For example, in a recent swim, I did a series of 50s kick, which the goggles recorded as "mixed." I would like to see the ability to change this in the app in the future.
Ultimately, for the swimmer who is dead serious about tracking their performance in the water, and relies on metrics like splits, time elapsed, and stroke counts to stay focused and motivated, the FORM Swim Goggles are an absolute dream come true.
| | |
| --- | --- |
| ✅ PROS | ❌ CONS |
| Displays training metrics in the lens of the goggle! | Lose a little peripheral vision |
| Exceptionally accurate | Cannot edit "mistakes" in the training app |
| Intuitive app that can also upload workouts to the goggles | |
| 7 nose-pieces for a comfortable and leak-free fit | |
| Optional workout programming (subscription required) | |
| HR monitoring with add-on sensor | |
---
2. Apple Watch Series 8
⭐ Best waterproof smartwatch for swimming
With the Apple Watch Series 8 we veer off into the smartwatch category of swim trackers (the Apple Watch Series 8 ranks as our favorite overall swim watch).
For starters, the Apple Watch is almost scary-accurate at counting laps and distances.
This is the main issue swim trackers of all stripes struggle with. You've likely had the familiar experience of doing a 3,000m swim workout and looking down at your watch and it tells you that you swam 14,325m.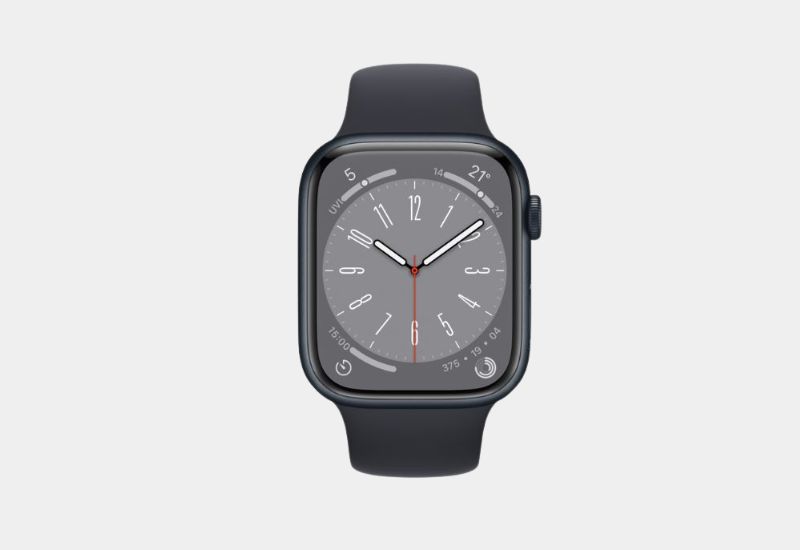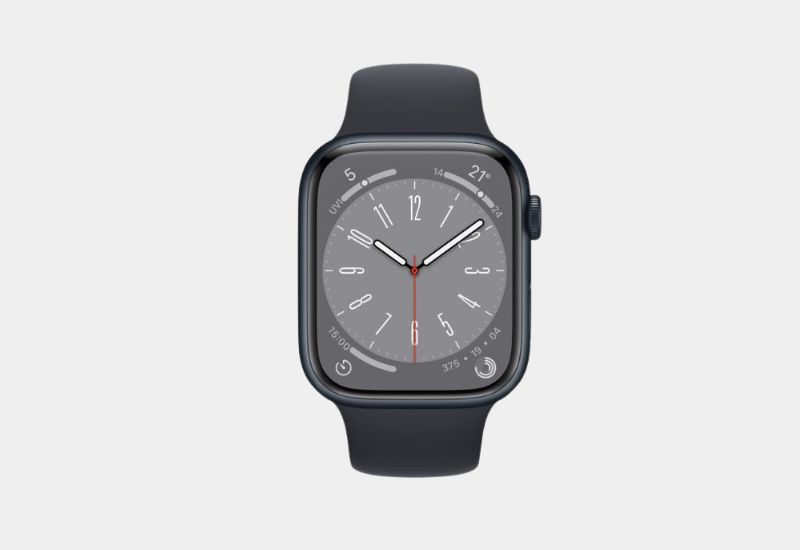 Compared to my ($900!) Garmin Fenix, the Apple Watch blows it out of the water when it comes to tracking lengths, missing only 1-2 lengths per week, usually because I am wrestling with my swim fins or other equipment in the water, confusing it.
The onboard swim tracking app is simple and tracks all the necessities, including how long you swam (distance and time), average heart rate, calories burned, number of laps, and how much yardage/meters you did of each stroke. Accessing the swim tracking app is a breeze, just a couple of clicks and you are in business.
One of the things that I really like about Apple Watch for swimming is that it tracks kick!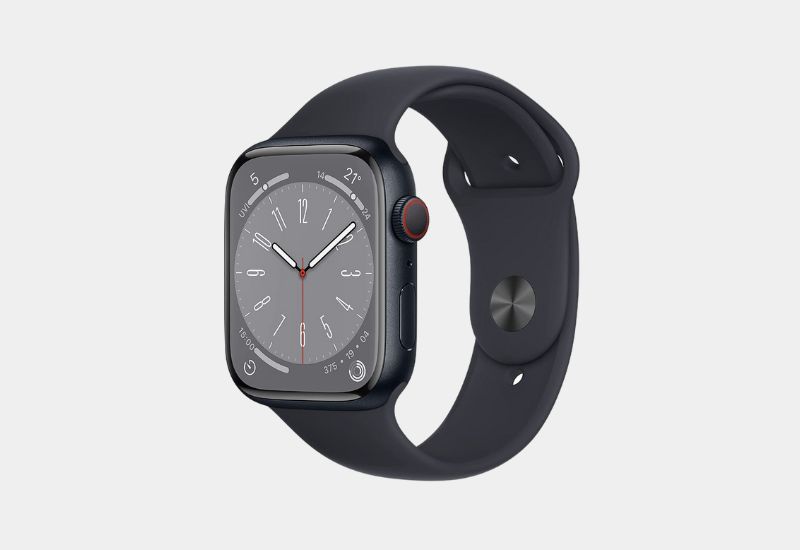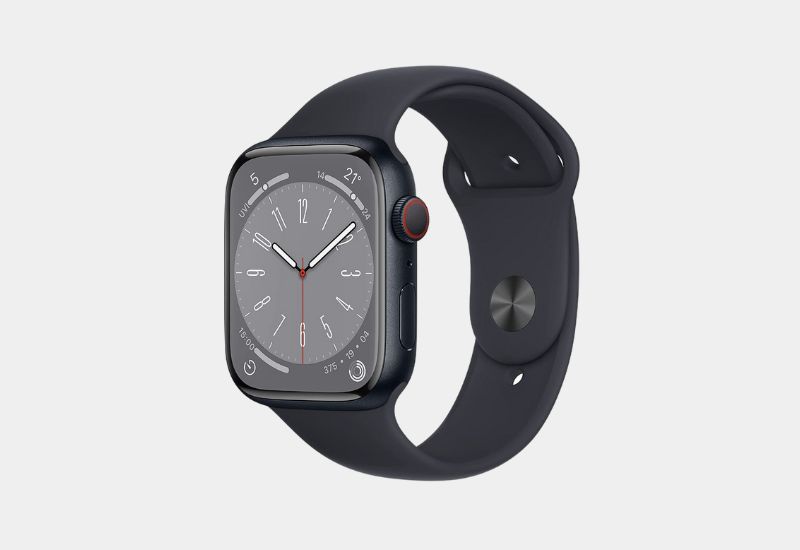 For swimmers who like doing kick at the pool (raises hand), the Apple Watch tracks the kicking as "mixed", but tracks it nonetheless.
(In comparison, my Fenix doesn't track it at all unless I do it manually.)
Note: An update available for the Apple Watch in late 2022 introduced kick tracking to the watch!
Apple Watches from Series 2 and on are water-resistant up to a depth of 50m. If you plan on doing deeper swimming and diving, the Apple Ultra Watch is rated for a depth of 100m.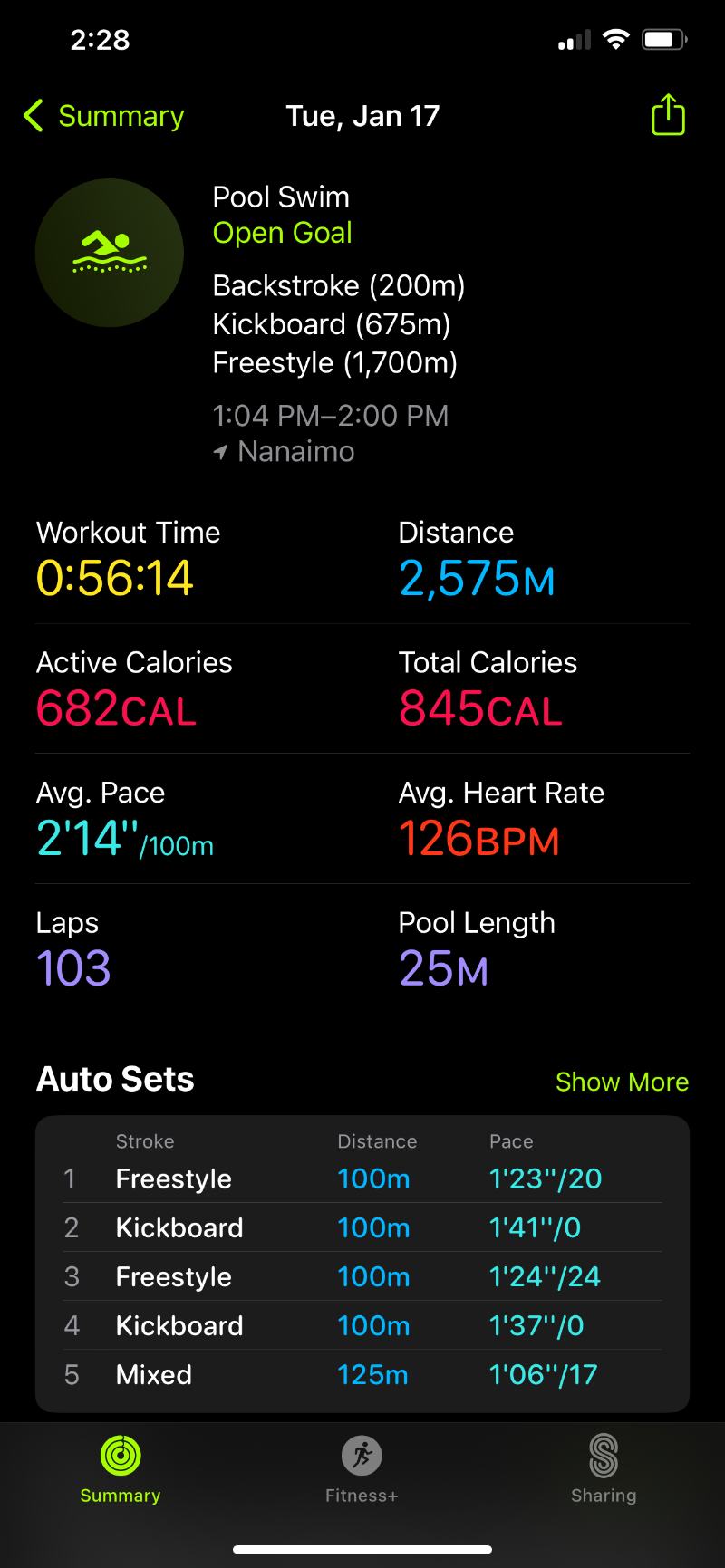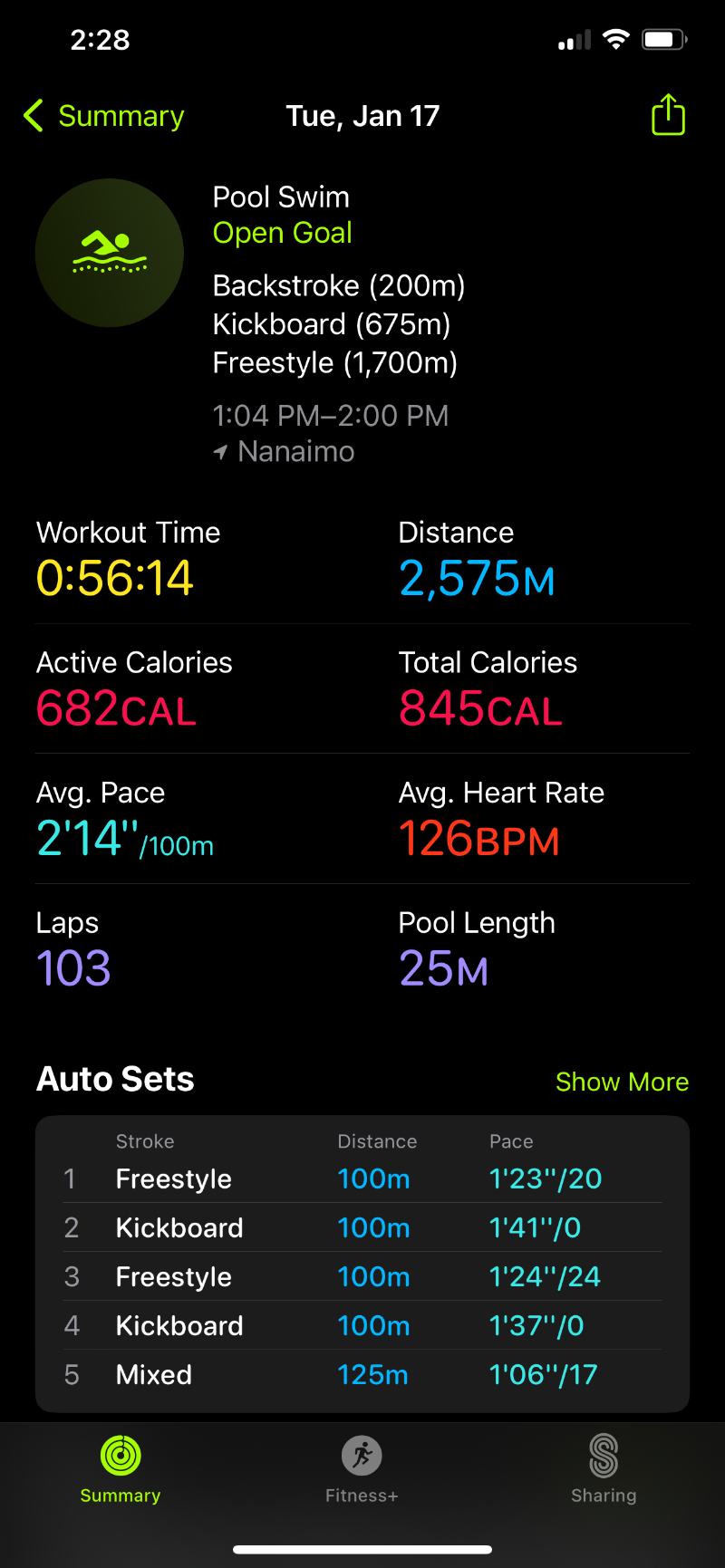 Apple Watches are not cheap, but they are hilariously durable (rinse them after use, especially after swimming in salt water pools or the ocean) and they absolutely nail the basics when it comes to tracking your performance in the water.
There are a few other things the Apple Watch does for swimmers:
GPS tracking. This is a cool feature for you open water swimmers: the ability to chart your swimming and see how straight (or not) you are going in the water. While the GPS function doesn't work through the water each time your arm surfaces during the arm recovery it pings the GPS satellite and pinpoints your position (so don't be surprised if you aren't getting tracked while swimming breaststroke outdoors, for instance).
Heart rate measurement. Although the heart rate function isn't perfectly accurate (the most accurate way to measure heart rate while swimming is still a chest strap or mounting a heart rate monitor to the side of your head), with each iteration the sensors are getting better and better, and the Apple Watch Series 8 can give you a broad idea of what your heart rate is like while you are swimming. Just make sure that the watch is snug onto your wrist.
Water Lock. An Apple app that you can download called "Water Lock" has a couple of very key features for maximizing your workout and protecting your phone. Water Lock locks the screen to prevent accidental touches, and when your workout is done, you can repel the water from the watch's speakers using the app. Very cool.
Third-party apps! This is a biggie—there are a ton of apps for Apple Watches, and naturally, there are some swim-centric apps that not only track and log your workouts for you, but also allow you to upload your own workouts to your watch, access their library of workouts, and more. Two of our favorites are Swim.com and MySwimPro.
And of course, the Apple Watch—being a smartwatch and all—has a metric butt-ton of features that you can use on dry land as well.
| | |
| --- | --- |
| ✅ PROS | ❌ CONS |
| Most accurate swim watch in the water | A bit pricey for casual swim tracking |
| Tracks kicking laps | |
| Excellent multi-function watch | |
| Open water and pool modes | |
| GPS tracking (with cellular mode) | |
| Water Lock app to kick water out the watch via the speaker | |
| Lots of third-party swim training apps | |
---
3. The Garmin Swim 2.
⭐ Best dedicated swim watch for tracking laps
It is odd to rank a non-swim company's swim watch as one of the top picks, but there it is. The reviews for it have been consistently great, and I have found that with use (at decent speeds) that it is very accurate.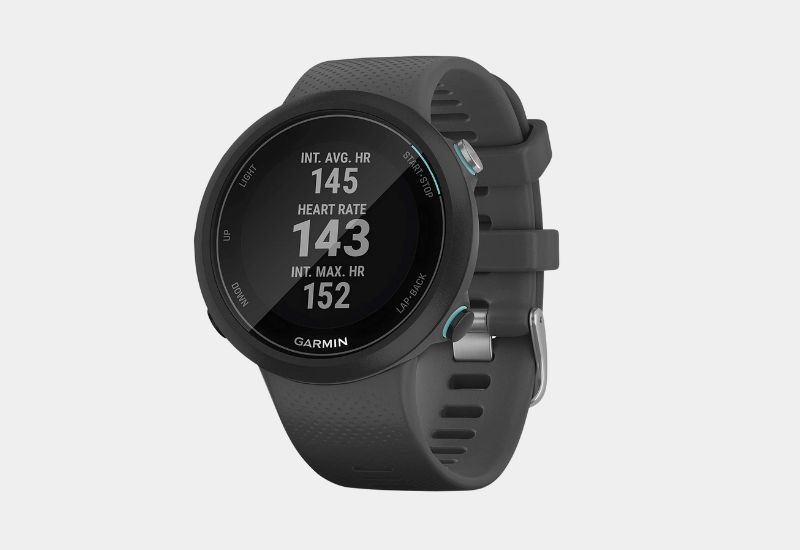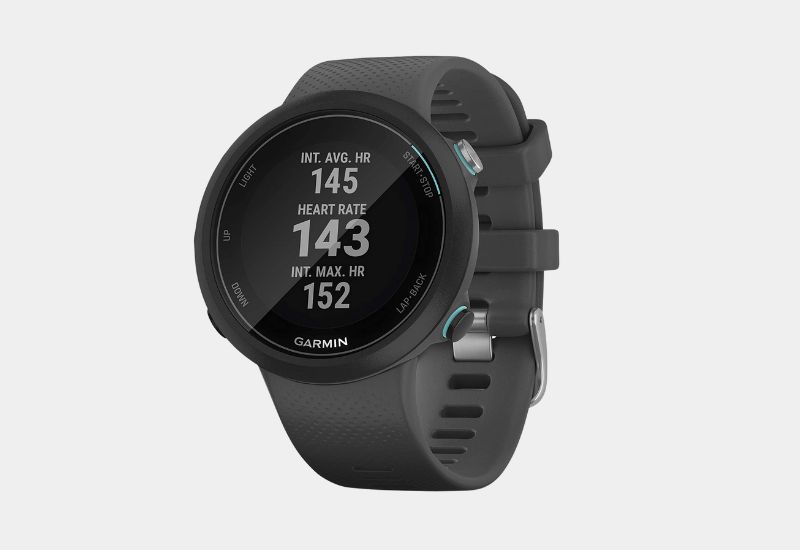 The first edition of the Garmin Swim watch was designed purely for swimmers, with no multi-sport functionality. Fortunately, Garmin smartened up with the 2.0 edition and realized that if they were gonna charge people $249 for a watch it better do a little more than just count laps.
Some cool features of this watch:
Punch in the pool length and go. There isn't a lot of configuring that needs to be done, which I appreciated.
It counts distance, how many strokes you are taking per lap, average pace. All the essentials.
Change-yourself battery. Specialized watches bring with it a host of problems, including having to send the whole unit in to have the battery changed. Not the case with the Garmin Swim. You will need to change the battery once every year, roughly.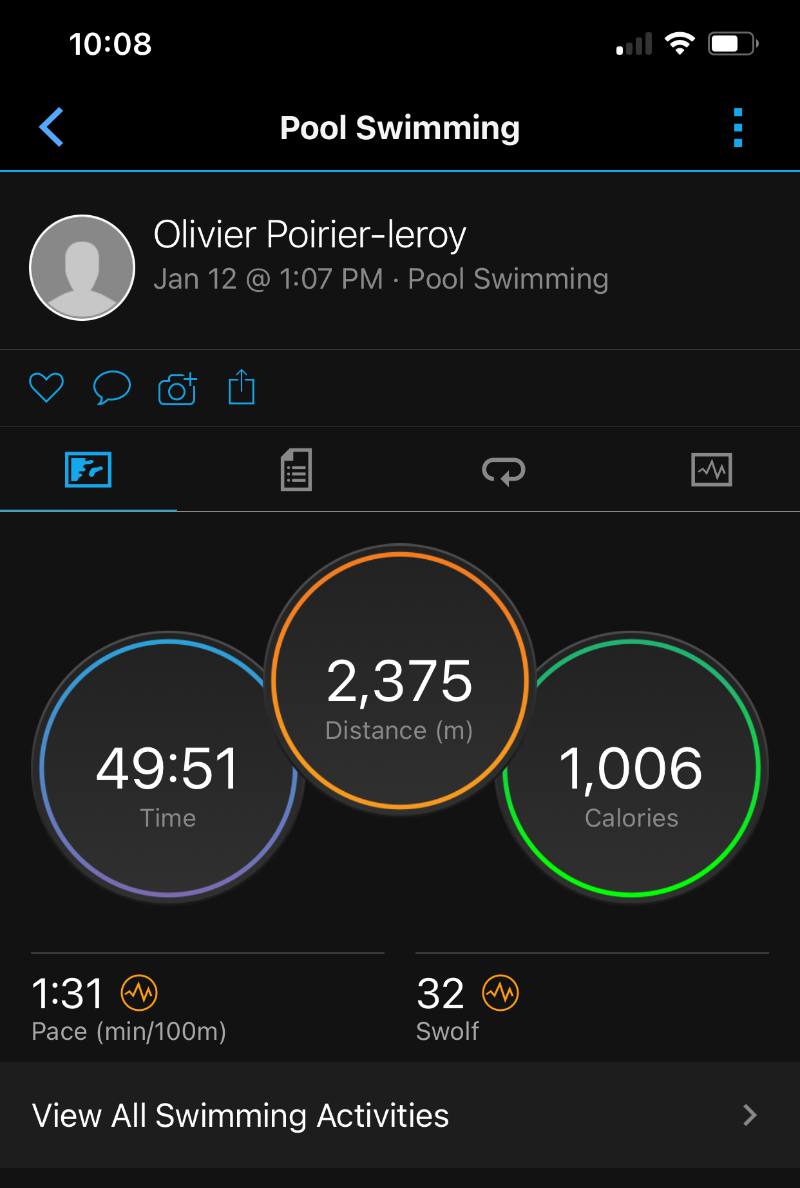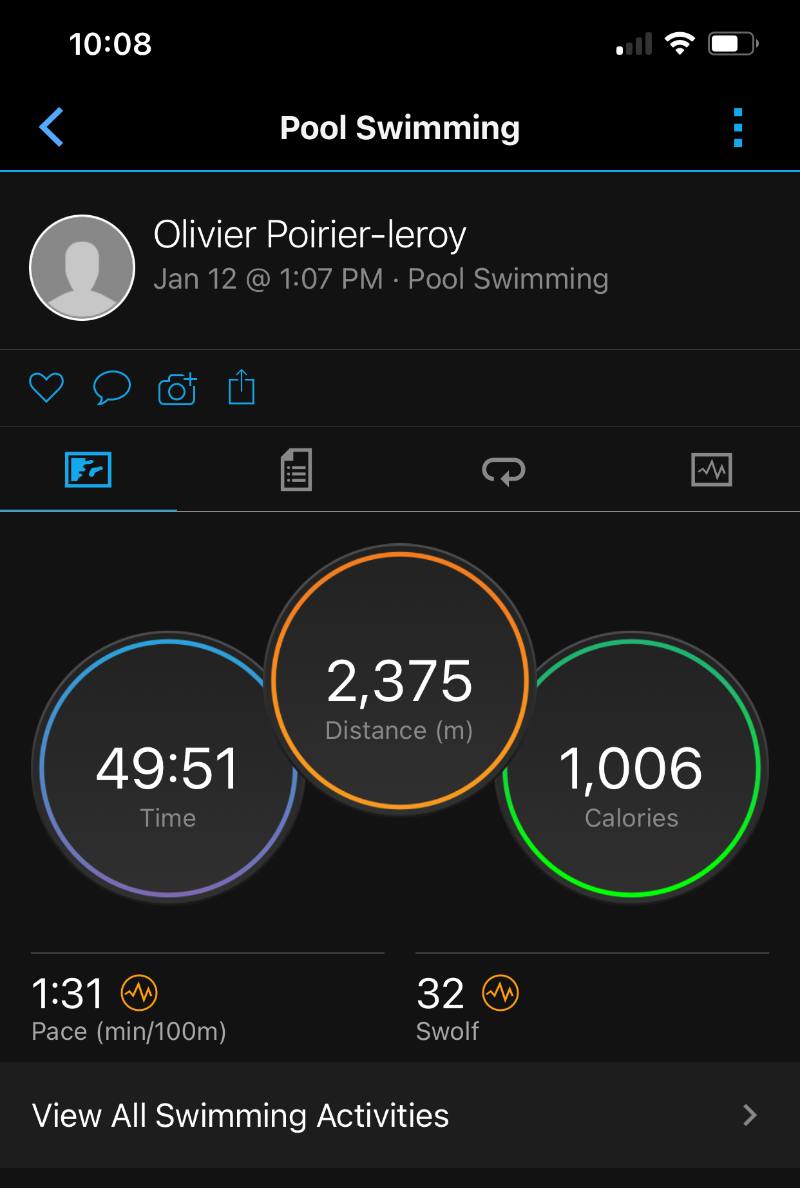 This bad boy is resistant to 50m. Booyeah.
It's a good-looking watch. Totally wearable outside of the pool. Just not any good for measuring anything else.
You can upload workouts wirelessly once in range of your computer (the software is compatible with both MAC and Windows).
Auto-detects all four strokes. There is also a drill-logging feature so that you can input various drills and other forms of swimming (kick, for example).
While there is no heart rate monitoring, Garmin also does produce a chest-strap heart rate monitor specifically for swimming.
The main issue I found with the Garmin Swim 2.0, and this goes for Garmin watches in general, is that they can be quite finicky with tracking laps.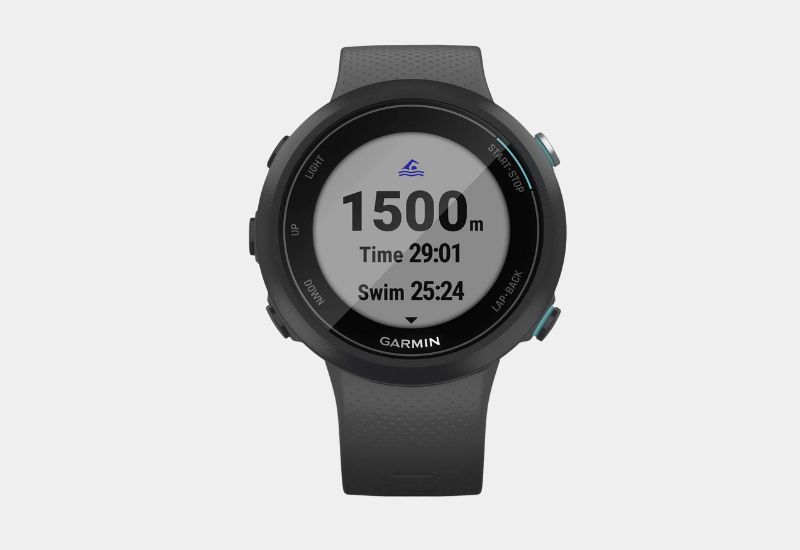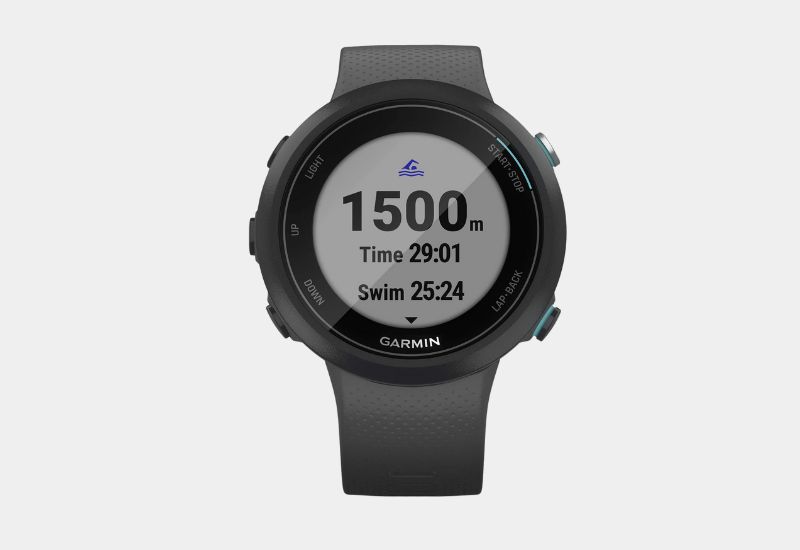 There have been more than a few swim workouts where I got out of the water and found that it had significantly overcounted my laps.
If accuracy is your primary consideration when looking for a waterproof fitness tracker, the Apple Watch will be a better (and albeit a significantly more expensive) option.
---
4. FINIS Smart Swim Goggles
⭐ Best waterproof fitness tracker for data nerds
Like the FORM Swim Goggles above, the FINIS Smart Swim Goggles have a heads-up display that shows your time elapsed, splits, stroke count, and all that good stuff… on the inside of your swim goggles.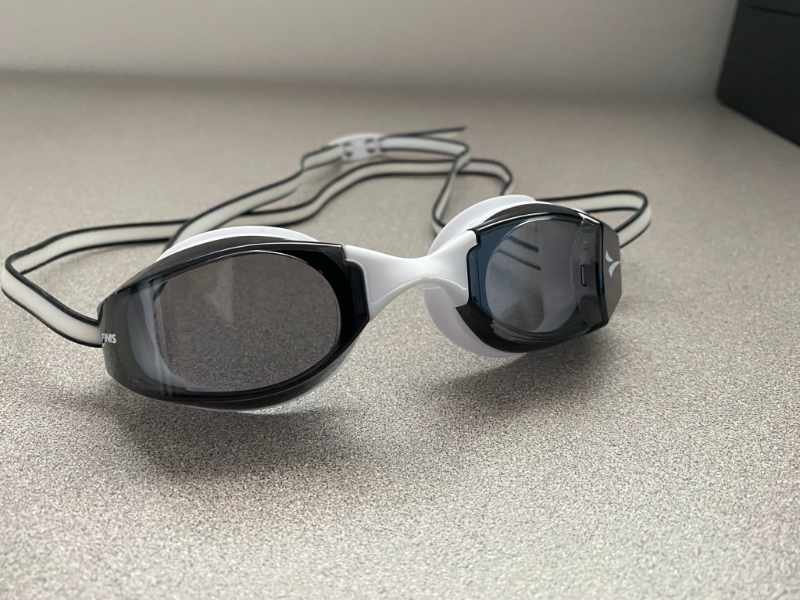 Which means no looking down at a watch between laps or squinting and looking across the pool deck at the pace clock to see how fast (or slow, as can be the case sometimes ?) you are going. No more.
While both goggles are exceptional in terms of the tech, there are a couple of features that make the FINIS Smart Goggle stand apart:
The goggles can be replaced. Swim goggles wear down over time. Scratches, the anti-fog coating evaporating, and so on. FINIS offers replacement goggles for about $30 in several different tints and colors. Simply pop the original HUD into the goggles, and you are back in business.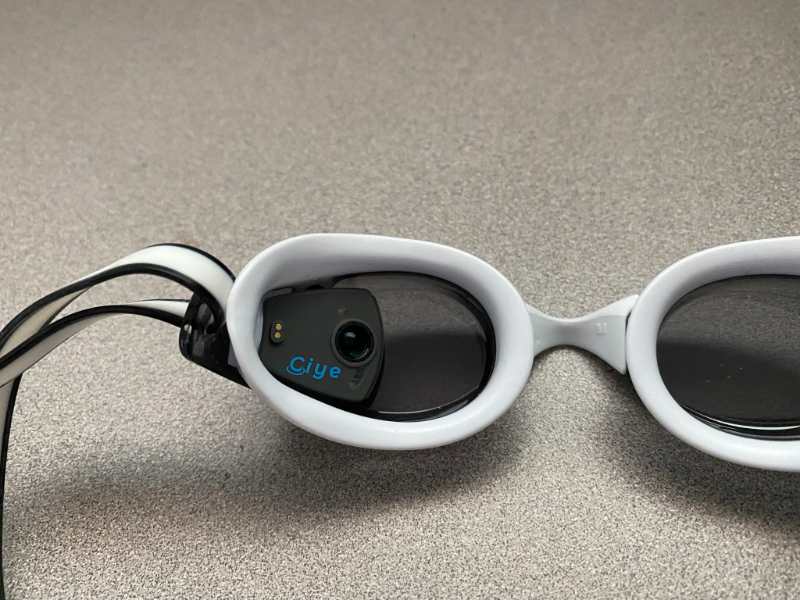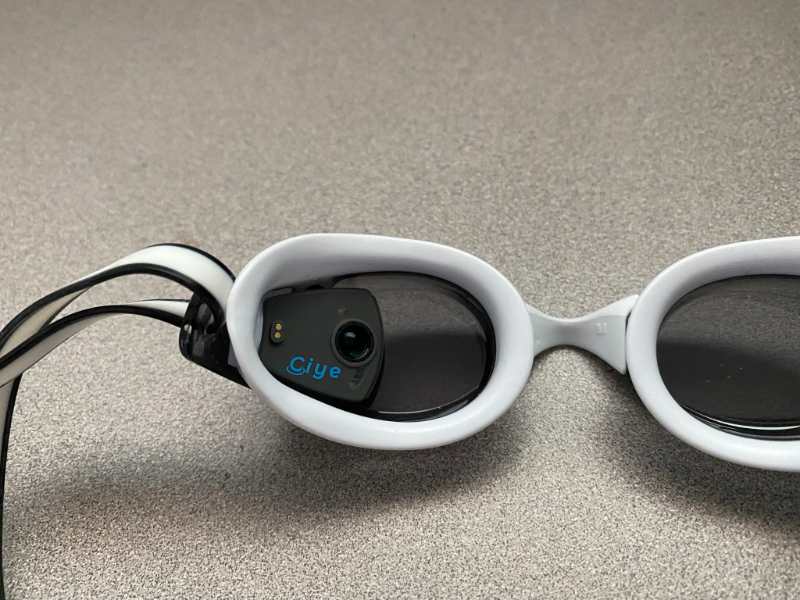 The metrics are to the side of the lens. The FORM swim goggles have the metrics up on the lens, all the time. For swimmers that just want to "check in" on their workout metrics, the FINIS Goggles have them tucked to the left side of the lens. Look left, see how fast you are going, and then look straight ahead again with an unobstructed view.
Besides that, the two goggles perform exceptionally well when it comes to tracking accuracy and app functionality. The apps were clearly designed by former competitive swimmers and are intuitive and easy to use.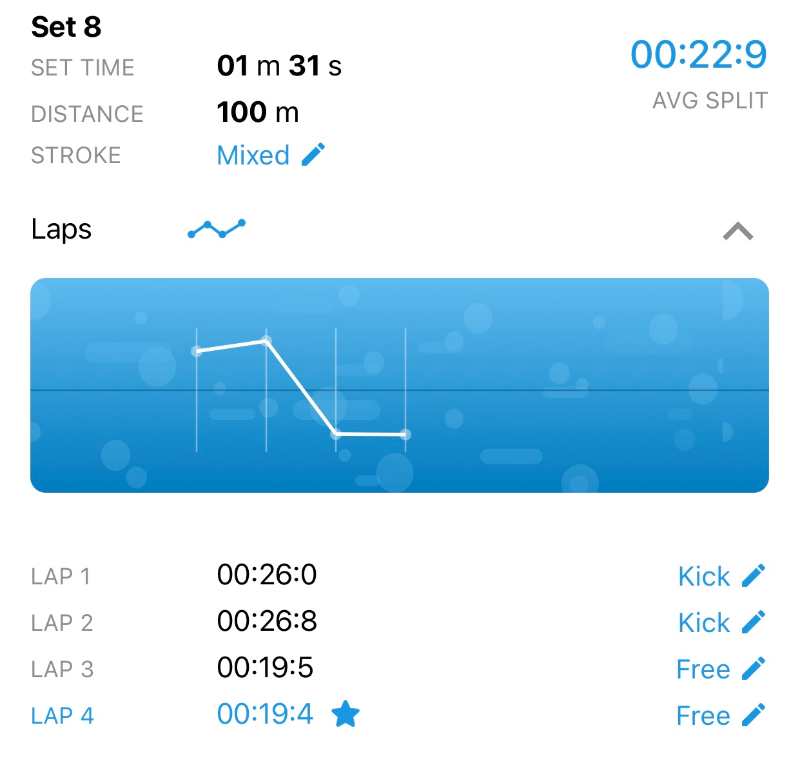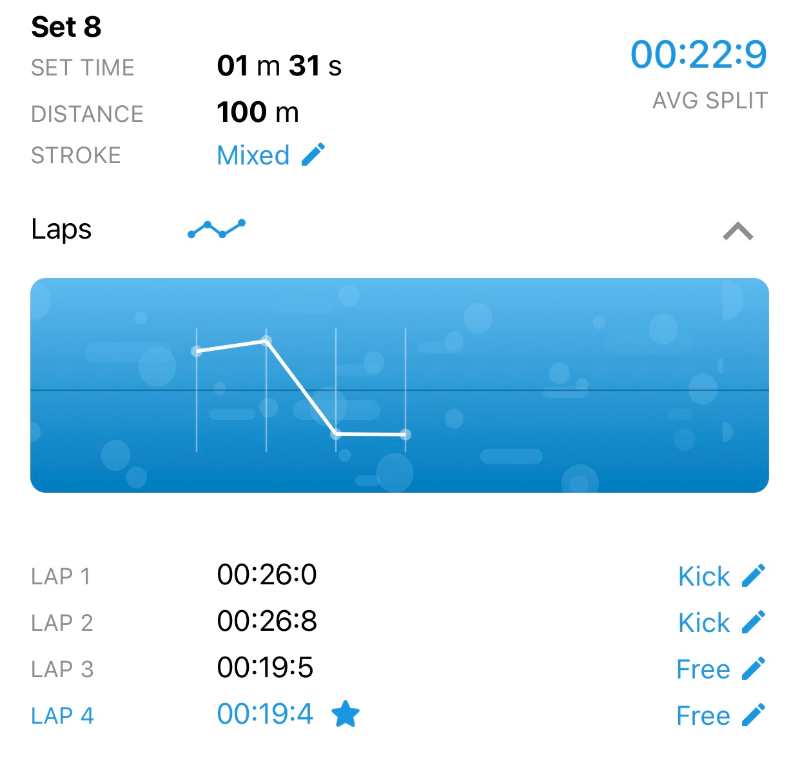 The level of detail in the app far surpasses what you get with the tracking of the Apple and Garmin watches, and perhaps most awesome for swimmers who do lots of different strokes and drills when swimming, you can manually edit laps and reps in the app after your workout.
(In the image above, I edited the first two laps of the rep to represent that I was doing "kick" and not "mixed", which is what it had recorded initially.)
While the FINIS Swim Goggle will track time and stroke rate when doing open water swimming, it won't track distance, and the goggles cannot track heart rate.
But if you are looking for a pure swim training tracker and don't want to wear a watch, the FINIS Swim Goggles are swimming data nerd's dream come true.
| | |
| --- | --- |
| ✅ PROS | ❌ CONS |
| Removable HUD and replaceable goggles | Lose a little peripheral vision with the HUD |
| Strokes can be edited in the app post-workout (i.e. "drill" to "kick") | No heart rate tracking |
| Very accurate lap counting | |
| Pool and open water tracking | |
---
5. FitBit Inspire 3
⭐ Best budget-friendly waterproof fitness tracker
Thin, slim, and with a much-improved screen over the Inspire 2, the Fitbit Inspire 3 is an excellent waterproof fitness tracker that records the basics of your swims in the water.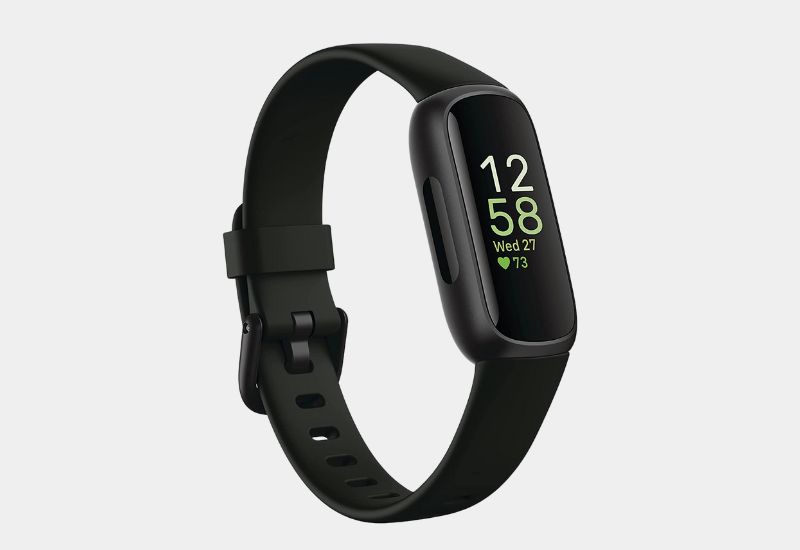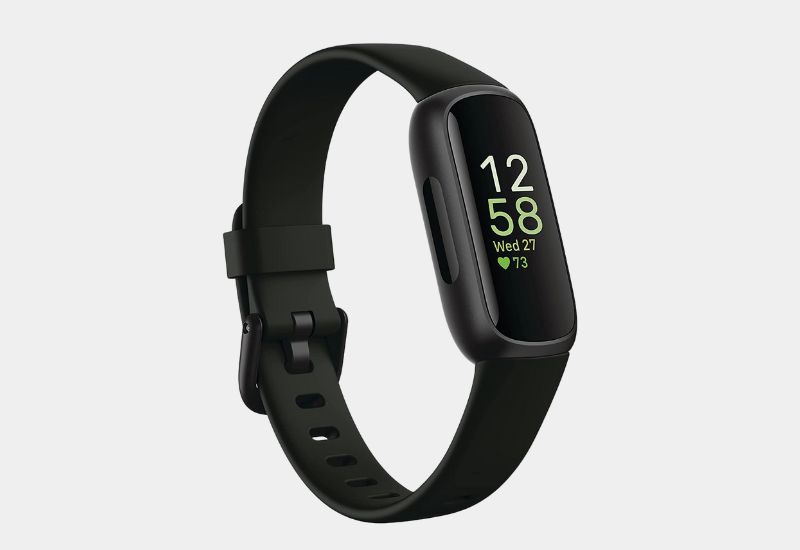 The Inspire 3 automatically detects your activity, in this case swimming, and records the number of lengths you do, how far you swam (and how long it took ya) and breaks down the overall pace of the swim.
Note: For the watch to automagically track your swim, you need to swim for at least 15 minutes.
You can also start and stop the swim workout manually in the Exercise app, which you access by swiping up on the small watch face.
Speaking of the watch face…
It's small. The Inspire 3 is basically the size of a bracelet (and makes my Garmin Fenix look laughably huge in comparison), which means it has a limited square footage for screen, making it difficult to see and read for people with not-awesome eyesight or when your swim goggles get all steamy and fogged up.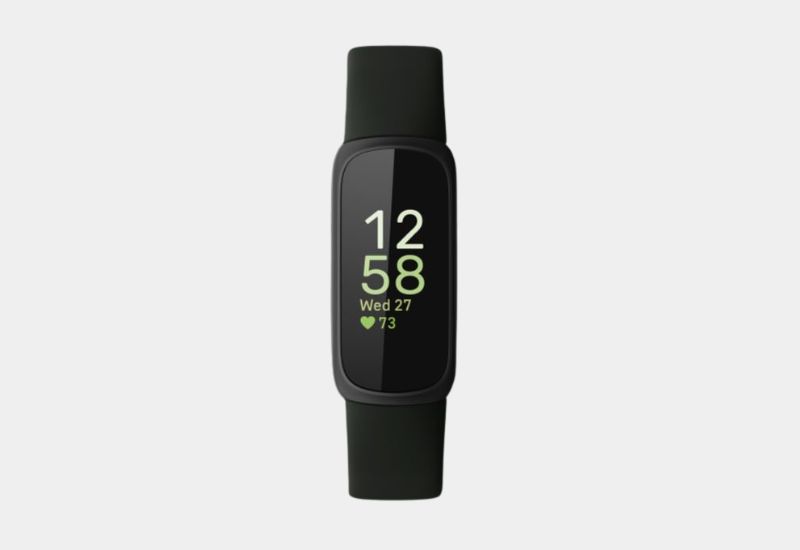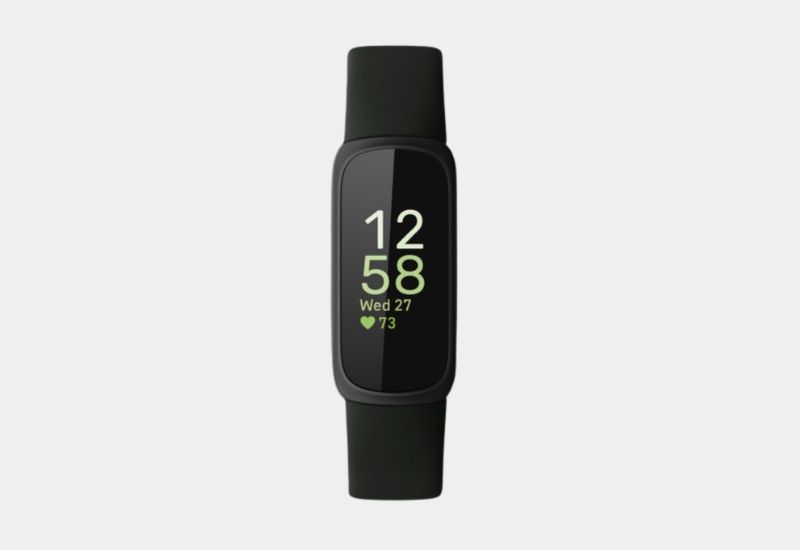 Also, swimmers who go deep on data, and who want splits, heart rate, stroke tracking, and all the rest, will want to look elsewhere.
But for swimmers who want to track the basics of their workouts, and don't like the big and bulky feel of larger watches and trackers, the Fitbit Inspire 3 is a killer choice for tracking your swims.
| | |
| --- | --- |
| ✅ PROS | ❌ CONS |
| The price! | Small screen; not ideal for people with poor eyesight or really foggy swim goggles |
| Can adjust the lap length size from the tracker | No HR monitoring in the water |
| Multiple band sizes included | Limited data recording |
| Very slim profile | |
| Automatic and manual tracking | |
| Barely feel it on your wrist | |
---
6. Garmin Forerunner 945
⭐ Best waterproof fitness tracker for triathletes
Let's just come right out and say it—this thing is a beast.
It not only looks like a tank when it's strapped to your arm, but it is backed by the best in the industry when it comes to making multisport watches, the big G itself, Garmin.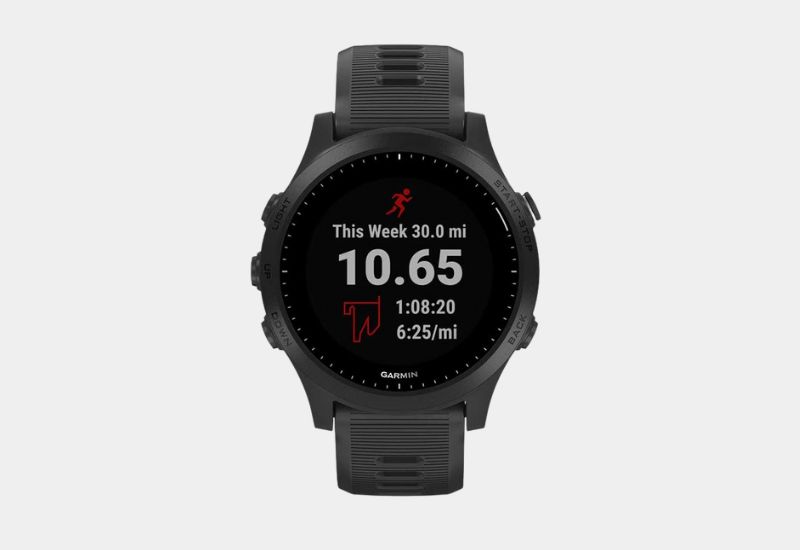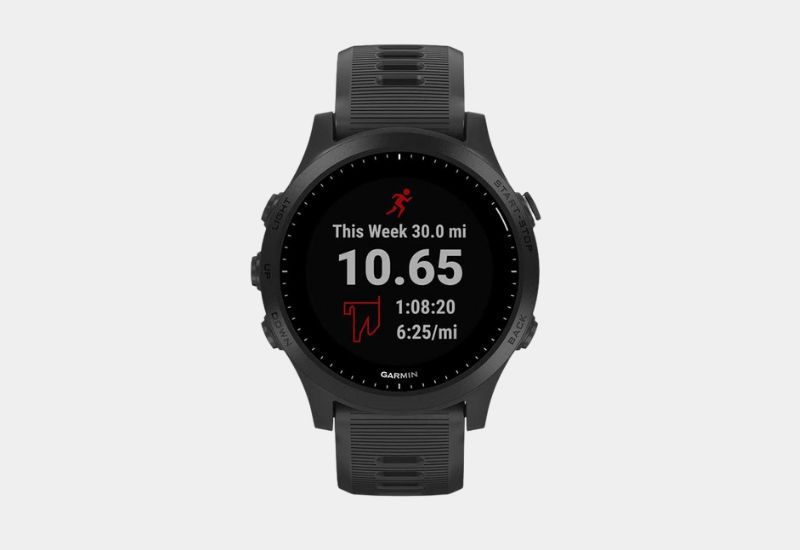 Before we get to what I love about this thing, let's dispense with the basics…
The Forerunner 945 is water-resistant to 50m, has built in GPS for tracking open water swims (shows a little breadcrumb trail on the map, which is a fun little touch), and has epic battery life, lasting around two weeks.
The swimming app on the Forerunner 945, which can be accessed in a couple of clicks, tracks all of the basics, including time swimming, splits, distance, SWOLF, heart rate, yadda yadda yadda. As well, you can track intervals and sets manually from the watch, if you so choose (it won't track kick sets, so you will have to do it manually on the watch).
But it's the performance features that are what I really love about this watch.
It tracks how much time you are spending in different heart rate zones, measuring general intensity, and outlining what kind of training effect you received from your swim (or run or bike).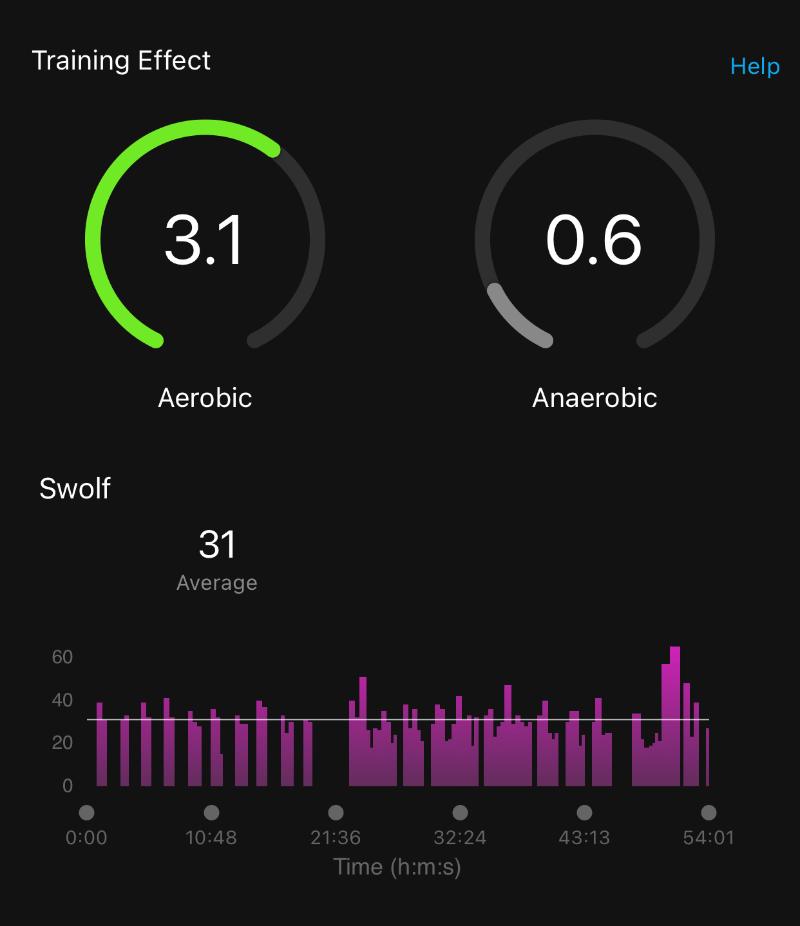 This is awesome for better plotting recovery workouts, high-intensity, anaerobic days, or swim workouts where the goal is building aerobic capacity.
Obviously, all this data and fine-grain workout data is unnecessary for the casual lap swimmer, but for those who love the nitty gritty of this kind of data will absolutely love the Forerunner.
It's priced reasonably well, for about half the price of other Garmin watches like the Fenix and the Apple Series 8 Watch.
The Garmin Forerunner 945 is the ideal waterproof fitness tracker for the endurance athlete, both in the water and outside of it.
| | |
| --- | --- |
| ✅ PROS | ❌ CONS |
| Best waterproof fitness tracker for multi-sport athletes | Overkill for the casual lap swimmer |
| Detailed tracking info on energy zones, training effect, and more | |
| Long battery life | |
| Sync music from your favorite streaming service | |
| Tracks training load, VO2 max, energy zone use | |
| Tracks steps, sleep, and all the other usual smartwatch thingies | |
---
How to Choose the Right Waterproof Tracker for Swimming
Choosing the right waterproof fitness tracker comes down to a few key factors:
Water Resistance
Naturally, the big selling point on a waterproof fitness tracker is that it doesn't get zapped when used in the water.
All of the options on this list are water-resistant up to 50m of depth.
Training Metrics
The right waterproof tracker tracks the things that are most important to you and your swimming goals.
For data nerds who want stroke counts and splits for every last meter or yard of their swim workout, they will want to invest in something like the Apple Watch Series 8 or one of the smart swim goggles as they bank an almost overwhelming amount of data.
Swimmers looking for heart rate monitoring will want to stick with the smart watches or consider adding a heart rate sensor to the smart goggles (I highly recommend the Polar OH1+ as it can be clipped onto your goggle straps).
All of the waterproof fitness trackers on this list record the absolute basics, including duration, distance
Display Size
One of the best parts of swimming with a watch or smart goggle is being able to check-in on how your workout is going.
Seeing that you are in the right heart rate zone, nailing the pace you set for yourself, or swimming faster than usual is a great source of motivation. Which means you need to be able to see the display.
Swimmers who swim in dimly-lit pools will want a tracker that has a bright and clear display that can be viewed easily, even through the fog of their swim goggles.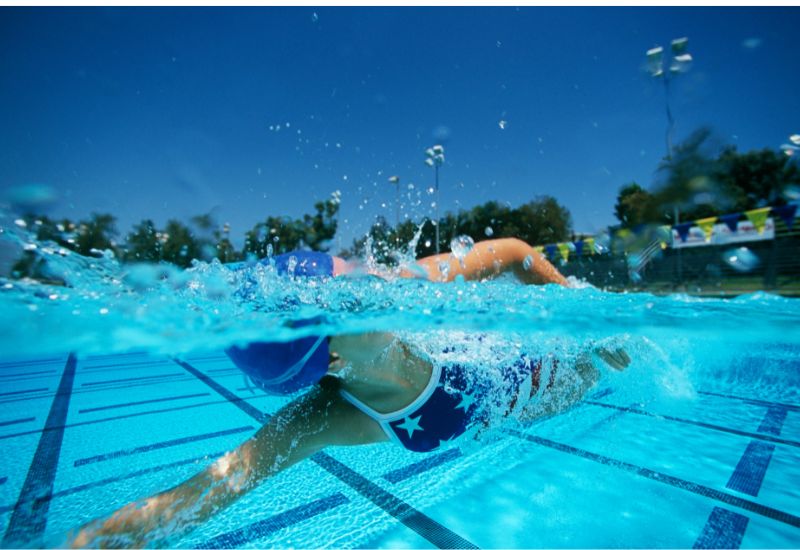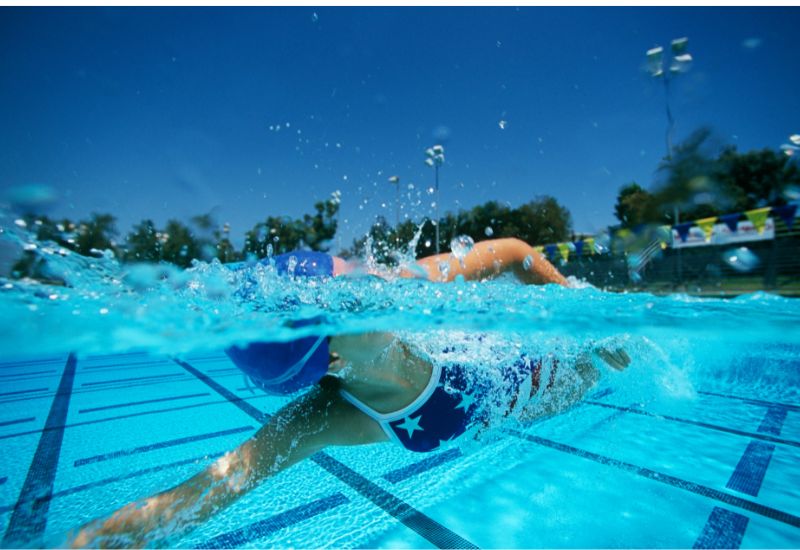 Tracker placement
Where you place the tracker comes down to comfort and visibility.
Smart goggles take the tracking off your wrist and put splits and distance in front of your eyes. Swimmers who have a very sensitive feel for the water and don't like the way water rushes against and over a watch will prefer this option.
Watches allow you to choose when you want to reference your workout metrics, which can help you stay focused on technique and timing your turns like a boss.
App performance
All the data in the world is useless if the app tracking it doesn't display it in a manner that helps you stay on top of your workouts.
The FINIS, FORM, and Apple apps provide the most data that is presented in an orderly way. The FINIS and FORM apps in particular are excellent and clearly built by former competitive swimmers.
While I love Garmin watches, their swim app leaves a little bit to be desired in terms of being able to breakdown a swim workout on the app but are great for general stats like heart rate, distance, pace, and SWOLF scores.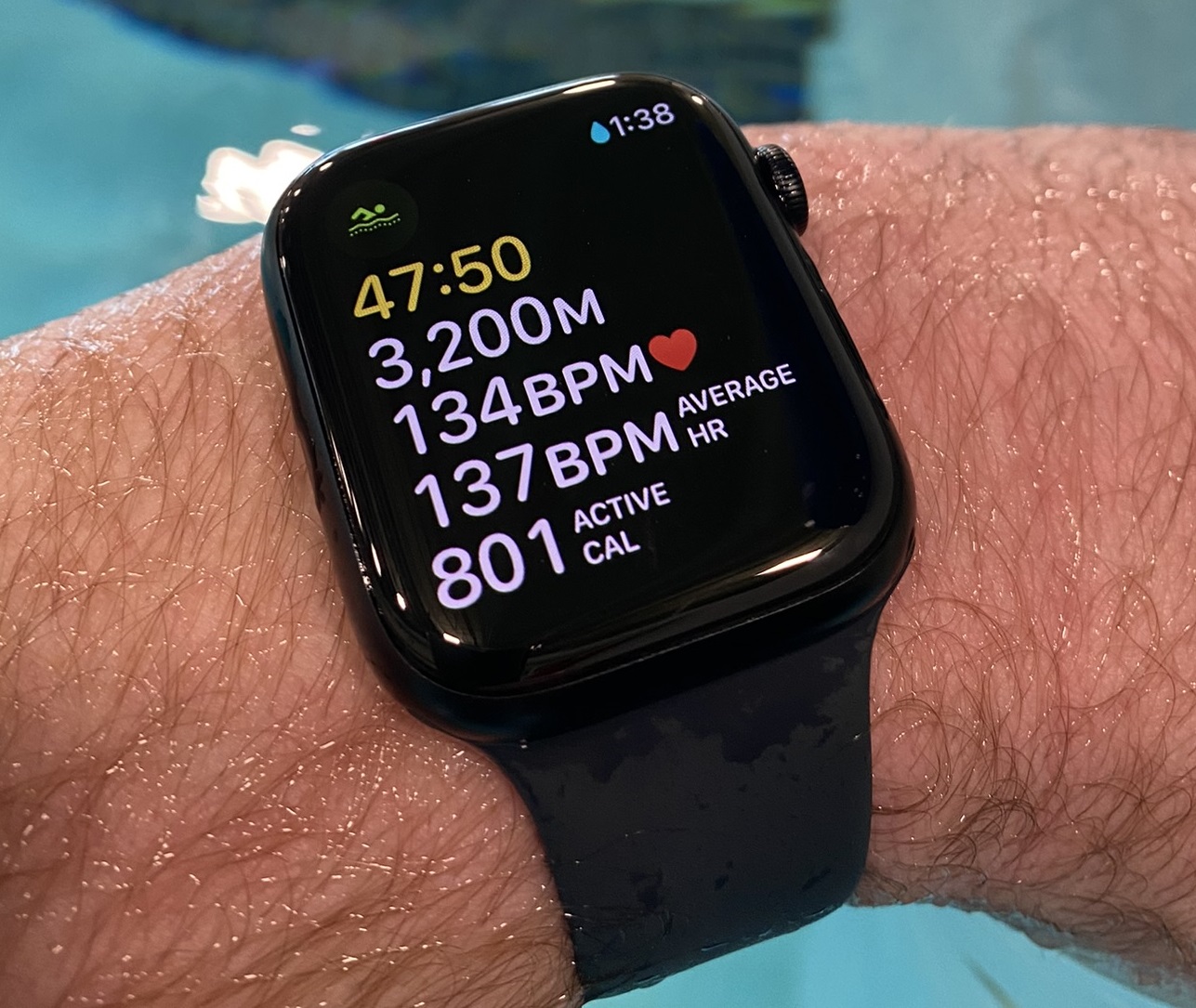 Third-party apps
The apps on swim trackers have really improved in recent years.
That said, if you want to upgrade the features and analytics, there are some great third-party swim apps that offer online communities, programmed workouts, and a detailed dashboard that break down your swimming workouts.
Apps like MySwimPro, for example, connect with your Garmin or Apple watch.
Why You Should Use a Waterproof Fitness Tracker at the Pool
There are a ton of benefits, after all, of knowing what you are doing in the pool:
Trackers give you goals to work with.
Whether it's an interval, time for a long, unbroken set of straight swimming, or hitting a number of reps swimming a particular time, tracking our swimming gives us measurables to track and compare.
Getting the most from your waterproof fitness tracker means setting some goals and having a mission each time you cannonball, err, dive into the water to train.
Boosts motivation in the water.
This is the biggie, particularly for swimmers who train on their own (present company included).
Having results of your swim workout right in front of you pushes you to train a little harder, while also giving you the satisfaction of knowing that accomplished something measurable in the water that day.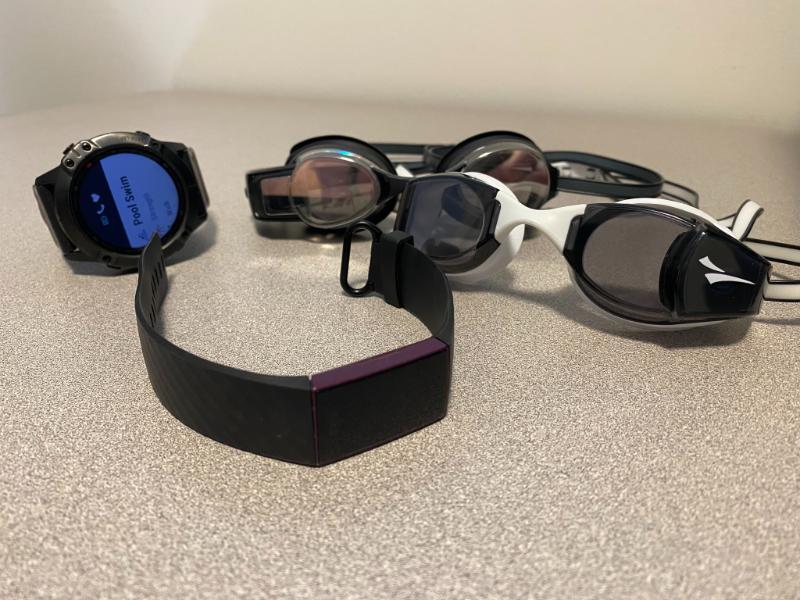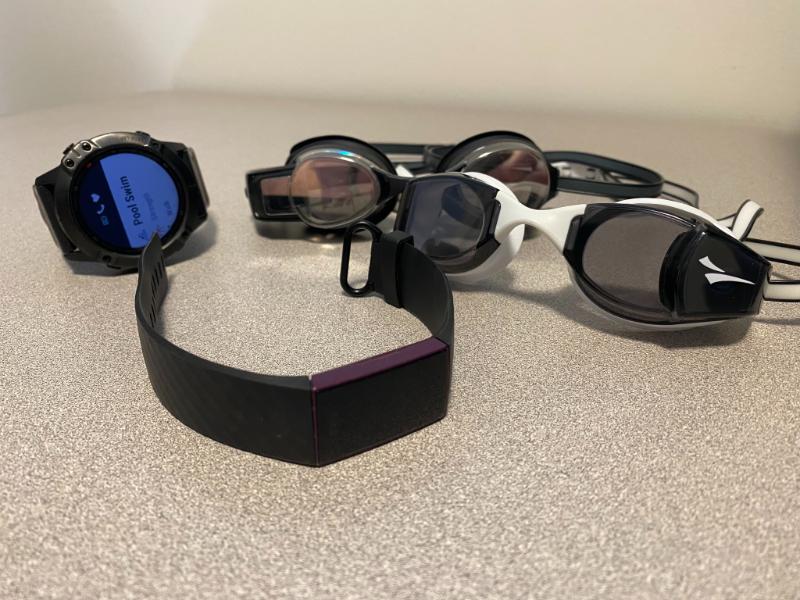 Helps plot your training.
If you are straight-up swimming for leisure then you don't a fitness tracker for swimming. If, however, you have things you want to accomplish, it's helpful to know where you are at so that you can better plan future training sessions.
Devices like the Apple Watch, FORM Goggles, and the FINIS Smart Goggles allow you to upload workouts ahead of time, giving you purpose when you step out onto the pool deck.
Keeps you accountable.
Over the years I swam with countless swimmers who would leave early on the pace clock, just so that they could lie to themselves about how fast they were going.
Using a swimming fitness tracker will remove the guessing game that comes with eye-balling those old-school pace clocks, and give you accurate results that will keep you honest.
The Bottom Line
Swimming is one of the all-time best ways to get in shape. (Plus, you get those snazzy V-shaped swimmer's shoulders, too.)
And getting the most from your time in the water can be greatly assisted by using the waterproof fitness tracker that matches your ambitions and needs in the water.
Whether you want a simple lap counter so that you don't lose count (it happens to all of us) or something that will allow you to fine-tune your training to swim better and faster than ever, there is a waterproof fitness tracker for swimming out there for you.
Choose your tracker of choice, start recording and monitoring your progress, and take your swimming to the next level.
---
See More Stuff Like This:
The Best Waterproof Fitbits for Swimmers. Fitbit—one of the most popular wearables on the planet—have two waterproof fitness trackers for swimmers. Here are reviews of both of Fitbits waterproof trackers for swimming.
The Best Swim Lap Counters for Tracking Laps and Splits. Ready to go low-tech with your lap counting? These simple devices will make sure you don't lose track of where you are at again.
Best Watches for Triathletes. Simple in function and powerful in use, these watches for triathletes and multi-sport athletes will take your training and competition to the next level.