Ready to take your swim workout to the next level? Here's your guide to the best waterproof fitness trackers for swimming.
Athletes, and swimmers are no exception, understand the value in monitoring and tracking their performance in the water.
There are a ton of benefits, after all, of knowing what you are doing in the pool:
It gives you goals to work with. Whether it's an interval, a time for a long, unbroken set of straight swimming, or hitting a number of reps swimming a particular time, tracking our swimming gives us measurables to track and compare.
Gives you motivation in the water. This is the biggie, particularly for swimmers who train on their own (present company included). Having results of your swim workout right in front of you pushes you to train a little harder, while also giving you the satisfaction of knowing that accomplished something measurable in the water that day.
Helps plot your training. If you are straight up swimming for leisure, than you don't a fitness tracker for swimming. If, however, you have things you want to accomplish, it's helpful to know where you are at so that you can better plan future training sessions.
Keeps you accountable. I swam with countless swimmers who would leave early on the pace clock, just so that they could lie to themselves about how fast they were going. Using a swimming fitness tracker will remove the guessing game that comes with eye-balling those old school pace clocks, and give you accurate results that will keep you honest.
As wearables continue to become more and more popular, this trend has extended itself to the water, with several of the large wearable manufacturers, including Garmin and Apple, launching their own versions of the swim watch.
While there is no shortage of these kinds of fitness trackers for swimming out there, they are not all built the same. I get emails frequently from swim companies launching swim wearables, and some are downright hokey. And some are not completely honest about how accurate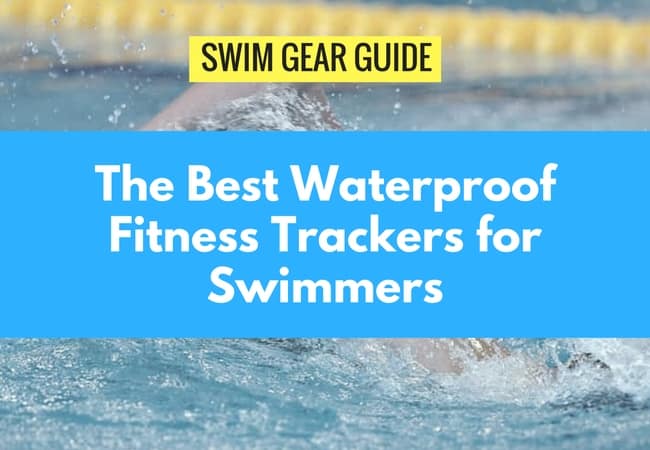 1. The Garmin Swim.
It is odd to rank a non-swim company's swim watch as the top performer on this list, but there it is. The reviews for it have been consistently great, and I have found that with use (at decent speeds) that it is very accurate.
Now, unlike other watches, like the TomTom Multisport, the Garmin Swim is only useful for swimming. If you are a triathlete, and need the GPS that comes with tracking your runs and bike sessions, this watch won't really work for you (unless you use it purely for swimming).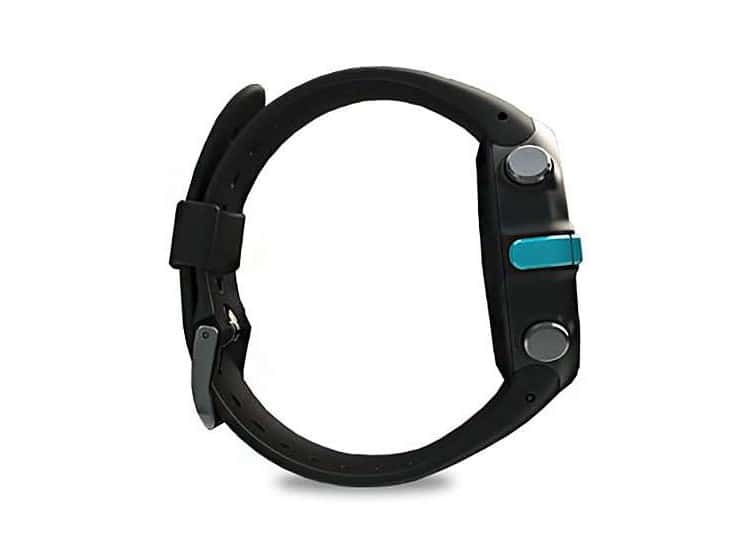 Some cool features of this watch:
Punch in the pool length and go. There isn't a lot of configuring that needs to be done, which I appreciated.
It counts distance, how many strokes you are taking per lap, average pace. All the essentials.
Change yourself battery. Specialized watches bring with it a host of problems, including having to send the whole unit in to have the battery changed. Not the case with the Garmin Swim.
This bad boy is resistant to 50m. Booyeah.
It's a good looking watch. Totally wearable outside of the pool. Just not any good for measuring anything else.
You can upload workouts wirelessly once in range of your computer (the software is compatible with both MAC and Windows).
While heart rate monitoring doesn't work well, Garmin also does produce a chest-strap heart rate monitor specifically for swimming.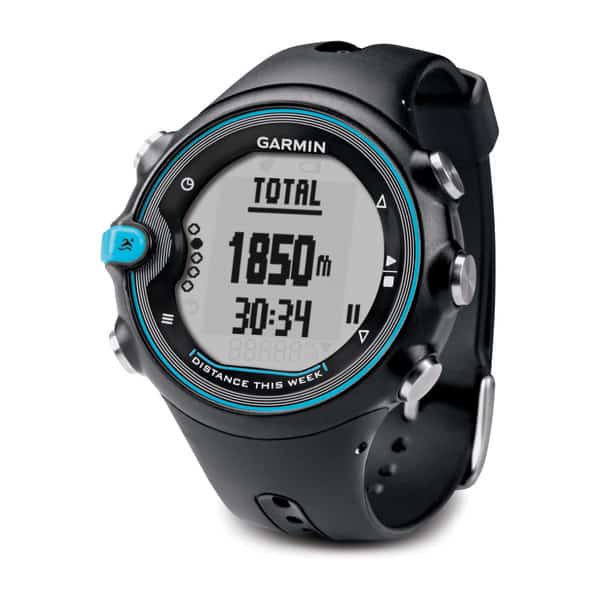 2. Misfit Shine 2
The Misfit Shine 2: Swimmer's Edition is a swim watch that was designed in collaboration between Misfit and Speedo, arguably the world's leading swimwear manufacturer.
Development of this product was done partly at Aqualab, Speedo's high performance research facility (where they also tested and developed their industry-leading tech suits, the LZR Racer X kneeskin and the LZR Racer X jammer).
The first thing you will notice about this waterproof fitness tracker is that it is super slim. Which is handy when you are trying to cross the pool with the least amount of drag and resistance as possible.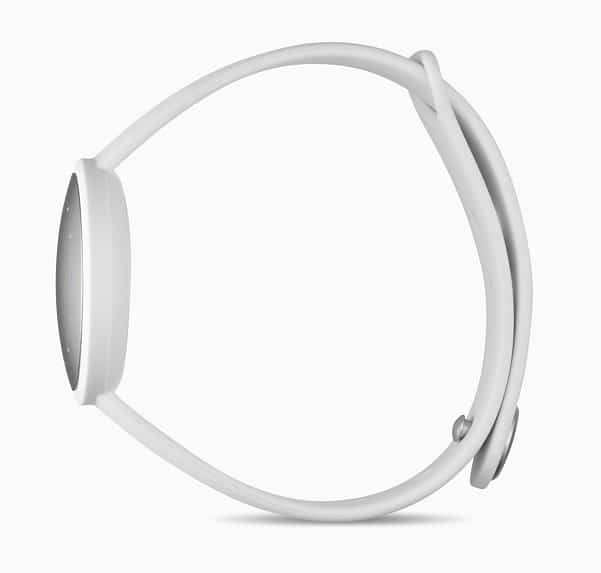 Other key features:
Can also be used as a sleep tracker. This was a big "W" for me. As someone who preaches relentlessly on the importance of sleep for swimmers, having this feature was highly appreciated.
Designed to work with the Speedo Fit app, which gives you a detailed overview of your workouts with all the dirty little details.
The battery lasts a little less than the Garmin Swim at around 6 months, and is replaceable.
It's the lightest of the swim watches I tested out, weighing in at a feather-like 0.16 ounces. You literally forget that it's on your wrist.
Although the sales page for the product says it measures 25m and 50m laps, this watch does also work in yard pools.
The 2016 edition of the Misfit Shine 2 has an upgraded band; the original Misfit had issues with the face of the watch popping out while swimming. This looks to have been fixed with the 2.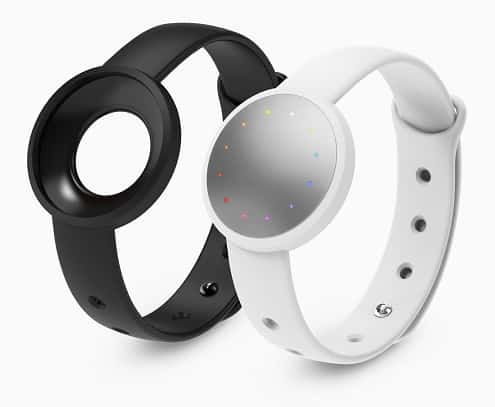 3. FINIS Swim Sense Waterproof Fitness Tracker
I'm typically a large fan of FINIS gear. I find them to a be innovative when it comes to creating products for competitive swimmers, from their Tempo Trainer Pro, their Agility Paddles, to their excellent underwater music player, the FINIS Duo.
I was largely underwhelmed by their waterproof fitness tracker. Where most of their line up of products is sleek and simple, this is clunky and the largest of the watches reviewed here.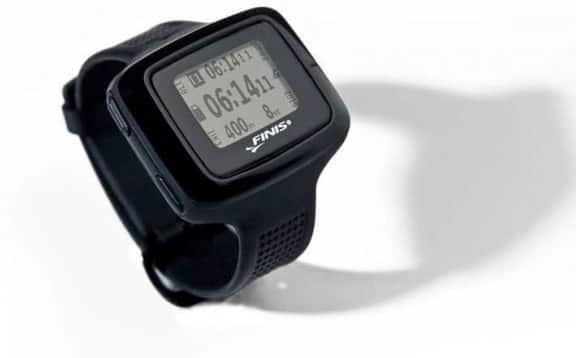 The watch itself is quite accurate, and measures all of the things most swimmers would expect from a swim watch, including total laps (always helpful for those of us who lose track), average pace, calories, and distance per stroke.
Despite the boxy look of the watch, it does do some things other watches don't (or don't do as well):
Measures the other strokes. Unless you are swimming solely freestyle, at some point your swim watch will wonder what you are up to when you start doing backstroke or butterfly. The FINIS Swim Sense has "proprietary algorithms" that are able to identify what stroke you are doing so that you don't have to stop and re-program the watch every time you change strokes.
It's rechargeable. Unlike other watches on this list, you can plug in your watch after your workouts to a USB port and top up the battery, which has a life of 6-7 hours.
You can read the digital read-out quite well. As someone who trains with dark swim goggles, and who wears them past the point of the anti-fog failing, this is particularly handy. The display is a high contrast OLED, helping you see how your workout is going through the fog (and tears) in your goggles.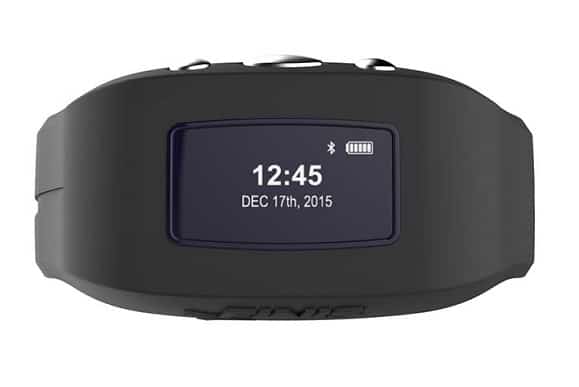 ---
See More Stuff Like This:
The Best Waterproof Fitbits for Swimmers. Fitbit—one of the most popular wearables on the planet—have two waterproof fitness trackers for swimmers. Here are reviews of both of Fitbits waterproof trackers for swimming.
The Best Underwater and Waterproof MP3 Players for Swimming. Ready to level up your swim workouts with music? Here's a breakdown of the most popular underwater and waterproof iPod/mp3 players on the market today.
The FINIS Duo: The Best Underwater Music Player for Swimmers.Looking for more information on the Duo? Here's a more detailed breakdown of why this underwater MP3 player is so awesome.
Swim Gear Guide: FINIS Tempo Trainer Pro. It's one of the simplest and effective tools for swimmers looking to master their stroke rate, stroke distance, and more. Here's the dealio on this popular device.