If there is one constant among top swimmers is that they like to set goals.
Michael Phelps is rather well-known for being an early adopter of goal setting, writing out a list of goals from an early age that included splits and what he was going to do to accomplish them.
American distance (and now middle distance and sprint) powerhouse Katie Ledecky has always been very into setting goals as well. She has been writing down goals before meets since she was racing 25-yard events as a 6 and 7-year old. "I've always been very goal-oriented," she told USA Today earlier this year.
Another top American swimmer, freestyle-specialist Nathan Adrian, has an approach that chunks or breaks down his main goal into actionable items that he can zero in on during his training.
If you have been a reader of the site for a while you know it as "mastering the process."
During a press conference held by USA Swimming during the Olympic Training Camp Media Day in July of 2016 Adrian was asked something more than a few of us are curious about–
"What's your goal for the 100-meter freestyle?"
To which Adrian, the defending Olympic champion in the event, shed some light into how he and his coach at Cal Berkeley, Dave Durden, approach Adrian's training for high level meets:
"There's certain people who gravitate towards different techniques of goal setting," said Adrian, originally from Bremerton, Washington. "I'm not a guy who sets numerical goals. That's not something that works for me really well. It's about executing the race that I've planned for the entire year."
(Emphasis mine.)
Master the Process, Master the Results
For most swimmers they stop once they have set themselves a goal. They have convinced themselves that having the dream is enough.
But for elite performers—and we are talking about beyond the pool here too—it's all about setting process and training goals in service of the dream.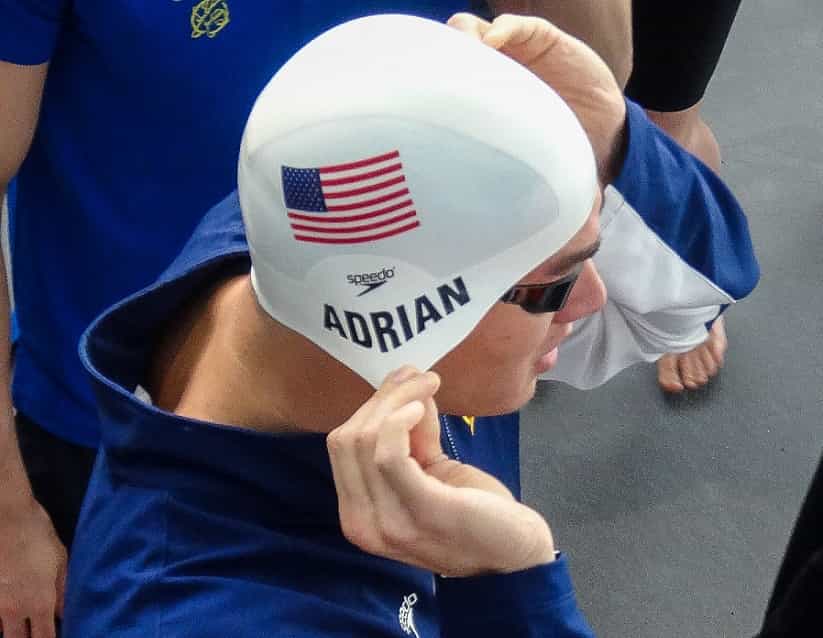 It comes down to mastering the process. Being able to break down the dream into actionable things you can do in practice.
"For instance, if you asked me what I am working on now, it's going to be working on my dive into my dolphin kicks and maintaining momentum into my swim," says Adrian. "Through those micro-goals the entire race comes together at the end of the year."
Adopting Adrian's method of training and preparation gives you a couple really powerful benefits.
You'll end up enjoying training more. This sounds impossible, but staying overly focused on the results robs us of the satisfaction and pride that comes from mastering the details.
It's less stressful. Swimmers who stay focused solely on the outcome are always the most anxiety-ridden athletes on the pool deck. This is because the result isn't always up to you—how other swimmers perform, the conditions in the pool, these are things swimmers ultimately can't control. The process, on the other hand, is something you can directly influence.
The Next Step
Knowing that you have big goals in the water, break them down into manageable and actionable things you can do.
For instance, if you want to drop a couple seconds in your 100m freestyle, and know that your start needs some serious work, add an extra 5 starts at the end of each practice, or 20-minutes of plyo each weekend to your "process".
Spend some time breaking your dream into daily training goals, and "process" your way to better results.
How to Master the Process of Being an Elite Swimmer. Want to learn more about mastering the process? Check out this full-length guide that covers the research on how being process-oriented will not only make you a more confident swimmer, but it will also help you train better and ultimately swim faster at meet time.
How Katie Ledecky Took Her Training to the Next Level. Ledecky's age group coach Yuri Suguiyama had her use a log book to record her practices in order to track her goals, how she was feeling in the water, and even as a platform for her daily gratitude list in the run-up to her gold medal winning performance in London in 2012.