The world record for the men's 50m freestyle is relatively new one in the world of swimming, with the record being tracked since only 1976. How new is this bad boy? It was only held in the Olympics for the first time in 1988.
The first WR holder in the event, Jonty Skinner of South Africa, cranked out a 23.86 in the summer of 1976. Following the inaugural record being set, swimmers including Chris Cavanaugh, Rowdy Gaines and Joe Bottom taking turns at lowering the record under the 23 second mark.
During the most recent heyday of American men's freestyle swimming – the 1980's – two swimmers in particular would alternate stints in breaking the mark: Tom Jager and the legendary Matt Biondi. Between the two of them they would break the world record a total of 9 times, with Jager being the first to break 22 seconds in 1990.
SEE ALSO: 50m Freestyle World Record
If you look at the progression of the men's WR in the chart below, you'll notice that there are some major gaps, one ending with the advent of the Czar of sprinting, the other ending with the record-breaking spree that came with the rubber suit era.
Gap #1: 1989 – 2000. Jager's record of 21.81 would last 11 years until Alexander Popov, one the greatest – if not the greatest – sprinter of all time. If not for Popov and the rubber suits, Jager's time would have lasted well over 20 years.
Gap #2: 2000-2008. Popov's mark would last two Olympiads, until it was broken 5 times by a combination of an Australian and two Frenchmen.
Here is the progression in a fancy little glowy chart: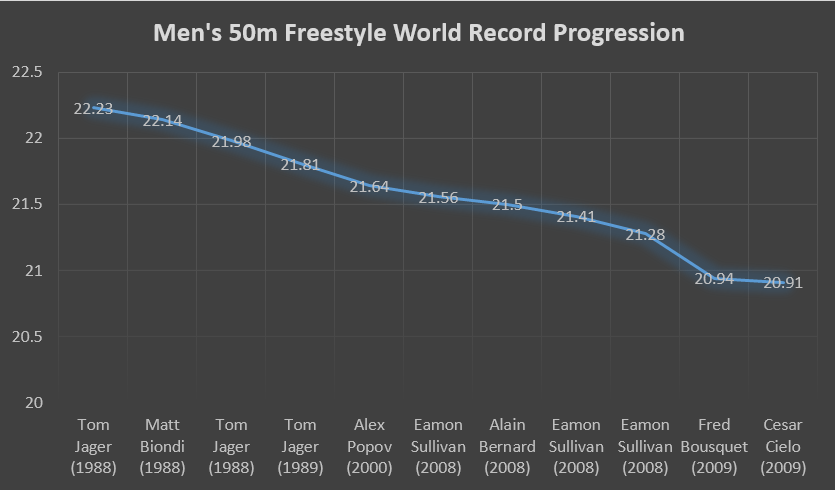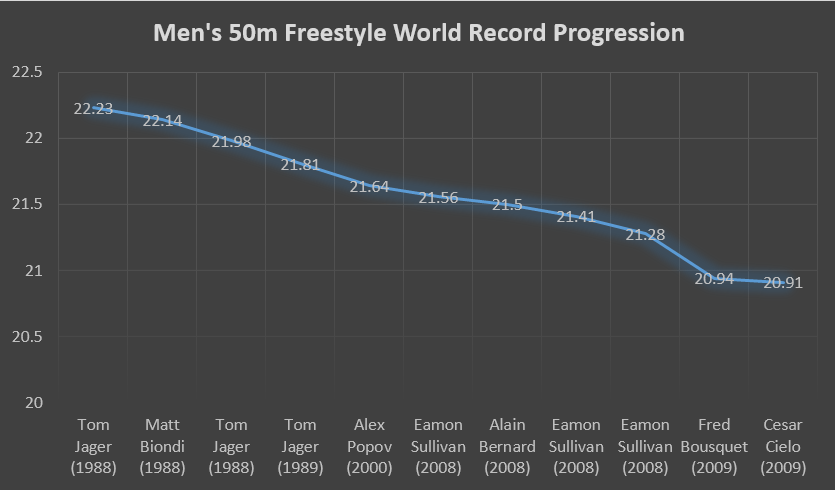 Conversely, if you look at the progression of the textile world bests from the past few years, there is a slight progression towards the sub 21 mark, although the key word is certainly "slight." With the exception of a slightly slower 2011, the top men in the world have been maxing out in the mid to low 21.3 range.
Here is another fancy little graph, along with the trending line–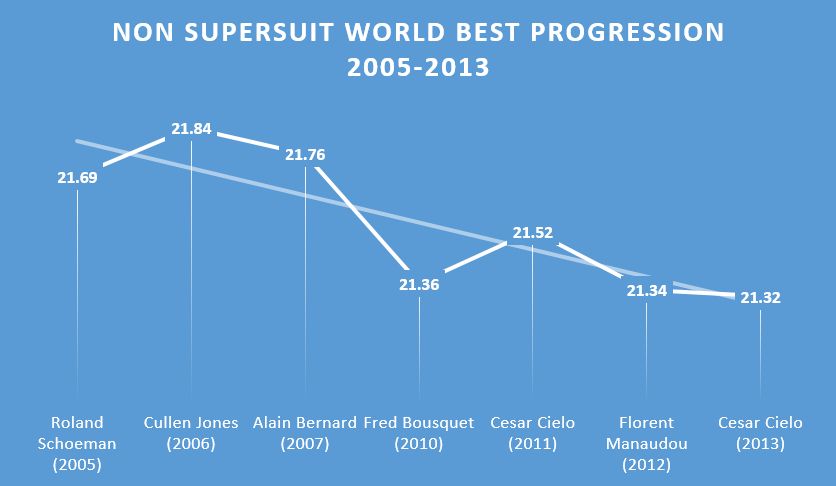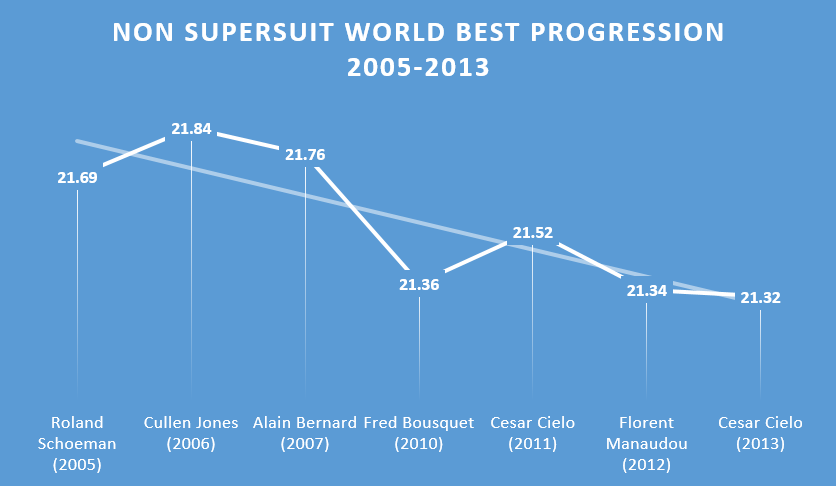 In an event that is so short it would be silly to expect drastic changes in time without adjustments to swimwear and equipment. So will we see a sub 21 swim sometime soon? If we look solely at the rate of progression in the chart above, that 20-point race will come in approximately 6 years, just in time for the 2020 Tokyo Olympics!