Pump up the fun in the pool with our collection of the best poolside basketball hoops.
The backyard pool is a great place to be during the hot days of summer. Whether you have an in-ground or above ground swimming pool, it's hard to beat the refreshing awesomeness that comes with jumping into the cool water.
Beyond swimming, there is a wide variety of pool games that you can engage in to pass the time and ramp up the enjoyment. Lots of people use their backyard pool for working out and there is no shortage of pool exercise equipment to get your blood flowing and calories burning.
Adding a poolside basketball hoop is an easy way to make the backyard pool even more fun. Sure, you could swim in place using a swim tether or do some water jogging, but everyone likes shooting some hoops.
Here is our hand-picked selection of the best basketball hoops for your pool.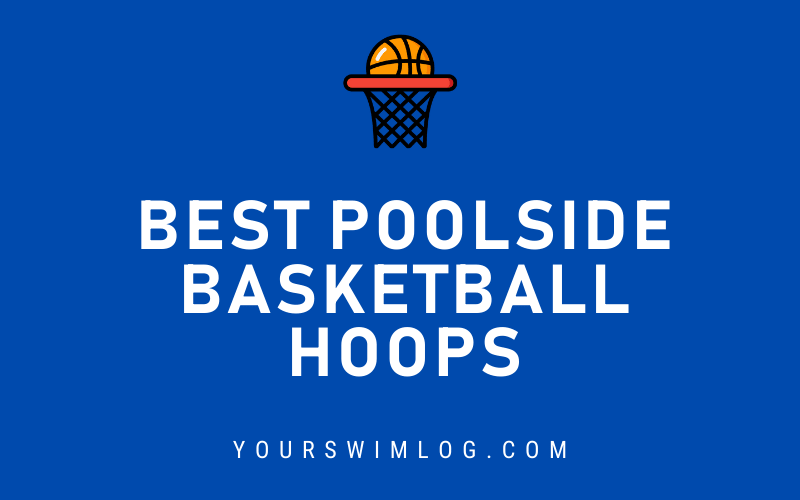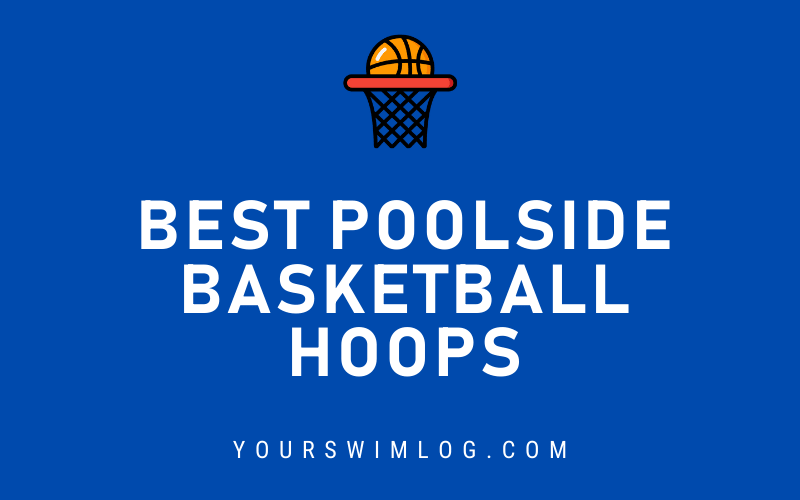 Lifetime Adjustable Poolside Basketball System
For a more feature-rich basketball hoop, the Lifetime Poolside Basketball System comes with a ton of bells and whistles, making it our favorite of the full-size hoops.
With a 44-inch backboard that is shatterproof, the all-weather hoop is powder-coated with a weather-resistant finish. The hoop and backboard can be adjusted from 4-feet to 7-feet, making it an awesome basketball hoop for kids and adults.
The 27-gallon base is filled with water or sand to provide stability (but do not hang off of it), and the hoop has a 5-year manufacturer's warranty, meaning that you can shoot some chlorinated hoops with peace of mind.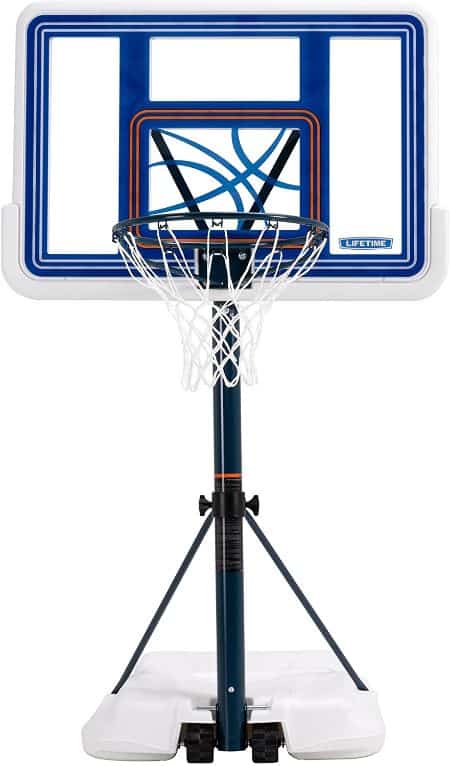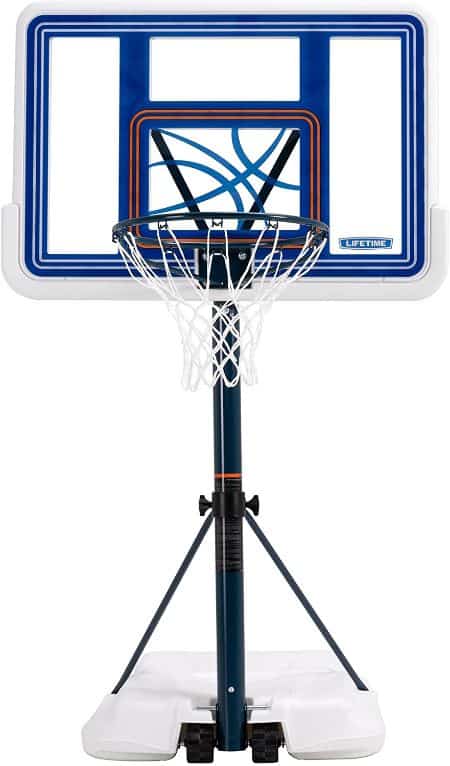 GoSports Splash Pool Basketball Hoop
GoSports makes tons of fun gear for backyard pool enthusiasts, and their Splash Pool Basketball Hoop—an Amazon Editor's choice—is  a cost-effective way to introduce basketball to the water.
The rim is springy and can withstand the action. Included are two basketballs, the backboard and hoop, and a pump to keep the basketballs inflated. The backboard is 34" wide and the rim is just over a foot wide. A weighted base (filled with water) keeps the backboard and rim stable while you and your friends ball out.
Available in blue or red, the GoSports Splash Basketball Hoop is a budget-friendly addition to your in-ground swimming pool.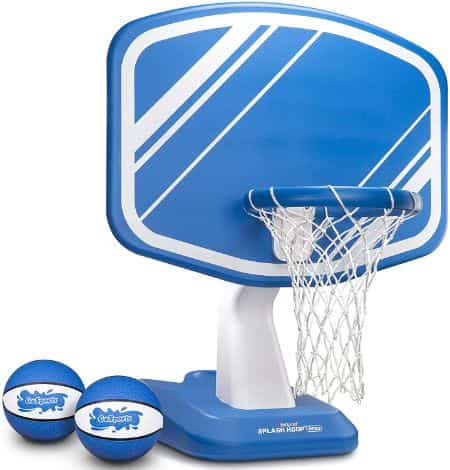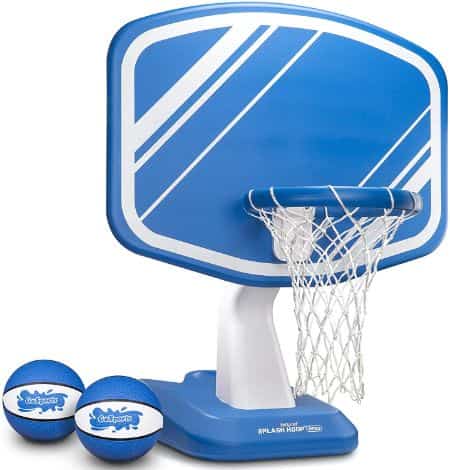 Dunnrite Pool Sport 2-in-1 Basketball and Volleyball Combo
Want more versatility with your backyard pool activities? The Dunnrite Pool Sport 2-in-1 is both a poolside basketball hoop and a volleyball set.
The set is vinyl coated for maximum durability in the face of pool chemicals and sun exposure. When set up as a basketball hoop, the net stands three feet above the pool deck, and the volleyball net can be stretched out across pools up to 22' in width.
The base can be filled up with over 100-pounds of water when completely filled up, providing a strong and secure footing for the hoop. Includes both a basketball and a volleyball, and Dunnrite backs the set with a three-year manufacturer's warranty.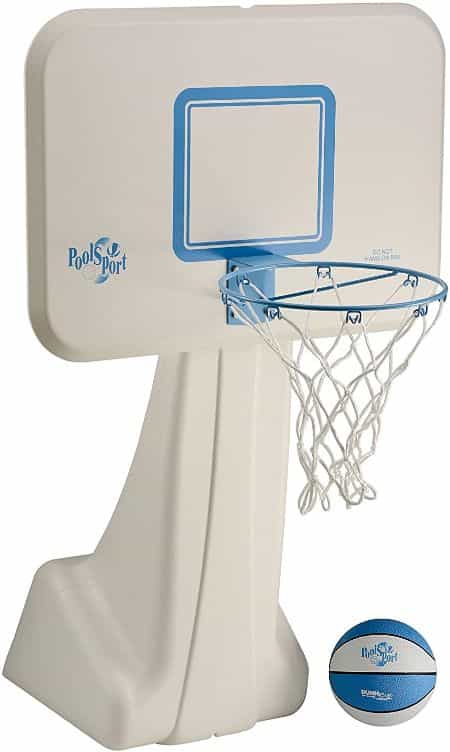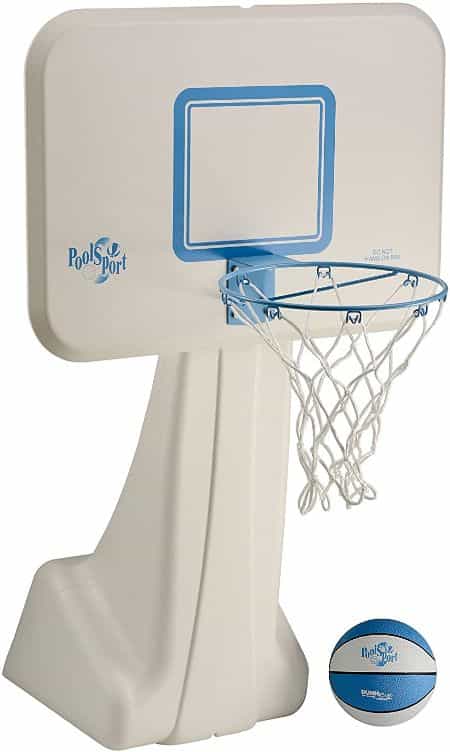 Poolmaster Splashback Poolside Basketball Net
I will be the first to admit that this poolside basketball hoop is no particularly good looking. That being said, Amazon found it worthy enough to rank as one of their favorites, and the reviews for the basketball hoop have been overwhelmingly positive.
Poolmaster ships this hoop with an exceptionally tough backboard that is just under three feet wide, with a 14" hoop. A weighted base can be filled with water or sand for hoop stability, and the PVC hoop and polyethylene will stand up to the wear and tear inherent with outdoor pools.
The Poolmaster Splashback Poolside Basketball Net comes with a basketball, inflation needs, and guaranteed good times.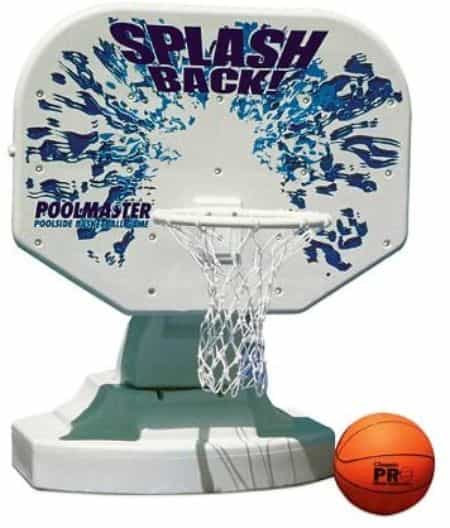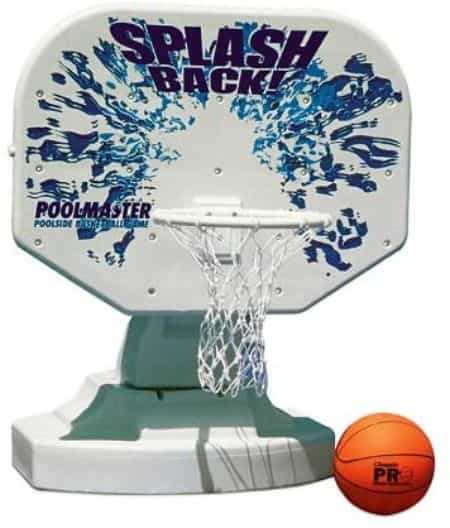 ---
SwimWays 2-in-1 Poolside Basketball and Volleyball Set
Another two-in-one combo set comes to us from the folks over at SwimWays, another popular manufacturer of accessories for backyard pools. Easy to set-up and change between sports, the SwimWays 2-in-1 Combo Set features a basketball hoop that is around a foot wide, a volleyball net that can stretch across a 24' pool, and both a basketball and volleyball.
The heavy-duty base fills quickly with water to provide stability and safety no matter what sport you engage in, and the whole set is made of plastic, which means no rusting and corroding. The SwimWays poolside basketball hoop is easy to set up and requires no tools to install.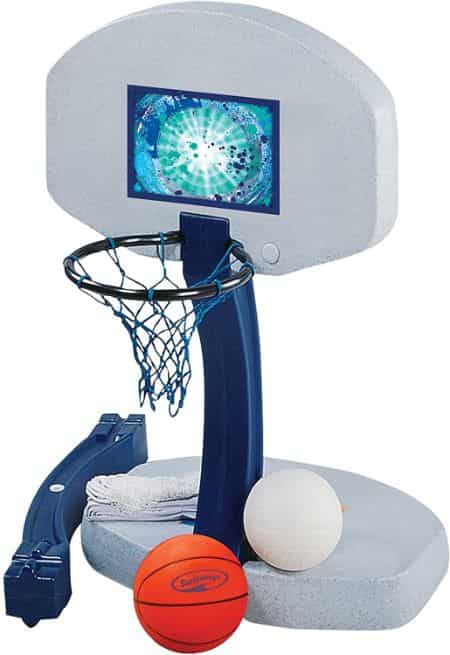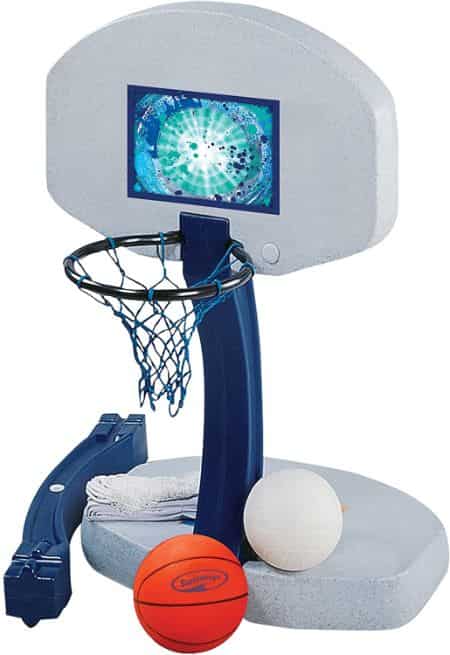 Swimline Super Hoops Floating Basketball Hoop
For basketball enthusiasts who have an above-ground pool that is temporary in nature, or who want something they can take with them, the SwimLine Super Hoops is an excellent floating basketball hoop for cranking up the aquatic fun.
Made of heavy-duty PVC tubing that won't corrode in the face of harsh pool chemicals and extended UV exposure, the hoop comes with three floating foam pads, a basketball, and a tri-colored net that will give you that satisfying swish when you sink a bucket on your pals.
Swimline makes quality stuff for backyard pools, including pool liners for above-ground pools, so they know their stuff!
The hoop is very affordable, at around $24 (Swimline also offers a "tall boy" floating basketball hoop).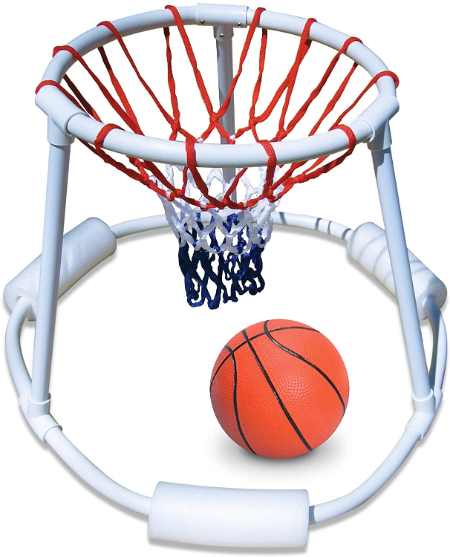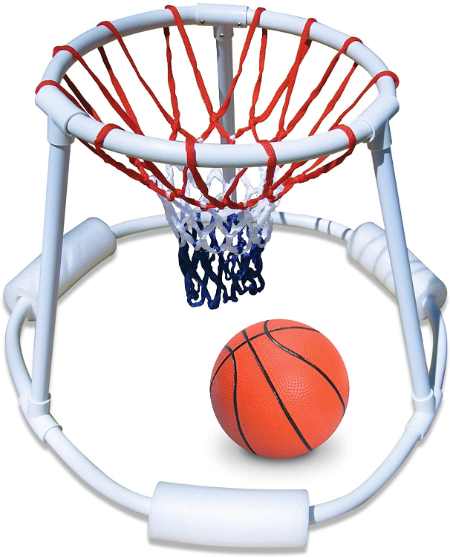 ---
Pool Basketball Hoops – FAQs
The backyard pool is where summer goes to the next level. Sun, friends, and beating the heat by splashing around. A pool basketball hoop can make things even more fun in the pool.
But ultimately, you want to make sure you choose the right hoop for your swimming pool.
Here are some of the more common questions we get when it comes to
What are the different types of pool basketball goals?
There are two kinds of hoops that you can add to your swimming pool: floating and poolside.
Floating basketball hoops provide the advantage of being portable. They can be moved around within your pool, to a friend's house, and even down to the local lake.
Floating hoops also make things a little more challenging! As the water is rarely perfectly still, the hoop is going to move in the water, giving you the added challenge of trying to drain a shot in a moving target.
These types of pool basketball hoops are typically made of plastic and as a result, are often cheaper than the sturdier metal and plexi hoops that you see in the more expensive poolside hoops.
They are also super easy to "install" and get started with.
Poolside nets come in a variety of shapes, sizes, and materials. Metal, plastic—they provide more stability compared to floating hoops, which means dunks, bank shots, and so on.
While a little more expensive, and there is some installation required (usually this means filling the base with water or sand and attaching the hoop to the backboard), these kinds of hoops are closer to your standard courtyard net, complete with that satisfying swish when you drain a long-distance three.
Are poolside basketball nets different from regular hoops?
Yes and no.
Because of the inherently wet nature of the environment—the hoop is next to a pool, after all!—look for a basketball hoop that is powder-coated or painted with corrosion-proof lacquer or paint.
Metal rusts given enough time, and pool basketball hoops should be painted properly to help slow the rusting process.
Hoops made of plastic and PVC don't have this problem, and while not as strong as metal hoops, will last longer in the face of exposure from pool chemicals and the elements.
There is a surprising range of sizes and installation methods when it comes to basketball hoops for your backyard pool.
Ultimately, choose the one that suits your pool and basketball skillz.
How tall is a pool basketball hoop?
Basketball hoops come in a wide range of heights, with most of them designed to be around 1 to 5' above the waterline of your swimming pool.
For the hardcore basketball enthusiast, there are no basketball pool hoops at regulation (10') height.
And let's be honest, you don't want a hoop that high on the deck of your swim pool. Pools don't provide a ton of "court" space, and a higher net means larger rebounds. Unless you want to be getting in and out of the pool all afternoon chasing errant basketballs, a lower net height is recommended.
A few of them, including the FCH Poolside Basketball Hoop, is also adjustable, with a maximum height of 78-inches.
Are pool basketball hoops safe?
Unless you are pulling a Shaq and trying to smash the backboard with earth-shattering dunks, pool basketball nets are safe as long as it's properly anchored and being used as intended.
As usual, read all of the manufacturer's instructions when installing the hoop next to your swimming pool to make sure that you are getting the most from your hoop safely.
Is pool basketball a sport?
Well, no.
Not in any official sense.
But you could definitely call it "A great way to spend time outside with your friends getting some exercise!'
Conclusion
Shooting hoops in the pool is a great way to get some sun, get some exercise, and spend time perfecting your jump-shot and hanging out with friends.
The Lifetime Adjustable Poolside Basketball System is my go-to for the best poolside hoop around. A wide backboard, lots of adjustable height options, and that familiar "clang" when you shoot a brick makes it the closest you can get to a real hoop in your pool.
If you are looking for a floating pool basketball goal, the Swimline Super Hoops water basketball hoop is an affordable and well-built net that includes everything you need to get started.