Rash guards a great way to provide protection during those long summer days. Here's a round-up of the best rash guards and swim shirts for kids.
The sun's out, the weather's warm, and there's plenty of fun to be had by the water.
Load up the water guns and pool toys, fill up the inflatable pool, and work on that cannon-ball technique as you launch yourself into the water.
But first…
Remember to protect yourself and the kiddos from the sun. After all, nothing cuts a day short faster than a brutal sunburn or overheating from the sun.
Lathering up with waterproof sunscreen is one way to protect yourself and your kiddos while playing under the sun, but a rash guard is another simple way to protect the skin during those long days by the water.
Rash guards and swim shirts provide a literal block to the sun. They also act as a layer of protection against the inevitable scraps, falls, and chafing. Rash guards are quick-drying, breathable, and are nice and light on the skin, making them comfortable during wear.
While the function of rash guards and swim shirts is fairly basic, there is a surprising variety of them on the market for kids.
Below is a breakdown of the best ones on the market, including key features, price, and where to buy.
Read on, choose the right rash guards and swim shirts for your child, and unleash summer!
Simple Joys Rash Guard Set for Boys
Looking for more than just a rash guard but a full set for tackling those summer days?
The Simple Joys Rash Guard Set has you covered. Included with each is a long-sleeve shirt and a pair of swim trunks. The sets come in ten different color combinations and playful designs. (Gotta go with the "Hello Shark" set!).
A drawstring on the shorts gives your little fella a secure and snug fit, a thick collar on the neck provides added sun protection, and the rash guard is made of 83% polyester (super durable) and 17% elastane (a little stretchy) giving you a 1-2 punch of durability and fit. Price-wise, these rash guards are hard to beat, costing around $18 (check Amazon for current pricing and shipping options).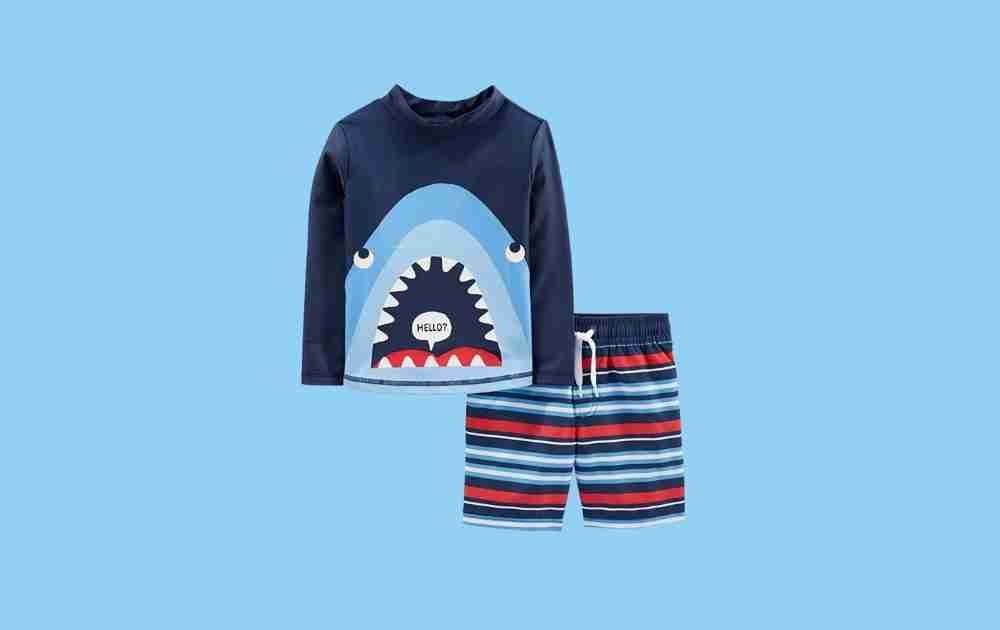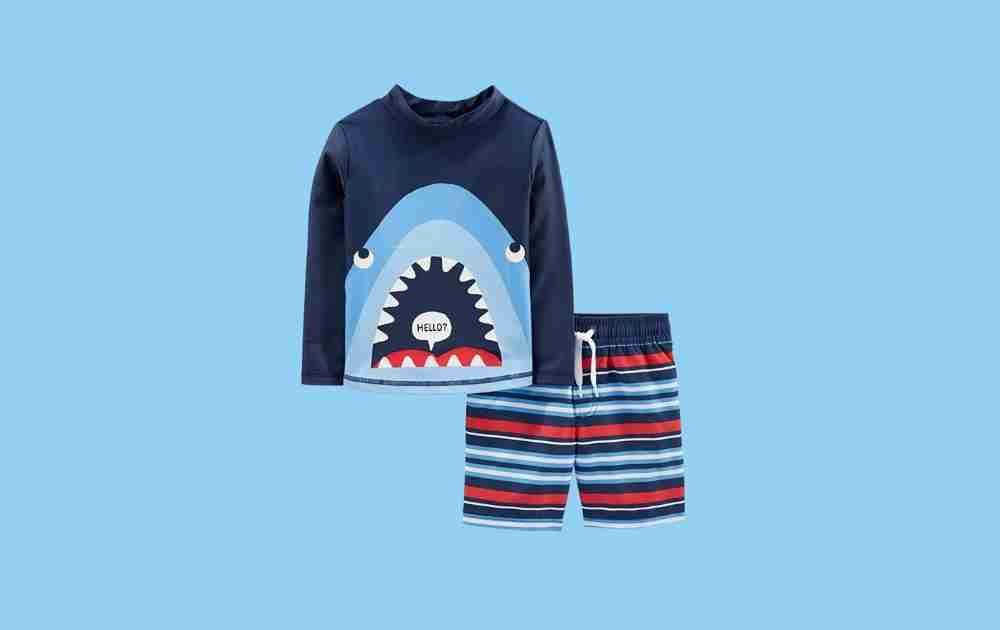 Kanu Surf Platinum Rashguard
When picking out a solid rashguard (whether for kids or for adults), I'm always on the hunt for a material mix of polyester/nylon and spandex/elastane.
The Kanu Surf Platinum Rashguard nails this mix perfectly with 83% nylon and 17% Spandex fabric that is comfortable, breathable, and dries fast. The Spandex gives the shirt a little, well, give, while the polyester helps retain the color and shape of the shirt.
Kanu Surf sells these in eight different colors, nearly every child size imaginable, and with the long sleeves and a mock collar your child will be protected from excessive sun while playing by the water.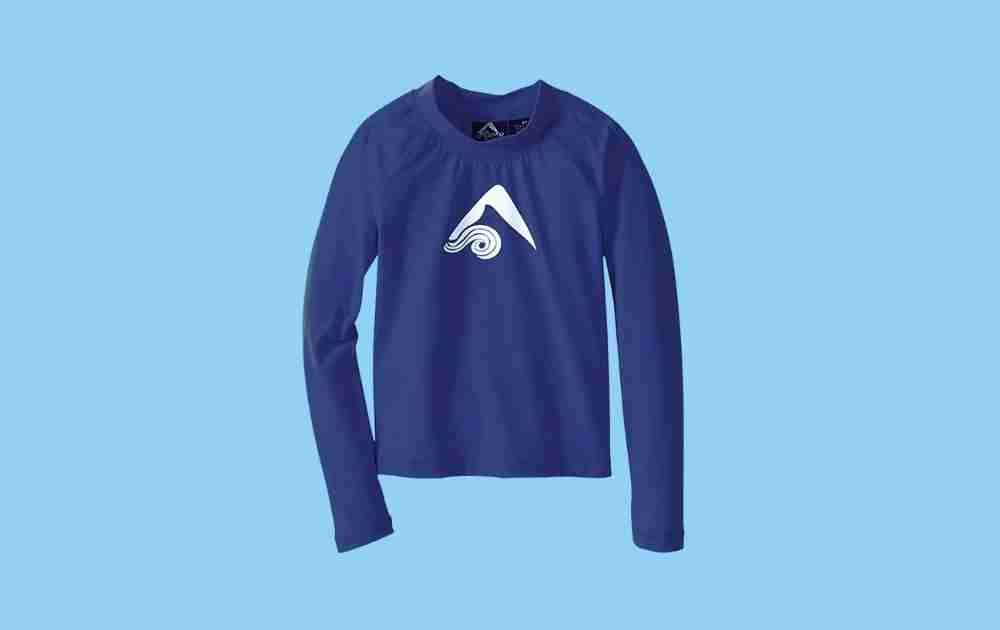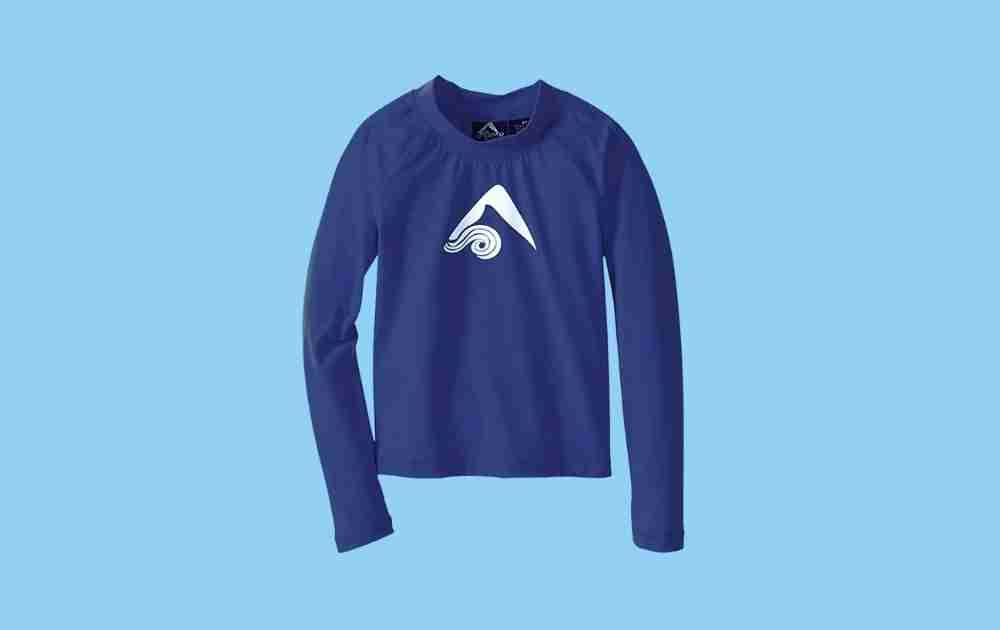 ---
O'Neill Youth Basics Long Sleeve Swim Shirt
O'Neill is one of the more recognizable brands when it comes to swim and sun apparel. They also do the basics exceptionally well, which is why I love this shirt.
The O'Neill Youth Basics Rashguard is a slim fit that is designed to sit close to the skin. Extremely light (at just 6oz), you will barely notice that you are wearing it while paddling around or draining threes on your backyard pool basketball hoop.
The fabric is a polyester/spandex blend with minimal seam placement that reduces chafing and red skin when being active. O'Neill sells these in a wide variety of colors, from white to bright blue, making this rash guard a great addition to your summertime activities.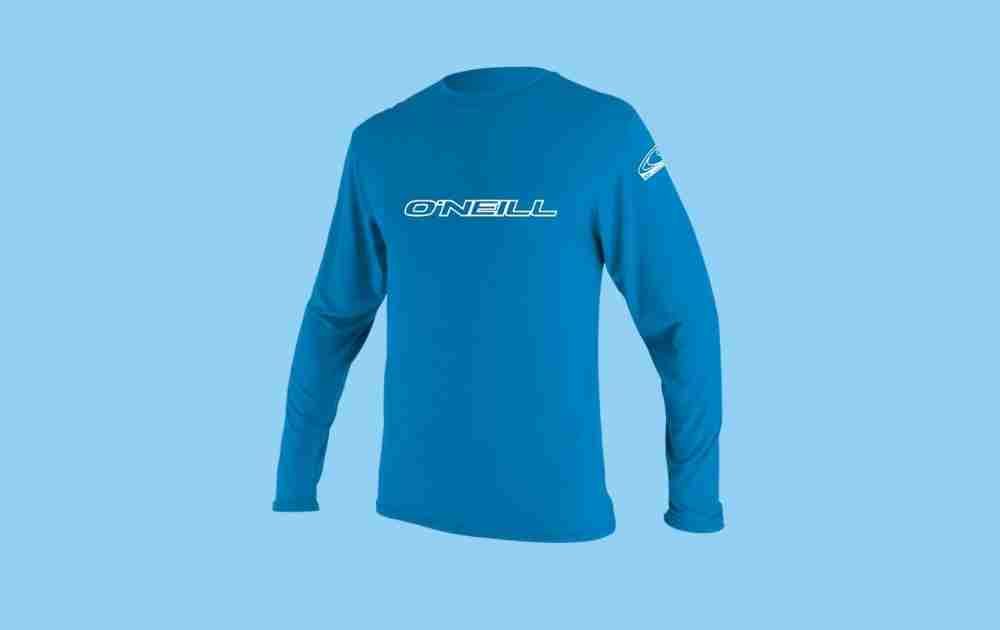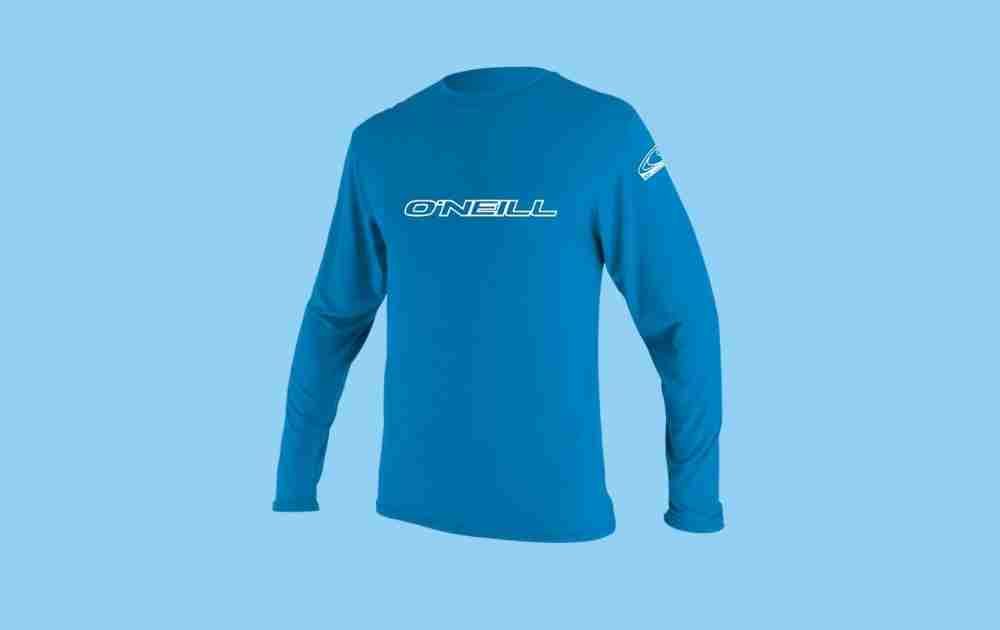 ---
Quicksilver All Time Long Sleeve Rashguard for Kids
Another big name in the surf and swim apparel market is Quiksilver. I've long been a fan of their stuff, from wetsuits to hats, and their rash guards for kids, the All Time, is another solid choice.
With the trademark Quicksilver logo emblazoned across the front, this rash guard protects from the sun, dries very quickly thanks to the 14% elastane in the fabric, and with four different solid colors to choose from, you will be beating the sun and looking good.
Price-wise, these are a bit of a premium shirt, with Amazon retailing them for around $29 (check Amazon for current pricing and shipping options).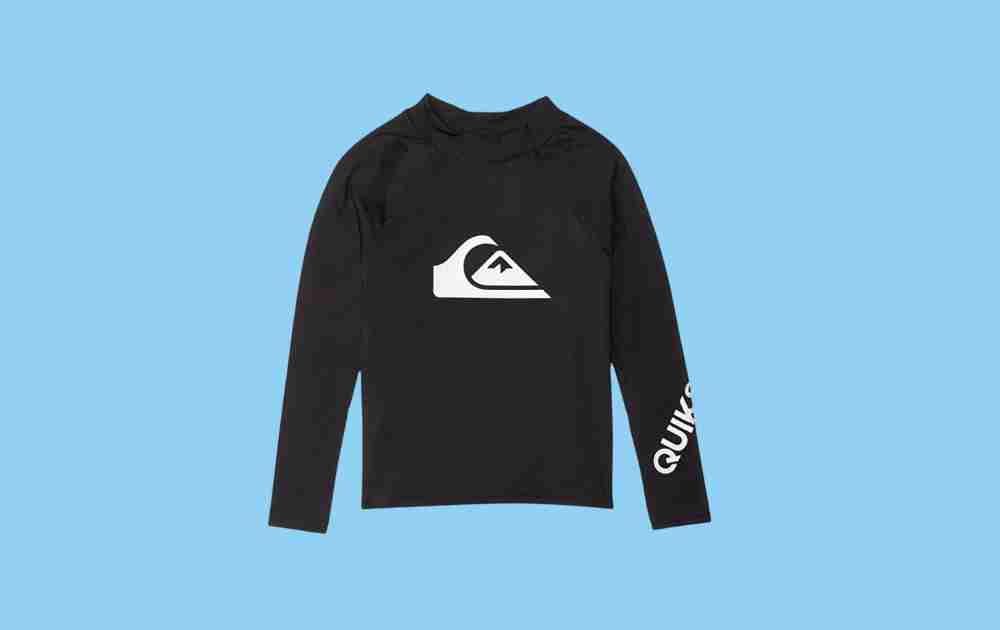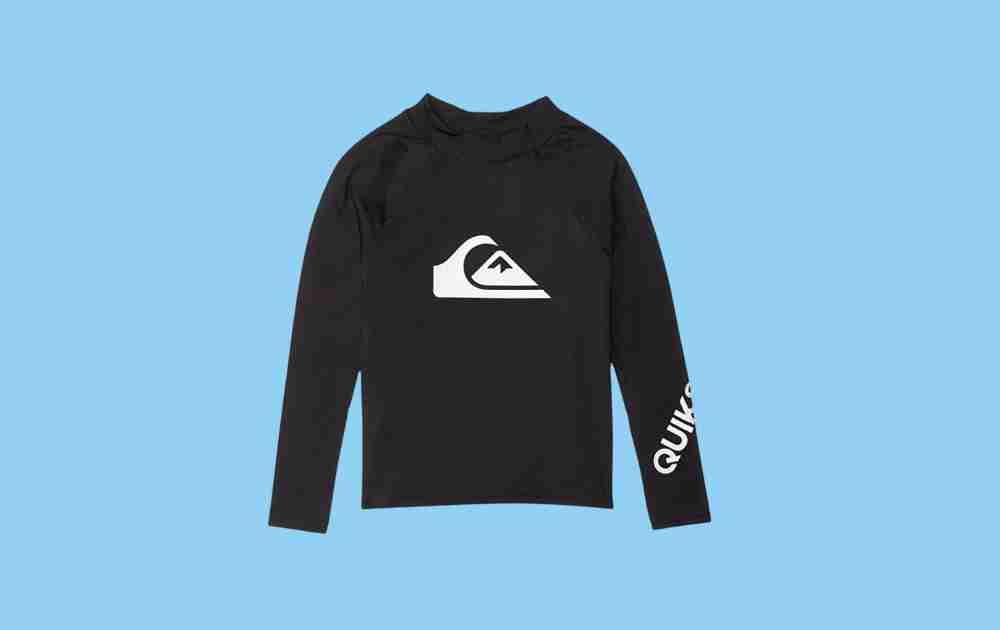 ---
Roxy Girls Short Sleeve Rashguard
Looking for a rashguard that is going to stand up and take the heat all summer long? The Roxy Girls Short Sleeve Rashguard is designed specifically for heavy use, with a shirt fabric that is heavy on polyester (92%). This type of shirt is awesome for retaining color and shape during extended wear.
Designed to sit close to the skin, the 8% elastane gives you a little stretch to hug your kids bodies as they grow into it. A mock neck helps protect your child's neck from the sun, and Roxy offers these swim shirts in six different color patterns.
Size options are aplenty as well (Roxy also sells these in a long-sleeve version), including 7-14 and a big kids size of 16. You can pick one up over at Amazon for around $24.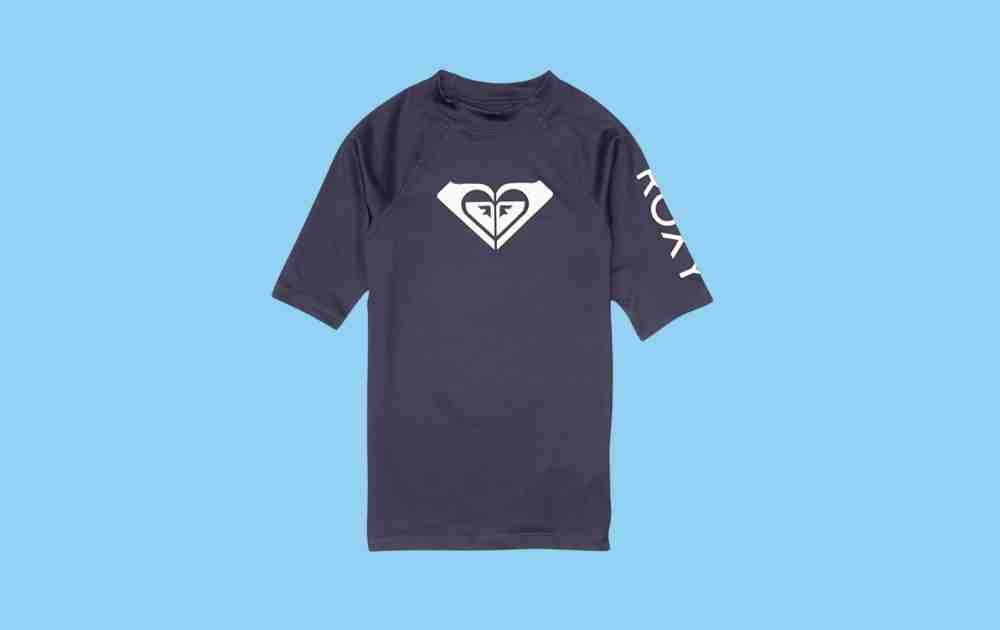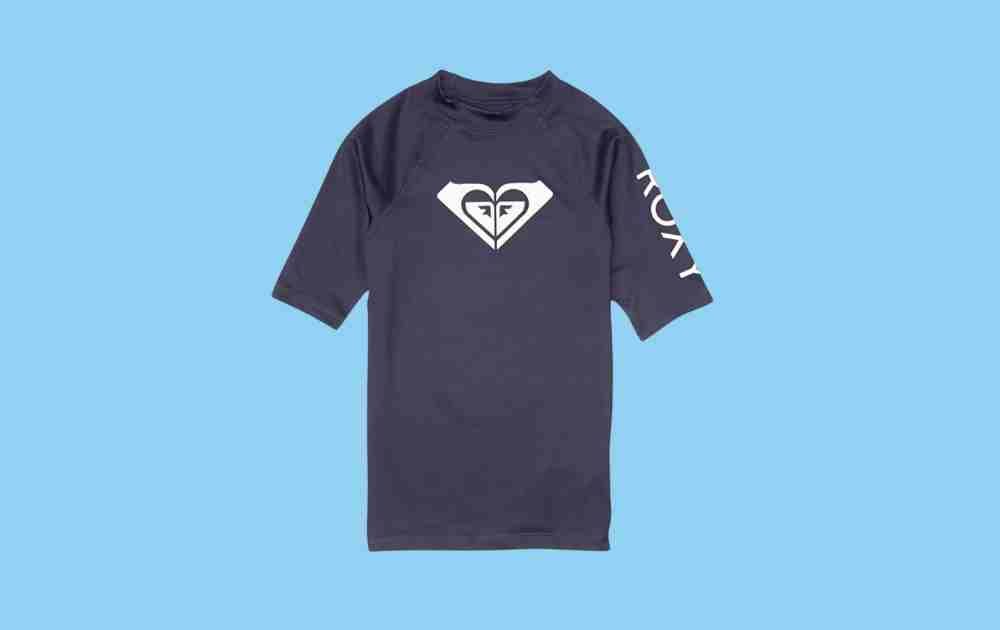 ---
Hurley Long Sleeve Rash Guard Coverall
For younger kids, instead of a pure rashguard you might want something like the Hurley Long Sleeve Rash Guard Coverall, which wraps around your kiddo's bottom. Made with 100% polyester, this rashguard is as tough as it gets. A zipper on the back makes it easy to get your child in and out of the coveralls, the soft fabric doesn't chafe or rub against the skin, and the thick neck collar provides added sun protection during those toasty summer days.
Hurley offers these coveralls in a variety of color patterns and playful designs, and they are available on Amazon for around $30 (check Amazon for current pricing and availability).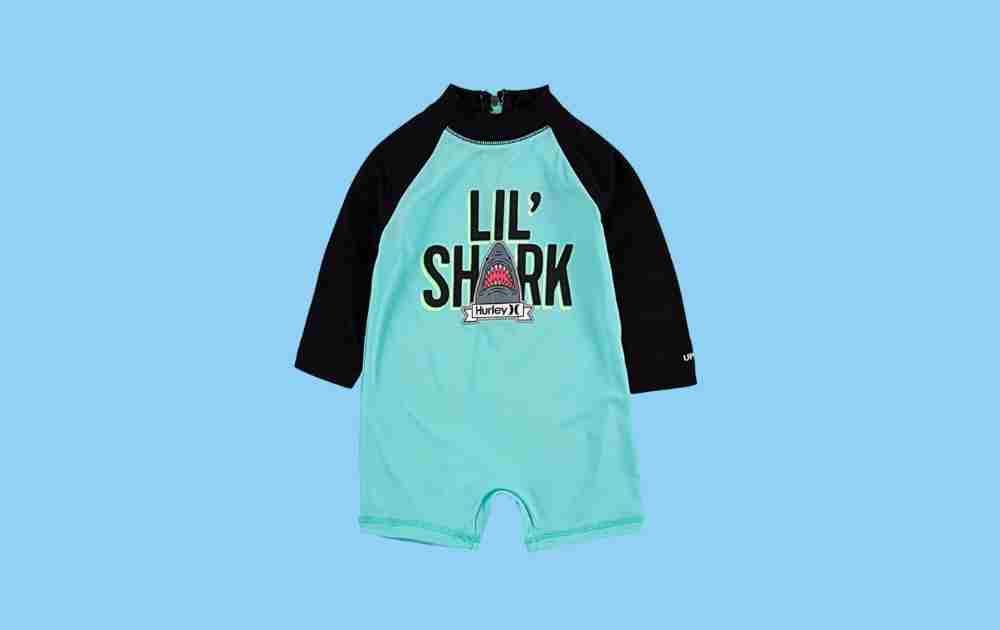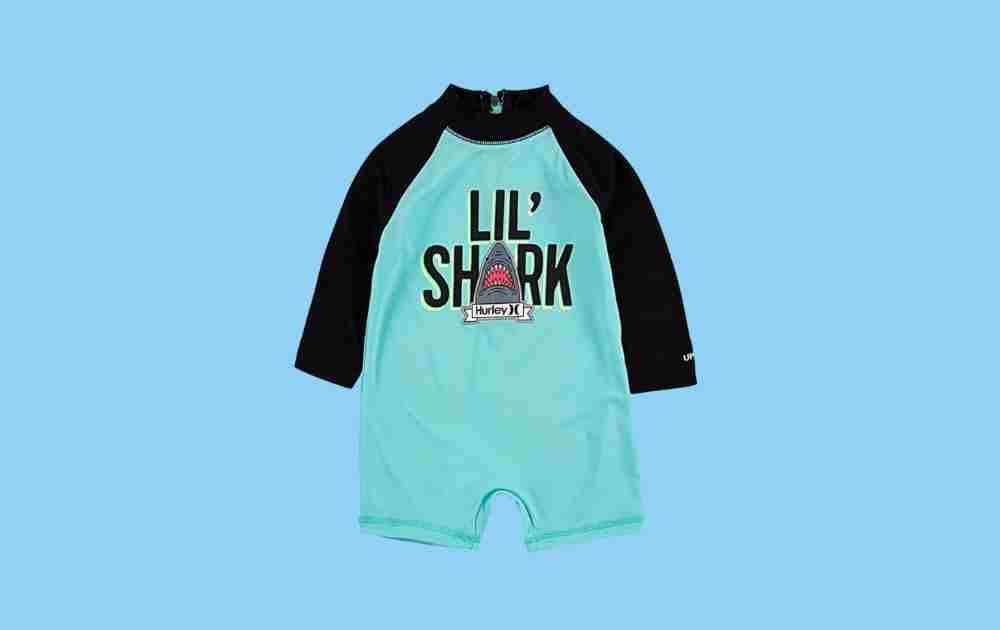 ---
Recommended Reading
We've covered rash guards for both men and women, as well as other gear and apparel for enjoying those sunny days by the water.
7 Best Rash Guards and Swim Shirts for Men. Hit the water and sun with confidence. Here is our hand-picked selection of the best rash guards and swim shirts for men.
7 Best Swim Vests for Toddlers and Children. Swim vests are a great tool for helping toddlers get comfortable in the water. Here's a rundown of the best toddler swim vests.
7 Best Rash Guards and Swim Shirts for Women. Conquer the water and the sun in style with this breakdown of the best swim shirts and rash guards for women.
Best Life Jacket for Kids. Safety first! Here's a breakdown of the best life jackets and PFD's for kids and toddlers.