Looking for the best women's swim goggles for conquering the water? Here's a look at the best goggles on the pool deck, how to find the right pair for you, and more. Swim on!
Swim goggles are one of the essentials when hitting the local lap pool.
The right swim goggles help make those long swim workouts more comfortable (well, mostly ?), reduce collisions with other swimmers, and they protect your eyes when swimming outdoors.
But when trying to sort out the vast number of swim goggles out there for women, it's hard not to feel… well, like you are drowning in options.
Fret not—after 30+ years of swimming, both at an Olympic Trials level, and now as a quasi-serious lap swimmer, I've had a chance to test out just about every set of swim goggles to come along.
In this guide to the best swim goggles for women, we will highlight the top goggles on the market for the ladies, the pros and cons of each, and help you decide if they are the right swim goggles for you.
We'll also detail the key things to look for when choosing the perfect set of swim goggles for you.
Read on, and let's get to lap swimmin' like a chlorinated pro!
Top Picks for Best Swim Goggles for Women
Speedo Vanquishers 2.0 Swim Goggles
⭐ Best overall swim goggles for women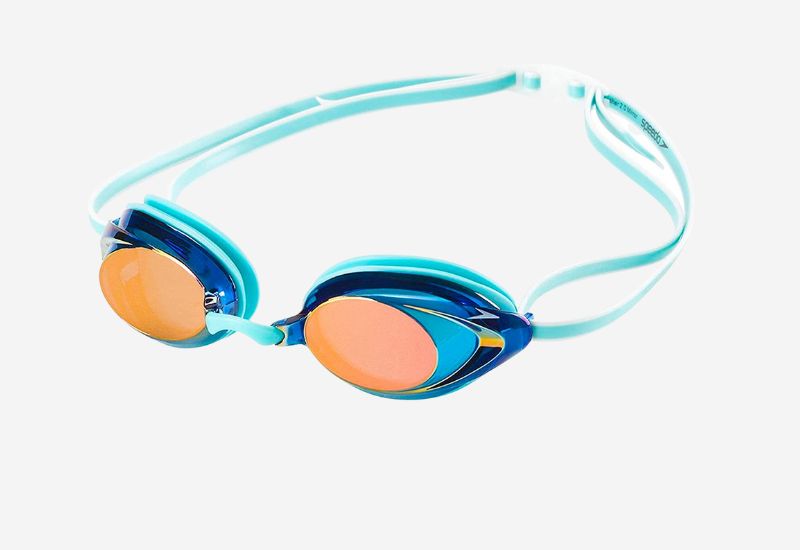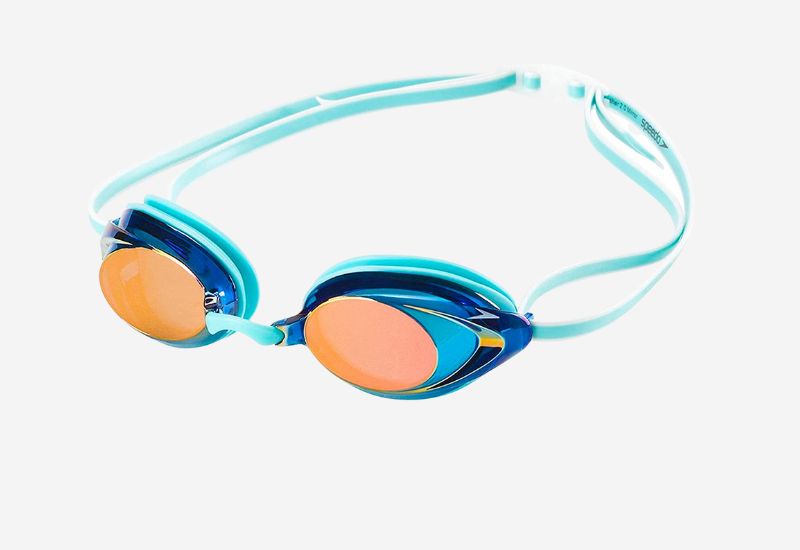 The Speedo Vanquishers 2.0 Swim Goggles are our favorite (and best reviewed) swim goggles for women.
The goggles, now in their second iteration, combine highly durable construction (silicone straps that don't crack and degrade from chlorine exposure), a ton of tint and color options, and an exceptionally reasonable price.
The Vanquisher 2.0's has all the usual bells and whistles we look for when reviewing swim goggles, including anti-fog coating, UV protection for protecting your eyeballs when doing laps outdoors, and multiple nose pieces and dual adjustable head straps for a custom fit.
When you tally up the extremely durable construction, thousands of five-star reviews, and comfy silicone gaskets, you've got a set of swim goggles that will last.
(Note: The Vanquishers 2.0 also come in junior and prescription versions. We will cover the latter shortly.)
My only note of caution would be using the mirrored or dark tint Vanquishers 2.0 in a pool that is dimly lit. In my experience they deliver a darker "view" in this type of environment compared to other mirrored swim goggles.
| | |
| --- | --- |
| ✅ PROS | ❌ CONS |
| Most versatile swim goggles for women | Dark/mirrored lenses too dark for dimly lit swim pools |
| Tons of color and tint options | |
| Available in prescription version, too | |
| Budget-friendly | |
| Fully adjustable nose piece and head straps | |
---
Magic5 Swim Goggles
⭐ Best for women who struggle with leaky swim goggles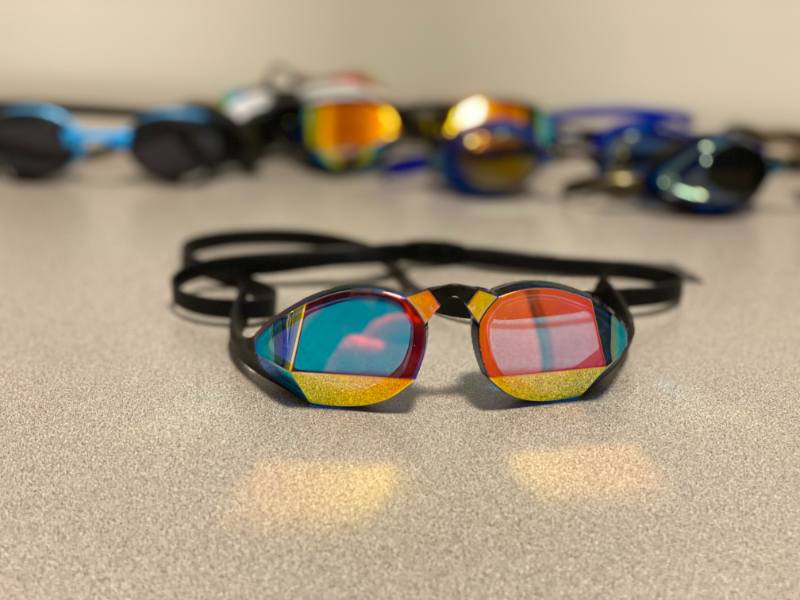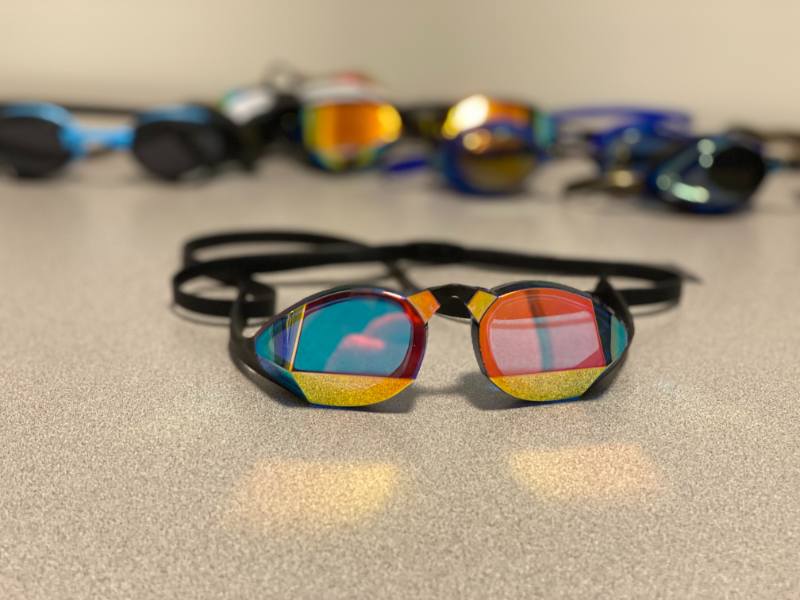 Every swimmer knows the dread and frustration that comes with a set of swim goggles that simply will not stay in place.
You mush the goggles into your face, push off, take three strokes and boom—water starts pouring in like a leaky faucet.
The Magic5 Swim Goggles are the first truly custom swim goggles on the market that perfectly target the swimmer who struggles finding that perfect fit with swim goggles.
Here's how it works: Order the goggles, download an app that scans your face using your smartphone's camera, and a week or two later, a set of goggles with a gasket custom molded to your face shows up on the doorstep.
And because the Magic5 Goggles are not meant to be jammed into your face for a secure fit, they are an excellent choice for swimmers who tend to get headaches from extended goggle wear.
Another side benefit of the custom fit is that the goggle marks that typically surround the eyes after a long swim are also less visible.
Magic5 offers the goggles in a variety of colors and tints, and they are definitely on the pricier end of the spectrum for swim goggles, ranging in price from $85 to $95 when bought individually.
Magic5 backs the goggles with a leak-free guarantee in the event that somehow the goggles still don't stay dry when you are cranking out the laps.
| | |
| --- | --- |
| ✅ PROS | ❌ CONS |
| They are custom fitted goggles! | A bit pricey |
| Available in a ton of different colors and tints | Not suitable for competition as they aren't supposed to be squished into face |
| Good option for women who get headaches from wearing typical swim goggles | |
| Reduce pesky marks on the face from goggles | |
---
Speedo Speed Socket 2.0
⭐ Best hybrid competition + training swim goggle for women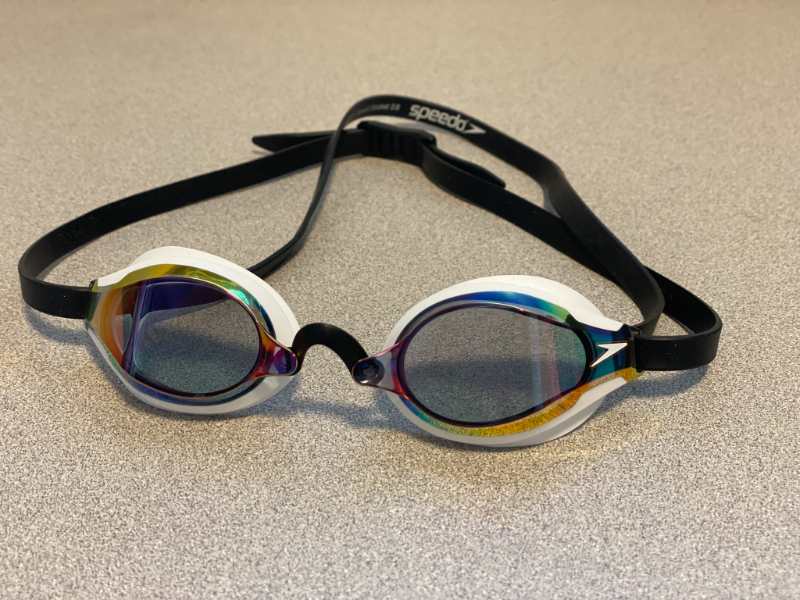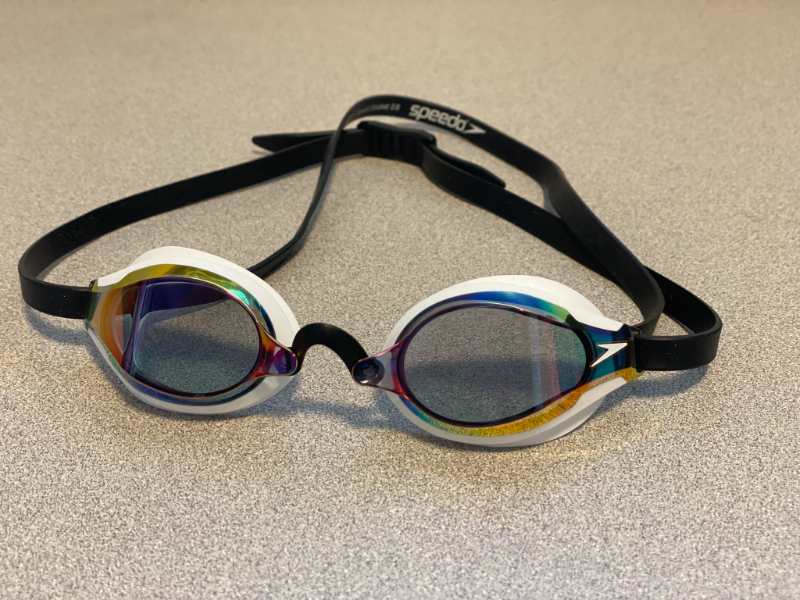 Looking for an all-purpose swim goggle that can be used with confidence in training and competitive situations?
The Speedo Speed Socket 2.0 is your best bet.
It's got a lot of the same durability features as the Speedo Vanquishers 2.0—silicone head straps, silicone seals that lock out water, multiple nose pieces—and adds better peripheral vision, slightly thinner head straps, and a thinner gasket profile.
The lens is slightly curved and designed to wrap around your head, giving you maximum drag reduction.
Fun fact: The Speedo Speed Socket 2.0 Goggle has been world champion and Olympic gold medalist Caeleb Dressel's swim goggle of choice for years.
And because the lens are slim, they sink nicely into your head, reducing the likelihood they will leak or outright rip off your face when diving into the water at your next swim meet.
The Speed Socket 2.0 comes in a wide variety of colors and tints (non-mirrored versions retail for around $40 while the mirrored tints climb in price to around $50-70 depending on color)
| | |
| --- | --- |
| ✅ PROS | ❌ CONS |
| Excellent peripheral vision | Pricier than the Vanquishers |
| Hybrid training and competition swim goggle | |
| Multiple nose pieces | |
| Tons of colors and tint options | |
| Caeleb Dressel's swim goggle of choice | |
---
FINIS Smart Swim Goggle
⭐ Best women's goggles for tracking swim workouts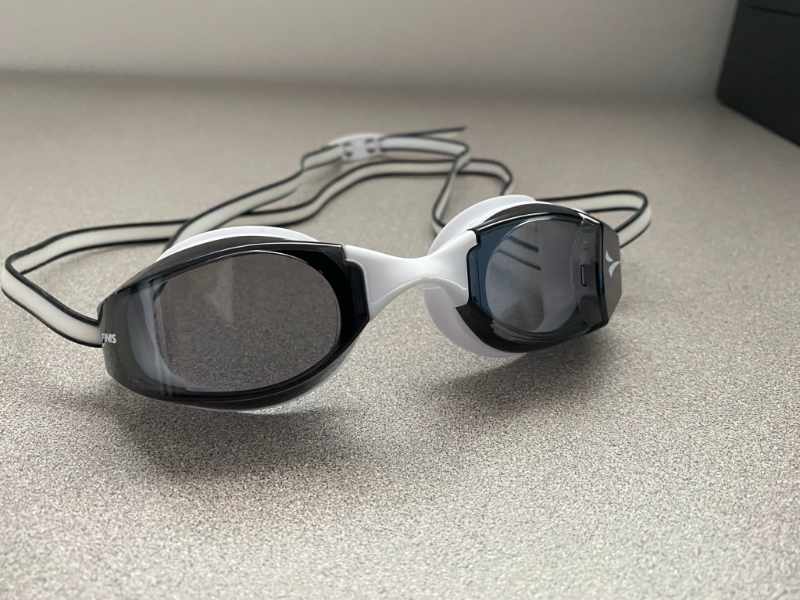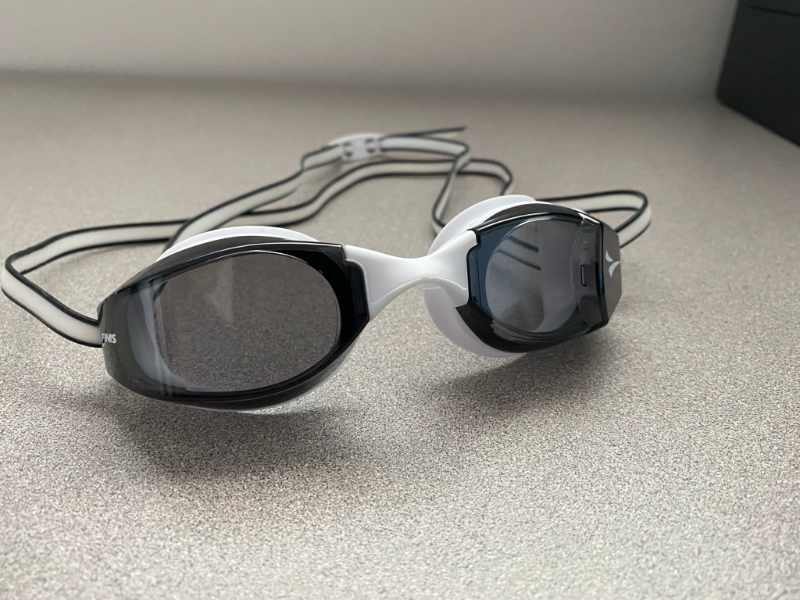 Swim tech has come a looong way in recent years.
For a long time, while land-dwelling athletes were stocked with smartwatches and data-tracking tools that accurately measured speed and distance, swimmers were left to their own devices… or rather, the old-school pace clock and a paper logbook.
No more.
Tech has hit the lap pool and it has done so in a big way. The FORM Swim Goggle was the first to introduce smart swim goggles, with real-time data on a heads-up display inside the lens of the goggle.
FINIS is the second to bring a smart swim goggle to market, with its appropriately-called FINIS Smart Swim Goggle.
While both goggles have an excellent (and clear!) heads-up display that can be configured to show the data you want to see (time elapsed, splits, etc), FINIS offers a replacement goggle.
Once the goggle has run its course, pull out the HUD unit, another set of goggles from FINIS, plug in the HUD, and you are back in business.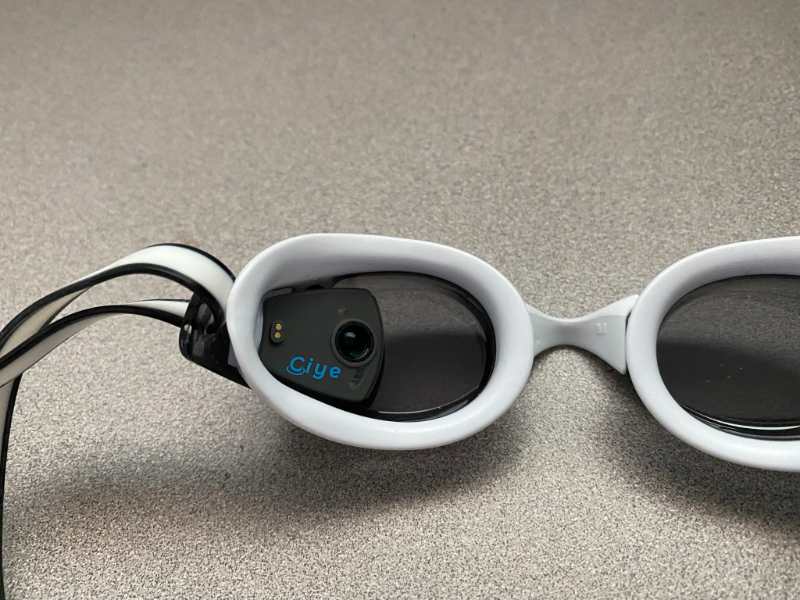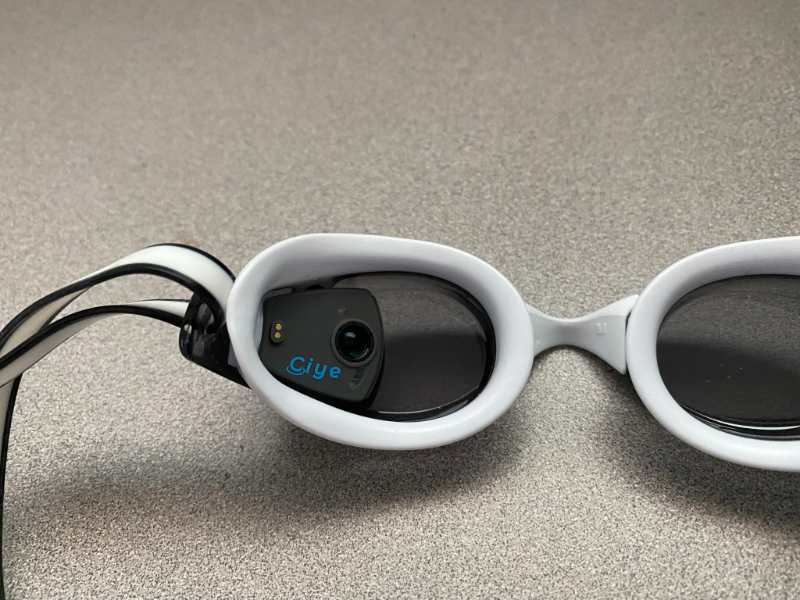 With the FORM Goggle, if the frame or gasket break from wear or accident, you have to buy an entirely new set (at a cost of around $200).
The actual goggle is on par with many of the other goggles on this list, with a silicone seal to gently suction your face and keep water out, multiple nose pieces, and three different color combinations.
And the app is excellent. You can tell it was designed by former competitive swimmers, with editable sections (for example, you can change something from "swim" to "kick" if the goggle didn't track a set or lap properly).
The main drawback of the FINIS Smart Swim Goggle, as you can imagine, is the price at $200. For the casual lap swimmer, definitely too much money.
But for data and set-tracking nerds like myself, a complete game-changer and an investment in myself to push harder and stay focused when swimming.
| | |
| --- | --- |
| ✅ PROS | ❌ CONS |
| Best smart swim goggles on the market | A swift kick to the balance of your checking account |
| Replaceable goggles; no need to pay for a new HUD when goggles wear down or break | |
| The app is highly intuitive | |
| HUD doesn't take up the whole lens | |
---
Arena Cobra Ultra Swipe Swim Goggle
⭐ Best swim goggles for women with anti-fog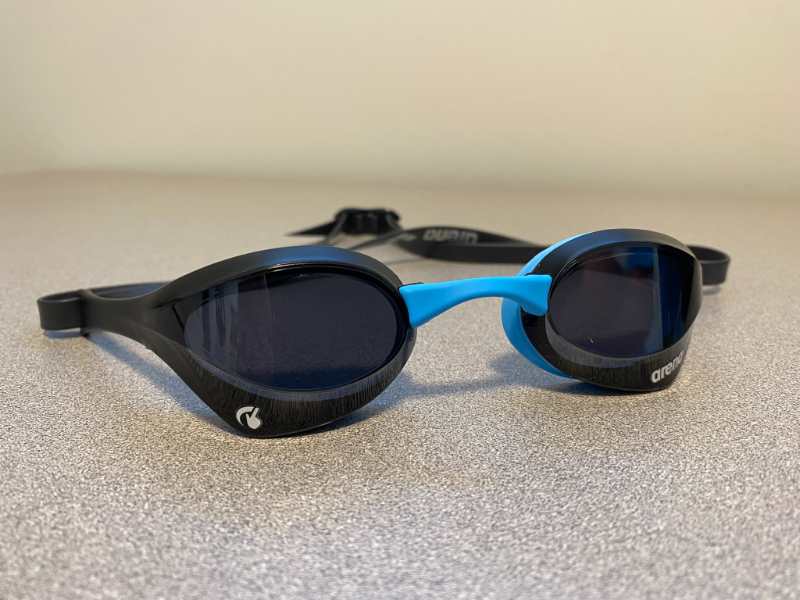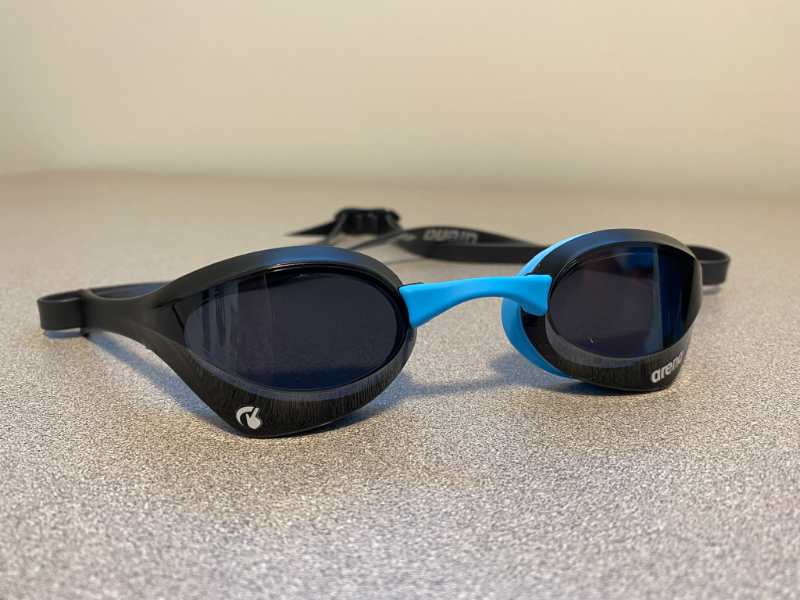 Forget the drag of the water, or the swimmer in the next lane…
The most relentless competition we face in the water is the fog of our swim goggles.
When the lens of our goggles start to fill with condensation, it makes it difficult to see other swimmers in the lane and the pace clock.
At the end of the day (or the end of the swim workout…), the last thing we want to be doing is stopping every length to spit and rinse out the lens of our swim goggles so that we can see.
That's where the Arena Cobra Ultra Swipe Goggle steps in and shows out.
They are the first real anti-fog swimming goggles. The Swipes have a proprietary anti-fog coating that "reactivates" with a several gentle swipes of your finger on the inside of the lens.
I know—this sounds too good to be true. And it goes against everything we've been told about how to stop swim goggles from fogging up.
But having used these goggles for months in a hotter-than-normal pool I was surprised more than anyone that the swiping kept the anti-fog going strong. (You can read my full hands-on review of the Arena Cobra Ultra Swipes here.)
The anti-fog technology on the goggle is the headline attraction, to be sure, but the Cobra Ultra Swipes are also exceptionally comfortable, low profile, and have heaps of color options.
The main "cons" of the goggles are the side arms on the gasket that wrap around the sides of the head—because they aren't as malleable to the circumference of the head compared to straps that go all the way to the gasket, the Cobra Ultra Swipes won't be as comfy for women with wider heads.
| | |
| --- | --- |
| ✅ PROS | ❌ CONS |
| It's anti-fog! For real this time, tho | Not ideal for swimmers with wide heads |
| Extremely low profile (thinnest on the market at 0.5") | |
| Peripheral vision is excellent | |
---
Speedo Vanquishers 2.0 Prescription Swim Goggles
⭐ Best prescription swim goggle for women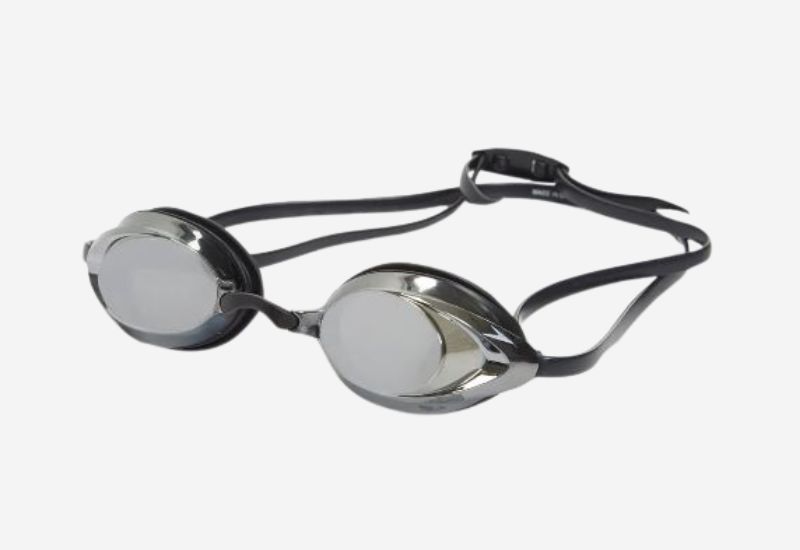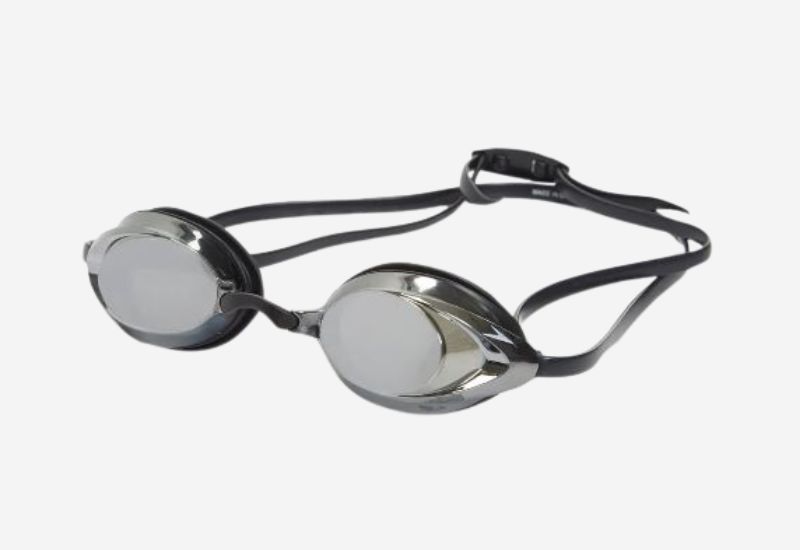 Looking for a set of swim goggles that match your prescription? You are in luck—our top pick for the best women's swim goggle, the Speedo Vanquisher 2.0 Goggle, also comes in a prescription version.
You get the same high-grade goggle design, including anti-fog coating, silicone head straps, multiple nose pieces for a custom fit, and budget-friendly pricing… with a custom lens with negative diopter of -1.5 to -5.
As you can probably guess with prescription swim goggles, the options with colors and lens tints are a little more limited.
While you get the same awesome build quality of the "regular" Vanquishers, color and tint options are basically zero, with the prescription version only coming in mirrored/smoke.
| | |
| --- | --- |
| ✅ PROS | ❌ CONS |
| Budget-friendly pricing (only about $30) | Limited color and tint options |
| Wide range of negative diopter options | |
| Same excellent build quality as the regular Vanquisher 2.0's | |
| Multiple nose pieces and adjustable head straps for custom fit | |
---
Sporti S2 Antifog Swim Goggles
⭐ Best budget-friendly swim goggle for women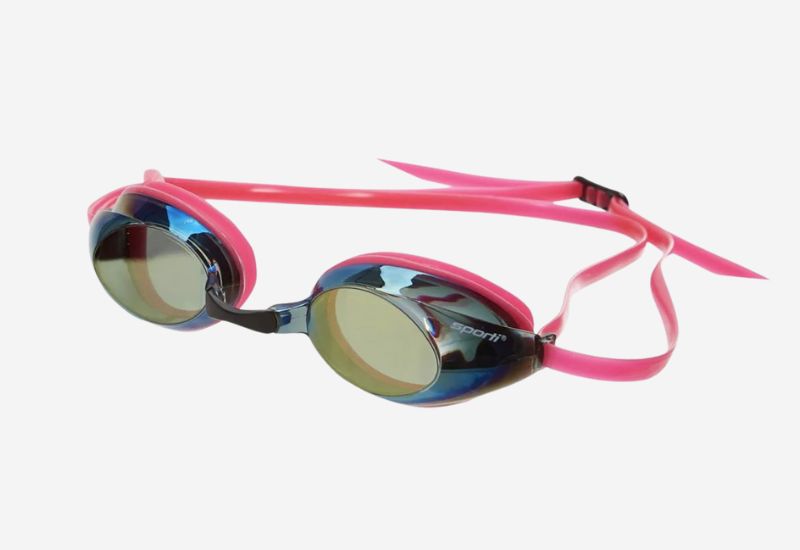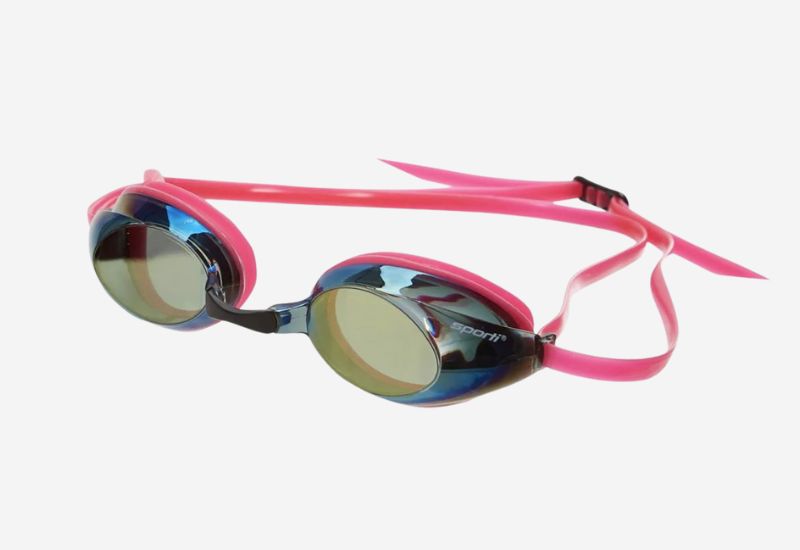 Looking for a simple and functional pair of swim goggles for women that is easy on the wallet?
Welp, the Sporti S2 Antifog Swim Goggle is the perfect set of goggles for you. It has all the main features and benefits of more expensive goggles, including anti-fog coating, mirrored lens, adjustable head straps for that perfect fit, and a heap of color and lens options…
All at a price that is much less than comparable goggles. (The Speedo Vanquisher 2.0, for example, costs twice as much as the Sporti S2's.)
| | |
| --- | --- |
| ✅ PROS | ❌ CONS |
| Tons of color options | Mirrored lens too dark for dimly lit swim pools |
| Best budget-friendly swim goggles for women | |
| Dual adjustable silicon head straps | |
| Three nose pieces for custom fit | |
---
How to Choose the Perfect Women's Swim Goggles
We are old pros at testing and reviewing swimming goggles, having used just about every set that you will find in the swim bag at your local swim pools.
Here are the key things you should keep in mind when trying to choose the right woman's swim goggle for you and your goals in the water: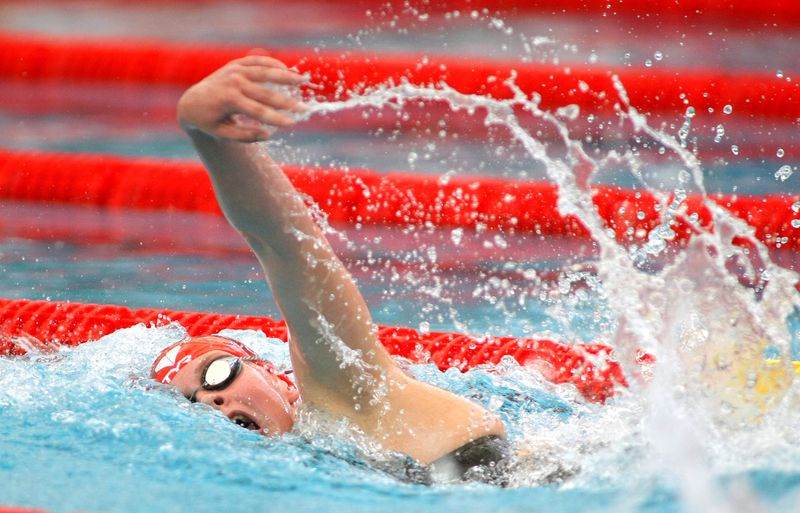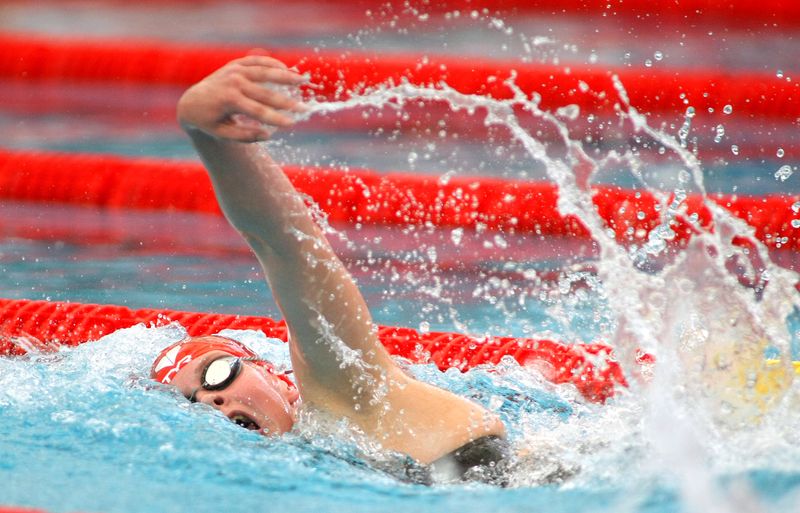 ✅ Lens and tint.
Swim goggles are simple in function—keep water out—but when it comes to figuring out the right lens and tint, things can feel overwhelming.
To keep things simple, stick with mirrored or dark lenses when swimming outdoors and in brightly-lit swim pools.
Darkly lit swim pools (like my local YMCA…) are better matched with swim goggles that are clear or colored, as they make shapes "pop", even as your goggles get foggy.
Open water swimmers and outdoor lap pool swimming calls for lenses that are polarized—such as those on the TYR Black OPS 2.0 Femme Open Water Goggles—to reduce glare off the surface of the water.
✅ Adjustability.
Every swimmer has a different face and sizing needs.
At the bare minimum when shopping for a new set of goggles, women should look for multiple (or adjustable nose pieces) to customize the length between the two eye sockets and adjustable head straps to keep the swim goggles firmly in place.
Women who have a "hard to fit" face or find that goggles constantly leak no matter how much they adjust the fit will find a leak-free swim experience with the Magic5 Swim Goggles.
They are a little pricier than most goggles for women, but the truly custom fit is a game-changer for women fed up with leaky swim goggles.
✅ Performance features.
More competitive swimmers will want a set of goggles that have a low profile and wider peripheral vision. This allows you to gauge where competitors are in the next lane and properly time flip turns without having to pick your head up completely out of the water.
A slim gasket and lens are nice as they "sink" into the profile of your face, making them less likely to leak or fall off when diving into the water.
✅ Data tracking.
There are only two swim goggles (that we would recommend, anyway) that have the ability to track and display your swim workout details while churning up and down the pool.
The FORM Swim Goggle was the first on the scene, but we especially like the FINIS Smart Goggle as it has an app that "gets it" and you don't have to replace the entire set when the goggles inevitably break or get worn down.
✅ Budget.
Swim goggles vary widely in price, almost hilariously so. Inexpensive, no-frills goggles like the Sporti Antifog S2 is less than $10.
More feature-rich goggles like the Arena Cobra Ultra Swipe Goggles—the only truly anti-fog goggle on the market—retail for $75-80 depending on the tint and color.
✅ Prescription needs.
Options for swimmers who don't want to wear swim goggles over their glasses are a bit slim compared to standard swim goggles, but there are some excellent goggles out there, led by the Speedo Vanquisher 2.0 Optical Swim Goggles.
If you are looking for more options beyond the Vanquishers, Swim Outlet, one of the best retailers on the web for recreational and competitive swimmers, has an excellent inventory of prescription swim goggles that you can browse here.
Swim Goggles for Women – FAQs
What are the top swim goggles for women?
The Speedo Vanquisher 2.0 is the best all-around swim goggles for women. They are durable, have a leak-free fit, and come in a vast variety of colors and tints, making them the perfect swim goggle for swimming outdoors, inside, or who need an optical lens.
For women who have a really hard time finding a leak-free and comfortable fit, custom swim goggles are an excellent option, and no one does it better than the folks at Magic5 Swim Goggles (P.S. Yes, they are the swim goggle company that was on Shark Tank).
The best anti-fog women's swim goggle for more serious (and sweaty) swimmers is the Arena Cobra Ultra Swipe Goggles, the only goggles on the market are truly anti-fog.
What brands make good swimming goggles for women?
There are plenty of excellent swim brands that make highly durable and feature-rich swimming goggles for lap swimmers of all levels and experience. Speedo is the likely the best known, being synonymous with the sport of competitive swimming for over a hundred years.
Other excellent and reputable brands that make quality swim goggles include Arena, TYR, Sporti,
Which swim goggles won't leave marks on my face?
There are countless benefits and upsides to lap swimming both for exercise and for competitive purposes; the red marks and even bruising on the eye socket after a long swim workout is not one of them.
Reducing the marks on your face comes down to a couple of factors, including not tightening the head straps too forcefully and choosing swim goggles that have a soft silicone skirt that sits on the skin.
While they won't completely eliminate the red circles that are endemic of goggle marks, the Magic5 Swim Goggles come the closest.
Because they aren't designed to be squished into your face (in fact–they specifically mention that you do not do this when wearing their goggles), there is less pressure on the skin around the eyes.
How do I make my swim goggles last longer?
Swim goggles are designed to be exposed to harsh pool chemicals and UV rays while also getting tossed around in the depth of your swim bag without scratching or breaking. But they aren't invincible.
To make your swim goggles last longer, invest in a swimming goggle case to prevent scratches between swim workouts, rinse them with fresh water to reduce extended exposure to chlorine (which will corrode the goggles over time), and try to avoid rubbing the inside of the lenses with your fingers to wipe away fog (with the exception of the Arena Cobra Ultra Swipes, of course).
---
More Swim Goggle Guides
Didn't find the swim goggles that are perfect for you and your goals in the pool?
We've put together a long list of round-ups and reviews over the years.
Below you will find the most popular of them:
10 Best Swimming Goggles. Confused about what kind of swim goggles to get? Here's a breakdown of the best swimming goggles for every kind of swimming.
5 Best Goggles for Open Water Swimming and Triathlons. Ready to dominate your open water race? Here's a breakdown of the best swim goggles for open water swimmers and triathletes.
8 Best Swimming Goggles for Kids. Looking for the best pair of swim goggles for kids? From backyard splashing to competition, we break down the top goggles for kids to splash around in the pool.
5 Best Anti-Fog Sprays for Swim Goggles. Extend the life of your new swimming goggles with an anti-fog spray to help you keep your vision crystal-clear and fog-free in the water.