Looking for the best pair of swim goggles for kids? From backyard splashing to competition, we break down the top goggles for kids to splash around in the pool in 2022.
Swimming is an awesome sport for kids to participate in.
More importantly, it's also a critical life skill. Drowning is one of the leading causes of unintentional death for children [1] in the United States, with kids averaging around 700 deaths a year from drowning.
Getting your kids in the pool is a great idea, not only for fitness, and basic life preservation skills but also because swimming can even make kids smarter. Triple whammy!
One of the most important pieces of swim equipment for beginners and especially children is a solid pair of swim goggles.
In this guide, we will look at the best goggles for kids, whether they are just learning to swim, want to protect their eyes when splashing around, or want to get a little more serious and get into competitive swimming.
Let's jump right in.
Best Swim Goggles for Kids — Speedo
Speedo is the most well-known manufacturer of swim gear. They've been around for the better part of 100 years and make all sorts of gear from Speedo racing suits to a full line of Speedo competition goggles.
Speedo's line-up goggles for kids are comprehensive. Here are some of our favs for all levels of swimmer:
Speedo Skoogles Swim Goggles
⭐  Best for: Beginners and Junior Sharks and Minnows champions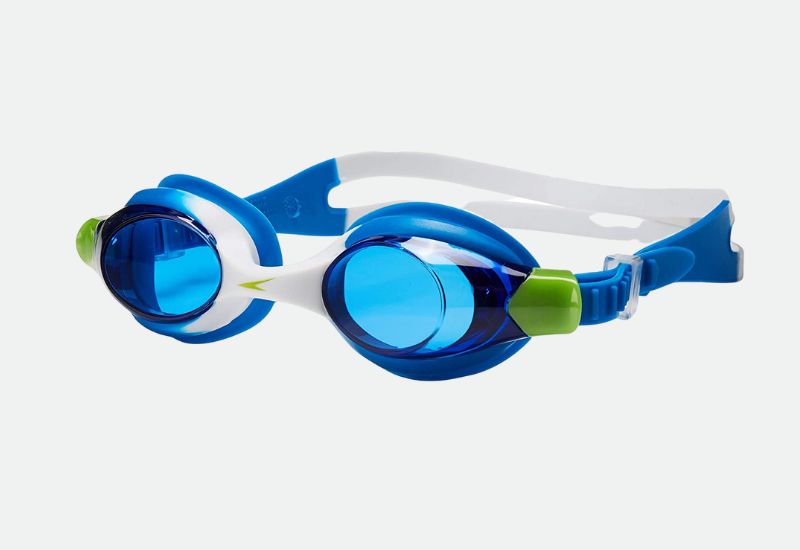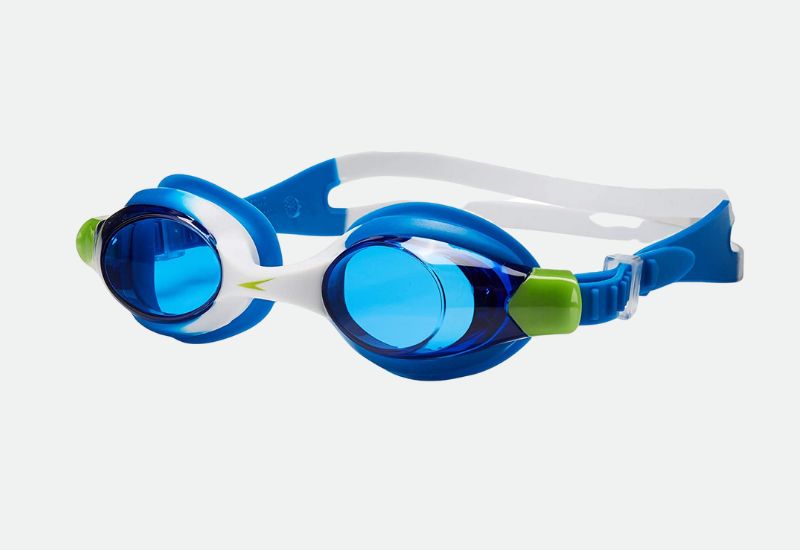 Made for kids aged 4-6 years, these colorful goggles are a great intro swim goggle for children.
They have an adjustable silicone strap, a soft frame and lens, come in a wide variety of bright colors (helpful for when they get lost) and the usual UV and anti-fog protection.
---
Speedo Junior Hydrospex Print Goggle
⭐  Best for: Beginner to very junior swimmers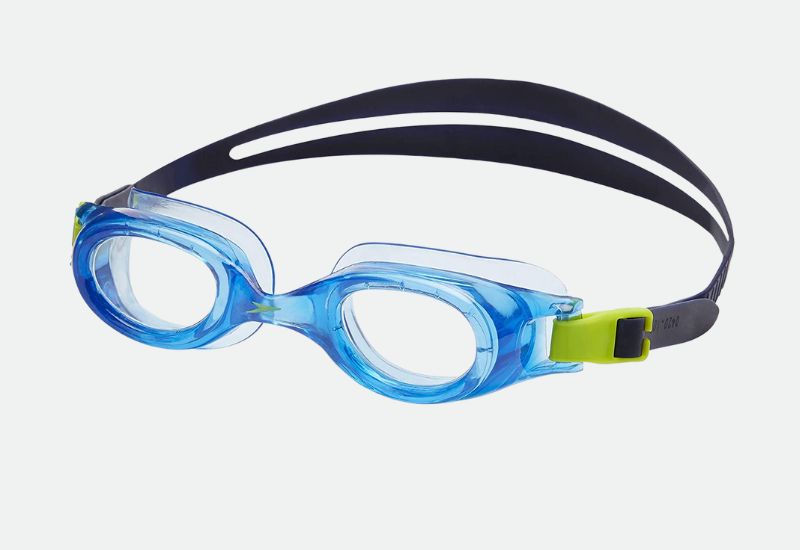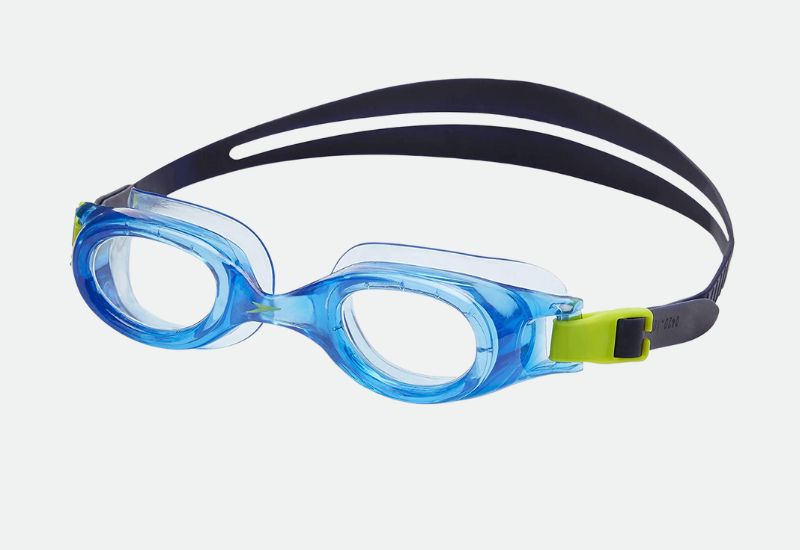 The Hydrospex come in a wide variety of funky prints, has a split silicone strap (silicone straps last basically forever, BTW), and features UV protection with the usual anti-fog coating.
These swim goggles are designed for kids between the age of 6 and 14 years, making them an excellent swim goggle for kids who are getting into the sport of competitive swimming and want something comfortable and clear for swimming laps.
The Hydropspex comes in over ten different colors, prints, and tints, including clear and mirrored lenses, perfect for splashing around outdoors.
---
Speedo Junior Vanquishers 2.0 
⭐ Best racing and practice swim goggles for kids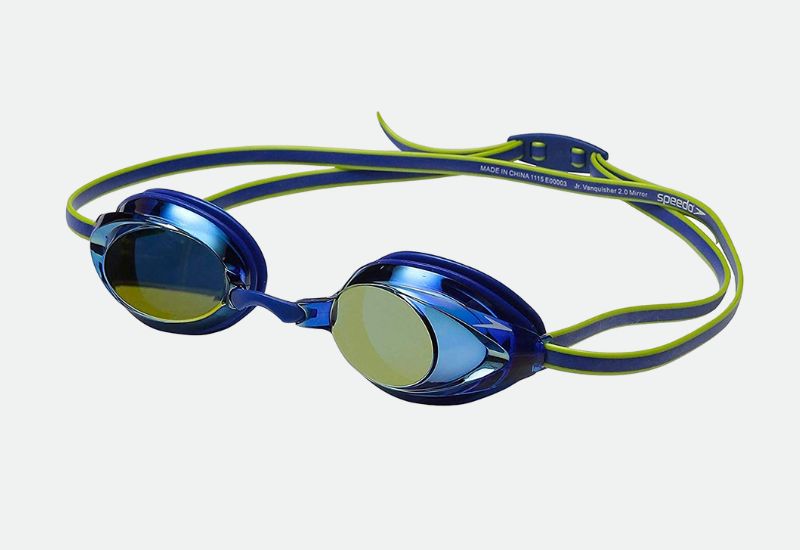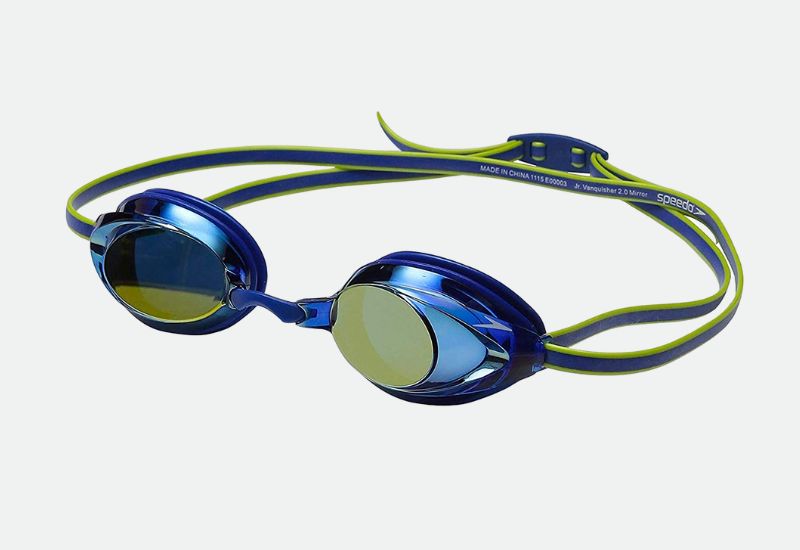 The Speedo Vanquishers 2.0 are among the best swim goggles for competitive swimmers. Tons of casual and high-level swimmers rock out with them in the pool in both practice and competition.
The reasons are simple: The goggles are durable, stylish, comfortable and once you have them fitted to your face will never leak. Vanquishers have a soft rubber gasket that gently "sucks" onto the skin around the eyes, sealing the goggle and keeping water out.
Speedo makes a Junior version of these goggles which are my top pick for best racing goggles for kids. They feature the same style and comfort but are sized to fit the face of kids.
Like the adult set, the Vanquisher Jr goggles come in a wide variety of tints and color options.
---
Speedo Junior Vanquisher Optical Swim Goggle
⭐ Best for: Wearing glasses in the pool.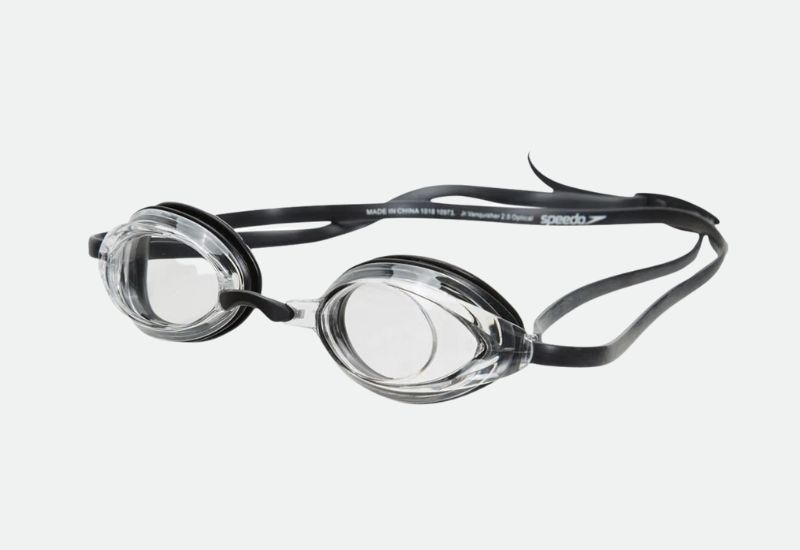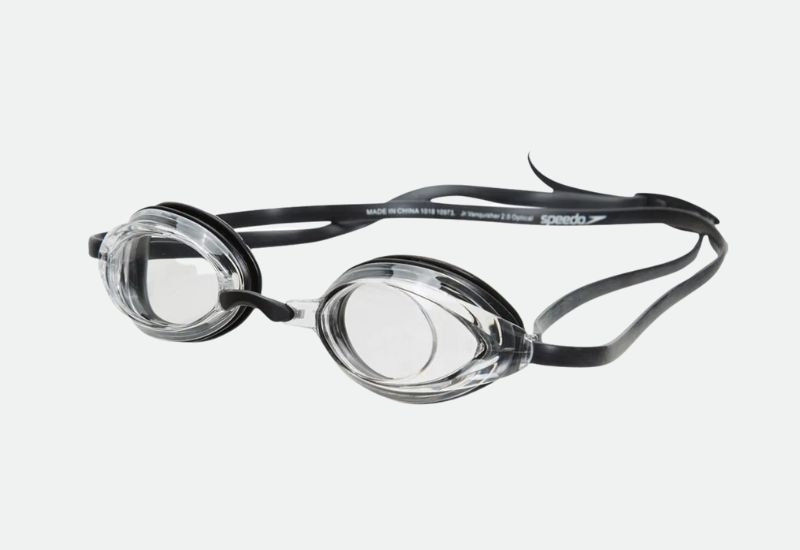 For young swimmers who have a prescription, or don't want to swim with contact lenses, Speedo also makes the Junior Vanquishers in an optical version.
The optical Vanquishers also rank as our best overall prescription swim goggle, and while there isn't a ton of color and tint options (only one, actually), for many youth swimmers simply having a prescription swim goggle is good enough.
---
Best Kids Swim Goggles — TYR
Huntington, California-based TYR is another big player in the swimming industry, with high-profile swimmers Ryan Lochte, Katie Ledecky and Cody Miller in their stable of athletes who use their gear.
Their line-up of goggles for kids is decidedly bright and fun!
Here are our favorites:
TYR Swimple Kids Swim Goggle
⭐ Best for: Splashing around in the backyard pool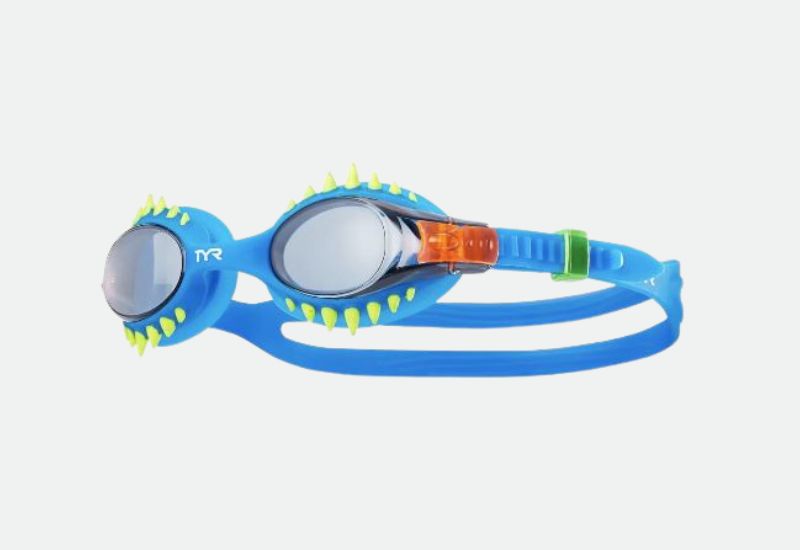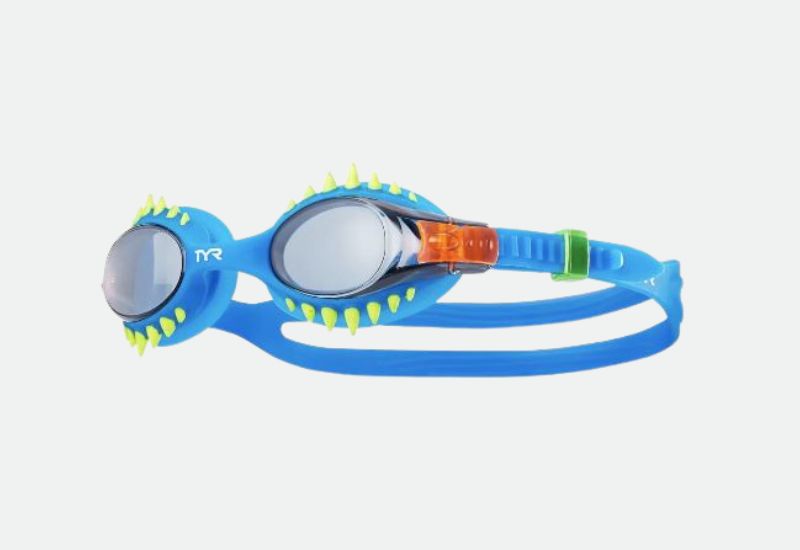 Crank up the fun and play with the TYR Simple Spikes Kids' Swim Goggles. Made with extra durable silicone gaskets for a comfortable fit, adjustable clasps on the side, and several playful color options, the Swimples are a great choice for the backyard splashing enthusiast.
The goggles are hypoallergenic and have a flexible bracket designed to withstand the rumble-and-tumble nature of play.
(And don't worry–the spikes on the goggles are made with soft silicone.)
---
TYR Rogue Kids Swim Mask
⭐  Best for: maximum vision under water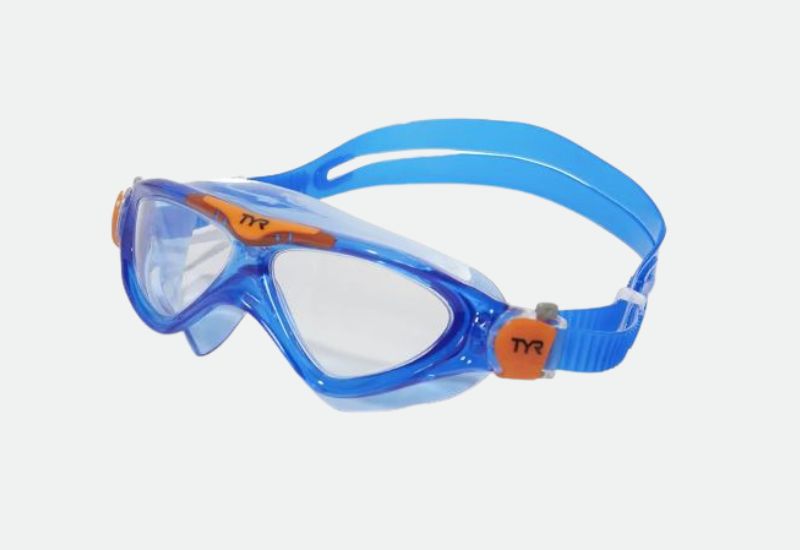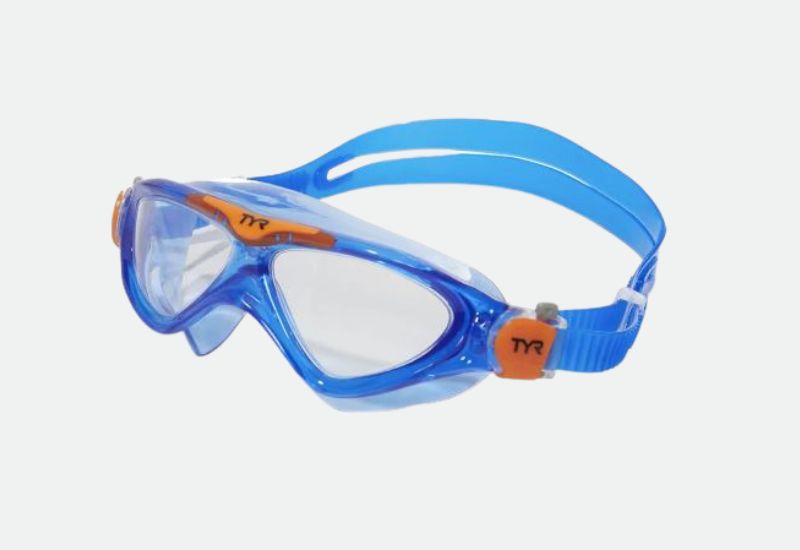 Swim masks are a great way for kids to get comfortable in the water. They have a huge field of vision, significantly larger than regular swim goggles.
The TYR Rogue Kids Swim Mask is an excellent option for playing around in the water. The Rogue has a silicone gasket to keep water out, buckles on the side to adjust head strap length, and the standard UV protection.
While swim masks provide a better field of vision, they are not as adjustable as swim goggles. The one-piece construction of swim masks means you cannot change the distance between the two lenses, unlike swim goggles, which typically have multiple nose pieces for a comfortable (and leak-free) fit.
---
Best Swim Goggles for Kids — Aqua Sphere
Wanna wear the same goggles that Michael Phelps used in competition? Well, you might not be able to do that, but Aqua Sphere is the same company that produces his line of competitive swim equipment.
Aqua Sphere Seal Kid Swim Goggles
⭐ Best for: Aqua-sploring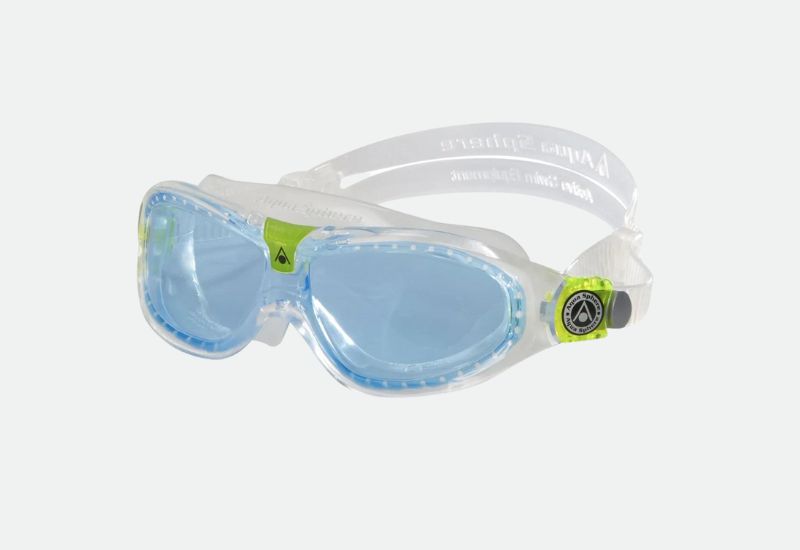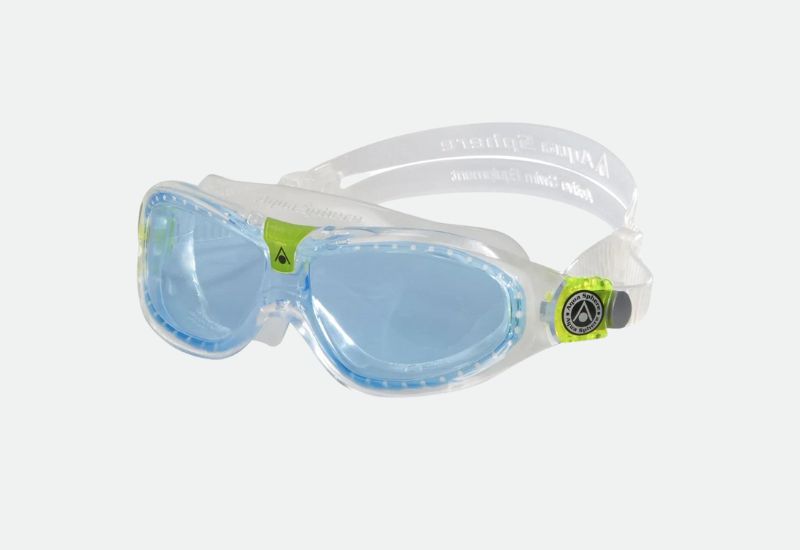 The big benefit of these goggles is the massive field of vision. Young swimmers will have an excellent peripheral vision as well as an expanded downwards field of view.
The goggle seal is huge and sits on the cheek which helps to reduce the "raccoon eyes" that come from wearing goggles for extended periods of time.
---
Aqua Sphere Kayenne Junior Goggles
⭐ Best for: Seeing what the swimmer in the lane next to you is doing without looking straight at them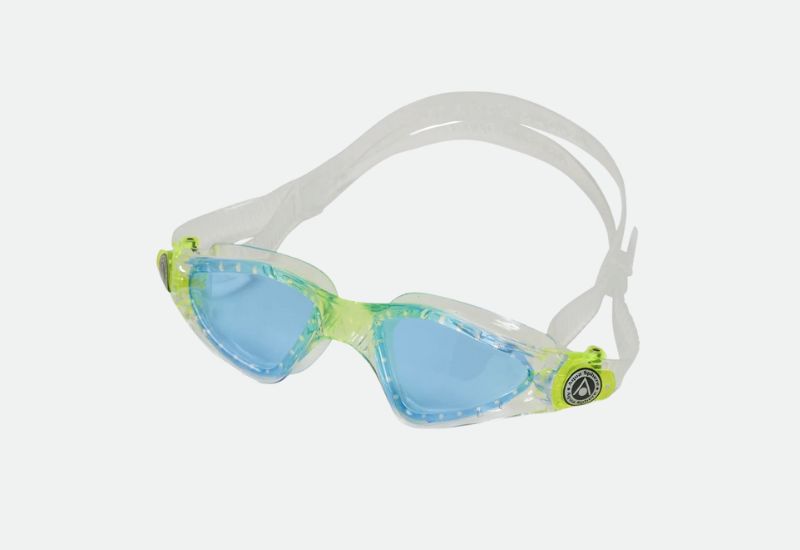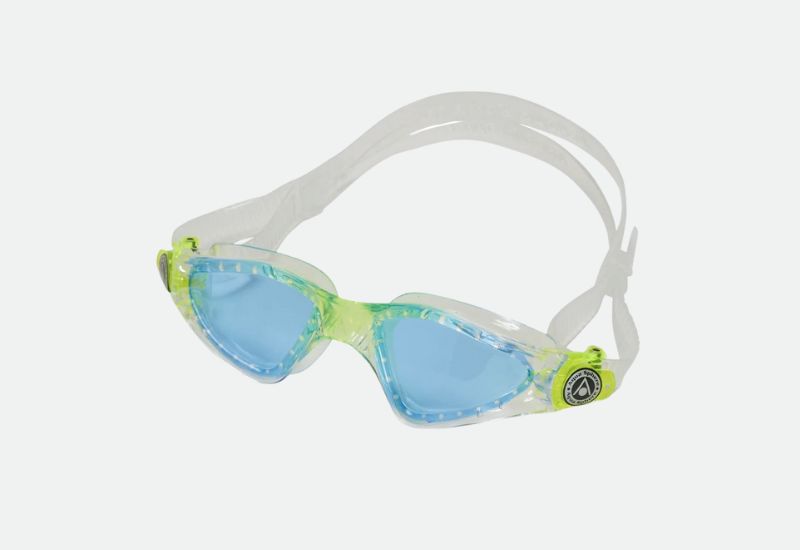 The Kayenne is an absurdly popular swim goggle for open water swimmers and triathletes.
They have a curved lens which gives you an insane amount of peripheral vision, they are super comfortable and have dual silicone straps that are a cinch to adjust.
Oh, and they make a junior model!
They come with all the usual goodies: UV protection, anti-fog, and exceptional clarity and come in six different colors and lens tints.
---
Magic5 Swimming Goggles
⭐  Best for: youth swimmers who struggle with leaky swim goggles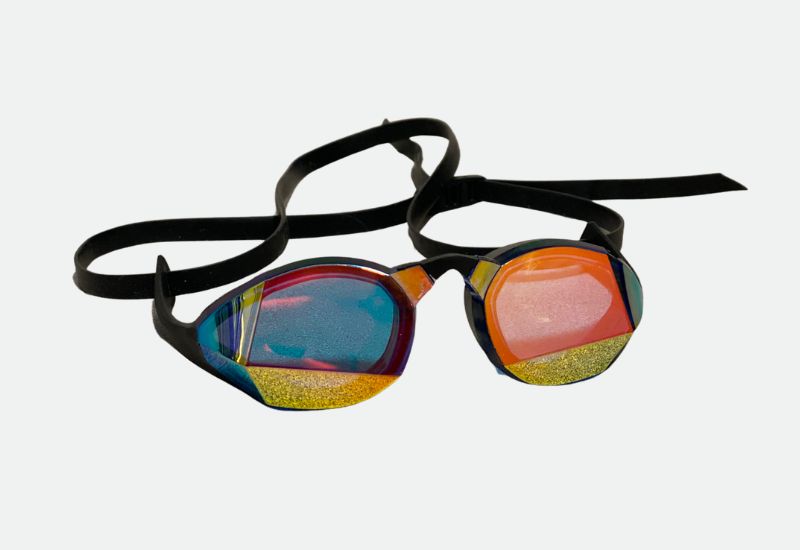 Finally, for our last recommendation, the Magic5 Swim Goggles.
For starters, these are a pricier swim goggle, with the mirrored version retailing for around $90. (I know, ouch.)
But there's a reason for the higher cost: they are the first and only truly customized swimming goggles.
The way the Magic5 Swim Goggles work is like this: you order the goggles via Magic5's website, download an app that scans the face of your kiddo, and a week or two later, a set of custom-fitted swim goggles show up on your doorstep.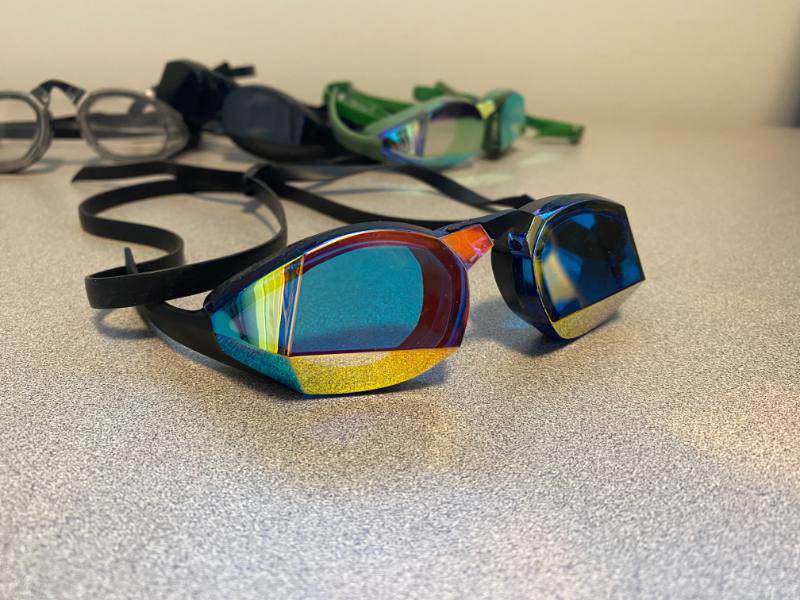 The swim goggles are literally 3D printed to the exact specifications of your child's face, ensuring a comfortable and leak-free fit.
And because the goggles don't need to be super tight on the face, they are far more comfortable for extended wear.
Having worn these for a few months, I can appreciate the reduced likelihood of headaches and goggle marks from the Magic5's.
Although the pricing on the Magic5's is high relative to other swim goggles, they are easily the most comfortable swim goggles on the market and are available in various tints and colors, including some limited edition colors.
---
How to Choose the Best Swim Goggles for Children
When on the hunt for the best swim goggles for your kiddo, there are some key things to look for:
Comfort.
Most swim goggles are made with silicone gaskets and straps, which are comfortable at any age. For younger kids avoid goggles like Swedish goggles—they have a hard plastic gasket that will leave the orbital socket feeling sore.
The silicone gasket also serves another purpose–it gently sinks into the skin on a child's face, creating suction and eliminating any water from seeping into the lens.
Adjustable.
Kids grow fast, you don't need me to tell you that. Having goggles that come with adjustable nose pieces can grow with your kiddo. Additionally, head straps that are easy to adjust (either on the side of the goggles or the back) help you make sizing adjustments quickly on the fly.
How serious is the swimming?
While all the goggles on this list are great for beginner swimmers, if your kiddo is taking up competitive swimming there are more "elite" swim goggles that are made for juniors.
More serious tadpoles will love the Speedo Vanquishers–they are an excellent all-purpose swim goggle that is also available in a TON of color and tint options.
Optical or no?
If your child needs prescription swim goggles there are some options for them. As with adult swim goggles the selection is considerably smaller, but there are some stylish options on the pool deck.
Anti-fog.
Almost every goggle on the market is anti-fog, but that doesn't mean they stay this way forever. The inside of swimming goggles are coated with a delicate anti-fog spray during production.
It inevitably wears off; quicker if your little swimmer wipes the inside of the goggle lens with their fingers.
There are anti-fog sprays on the market that can extend the life of the original anti-fog, and the best way to extend it is to remind your little swimmer not to rub the inside of the goggles with their fingers (I know, easier said than done!).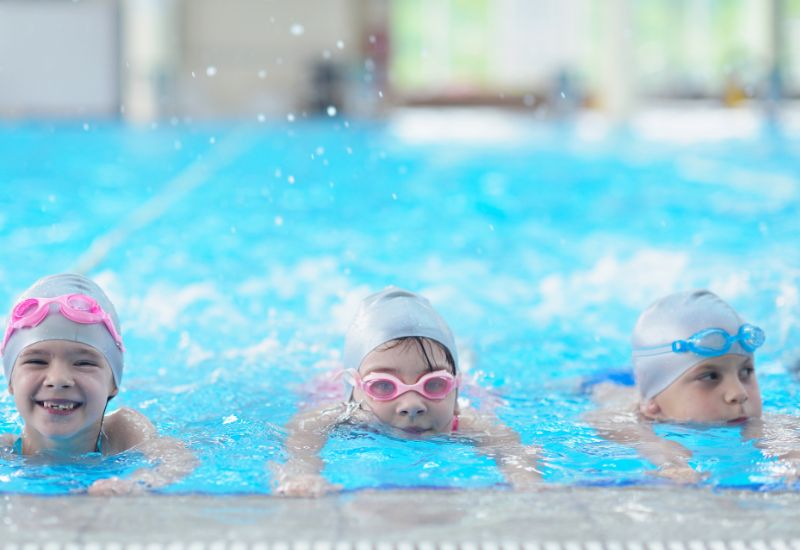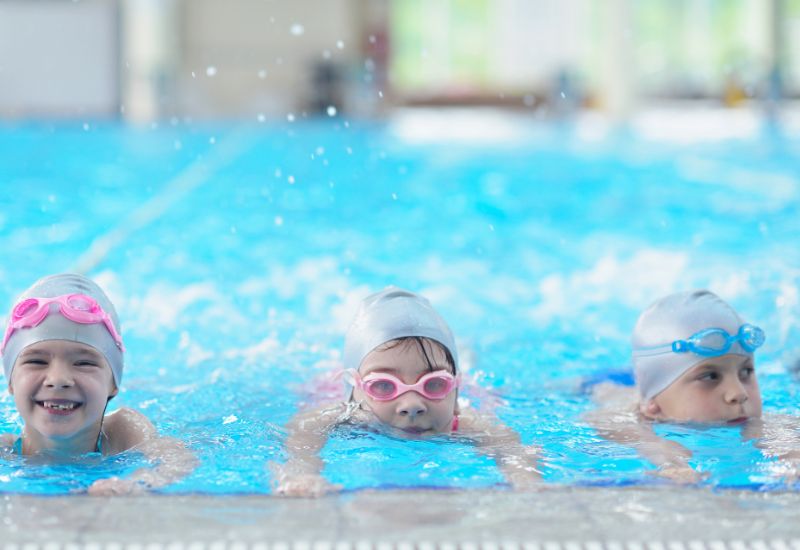 Should kids use swimming goggles when they go to the pool?
Yes!
There are three very important reasons that kids should strap on a pair of swim goggles when they head to the pool.
The first reason is general safety.
The human eyeball isn't designed to see very well in the water. The science behind this is simple—light refraction is significantly slower under the surface compared to the air.
Wearing goggles helps kids see their surroundings, whether it's other swimmers in the pool or where the wall is when they are swimming laps. Swim goggles help you see better. Simple as that.
The second reason is kind of icky.
How many times have you gotten out of a chlorinated pool and found your eyes to be itchy and red?
Commonly swimmers will blame chlorine for agitating their eyes, but it's worse than that. Swimmers have a bad habit of leaving things behind in the pool, including sweat, pee, and um, other bodily waste.
When these foreign substances interact with chlorine they create a whole new compound called chloramines (also known as "combined chlorine").
These bad boys are the culprits behind bad air quality in poorly ventilated pools and why your eyes get so aggravated. While you won't be able to unread the grossness of this point, at least you will have extra motivation to get your kids to wear swim goggles.
And finally, swim goggles are a great tool for encouraging confidence in the water.
For many children, one of the steps in getting water confident is getting their face wet and submerging their eyes, nose and mouth.
It goes against every natural instinct of our body. Giving your toddler or child swim goggles can help breakthrough some of that all-too-natural trepidation about dunking our face into the water for the first time.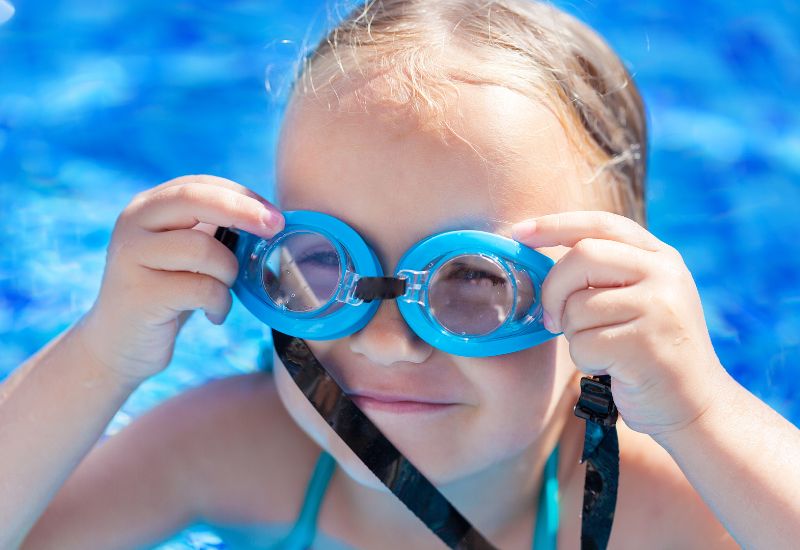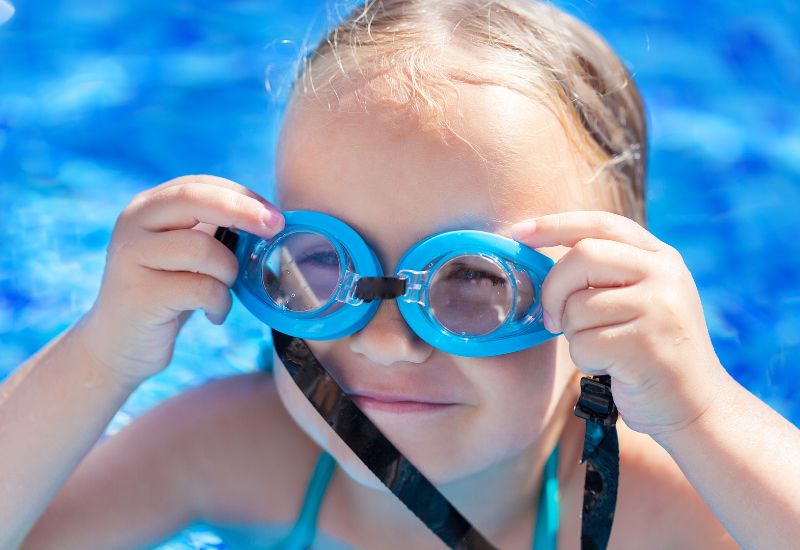 What are the most comfortable swim goggles for kids?
For splashing around in the water, look for a slightly wider lens (like the Aqua Sphere Seal Kid Goggles or the Speedo Hydrospex).
The larger lens is more comfortable and spread out the pressure and suction on the goggles to a child's face. The split double-strap on both goggles makes a custom fit easy, and the silicone won't tug on the hair of your child.
How to Care for Kids Swim Goggles
Swim goggles are a relatively inexpensive investment, but there it can be real frustrating when a swim goggle breaks or underperforms.
Here are some simple tips to care for your child's swim goggles:
⭐ Rinse with fresh water after use. Chlorine is a miracle santizer in the pool, keeping bacteria at bay. But it can also cause swim goggles to crack and fade with enough time and use.
You can extend the lifespan of all your swim gear—and particularly a child's swim goggle—by giving it a quick rinse with fresh water after hopping out of the pool.
⭐ Avoid touching the goggle lenses.
As mentioned earlier, the anti-fog coating on swim goggles is vulnerable to wipes and fingertips. Oil from fingers speed up the degradation of the coating.
Let the goggles air-dry if possible or simply drop them in the bag after a swim.
Avoid drying out the inside of the lenses with a towel—a good, solid shake after rinsing will do the trick!
⭐ Store 'em cool and dark.
And finally, when the laps are done, the Sharks and Minnow contest has been decided, and it's time to pack the swim gear away, remember to keep your child's swim goggles out of the sun (or extreme cold), to help avoid UV degradation that can cause rubber to crack and split over time.
The Bottom Line
Swimming is one of the best activities and sports you can introduce to your child.
Not only are they getting a great workout and having fun, but they are also picking up a vital lifesaving skill.
The right swim goggles are crucial for helping build swim confidence, keep young swimmers safe, and protect their eyes from chloramines and even UV exposure.
To recap:
The Speedo Vanquisher 2.0 Junior Swim Goggles are the best kids swim goggle for aspiring competitive swimmers.
The Vanquisher 2.0 is also available in a prescription goggle for kids looking for optical swim goggles.
The Speedo Skoggle Swim Goggles are the perfect goggle for kids who are just getting started with swim lessons.
And the Aqua Sphere Seal Kid 2 Swim Goggle is the best swim goggle for kids who want maximum field of vision when splashing around.
Choose the right swim goggles for your kiddo, crank up the splashing (and safety), and swim on!
---
More Swim Goggle Guides:
9 Best Goggles for Swimmers. Confused about what kind of swim goggles to get? Here's a breakdown on the best swimming goggles for every kind of swimming, from training to racing like a boss in competition.
7 Best Swim Caps for Toddlers and Children. Swim caps protect your toddler or child's hair from harsh pool chemicals, helps them stay safe in the pool, and keeps their hair out of the pool. Here are our top picks for best swimming caps for toddlers and children.